The greatest gifts you can give your children are the roots of responsibility and the wings of independence 

Denis Waitley
In Indian families, children are given duties and freedom based on their gender. If it's a son, he must take care of his parents, and if it's a daughter, she must start her own family and take care of the in-laws. 
Being the eldest of three daughters in an Indian household, I was told of my responsibilities at the tender age of 16 – to be financially independent. Out of respect, I took responsibilities off my father's shoulders and started contributing to the household in every way possible. There's always a brimming pride in my parents' eyes for the progress I have made so far in my life. 
Despite being born and raised in a rather progressive and modern home, my relatives made me very aware of gender discrimination and stereotypes. In one such incident of blatant sexism, one of my close relatives told my father 'Aapki beti nahi, beta hai yeh!' Her implication was precise and clear. It was a shock to me that someone so close to me could think of my responsibilities to be only revolving around my male counterpart.
Her sexist comment about my parents having daughters contributing to household finances turned into a cause for sympathy because my parents don't have a son.  When distant relatives speculated on multiple occasions that my parents were upset to have three daughters and no son, it was immensely hurtful. 
The majority of Indians believe that having at least one son is crucial for a family because sons are primarily responsible for caring for aged parents. Only 2% believe the same about daughters. Sons also perform significant religious duties, add to the family's wealth and property, and continue the family line. 
Parents expect sons, but not daughters, to take care of them financially and emotionally, especially as they age. Daughters are typically sent to their husbands' homes once they get married, which prevents them from making any financial contributions to their parents directly. 
Because of this, the help, contributions and support that daughters provide to their families are typically underestimated by both family members and society. As parents age, it has long been believed by society that they will require a son to keep them alive.
According to a study, daughters have increasingly served as the generational primary carers who receive no recognition or compensation. Sons, on the other hand, only make up 59% of carers and are likewise seen as delegating caregiving duties to their sisters.
Daughters and the great Indian family composition
Today, a mother, father, daughter, and son make up the majority of the Indians' definition of a complete family. Boy preference over a girl is evident when Indian women are asked about the ideal sex balance in their families. This "son preference"—the desire for sons over girls—has its origins in the old-fashioned notion that sons would maintain the family name and care for the parents as they aged, while daughters would leave them for their married homes and cost them dowries.
The Indian census has consistently revealed a significant gender disparity between boys and girls. The family, which is at the most local level, made the decisions that led to this disparity, which has national consequences. Parents, however, do not simply want boys. The vast majority of the women want at least one daughter as well, although usually not more than one.
There are wide range of examples shown in Bollywood and Indian Television serials where the preferences for a son were loud and clear, the birth of a son is celebrated like a festival whereas the birth of a daughter is lamented. 
In the movie Dangal (2016) Mahavir Singh Phogat (played by Aamir Khan) succumbed to getting married and giving up his dream to compete in the Olympics. He desired to have a son who'd fulfill his dream of winning a gold medal for the country. When his wife Daya (played by Sakshi Tanvar) gave birth to a daughter for the second time, Mahavir said 'Bura mat maan na, lekin mujhe jo sapna poora karna hai, woh beta hi kar pawe hai.'
This shows how Indian patriarchal society has historically handled daughters with delicacy and believes that they are not capable of fulfilling their parents' dreams.
When Mahavir's daughters beat up two young boys, he began to see their potential and put them through Olympic training. This was his emotional method of forcing them to follow his ambition of growing his daughters to be wrestlers—not so that they could raise strong, brave, and independent women, but so that India would win the gold medal.
Due to the pervasiveness of gender bias, Indian families actively search for reasons why having a daughter is favourable to them. India is still adhering to its traditional culture in the 21st century and believes that having a boy will complete a family. It's high time we change our perspective and stop comparing our daughters to sons.
Patriarchal recipe for a successful life for women
In today's predominantly male world, how can a woman have a successful life? The solution is clear-cut and straightforward: "marriage", which continues to be an obligation that people naturally associate with girls and that tends to be given high priority.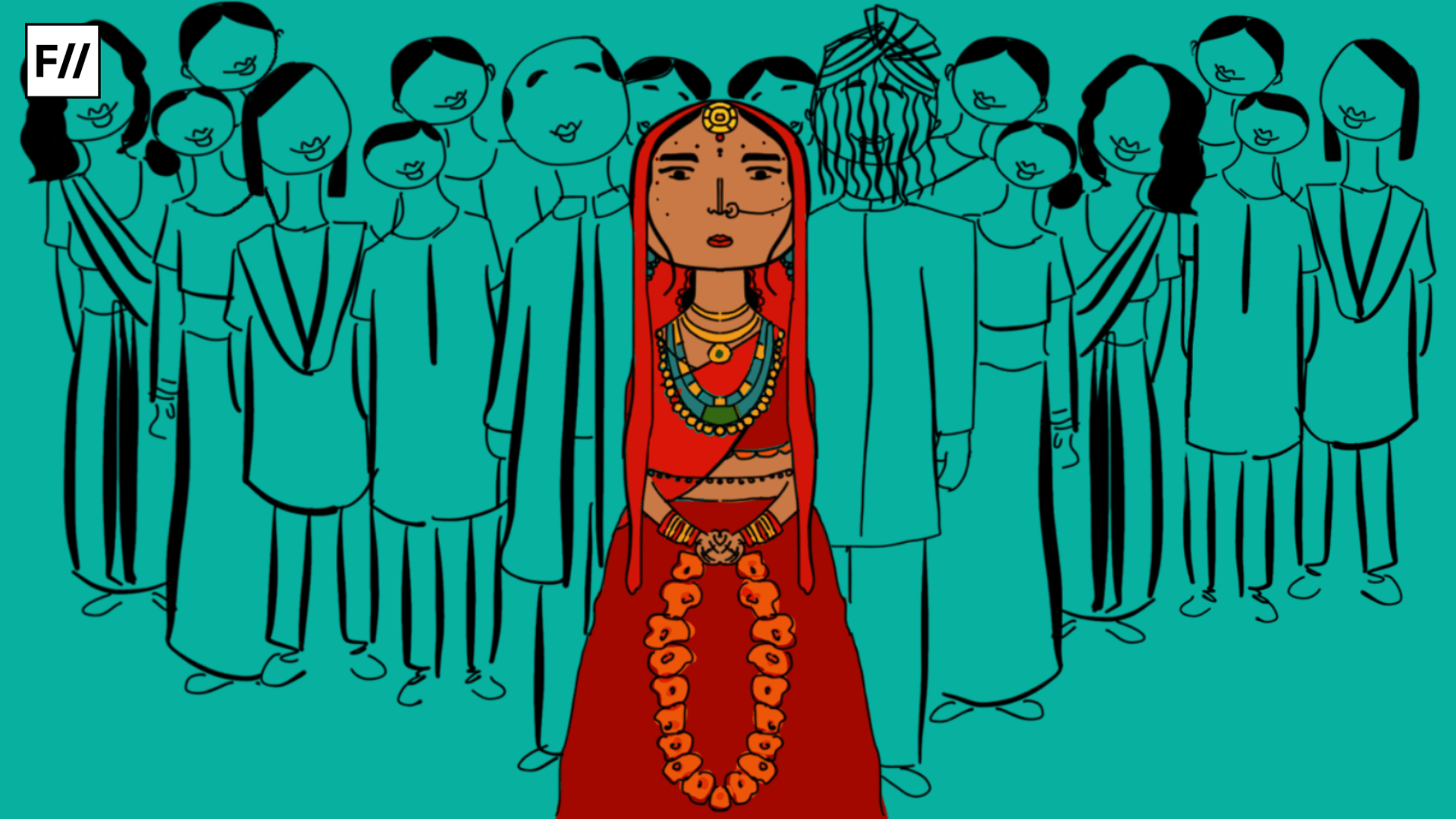 Saving money for a daughter's wedding is customary in Indian households along with adhering to the social obligation to do it as extravagantly as possible. The wills of daughters are crushed when their parents bluntly inform them that they lack the money to complete their education but have everything saved up for their lavish wedding. 
When parents embrace their daughters, their patriarchal prejudices are unfortunately revealed. They support their daughters, but they reject the concept of independence and only accept them if they do not challenge the patriarchal notion of society.  
No matter how hard daughters work or how talented they are, society will assert that getting married and "settling" into family life will always take priority over other goals. While some courageous daughters battle this stigma and succeed, the majority simply accept their situation and forget their dreams and the patriarchal society continues their tradition. 
In the words of Shahrukh Khan, 'Our Daughters Are Our Future.' It is not enough for parents to educate their daughters if the ultimate purpose is to marry them off instead of supporting them to achieve their dreams. 
With such strengths that women possess, why should they continue to be sidelined? The girls of today are proving themselves equal to boys in every respect. They are distinguishing themselves as achievers in every field, from academics to sport to profession. Society's orthodox and patriarchal thinking needs to be challenged since it hinders women's freedom and forces them to give up their dreams and aspirations. Indian parents need to start nurturing their daughters' independence and self-reliance in the financial realm. 
---