By Venkateshwarlu Boya
These women are so adept at saving money that they normally pay back their bank loans within a span of two years
Satharla Padma (35) is the sole provider for her family of six. She works as an agricultural labourer, toiling under the sun to earn Rs 400 a day. With this money, she has to look after her husband who struggles with alcoholism, her aged mother-in-law and three children.
Padma, a resident of Pacharla gram panchayat in Rajoli block of Jogulamba Gadwal district of Telangana, is one of the 10 members of self-help group (SHG) Pacharla Gramaikhya Sangam. Padma became a part of it to manage her finances properly. The group provides a lifeline to the village, offering financial management skills, access to savings and even loans for critical life events.
However, the dual responsibilities placed on women — caring for the elderly and raising children — often serve as obstacles in their pursuit of financial independence and economic empowerment. Take the example of Pacharla-based Jhansirani Mahila Podupu Sangam, which has 10 members. In all, their families have 40 members, including 18 elderly and 28 children below the age of 14.
In Rajoli block, each savings association secures loans ranging from Rs 10 to 20 lakh for self-employment. Their members are engaged in varied individual businesses. For instance, Padma runs a grocery shop. Jhansirani association's head Srivani Boya (31) manages a computer centre and its second-in-charge Guggilla Jayamma (48) operates a chilli grinder unit.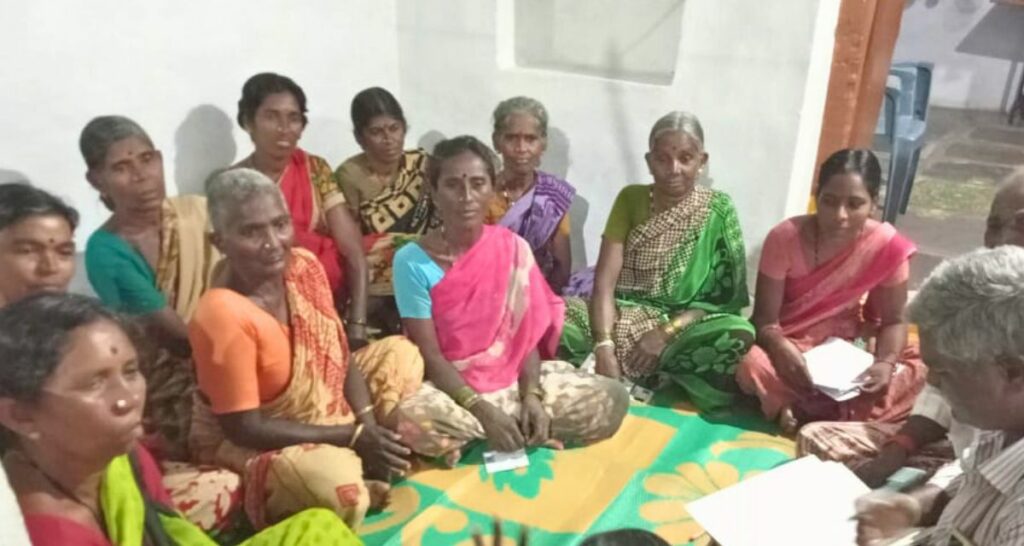 The women in savings associations usually repay their bank loans within a span of two years. Besides experiencing financial growth, they indirectly create employment opportunities for an additional 10 individuals through their entrepreneurship.
Women rising above the expenses
'At present, there are 310 village organisations with 90,800 active women members availing loans in Jogulamba Gadwal district. A total of 1,555 business units are linked to these groups,' Pandari Koteswaramma, Assistant Project Manager, Jogulamba Gadwal District Rural Development Agency (DRDA), told 101Reporters.
The Society for Elimination of Rural Poverty (SERP) district-wise credit flow report (as of September 30) shows the target for 2023-24 is Rs 170.72 crore for 4,074 SHGs.    
In Rajoli block, agricultural labourers form a major chunk of the women in savings association. Additionally, some of them manage businesses to support their families.
For instance, Satharla Padma earns around Rs 10,000 per month as an agricultural labourer. Her monthly expenses include house expenses (Rs 5,000), health expenses (Rs 1,000), school fees for her son (Rs 800), and an SHG group loan EMI (Rs 3,000), which she took for her daughter's marriage. In short, her monthly savings is just Rs 200.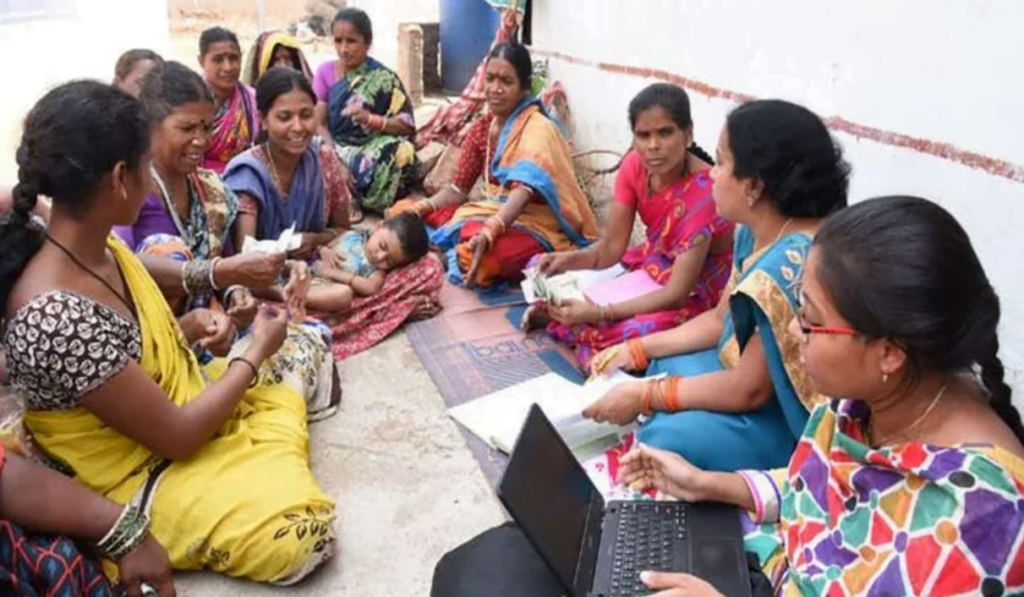 Telugu Allemma (28) lives in Pacharla with her children aged 13 and 10, after her husband Naganna succumbed to tuberculosis in 2009. She works as an agricultural labourer and earns a similar income as Padma. Allemma's monthly expenses include house expenses (Rs 4,500), health expenses (Rs 1,000), children's school fees (Rs 2,000) and an SHG group loan EMI of Rs 2,200. She manages to save only Rs 300 per month.
It is a matter of surprise that women make profit through their savings association-related businesses over the years, despite not saving up anything substantial by working as labourers. Saraswati Goundla (53), a member of the Jhansirani association, utilised her SHG loan to buy two buffaloes and a plough. She now supplies two cans of milk daily to the local milk centre.
Rajoli Community Coordinator Boina Buchanna (48) told 101Reporters that Goundla's investment of Rs 1 lakh made in 2021 has since yielded an annual income of Rs 3 lakh. Koteswaramma added that the achievements of these women were noteworthy.
Interest waiver pending
On September 9, 2009, the Pavala Vaddi Scheme was launched to provide interest waivers on loans given to SHG women if they made prompt repayments. However, the scheme has not been operational for the past three years.
'The savings societies in Jogulamba Gadwal district have successfully secured bank linkage loans totalling Rs 148.13 crore in 2021-22. Impressively, these enterprising women have already repaid Rs 141 crore to the banks,' said Mula Saroja, DRDA officer in Maldakal block, adding that the state government has been refunding three-fourths of the interest paid by the women from 2009 to 2019-20.
A DRDA official on condition of anonymity told 101Reporters that the government has not been releasing the loan waiver amount for SHGs in the last three years. 'The amounts will be deposited into their respective loan accounts once the fund is released,' the official said.
In 2018-19 and 2019-20, interest totalling Rs 7 crore was pending to the women of Jogulamba Gadwal, but it was paid this May and June. However, interest waivers on loans deposited by women in 2020-21 and 2021-22 fiscals are still pending.
Jogulamba Gadwal district comprises 12 blocks. Of them, Itikyala has the highest number of savings associations at 40 and Waddepally the lowest at 12. There are 17 in Alampur, 30 in Dharur, 33 in Gadwal, 35 in Ghattu, 33 in Ieeja, 19 in Keti Doddi, 22 in Manopad, 16 in Rajoli and 19 in Undavalli.
According to Koteswaramma, these self-help groups are not only boosting women's self-esteem but also enabling them to establish self-employment ventures. Moreover, these women are achieving financial independence while fulfilling their responsibilities of caring for the elderly and children in their families.
How they function
Jhansirani association collectively borrowed Rs 7.50 lakh in October last year, which was equally distributed among its members. It has two bank accounts — one for savings and the other for loans. The loan is subject to a monthly EMI of Rs 3,000. Every month, all members contribute Rs 100 to the savings account, for which the bank pays 2.7 per cent interest. This amount has a role in qualifying them for a new loan.  
Srivani is a science graduate, but the other members of Jhansirani group have no formal education and are not familiar with the technology. Women familiarise themselves with the minutes of the meetings with the guidance of the village organisation agent, community coordinator and DRDA. Additionally, the houses of the members are visited a day before the meeting to collect the money related to savings and debts (EMIs) each month.
'After the bookkeeper, both the village organisation agent and community coordinator verify the accuracy of the documents before proceeding with our activities,' said Srivani.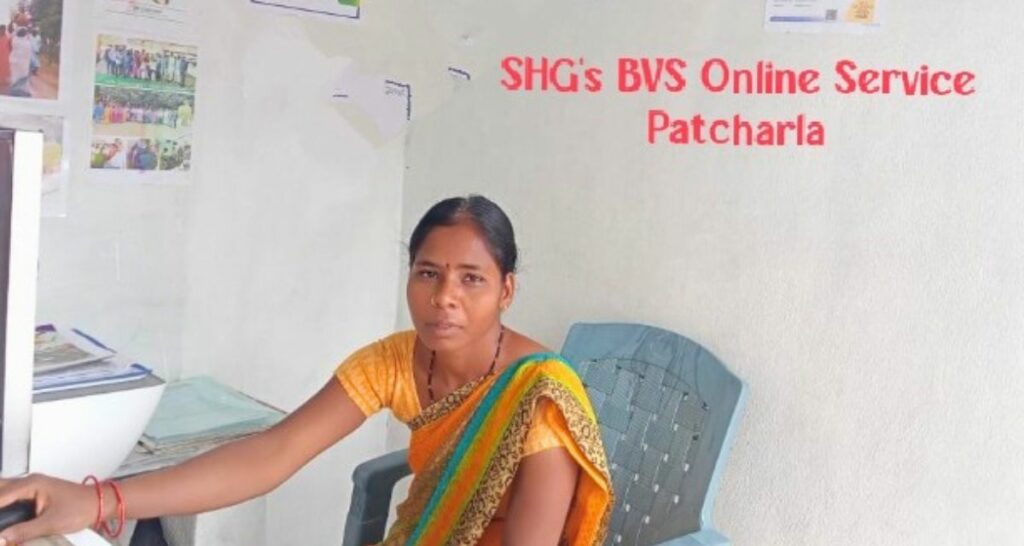 Presently, Mekala Krishna (52) serves as the bookkeeper of the Jhansirani group. He is also working as the village organisation agent for the Patcharla Gramaikhya Sangam and receives a monthly payment of Rs.1,500 each from both groups for his services. He gets Rs 5,000 from the SERP for working as a village organisation agent.
'When the group leader calls for a meeting, I attend to maintain their ledger books every month. Over a decade, I have observed that newly formed SHGs become eligible for a loan of Rs 1 lakh, after consistently saving for six months in their SHG bank account. If each member contributes Rs 200 per month to the SHG savings account, there will be Rs 12,000 plus savings interest in the account. This helps them to get more access to loans,' Krishna told 101Reporters.
'When a group applies for their first loan, my workload increases significantly. I am responsible for filling up their loan application forms. This process repeats every two years,' he explained.
By taking help from others and by saving up as much as possible, the SHG women are building a better life for themselves, their families and the society at large.
---
Venkateshwarlu Boya is a Telangana-based freelance journalist and a member of 101Reporters, a pan-India network of grassroots reporters.