There is no power or water supply in the forested area of Dhar, but people have settled here as the compensation they got is not enough to buy new plots
By Pooja Yadav
Dhar, Madhya Pradesh: Surrounded by water on three sides is a nondescript hillock where 3,500 people live. There is no potable water, electricity, or even a proper footpath in this forested area in the Dhar district of Madhya Pradesh. Yet, these people, mostly from tribes like Bhilala, have been putting up with the problems and living here since 2018.
They originally belonged to Utawali, Chauki, Kothida, Patelpura, Bhainsakho Khurd, Bhainsakho Buzurg, Jamanda Sarai, Devjhiri and Kundiya villages. Their lives changed drastically when the work on the Karam dam, built on River Karam in Dharampuri tehsil, began in 2018.
All nine villages fell in the area acquired by the government for construction and were at risk of inundation once the dam was built on the Narmada's tributary. Hence, they had no option but to leave.
'Slowly, our villages began to submerge. Some shifted to nearby villages and the relatives' houses, but those who had no place to go chose this spot to settle down,' says Dharmendra Badukiya (42), who has made this unnamed hillock his place of stay after the dam snatched away his home in Utawali.
'If someone is sick, we have to carry him/her on our shoulders for three km to reach the main road, from where a four-wheeler can be taken to reach the nearest hospital,' he says.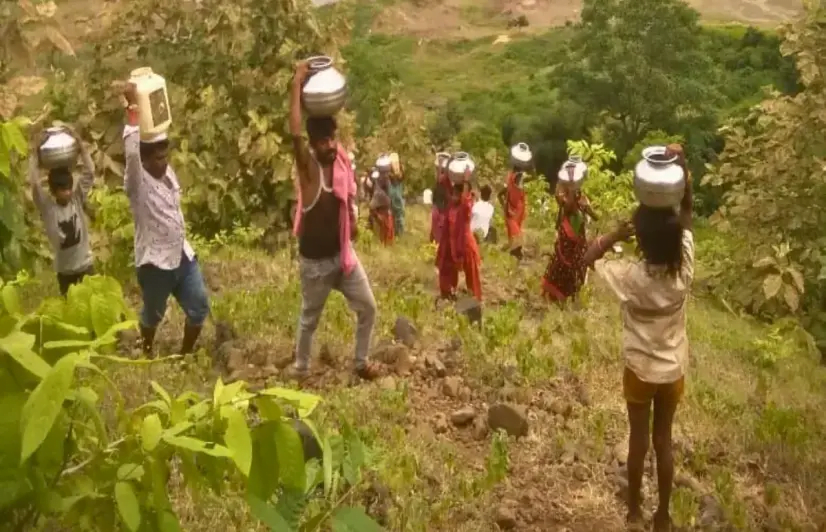 Kala Bai Dawar (65) also lived in her house in Utawali with her family comprising her husband, son, daughter-in-law and grandson. They had 1.25 bighas of land, where they used to cultivate paddy and maize in the rainy season and grew wheat in the kharif season. The family received Rs 2.28 lakh as compensation for the land lost. 'Now, to make ends meet, my husband works as a labourer. When needed, I also contribute by working as a farmhand,' she says.
Detailing the difficulties the women face, Bai says they have to walk to Sarai, a village located 3 km away, to get water in summer. There is some relief during the monsoons as they can collect water from a natural spring in the forest area.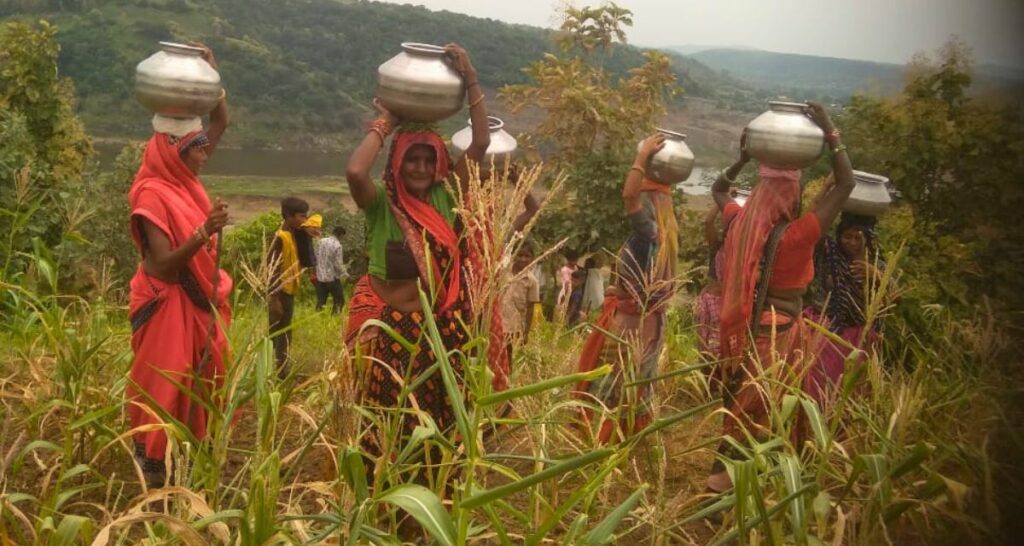 Luckily, they do not have to go that far for their ration supplies. When the villagers were displaced, the ration shops were also relocated to places they moved. So, they can access their Public Distribution System (PDS) shop located within a km distance on foot or by bicycle.
Income snatched
These people have come a long way — from being farmers working on their land to becoming agricultural labourers after displacement. On average, each family had two to five acres of land. Those who did not have any lived on leased land.
After displacement, about 90 per cent of the families now get their income through daily wage labour. People go to surrounding villages or the Pithampur industrial area for work. Some have goats and poultry. Some grow paddy and maize in leftover portions of their land in their original villages. The area remained submerged until August last year when leakage in the main wall of the dam resulted in the emptying of water through a bypass channel. People have taken up cultivation in these plots now.  
Suresh Badukiya (41) of Bhainsakho Khurd had 14 goats and two cows before displacement. He and his wife did farm work on other people's land. Suresh also used to take up harvesting of crops in bulk. His annual income ranged between Rs 60,000 and Rs 85,000. When there was a need for money, he would sell a goat for Rs 5,000 to 6,000. Mostly, three to five goats are sold in a year to cover the expenses.
The Rs 5 lakh he received was not enough to buy land, so the family now live in a hut in Palasamal Tola, a part of the village which is in the forest and comes under Kothida panchayat. Currently, he has five goats and two cows. Sadly, in the last one-and-a-half years, four goats have been eaten by jackals, wild boars and tigers. He makes the same money as before, but the attack from wild animals is an issue. His son and daughter study outside and stay in a hostel.
Gulab Singh (30) lived in Patelpura Mohalla of Kothida panchayat before displacement. He did not have ancestral property and hence received an incentive of Rs 5 lakh. He used to work at a thread company for a monthly pay of Rs 16,000 for 10 months in a year. However, after displacement, the family lives in a hut on the hillock.
'I cannot leave them alone because of the looming threat from wild animals. There is no electricity or water facility, so I have to fetch water. I do farm work in nearby villages to earn Rs 250 a day for 20 to 25 days a month. So, my monthly earnings fluctuate between Rs 5,000 and Rs 6,250. My father has cleared half an acre of land on the hillock, after getting it on lease from the forest department. We grow rain-fed maize and paddy there. We do not cultivate wheat due to lack of water and electricity,' Gulab says.
Meagre relief for the tribals in Dhar
Under the Right to Fair Compensation and Transparency in Land Acquisition, Rehabilitation and Resettlement Act, 2013, a compensation of Rs 5 lakh per hectare was provided for irrigated land and Rs 4 lakh per hectare for non-irrigated land. An incentive of Rs 5 lakh was given to land-owning farmers in lieu of rehabilitation, besides the compensation for their acquired land. For the heads of landless families, an incentive amount of Rs 5 lakh was given for rehabilitation.
According to Narmada Bachao Andolan member Mukesh Bhagoriya, 1,500 families in nine villages were resettled under the Act. 'The 2013 Act has a provision for compensating leased land, which has not been fulfilled here. Of the displaced, 100 people did not get compensation for their land. Also, landless sons of 120 farmers did not get the incentive,' he claimed.
According to Bhagoriya, 350 of the total 1,500 live on the hillock. 'Those who are well-off bought land in other villages and built houses there. Some families migrated, while others occupied government land in nearby villages,' he says, while informing that he has written to the State Revenue Department, Madhya Pradesh Narmada Valley Development Authority and the Minister of Water Resources Department on the issue.
Kala's husband, Mangilal Dawar (67) tells 101Reporters that the government provided him a compensation of Rs 5 lakh, but it was not enough to purchase a new property elsewhere. 'I sent my son and daughter-in-law to Indore so that they can at least earn a living for themselves. They work as labourers,' he says.
Being landless, Amar Singh (42) of Utawali got only Rs 5 lakh for relocation. His father received Rs 13 lakh for the land he owned, and he divided this compensation among his three sons and himself. 'The land we were living on had a borewell and over 50 fruit trees. No money can ever compensate for that loss. The government left us to fend for ourselves. They had promised a step-by-step rehabilitation, but we had been misled. The money I got was insufficient to relocate,' he says.  
Repeated attempts by 101Reporters to contact Collector Priyank Mishra on the issue went in vain. Efforts to reach out to Dharampuri MLA Panchilal Meda also proved futile. However, BJP MP from Dhar, Chhatar Singh Darbar, tells 101Reporters that all the available government provisions and facilities have been duly implemented for them. He further assured that any existing shortcomings would be addressed.
Rahul Yadav, who had earlier fought for the people displaced in Madhya Pradesh due to the Sardar Sarovar Project built across the Narmada in Gujarat, says the assessment of trees, borewells, wells and other constructions on the land was not done, due to which the displaced people did not benefit fully. 'The government should have built new settlements and provided them with facilities such as electricity, water supply, roads, shops, markets, schools and anganwadis,' he says.
Power supply, proper education distant dreams
Dharmendra has to go to someone else's house in a nearby village when the battery charge in his mobile phone is low. 'Some people have an emergency lighting system, which they charge in nearby villages so that they can have some source of lighting at night,' he says.
In 2019, the inhabitants of the hillock collectively pooled their resources to draw an electricity line from Sarai. However, wild animals damaged them (the area has the presence of wild boar, jackal and tiger) and caused disruptions. So now, they do not get a power supply at all.
Utawali panchayat sarpanch Radha Bhai Gawad says she submitted a memorandum to the Chief Minister on the issues faced by the displaced when she went to Bhopal in January last year, but nothing happened. Panchayat secretary Chainsingh Bundela says he also raised the demand that electricity be provided, and roads and drains be built.
Kothida sarpanch Sewanta Vasunia says the panchayat faced budget constraints in establishing permanent infrastructure for roads, water supply and electricity. 'Yet, we supply water to the families on the hillock by employing water tankers. We also consistently communicate the needs with the government officials,' she informs.
The education system has collapsed in the affected villages. Bhagoriya says the building in Utawali housing government primary middle school and an anganwadi centre has submerged. So was the case of Prempura Primary School in Kotida. 'The government has not constructed new school buildings to date. Utawali School and Anganwadi Centre run from a house on Dhar Road. Similarly, Prempura school functions from a house in New Prempura,' Bhagoriya says.  
A teacher tells 101Reporters on condition of anonymity that the government was not even paying rent to the landowners. 'When they get irritated about this, we are forced to explain things to them,' the teacher says.  
Meanwhile, villagers are trying to make things better for their children. 'The lives of our children have been affected. I have sent my son to his maternal uncle's house, located 30 km away in Kakadda of Khargone district, to ensure that he is educated well,' Amar concludes.
---
Pooja Yadav is a Madhya Pradesh-based freelance journalist and a member of 101Reporters, a pan-India network of grassroots reporters.