Spoilers Ahead!
The Marvels had the potential to soar to the heights of its predecessors, but instead crashes and burns in a dizzying display of misguided storytelling, lacklustre character development, and a palpable departure from the core principles that once made the MCU an unparalleled cinematic experience.
While the MCU has made strides in presenting strong, multidimensional women, The Marvels, falls prey to the tendency to sideline female characters in favour of male counterparts. Despite the film's title suggesting a focus on female empowerment, with a major female cast, and a female director, it disappointingly perpetuates the superhero trope of relegating women to one-dimensional figures.
Carol Danvers, for example, a former Air Force pilot, who accidentally acquired superpowers in the distant past, continued to soar through the decades, occasionally without a traditional aircraft. She traversed the cosmos, actively participating in battles alongside the Avengers, all the while maintaining a remarkably youthful appearance. Upon her initial appearance in this narrative, she can be found casually spending time with her attention-grabbing orange tabby, Goose, within her spacecraft, engrossed in a task of apparent significance.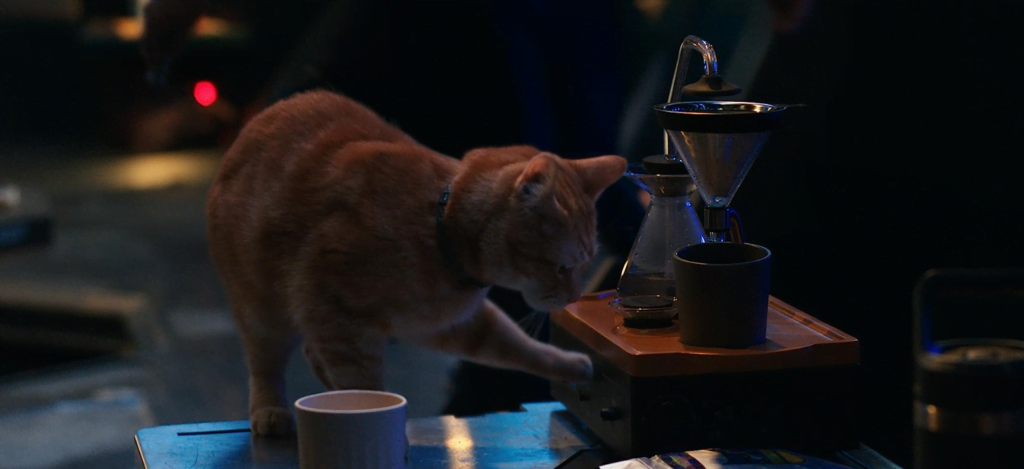 Shortly thereafter, with Goose comfortably perched on one shoulder, and in the absence of spacesuits, this uniquely empowered cat enthusiast embarks on a journey to another planet, immersing herself in yet another intricately woven and expansively plotted escapade.
A missed opportunity for The Marvels
Miss Danvers presented a vast scope for becoming one of the first Queer woman superheroes to lead a franchise as big as this, in the last instalment of this franchise. Her relationship with Maria Rambeau was part of a much bigger discussion, as their characters (early women pilots) found their careers in a male-dominated army. Marvel has extended the hand to the queerness of it all by merely mentioning the same-sex lovers of Valkyrie and Loki now and then, but this could have been the first time that could have solidified a Queer woman's space in the MCU.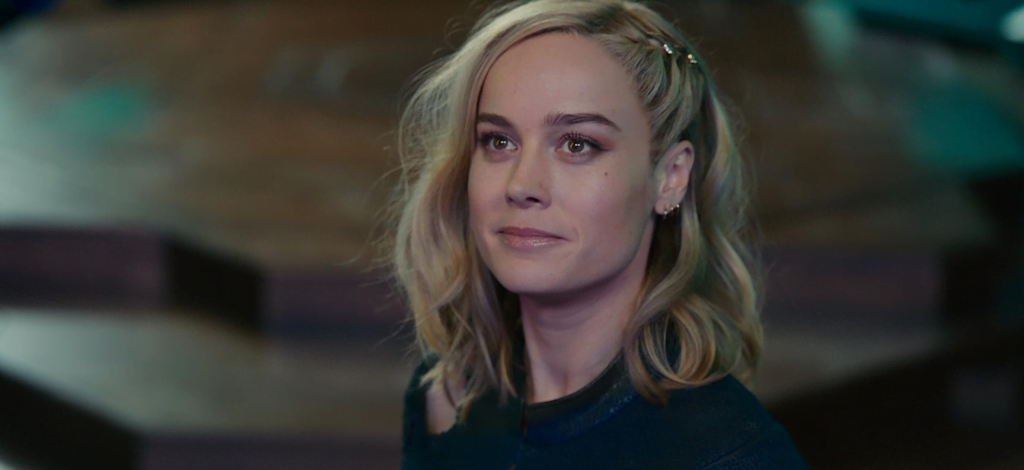 Yet, out of nowhere, she is married to the (very handsome) prince of Aladna named Yan. He may have the voice and face of an angel (he does), but this forced assertion of Carol's heterosexuality (which she tries to refute by calling it a "marriage of convenience") relegates her to be another female character falling short in her own right, to have her heart belong to someone like Maria. They raised Maria's daughter together and called each other partners.
Now the daughter and Carol find themselves entangled in an unfortunate surrogate mother-daughter dynamic, which, fortunately, remains underdeveloped because the real focus is on watching Goose- an orange cat with tentacles eating people and sofas, who is truly a golden presence.
The Marvels' humour dynamics, a shift in Marvel's trademark tone
The once-impeccable balance between humour and gravitas, a trademark of Marvel films, is a bit scattered in The Marvels. The forced quips and one-liners feel out of place, disrupting the emotional resonance that should accompany a superhero saga. There are only so many times you can tolerate Kamala shouting Oh My God with several exclamation points every time Captain Marvel does nothing but move or speak (or spark).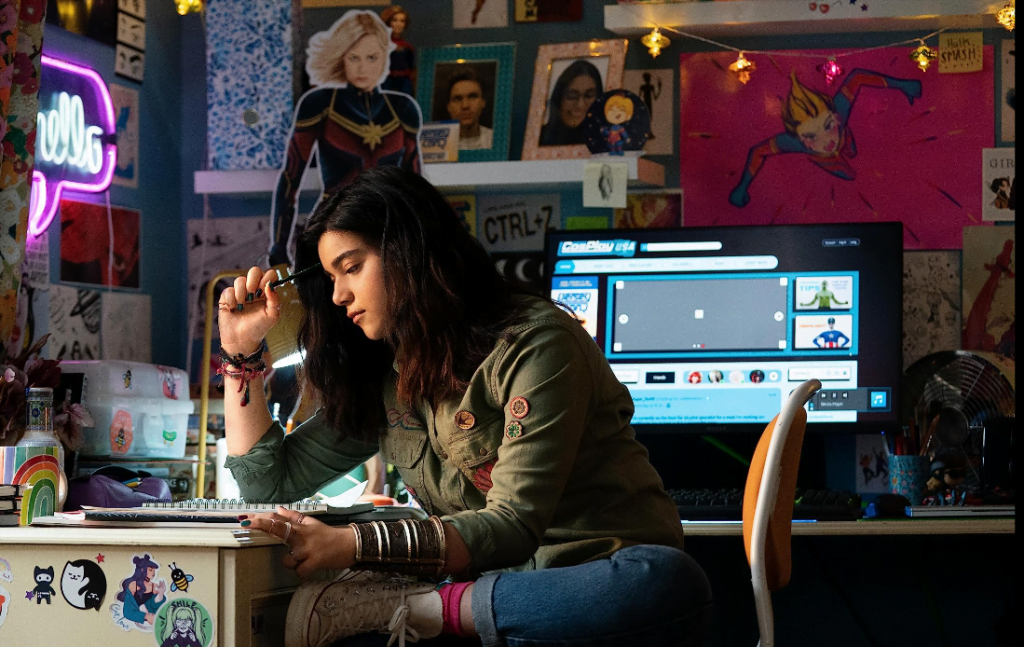 The film seems more preoccupied with delivering punchlines than allowing the weight of the narrative to settle in, diminishing the impact of pivotal moments and robbing the film of the emotional depth that made its predecessors so memorable.
One can relate, especially as a Brown and South Asian person, to the wide-eyed attraction of the West including storylines such as of a Pakistani immigrant family and a young teenager from such a background, but one must also be cautious of avoiding the same mistakes Deadpool franchise made with Karan Soni's Dopinder. Brown people can be more than just funny.
Breaking stereotypes, but are you?
The Marvels attempts to carve its place in the vast landscape of superhero narratives, but when viewed through a feminist lens, it becomes apparent that the film struggles to break free from certain stereotypes and pitfalls that have long plagued the genre.
Furthermore, the film's portrayal of female strength leans heavily on physical prowess, perpetuating the notion that a woman's power is primarily derived from her ability to engage in combat. Carol Danvers, the primary protagonist, is the literal definition of walking into a scene fist-first. While physical strength is undoubtedly a facet of empowerment, The Marvels misses the chance to delve into the diverse ways in which women can wield power—intellectually, emotionally, and strategically.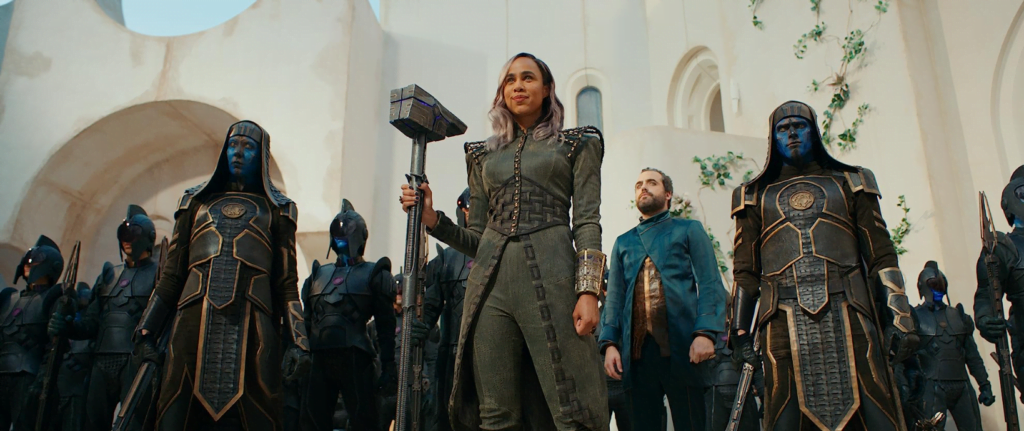 A more nuanced exploration of femininity beyond traditional action-hero tropes would have added depth to the film and resonated more strongly with a feminist audience.
Monica Rambeau presents the film with a chance of correcting this, given how she comes from a very scientific and research-based background with the true intentions of helping people, but she is also just forced to rely on her newly accrued powers (very easily mastered in the span of minutes). A more nuanced exploration of femininity beyond traditional action-hero tropes would have added depth to the film and resonated more strongly with a feminist audience.
The old Marvel fans might not like this film but people of a new generation, people on the margins who have been waiting for true representation for a long time, would have relished this film had the makers done a little more hard work on getting the representation, or, well, women in general, right.
Women of Colour in The Marvels
The representation of women of colour in The Marvels is another aspect that warrants scrutiny. While there is a commendable effort to diversify the cast, the film occasionally treads on shaky ground by resorting to stereotypes or tokenism.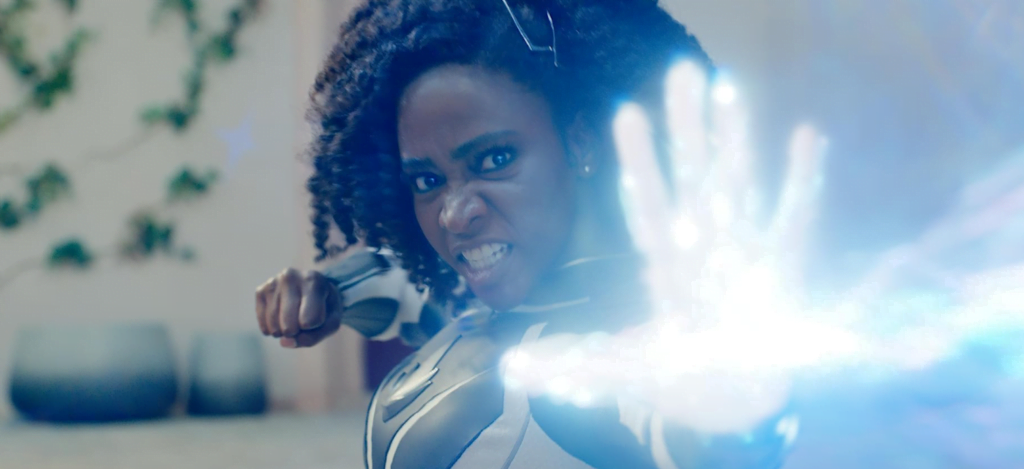 The Pakistani mother of Kamala Khan starts in the film shouting at her daughter and ends by nudging her son to have children so her new house in Louisiana can have more chahal pahal.
Zenobia Shroff does a wonderful job of keeping these undertones of brown tokenism on the down low, but one does see through the surface every once in a while. True feminist representation encompasses not only diversity in terms of race and ethnicity but also a commitment to authentic storytelling that transcends clichés.
A brown mother isn't always shouting or praying. There was a hint of improvement when in the first half, Shroff's Muniba dives into the fight with the Kree soldiers, but the moment passed with her shouting at her daughter again and calling the cat "a little pudgy."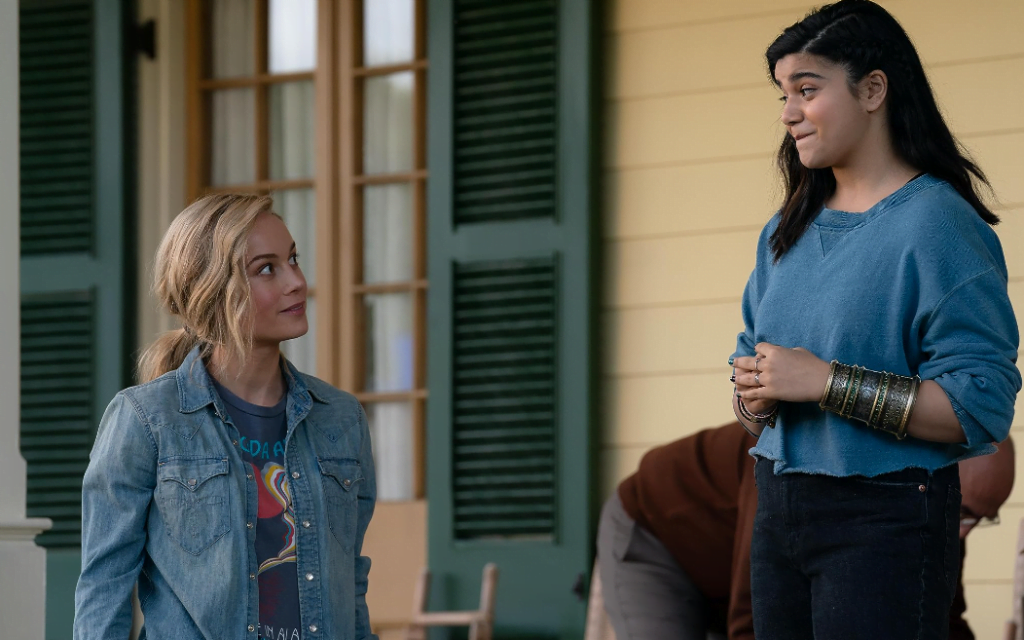 The film's efforts to diversify the cast, including women of different ethnicities and backgrounds, are commendable. However, true empowerment requires a deeper commitment to authentic storytelling that avoids tokenism and transcends surface-level representations. The richness of female experiences is vast, and The Marvels could have seized the opportunity to explore this diversity more fully.
Colonial narratives and power dynamics
Beyond the superhero spectacle, the film inadvertently entwines itself with narratives of identity, power, and the legacies of colonialism, presenting both challenges and opportunities for a more nuanced understanding. Superhero narratives often inherit colonial undertones, depicting power dynamics that echo historical imperialistic structures.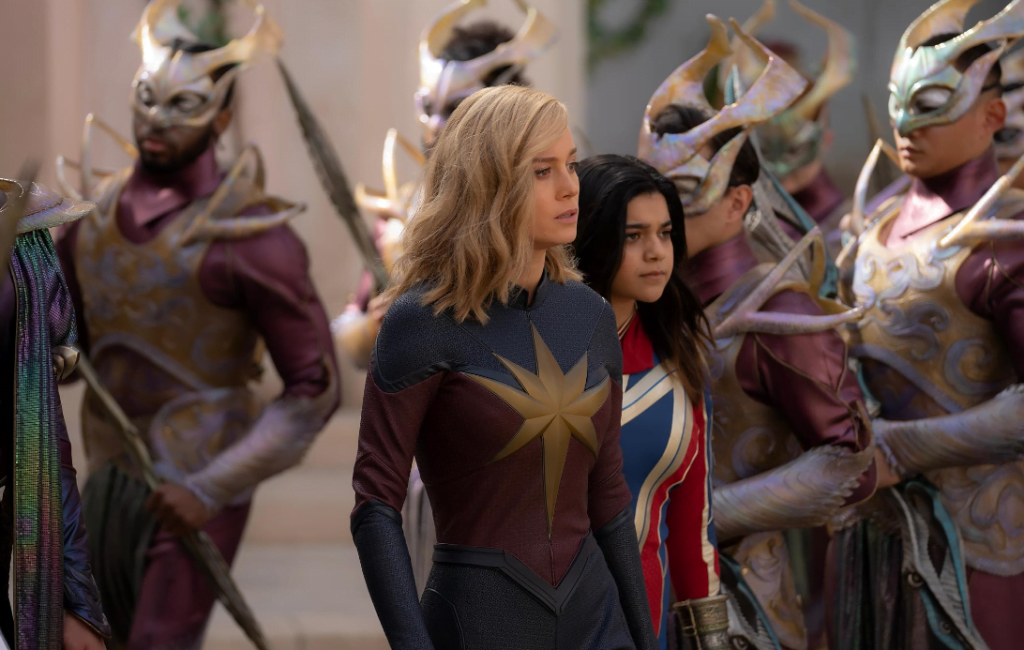 The Marvels is not exempt from this, as the superhero genre inherently grapples with questions of authority, control, and the responsibility that comes with wielding power. While the film attempts to diversify its cast, there is a need for scrutiny regarding the authenticity of cultural representations. Monica and Kamala are women of colour, from two different continents of the planet living in present-day America (when they are not fighting warlords in space).
Marvel did so well with Sam Wilson in The Falcon and The Winter Soldier by acknowledging that there is a disparity of colour existing in the MCU. This could have been done better with characters such as Kamala and Monica. One can agree that a character can be more than just their racial and gender identity, yes they can be, but that is the world of equanimity and we don't live in that world. Not yet.
Postcolonial perspectives demand a careful examination of how characters from various backgrounds are portrayed and whether their narratives transcend stereotypes. The film's creators must strive for authenticity in storytelling, ensuring that diverse voices are not just represented but also given agency over their narratives.
Despite these critiques, it is essential to acknowledge the film's attempts at inclusivity and moments that do challenge gender norms. The introduction of female superheroes is a step in the right direction, and there are instances where the film hints at the potential for a more inclusive and empowering narrative. It's crucial to recognise progress while also holding creators accountable for continuing to push the boundaries of representation.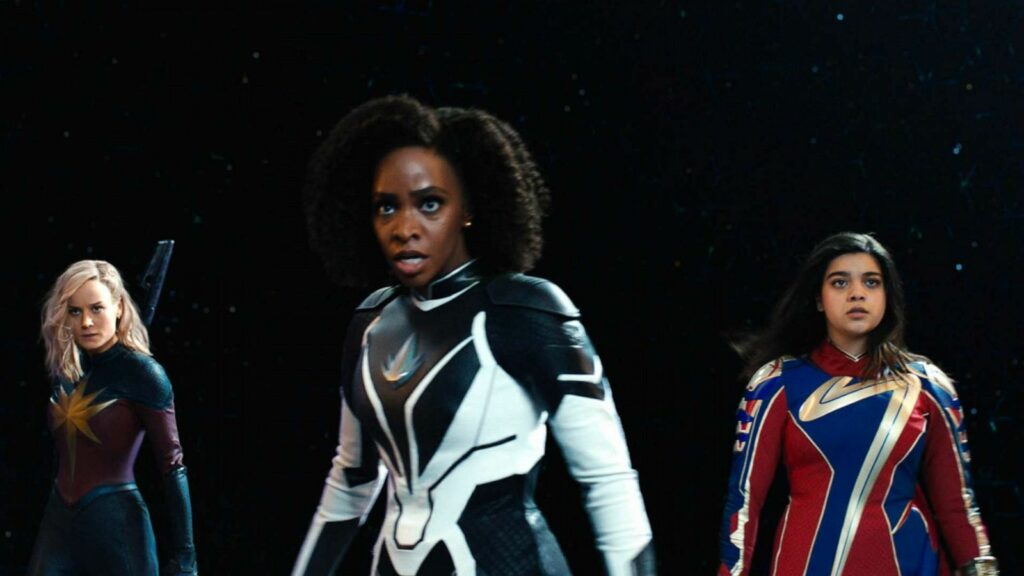 As audiences become increasingly discerning, the film industry must rise to the occasion, recognising its role in shaping cultural narratives and influencing societal perceptions. The Marvels stands at the intersection of multiple perspectives, beckoning creators and audiences alike to engage in critical conversations that propel the evolution of storytelling toward inclusivity, authenticity, and a more profound understanding of the diverse tapestry of human experiences.
The Marvels simply falls short of delivering a fully realised feminist narrative. It delivers a heartwarming comedy with some raunchy fight scenes, but it could have been so much more than just that. While it introduces female characters and gestures towards themes of empowerment, it struggles to escape the gravitational pull of traditional gender dynamics within the superhero genre.
The audience is going to demand more nuanced and authentic portrayals of women, following this, that is for sure. The Marvels serves as a reminder that the journey towards true gender equality in the world of superheroes is still a work in progress.
---