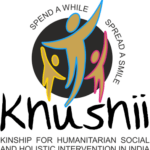 Website Khushii Foundation
About the internship:
Grow with us in our marketing & sales internship program and be a part of a passionate team dedicated to making a difference in the world! You will be in charge of helping and executing digital fundraising activities in order to increase support for our organization, thrill our audience, and drive donations. This is a chance for students to learn about the new-age digital business channels, which have become the most important marketing and sales channel across industries.
Selected intern's day-to-day responsibilities include:
1. Learn and comprehend how the digital ecosystem works and how it may be turned into a winning plan
2. Learn and comprehend how the web/internet/social media along with regular channels may be used to enhance relationships and grow business
3. Get to understand consumer behaviour
4. Build a network
5. Establish and maintain a positive working relationship
6. Excel in your business pitch & presentation
Learn skills relevant for this internship on Internshala Training
Learn Business Communication
Who can apply
Only those candidates can apply who:
1. are available for full-time (in-office) internship
2. are available for a duration of 3 months
3. have relevant skills and interests
For more information, please click here.
---
To advertise your job, internship or any other academic or professional opportunities on FII's Jobs and Opportunities Board, email us at careers@feminisminindia.com