Posted by Marion Tisserand
Five women standing facing the public for 15 minutes is already an experience. When the live – powerful and moving – music starts playing you stare at them expecting a move. Well it is only when the music stops that the dancers come alive. In this show the collective Praatohkrityo melds sacred and modernity; dance, music and theatre. To say the least they challenge our representations and certitude. The artists never let you go, bringing you deeper and deeper into the questions of women and bodies. After several successful shows in Kolkata, Praatohkrityo came to Delhi on the 21st of April at Kamani Auditorium.
A feminist show
It must be said that the collective – through the voice of Aritry, the production manager – aims to "break the rules that cage our bodies". That is why the dancers put on stage the morning rituals through repetitive and jerky movements. The dancers walk straight and cross themselves. The rhythm gets faster and they bump into each other. Sometimes they catch each other, sometimes they do not. Sometimes they fall like robots.
It is redundant to say that these women push their bodies till their limits. The dancers give themselves entirely embodying alternately sensuality or tenderness, behaving alternately like machines or warriors. This infernal rhythm runs until one match of a tender-passionate-merging love between two human beings – and between two bodies – as if we had been bewitched by the beautiful litany in Sanskrit from one of the dancer. But soon two other dancers try to separate them while performing traditional dances on circle around the lovers. Is that the kind of oppression that Aritry denounces? According to her "the oppression is not only with words but projected on your body." She claims that it is through your body that you question the limits because "through performing you are transgressing."
Obviously the artists could not avoid the question of relations between men and women. This is done through this recurrent nonchalant male character. Hooded and smoking he walks in silent amid the women starring at them and even drawing on them. It is almost painful to watch this man ruining a kind of magical moment. Hopefully he is not the only man of the show.
An aesthetic, artistic and universal show
Because Praathokrityo is not only about dancers you soon realize how dance and music are bounded. Thanks to the ten music male players, the dance almost reaches trance. Mixing tradition and modernity from the tabla to a guitar the artists create a universal language. The choreographer Joyraj Bhattarcharjee and the artists collaboratively created a show going crescendo until freedom. It is not necessary to ask who invented this or that movement. The picture that remains in your mind is of the women, legs apart to their knees and pulling their hair at the back of their head.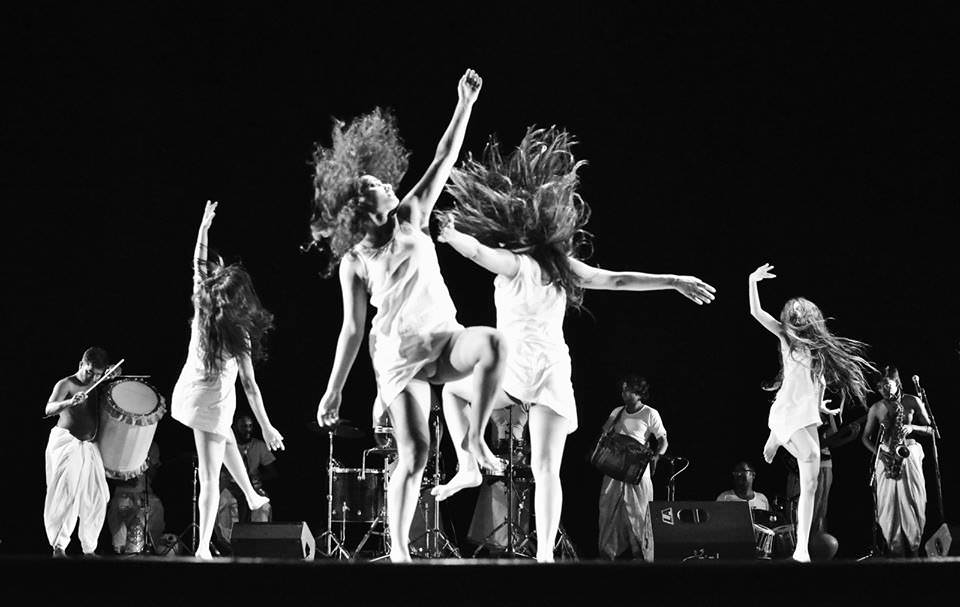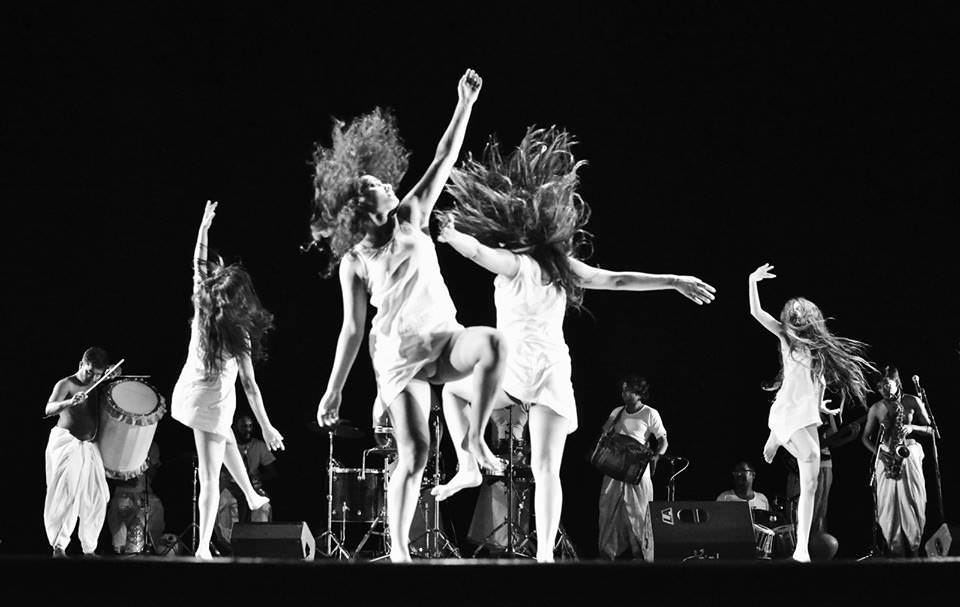 One interesting story concerns one of the women Debarati Sarkar who never danced before discovering the troupe from Kolkata 6 months ago. She has been impressed by what other women could do with their bodies and decided to go beyond her limits and fears. Maybe she had to behave in a particular way on the streets but while dancing she can do "whatever [she likes]" with her body. And for those who are still hesitating following their impulses, she claims smiling: "I just stopped thinking and started dancing. If I could do it anyone can."
---
Marion is a French woman currently making a documentary on feminist initiatives in India. She focuses on women questioning the female role through their bodies and feelings. 'Let us connect women around the world and maybe inspire from each other' resumes her work.
All images courtesy: Collective Praatohkrityo | Facebook