Recently, Dangal star 16-year old Zaira Wasim who played young Geeta Phogat met Jammu & Kashmir Chief Minister Mehbooba Mufti after the success of her movie, who described her as a "Kashmiri role model". Their photo went viral on social media drawing severe backlash. Zaira was heavily trolled and bullied on Facebook.
"Cursed girl", wrote one Instagram from Kashmir. Another said, "Payi se trath" (may you get hit by lightning). While one Facebook user commented, "Zaira is trying to defame Kashmiris say no to Zaira" and put cross marks on her and Mufti's faces with "Both are Shaitan" written on it.
Zaira posted an apology on her Facebook profile, but later deleted the same. She then again posted a clarification post the apology but deleted that too shortly.
In her apology she wrote, "I know that many people have been offended and displeased by my recent actions or by the people I have recently met. I do not want anyone to follow in my footsteps." She further requested the netizens to be considerate as she is only 16-years old, "I hope people can also understand there are certain circumstances that emerge which one cannot control and I hope people still remember that I'm a just a 16-year-old girl and I hope you treat me accordingly."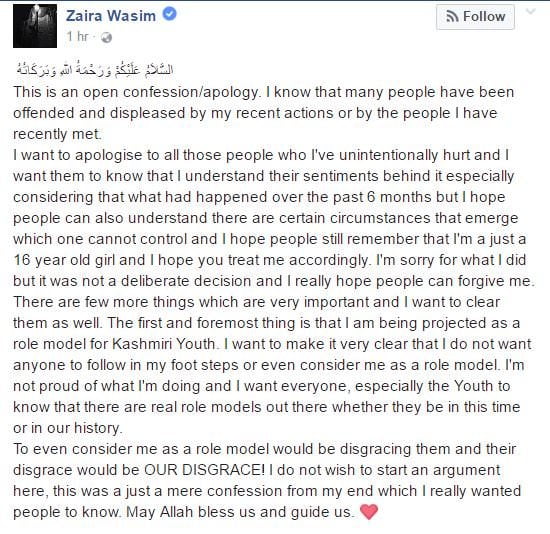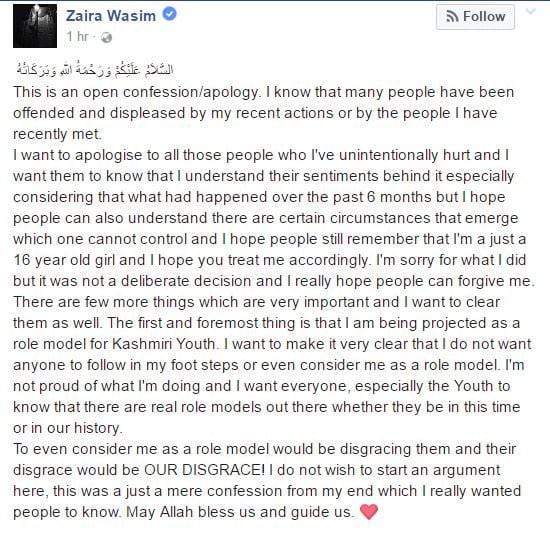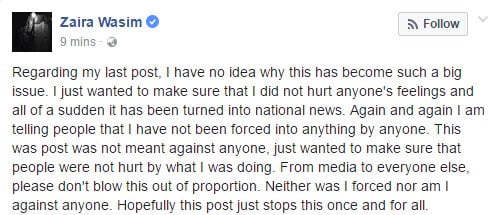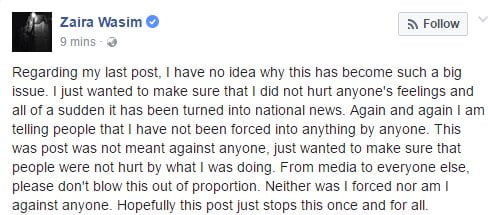 What does it say about our country when we make a 16-year old apologise for meeting a CM, especially after the same 16-year old was very recently lauded for her performance in the highest grossing Bollywood film of 2016 on "women empowerment" for her role.
Where is Aamir Khan, who has been vehemently tweeting and retweeting about Dangal's success, but hasn't sent out a single tweet or words of support to shut the harassers?
Why do we love our stars only when they perform to our fulfillment and hate them when they do not fit our ideas of 'perfectionism'. Don't we do the same with our sports persons, especially sportswomen too. When Sania Mirza brings home a medal, she is the 'proud' daughter of India, but when she married Pakistani cricketer Shoaib Malik, she is anti-national?
And what exactly is wong in meeting Mufti? Whatever her political stand on J&K and relationship with the Centre is, how does that change anything about who and how Zaira Wasim is as a person? And why are we bringing a child into our political differences on whichever side of the line we stand. I stand in solidarity with the people of Kashmir and I'm critical of the current government, but I will not hate Zaira for either meeting J&K CM or the PM.
A similar incident happened when an all-girl Kashmiri rock band Pragaash formed by three teen-age Kashmiri Muslims teenagers recevied backlash by Islamist scholars and had to disband their group on grounds of hurting "religious sentiments". All band members received threats of death, rape and other physical form as well as a Fatwa from Grand Mufti.
Zaira's words and apology is a shame on us. It takes a lot to call yourself 'a disgrace' on social media especially when you were hailed as a youth icon for J&K. The amount of mental health trauma and stress that young woman must have to go through on Mondaynight is unimaginable.