Begum Samru was the ruler of the territory of Sardhana in 18th century India. Throughout her lifetime, she ruled and defended her territory from military and economic attacks in face of transitional regimes. Her life is an account of this very economic and spiritual transition, where a female ruler negotiated the autonomy of her territory by diplomacy and military prowess. At the time of her death, she was acknowledged and celebrated all over the world for her achievements and the beauty of her court, but remains forgotten in contemporary popular narratives.

Begum Samru was known by many names. She started out as Farzana, an orphaned nautch (dancing) girl sold off to General Walter Reinhard Sombre, whom she married later, which led to her inheriting the territory of Sardhana. After his death, she took charge of the territory and the army and played a crucial role in many battles until her death as Begum Joanna or Begum Samru. Many times, she led her troops to battle.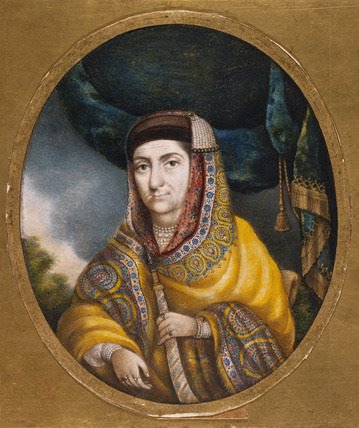 Begum Samru's story is that of a woman who acquired power and made her fortune in the male dominated areas of military prowess and rulership – coming from the lowest rungs of society in 18th century North India. Within the male-dominated circles of power, Begum Farzana Samru or Begum Joanna presents a case of a woman's utilization of her resources (of sexual power, station as a wife, jagir-holder (feudal lord) and leader of an army) and desire to be etched in the history, as is evident from the Catholic Church she built in Sardhana and the palace she lived in, Chandini Chowk, Delhi.
Much has been written about her, yet she is not remembered among the rulers who struggled between the collapsing Mughal and Maratha orders and the incoming of British. Michel Larneuil, a French writer, in his book Begum Samru of Sardhana recreates her life and her times to present her as a ruler, and how Begum negotiated autonomy in her own way from the various empires in her lifetime.
She was born Farzana Zebunissa to Latif Ali Khan, one of the Kashmiri Aristocracy. When her father died, her mother fled along with her to Delhi fearing mistreatment from the rest of the family. She was taken into a brothel after her Mother died on the streets of Delhi. She was later picked up by Walter Reinhardt, a European mercenary, who had been renamed General Sombre by the French soldiers he commanded. Therefore, after marrying him Farzana became Begum Samru, an Indianization of Sombre.
There were several internal conflicts within the army on the question of an un-veiled Muslim woman being their leader.
She was then introduced to the whole new world of battles, arms and multiple small dynasties fighting for power over land in 18th century India. She took interest in learning a variety of subjects and was renowned for her skills at horse-riding and shooting. After wavering loyalties, General Sombre operated under the Mughal Empire under Shah Alam II on the condition that they wouldn't hand over Sardhana to the British.
General Sombre died in 1778 and left his estate, mercenary army, and the power of operation to Begum Farzana Sombre. There were several internal conflicts within the army on the question of an un-veiled Muslim woman being their leader. Larneuil mentions the episode when one of her Commanders argued her case in the emperor's court but then felt entitled to sexual favours as well as her position as the leader of the contingent.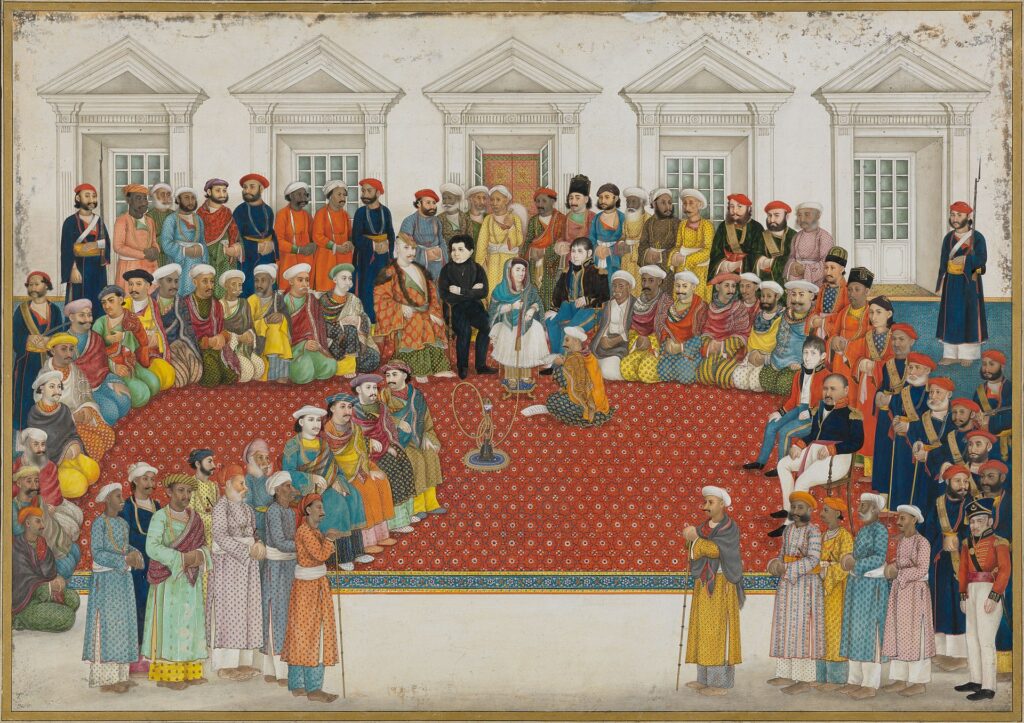 In the meantime, Begum Farzana met Father Gregorio who had a great impact on her spiritual life. Larneuil, in his account, writes that Begum Farzana was greatly affected by the story of Jeanne d'Arc. On May 7 1781, she converted to Christianity and renamed herself as Joanna.
Throughout her lifetime, Sardhana was never secure as she was in command of a powerful army and was caught between the interests of shifting imperial powers of Marathas, Mughals and the British. A major discord in the Mughal Court occurred when Afrasyab Khan turned out to be a cruel and incompetent advisor to the Mughal Emperor and the British sought to benefit from this. Begum Joanna was advised to take arms against Afrasyab Khan in order to protect the Emperor who was becoming more and more powerless each day. She was declared a traitor and was stripped of her title and territory. After this, the Emperor Shah Alam appealed to Mahadji Scindia for his safety and Begum also collaborated with him Begum offered her assistance and army to Scindia in the battle. After Afrasyab Khan was assassinated, her former position was restored to her. Begum then reassembled the city that was left economically famished by war. Later, she was bestowed with the title of "Very Loved Daughter" and "Jewel of the Court" of the Mughal Empire after saving the Emperor from being captured by Najaf Kuli Khan.
She was renowned for her skills at horse-riding and shooting.
Larneuil mentions Begum's relationships with Thomas George and Armand Levassoult. She married the Frenchman Armand Levassoult and made him second-in-command of her army. This made Thomas George unhappy, who had secured the loyalty of the soldiers. Thomas George openly declared rebellion against her. Surrounded by rebels from all the sides, the couple decided to flee for France. They were caught and Levassoult was killed, while Begum was taken as a prisoner by her step-son Zafaryab Khan, who plotted against her for the rights of the Jagir in Delhi. However, she wrote a letter to Thomas George and he complied to help her and again, Sardhana was restored to her. She later repaid the debt by helping his army to avoid his capture in the year 1800.
After 1800s, the two powerful empires – that of Marathas and Mughals – were collapsing and British were gaining power over the territories. When her attempt at diplomacy and warfare failed to keep her territory entirely autonomous, she worked out a deal with the British to send half of her army to them but maintaining the autonomy of her court, land and operation of Jagir.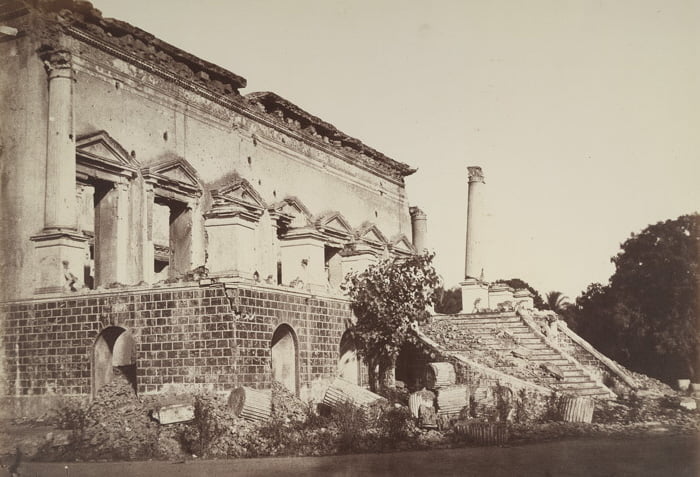 Begum Samru was acknowledged all over the world for the hospitality of her court. She recieved letters from Pope Gregory, the King of England and even exchanged portraits with the King of France, Louis Philippe. She was recognized as an able and fearsome ruler and commander during her lifetime. Her biography gives us an insight into ambiguous centres of power in a volatile political environment that led to formation of the British Empire. Begum Joanna/Farzana Sombre's story, is one such story of survival at the cusp of changing political and economic orders.
References
Begum Samru Of Sardhana (1981), Michel Larneuil