Fatima Sheikh, like many other Indian women reformers has remained unknown and uncited in history. The little that is known about her comes from her association with Savitribai Phule and Mahatma Jotiba Phule. When the Phule couple had started teaching the lower castes, especially women, they were asked to either stop the practice or leave their home. The couple decided to leave their home and were then given a place to live by Fatima and her brother, Usman Sheikh in their own house.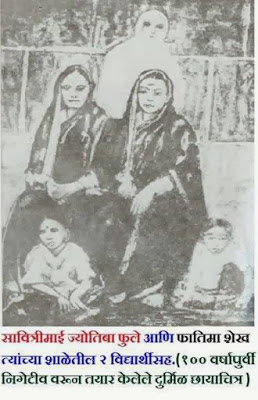 The opposition that Jotiba and Savitribai faced, became even more enhanced for Fatima. She helped Savitribai set up their first girls' school called "Indigenous Library", in her own house. She was going against both, the upper caste Hindus as well the orthodox Muslims. Both these groups were extremely apprehensive about a universal access to education, something that was till then only a privilege of the upper caste men. But defying all norms, Fatima and Savitribai set up the school and even went to a training institute, to become professional teachers.
The upper caste people reacted vehemently and even violently to the start of these schools. They pelted stones and even cow dung at Fatima and Savitribai while they would be on their way. But both the women remained undeterred. Fatima taught in the school till 1856, and is regarded as the first Muslim woman teacher of India.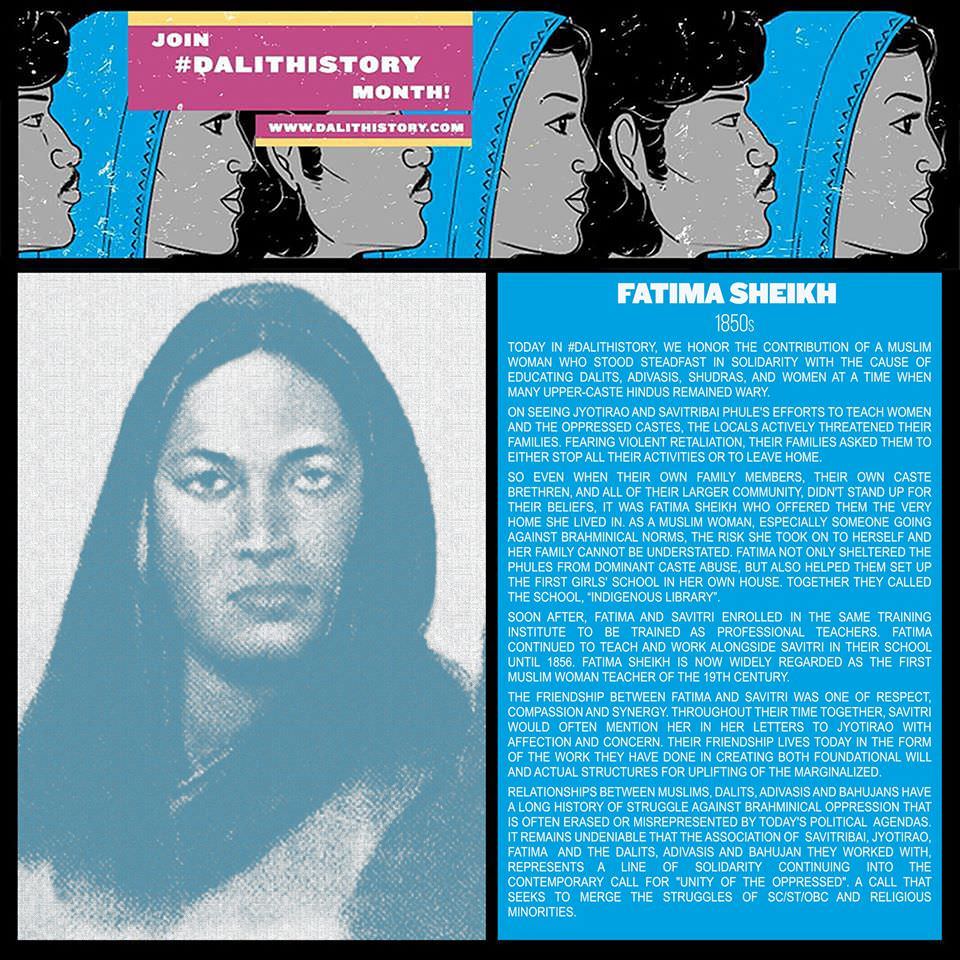 Unfortunately, very little literature is available on the life and works of Fatima Sheikh. However, the government has made some attempts to acknowledge her role. In 2014, Fatima Sheikh's brief profile was included in the school Urdu textbooks of Bal Bharati Maharashtra State Bureau along with the likes of Sir Syed Ahmad Khan, Zakir Hussain and Abul Kalam Azad.
Fatima Sheikh's life is also of a large significance as she probably marked the first joint struggle of the Dalits and the Muslims. The unity amongst the oppressed groups has always directed the struggle of liberation, as was later seen in movements like Chalo Thiruvananthapuram, and Dalit Asmita Yatra. Fatima's life was an early precursor for the larger struggle to come.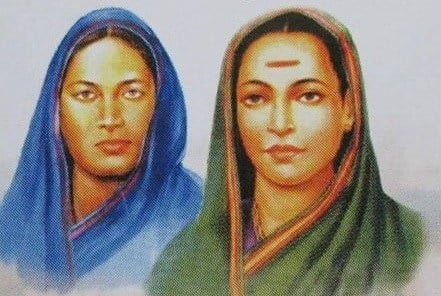 Also read: The Life And Times Of Dnyanjyoti Krantijyoti Savitribai Phule | #IndianWomenInHistory
---
Author's note: Very little information was available about Fatima Sheikh, which made compilation of her life history and works difficult. If there are any sources you know of, let us know in the comments section.
Featured Image Credit: twocircles.net