Vina Mazumdar belonged to a generation that believed in the slogan 'Stree Swadheenta Zindabad (Long Live Women's Freedom)' and was involved in India's freedom movement. There was not only a broad understanding of the terms like 'equality' and 'justice', but fighting for it against the British rulers was considered socially and politically acceptable. Vina Mazumdar had an overpowering zeal to fight for equality during independence struggle and even after the attainment of freedom. Her life is a compelling account of the development of what she liked to call the 'twin movements' i.e. women's studies and women's movement.
Early life
As a child, Vina adored her mother's endless curiosity for acquiring more knowledge and the habit of reading books. This not only made her more involved in research but a determined History student. Vina received an excellent education from eminent institutions at Calcutta, Banaras and Oxford, London. She had to take 'consent' from her father before applying for teaching jobs. Her father believed in ideals of the independence movement and refrained from discriminating her against her brothers and provided his support.
The initial stages of an illustrious career
After working as teacher of political science at the Patna University for nearly a decade, She was appointed as the Member Secretary at the Committee on the Status of Women in India, and later Director, Programme of Women's Studies, Indian Council of Social Science Research for five years (1975-80) and Founder-Director of the Centre for Women's Development Studies (CWDS), New Delhi (1980-90). She was the founding member of Indian Association of Women Studies (1982) and served as the Chairperson of CWDS (1996-2005).
Her contribution to the women studies movement cannot be limited to the number of positions she headed as she not only contributed in the development of women studies but participated in recording the status of majority of poor women in the country. As Vina Mazumdar was appointed the Drafting Secretary of the report of the status of women, in 1971, she recorded and spent the majority of her time on understanding the diversity of women's experiences within the patriarchal conditions of the country. She observed that women from urban and educated backgrounds were reluctant to discuss their lives, but women and men from the poorest and secluded backgrounds of the country questioned the government policies and openly discussed their issues.
While she was a part of the Drafting Committee of the Towards Equality Report published in 1975, she and her colleagues (Leela Dube, Lotika Sarkar, and Kumud Sharma) realised the need to build a collective consciousness for improving the status of women in India. Due to her middle class, bhadralok background and exposure to better educational opportunities, she realised that there was no consciousness or awareness about the living experiences of poor, unprivileged women in India. She and her colleagues realised that the collective consciousness they created through working for committee needs to be included in the overall political and educational institutions of the country. Thus, the need to create a collective consciousness became part of the ideas for advocating women's research and including women's experience in various disciplines of social sciences.
Some of her books are as follows.
Education & social change: three studies on nineteenth century India. Indian Institute of Advanced Study, 1972.
Role of rural women in development. University of Sussex. Institute of Development Studies. Allied Publishers, 1978.
Symbols of power: studies on the political status of women in India. Allied, 1979.
Women and rural transformation: two studies with Rekha Mehra, Kunjulekshmi Saradamoni. ICSSR. Centre for Women's Development Studies. Pub. Concept, 1983.
Emergence of the Women's Question in India and the Role of Women's Studies. Centre for Women's Development Studies, 1985.
Khadi and Village Industries Commission. Centre for Women's Development Studies. 1988.
Peasant Women Organise for Empowerment: The Bankura Experiment. Centre for Women's Development Studies. 1989.
Women workers in India: studies in employment and status, with Leela Kasturi, Sulabha Brahme, Renana Jhabvala. ICSSR. Chanakya Publications, 1990. ISBN 978-81-70010-73-9.
Legislative Measures and Policy Directions for Improving the Lot of Farm Women, with Kumud Sarma, Lotika Sarkar. Indian Council of Agricultural Research.
Women and Indian nationalism, with Leela Kasturi. Vikas Pub. House, 1994. ISBN 978-81-70010-73-9.
Changing Terms of Political Discourse: Women's Movement in India, 1970s–1990s, with Indu Agnihotri. Economic and Political Weekly, Vol. XXX No. 29, 4 March 1995
Political Ideology of the Women's Movement's Engagement with Law. Centre for Women's Development Studies, 2000.
Face to face with rural women: CWDS' search for new knowledge and an interventionist role. Centre for Women's Development Studies, 2002.
The Mind and the Medium. Explorations in the Evolution of British Imperial Policy in India. Three Essays Collective. 2010. ISBN 978-81-88789-64-1
Memories of a Rolling Stone. Zubaan Books. 2010. ISBN 978-81-89884-52-9.
The advent of CWDS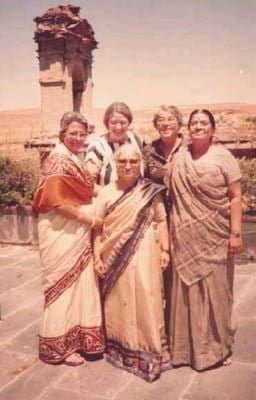 Another aim for introducing women's research into academics and educational institutions was to provide a platform where women could draw attention to their memories and have a more nuanced understanding of their experiences with the patriarchal structures and forces. However, the inception of women's studies remained inseparable from women's activism in India. The initiation was done through mobilising activist, female political figures and raising concerns regarding to women's research and issue.
In one of her interviews, Vina Mazumdar explained that the beginning of CWDS required the mobilisation of public opinion. She revealed that it was conducted through the help of the members of National Women's Organisation that was already raising the dowry, domestic violence and Mathura custodial rape case issue. After being recommended by the Indian Council for Social Science Research, for setting up of an autonomous institution to carry on women's research, the passing of the bill faced many hurdles by the planning commission officials.
With the help of the press, activists and politicians like Aruna Asaf Ali who publicly commended the officials, the Centre for Women Studies came into existence. Through the help of women's organisations, activists, and members of women's movement the issue was raised against the government's reluctance and fought for the demand for establishing a department for women's research in academics.
Formation of IAWS
Vina mentioned the inseparability of activism from women's studies and recognised this as a gradual and crucial process for the growth of the discipline. One of the primary challenges for that still remains for the women's studies programme is to constantly contest the boundaries of the university system. The point is to question any form of institutionalisation while being within the ambit of an educational institution and work towards building a multidisciplinary approach. This approach was lauded during various bi-national seminars by colleagues of Vina in the United States women studies department.
Later, Vina Mazumdar was advised by her officials to form a national association that would be responsible for promoting Women's studies in the country. This gradually led to the foundation of Indian Association of Women's Studies (1981) that includes a national committee to convene National Conferences and is conducted after three years. This year marked the 35th year of and included the theme 'Women in the Changing World: Restructured Inequalities, Counter currents and Sites of Resistance.' Organised on 22nd – 25th January, in collaboration with University of Madras, Chennai.
Vina Mazumdar's legacy
The empowerment of women remains one of the most contested terms used by the government and organisations. Vina always stood for questioning the contradictory stance of such a statement and raised her concerns regarding the government's failure to 'empower' women. Through her participation in the women's movement, she suggested that those from vulnerable communities should be involved in political decision making in the local self government bodies. Through her times, the definition of feminism included people who were discriminated against. The fixed stereotyping that was already in place, not only led to a partial understanding of feminism but restricted the growth of its meaning.
For Vina Mazumdar, the understanding of feminism originated from the belief in equality and social justice infused in the blood of the independence movement generation. The fighting for the demand of justice led to the inception of the Indian nation. Thus, she always believed that equality and justice are a political necessity in democracy. Her life shows an exceptional and undying struggle for achieving equality and justice through women's movement and women's studies.
Also Read: Rajeshwari Chatterjee: First Woman Engineer From Karnataka | #IndianWomenInHistory