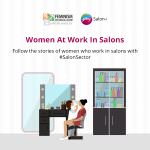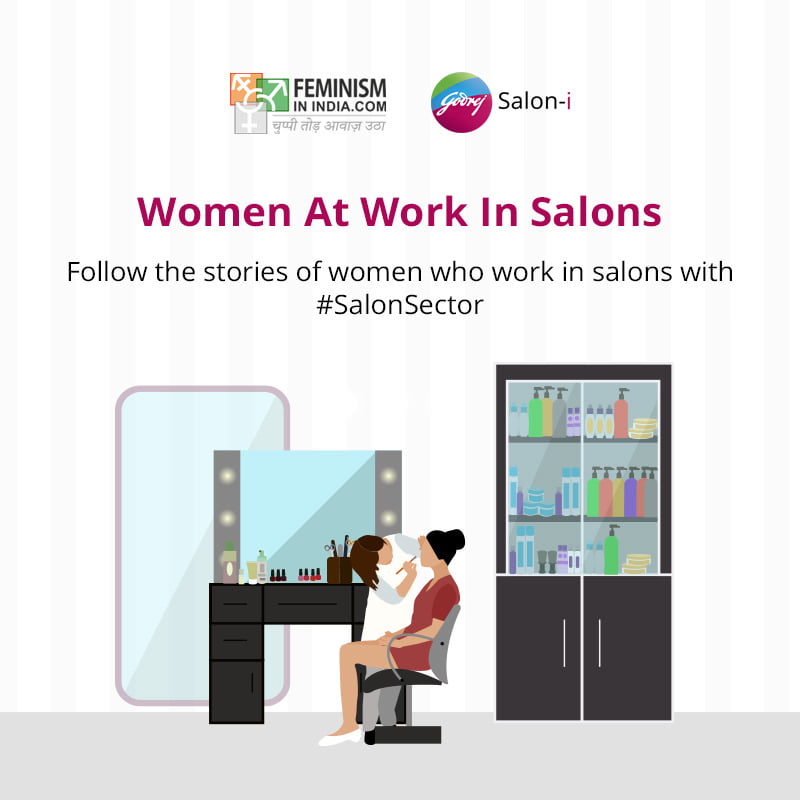 Editor's Note: 

Feminism in India in collaboration with Godrej Salon-I have launched a campaign '

#SalonSector – Women At Work In Salons

' to bring to light the stories of women in the beauty and wellness industry. Read more about the campaign

here

.
This article traces the story of Urmisha Parmar, from Bhargaon, Ahmedabad. This is her path to self determination, while navigating financial obstacles and illness in her family. The piece is written based on interviews with Urmisha
---
Urmisha lives with her mother, father and 3 brothers. Her father works as a house painter and earns approximately RS. 5,000/- per month. Her elder brother, who is 27, is also involved in the same business as his father and earns Rs. 2000-3000/- per month. Her younger brother is 20 years old and is pursuing a BCA degree. Her other sibling (brother), 22, has recently signed a contract as a sweeper with Rajasthan Hospital.
Urmisha decided not to continue with her education when she was failed in the 10th standard. She says, "if I would have passed the exams, then also it was necessary not to continue education further, because at that time, my father was unable to afford the education expense for all 3 children. He can only afford one child's education expense and I wanted my younger brother to study."
Through pamphlets, Urmisha got to know about the training center. She says, "One day I came in contact with Saath's mobilizer who gave me the course information and fees were also very low so I immediately decided to join the course. When I told my family about joining the course they didn't give me a positive response. But I had made a final decision in my mind to join the course so after an initial no, my family permitted me to join the course."
She first joined the stitching course in April 2016 and then joined the beauty parlour course in January 2017. She very much interested in learning this course. From her first day till the last day of training, she was fiercely dedicated to everything she learnt.
In February 2017, her father had a heart attack, following which, he was not able to work anymore. Since then, Urmisha became very sincere and much more focused on her training as a beautician, because she wanted to support her brothers financially as soon as possible. As her training completed, she started giving home services as a beautician. She is earning around RS. 1,500 per month. Whenever her younger brother is in need of money for any expense related to his studies, she provides money to him or else, she saves that money because she wants to take a professional beautician training course.
Urmisha says, "I am happy to see myself so confident and my parents are proud of me that I can earn money and help my younger brother for his education. My dream is to open my own beauty parlor, once I learn the professional course."
When asked about the difficulties and challenges she faced after starting work and how she overcome those, she says, "I didn't have any resources to start my own parlour also I had no idea from where to buy material and how to do marketing for my parlour. Initially, I invested a lot of money to start my parlour and due to this, my family members were not at all happy. Moreover, after starting my parlour I faced more difficulty in establishing its identity. In the beginning numbers of customers were very few but due to my excellent services number eventually increased. Looking at my progress now my family members are also very happy and have become very supportive. I want to expand my business and increase my parlour's visibility."
Also Read: How Krupa Tadvi Turned Her Life Around | #SalonSector
---
Featured Image is for representational purposes only.
Featured Image Credit: TopListing