On 21st September 2017, Feminism in India (FII) attended the Digital Citizen Summit by Digital Empowerment Foundation (DEF). The Digital Citizen Summit, on its second year of running, aims to generate actionable policy-changes through debate and discussion to protect human rights online, given the disturbing trends of mass surveillance by government agencies, the invasion of privacy, attempts to curb free speech, and online harassment and abuse.
FII, in its capacity as official partners, hosted and participated in 4 panel discussions at the Summit.
We are at #DigitalCitizen2017 as official partners with @DEFindia. Come say hi at #IndiaHabitatCentre! 🙂 pic.twitter.com/nyM0tFhJNC

— Feminism in India (@FeminismInIndia) September 21, 2017
Here is brief report of our panels and what we discussed in them!
1. Don't Let It Stand: How Do Women Deal With Online Abuse
This panel discussion was co-hosted by Feminism in India and Internet Democracy Project discussed online abuse and harassment that women face on the regular. The panelists, apart from Japleen Pasricha of Feminism in India and Nayantara R of Internet Democracy Project, included Nadika Nadja, a trans woman and trans rights activist, Piyush Agarwal, a data journalist from the Hindustan Times who has worked on tracking online abuse, and Prasanth S, a lawyer from Software Freedom Law Centre (SFLC).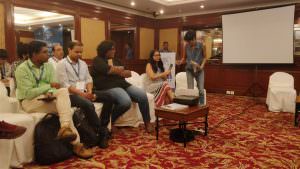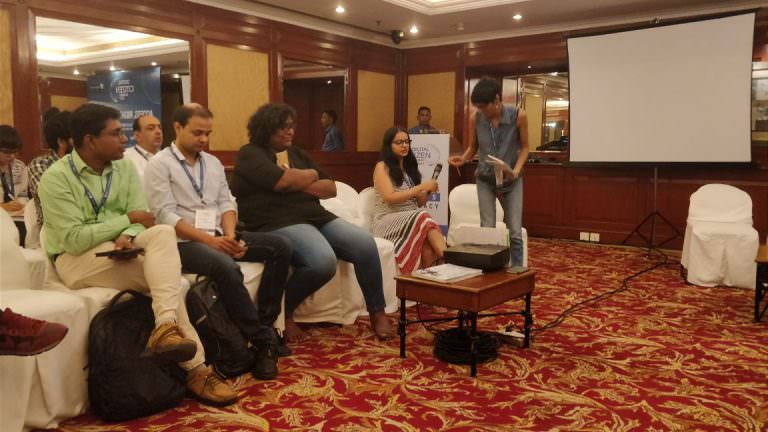 The discussion covered the vast spectrum of different kinds of online abuse, from mobile phone harassment to doxxing, trolling, and rape threats. Audience members pitched in with their personal or relayed experiences of abuse, and the silencing potential that it has, leading many women to self-censor themselves and reduce their presence on social media.
Also Read: #DigitalHifazat – FII's Campaign To Combat Cyber Violence Against Women In India
We discussed the limitations of legal approaches, wherein the legal machinery is often unaware or ill-equipped to deal with online harassment, as well as the platform-based solutions like muting, blocking and reporting. We also spoke about the potential of community-based approaches – finding a virtual community to rally behind you to counter abuse, and even have Twitter lists on hand of people to help battle online trolls.
We spoke of technical limitations, like the failure to recognize abuse in regional languages, or slang in mixed language like 'Hinglish'. A panelist brought up the ubiquity of automated bots that are designated to hurl abuse against anyone that uses particular keywords that they are coded to identify, wherein the recipient of the abuse will not even be aware that the source of their harassment is a bot.
This is the start of a Twitter thread where we live-tweeted the entire discussion:
We are starting our panel with @iNetDemocracy speaking about online abuse and harassment. #DigitalHifazat #DigitalCitizen2017 pic.twitter.com/81bvwwhwhG

— Feminism in India (@FeminismInIndia) September 21, 2017
The panel discussion was hugely successful, with audience members pitching in with their experiences and expertise in certain matters, leading to an extremely productive session.
2. How To Hold A Wikipedia Edit-a-thon And Reduce The Gender Gap
This workshop was hosted by Asmita Ghosh from Feminism in India, and went through the basics of organizing a Wikipedia Edit-a-thon, as well as the need to have more women editing on Wikipedia.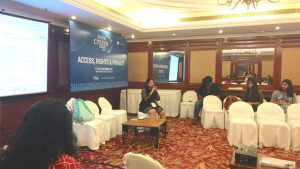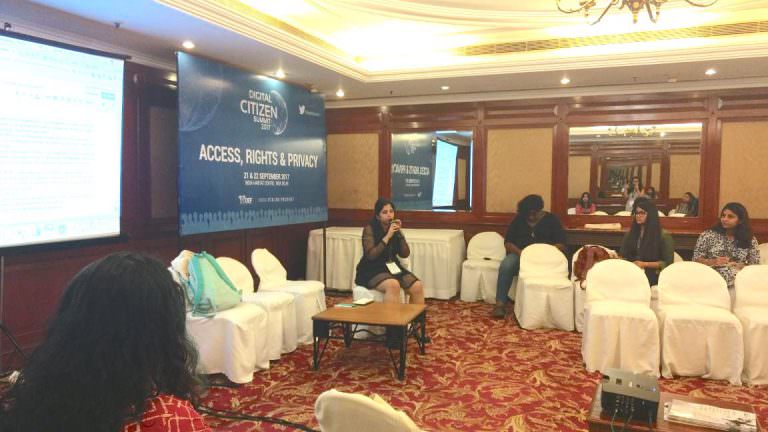 The gender gap on Wikipedia is evident in the number of women editors – 9% worldwide and just 3% in India, (as per 2011). The low number of women editors also reflects on the content on Wikipedia, where topics traditionally associated with masculinity receive much greater coverage than topics associated with women. We kicked off the discussion by showing a video on why Feminism In India hosts regular monthly Wikipedia edit-a-thons.
The workshop went over the guidelines laid down by Wikipedia that editors must follow to create fair and neutral Wikipedia pages, and then discussed the nitty-gritties of organizing an edit-a-thon for first time editors. Asmita from FII then created an edit on the page of a sportswoman in India from tribal Jharkhand to reflect her latest medal at a championship, as an example of a successful Wikipedia edit.
3. Feminists Taking Over The Internet Using ICTs
This panel discussion was co-hosted by Feminism in India and Hidden Pockets. The panellists, beside Japleen Pasricha from FII and Jasmine George from Hidden Pockets, were Bhani Rachel Bali, the founder of Krantikali; Payel, a woman coder and student from Indira Gandhi Delhi Technical University for Women and Aisha George from Hidden Pockets.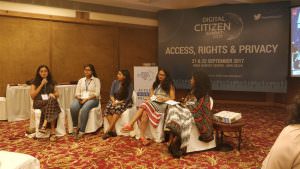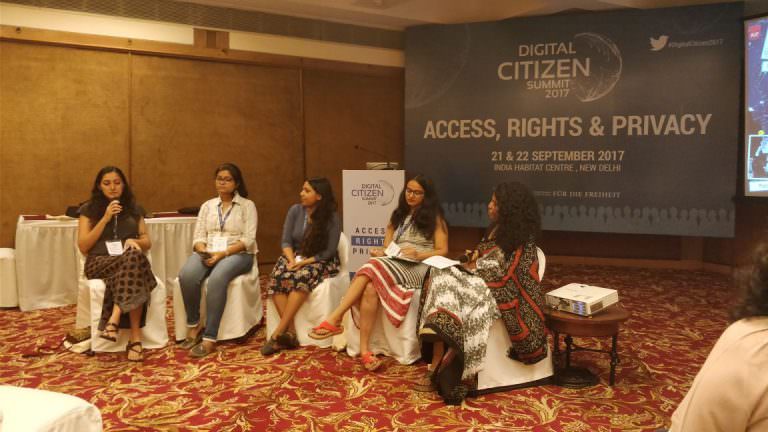 The panel discussed the way feminist content in the digital sphere could revolutionize the internet, and how it was currently being used to subvert patriarchy in the blogosphere. The women on the panel spoke about their respective experiences in their workplaces, from having more women coders in India, to feminist memes and podcasts created by and for women, to calling out patriarchal "humour" and misogyny on the internet.
4. Social Media and Sexual Expression
The final panel was co-hosted by Feminism in India, Hidden Pockets, and Point of View. The panelists were Nadika Nadja, a trans woman and trans rights activist, Smita Vanniyar from Point of View, Mahika Banerji from Feminism In India, Jasmine Lovely George from Hidden Pockets and Nipun Malhotra from The Nipun Foundation that works on rights for people with disabilities (PwD). It was moderated by Brindaa Lakshmi from Hidden Pockets.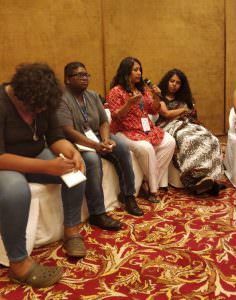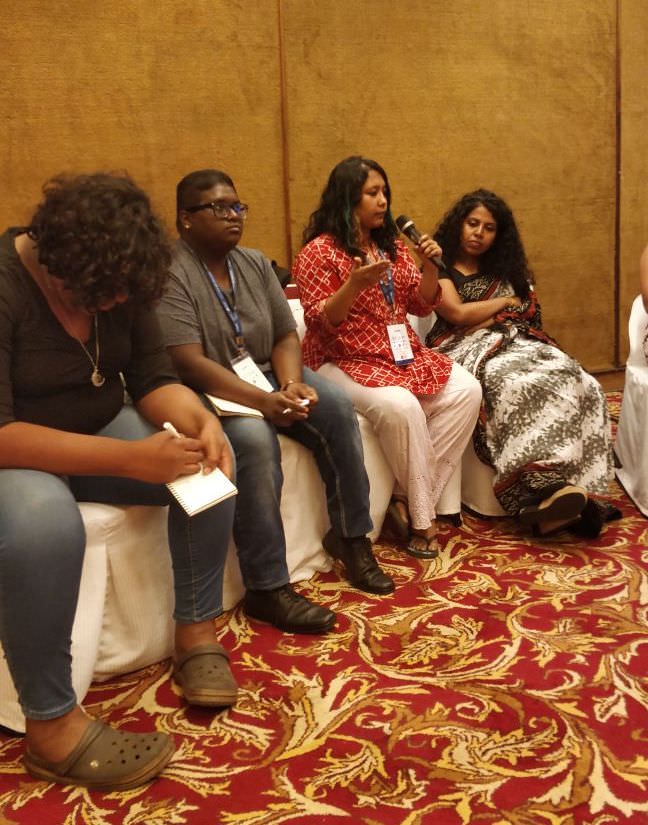 The discussion was very broad, as it covered the ways in which cis women, trans women, queer women, and people with disabilities, expressed themselves on the internet. The panel brought forth the experiences of panelists as well as larger questions of representation of marginalized genders and sexualities on the internet.
Mahika from FII touched upon the particular kind of body that was deemed desirable on the internet, the 'Barbie mold', and those that deviate from it being trolled, abused or ridiculed. Nadika spoke of the internet being a safe space for trans people to reflect their desired gender identity, and how the 'Real Name Policy' of Facebook hampers this expression. Nipun spoke of the basic lack of accessibility for PwD on the internet, with the lack of subtitles or captions on images and videos, and how visible disabilities often lead to marginalization on the internet. Smita spoke about how the internet was a great way to find and reach out to her fellow queer community and build lasting relationships. Jasmine too spoke about the potential power of the internet to form virtual communities of like-minded people, as well as form safe spaces to speak about sexuality, gender and sexual orientations.
The day was filled with fruitful discussions and productive learning experiences. Do join us at our future talks and workshops!