As the year 2017 ends, we asked people on Twitter, Facebook and Instagram to share their favourite feminist moments of 2017 using the hashtag #MyFeminist2017.
Alright, it's time for you to tell us your best feminist moments of the year! Tweet to us with #MyFeminist2017 and tell us what you were proud of, as a feminist, this year! pic.twitter.com/dwHJSI4BbE

— Feminism in India (@FeminismInIndia) December 27, 2017
The response was overwhelming, with people sharing their personal experiences about them dealing with body issues, mental illness and gendered expectations along with the significance of the watershed #MeToo movement and abolition of triple talaq to mention a few. Here are some of our favourite stories:
https://twitter.com/BeingChatterjee/status/946244640990150657
We all can do better in our conversations about mental health.
#MyFeminist2017 was that the conversations around menstruation are going strong! Students campaigning about it (Stain the Stigma), commercials that showed the bloodiness of periods, companies giving menstrual leave, the Sabarimala issue. We're unlearning the ickyness of periods!

— Hidden-Pockets (@Hidden_Pockets) December 28, 2017
Period – Destigmatized.
https://twitter.com/lorddearoh/status/946109184373809152
#MyFeminist2017 was a HELLA feminist 2017. Let's see.

1) curated a bunch of safe spaces (again)
2) did a photoshoot WITH MY STRETCHMARKS IN FULL FOcus
3) wrote a bunch. a BUNCH.
4) walked out of a bunch of toxic relationships
5) championed women and their causes

— ✨?✨don't be asinine, quarantine✨?✨ (@PedestrianPoet) December 27, 2017
So many people shared their posts about accepting their body and redefining beauty and getting out of toxic situations. More power to you!
https://twitter.com/ruchiks127/status/945931122487132161
Yes, unfortunately a lot of our textbooks perpetuate archaic gender roles, this is much needed.
#MyFeminist2017 UNLEARNING SO MUCH!!! Especially learning about my caste privilege, which I am ashamed to admit, I had not been particularly conscious of. Will do better.

— aarohi (@doosihoraa) December 27, 2017
Identifying privilege is important to battle oppression, and as in the case of our country caste privilege.
Three: Sipping a cup of tea on the roadside an evening along with three fellow feminists and recognising the power to normalise things for future generations. #IWillGoOut#MyFeminist2017 @japna_p @asmitaghosh18 @KrantiKali

— Anuradha Exwaized (@anuradhaxyz) December 27, 2017
Equality as the norm would be wonderful, yes.
https://twitter.com/Aparna/status/945933181215059968
Sexism in corporate offices is rampant, this is so important.
#MyFeminist2017 included
1) reviving a largely inactive Women's Development Cell of my college, and taking over as its President.
2) becoming outspoken about my privilege as an upper caste feminist.
3) educating myself about the intersection of feminist and LGBT+ politics.

— Shambhavi Shukla (@samforscum) December 27, 2017
#Myfeminist2017 Finally starting a healthy discussion with my family about #gender politics which I have been reluctant to do because they are right wing. It turned out well.

— Shruti Janardhan (@shru6891) December 27, 2017
This iconic photo of the protests at #BHU when women protested vociferously against the sexual harassment of a fellow student & victim-blaming attitudes of the authorities that followed after, for which they were lathi-charged & had rubber pellets fired at them. #MyFeminist2017 pic.twitter.com/fSgR0Vfwjq

— Feminism in India (@FeminismInIndia) December 27, 2017
#MyFeminist2017 – talked about depression through my poetry despite being warned no one wants a "mentally ill" daughter-in-law. Got married in court w/o patriarchal rituals and shut down court officials who kept insisting I change my surname. Started @SexonomicsBand (1/2)

— Ishmeet Nagpal (@IshmeetNagpal) December 27, 2017
#MyFeminist2017
1. Educated myself about emotional labour and how it deserves to be recognised.
2. Learned to be a LOT LESS judgemental.
3. Unlearned a lot of toxic BS Indian families shove down our throats.
4. Read extensively about women in STEM.

— Jaweria Sana (@sana_jaweria) December 27, 2017
Emotional labour needs to be recognized and not taken for granted.
#MyFeminist2017 -spoke up about my assault. -started reading a lot more about feminism and correcting my ideologies. -attempted to explain to my dad how certain things he says are sexist which in turn he does now with his friend circle.

— Aranya Johar ?? (@AranyaJohar) December 27, 2017
A lot of people shared stories of acceptance and healing.
#MyFeminist2017 kicked patriarchy's ass and moved out to pursue my career at 22 instead of getting trapped in a marriage arranged by my family https://t.co/vYWMVN4ev9

— Lana Delbar Delbar Haan Delbar Delbar (@BoJaneHorselady) December 27, 2017
We also made a post of our favourite feminist moments of 2017 on twitter. Check it out!
Here's a thread of a few of our favourite feminist moments from 2017 that it made us so happy to see, share and write about! #MyFeminist2017https://t.co/wPd2E9VNqV

— Feminism in India (@FeminismInIndia) December 27, 2017
Here are some things people shared with us on Instagram: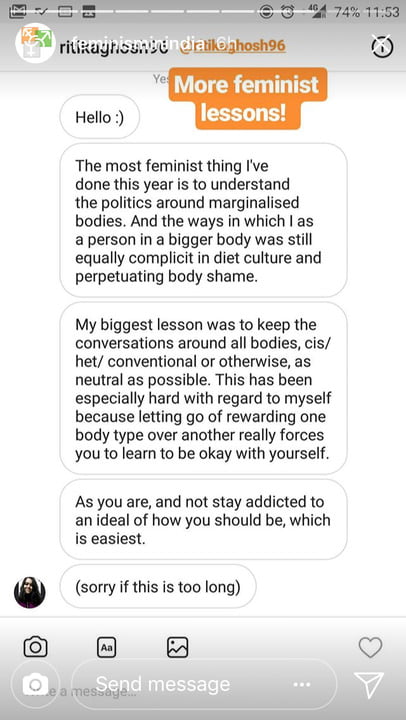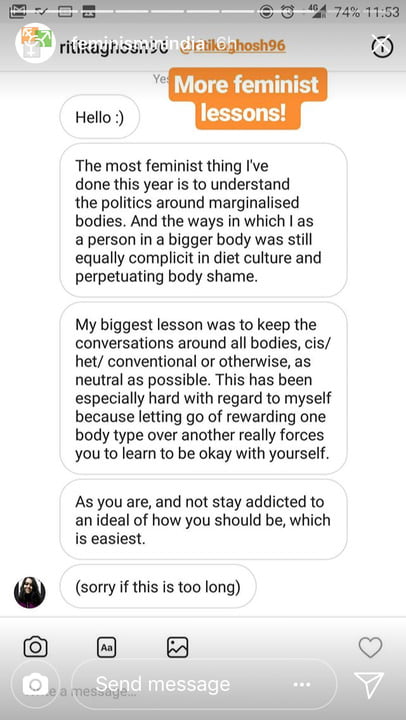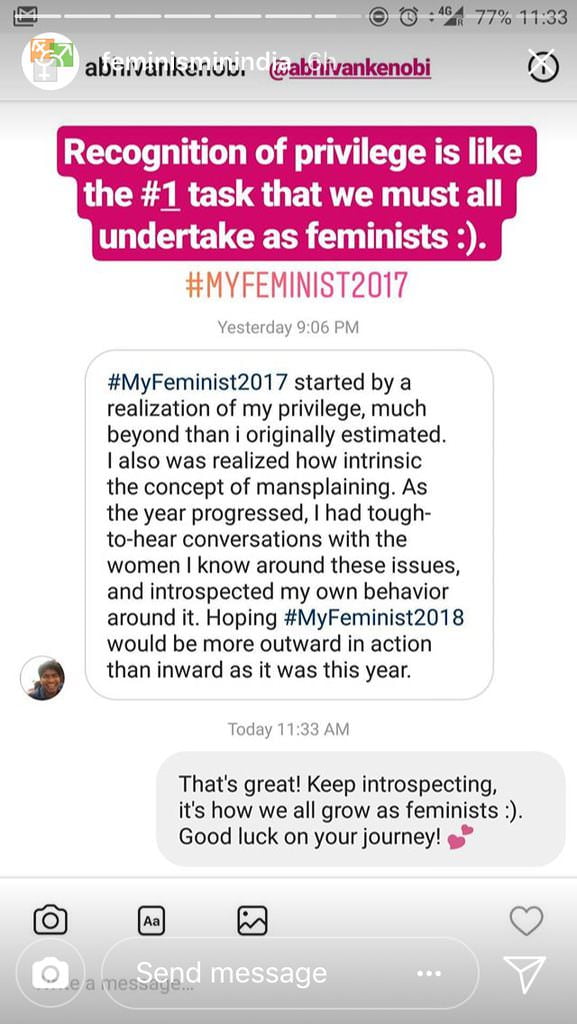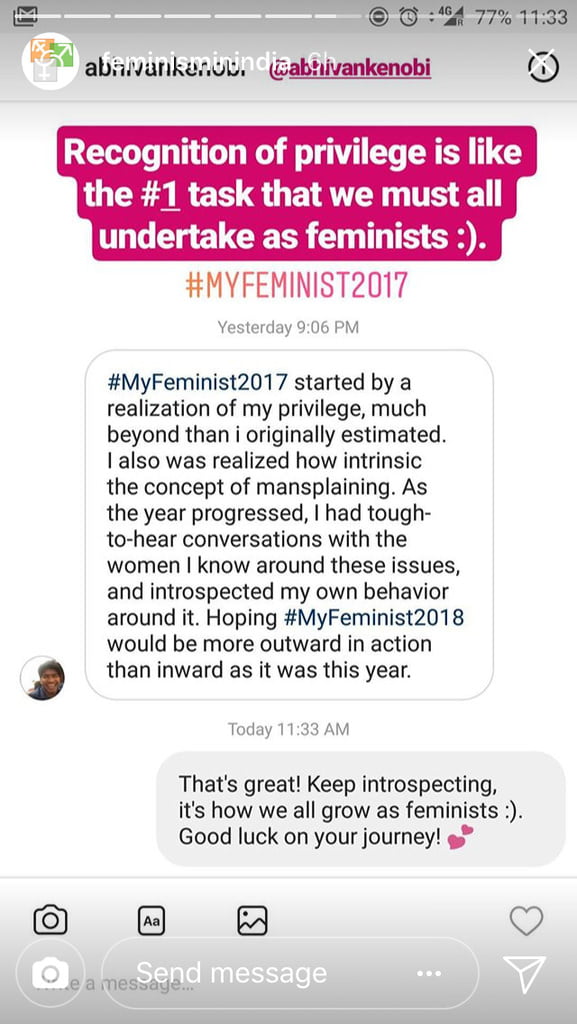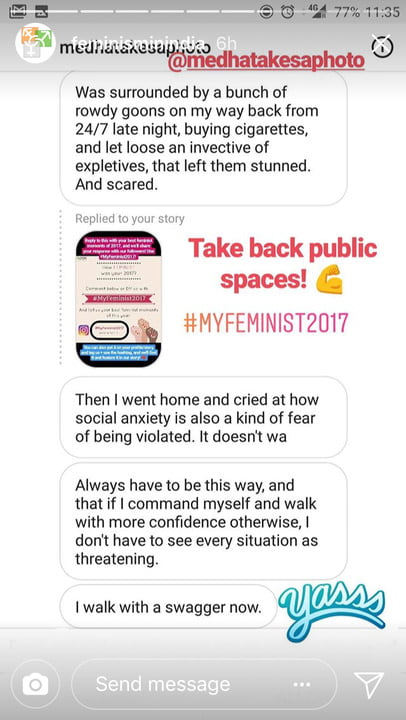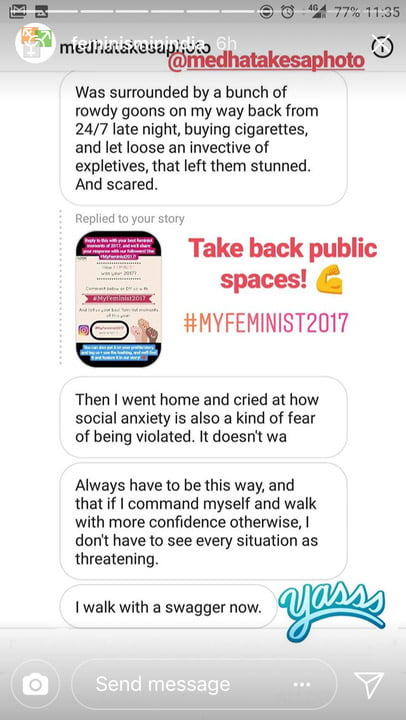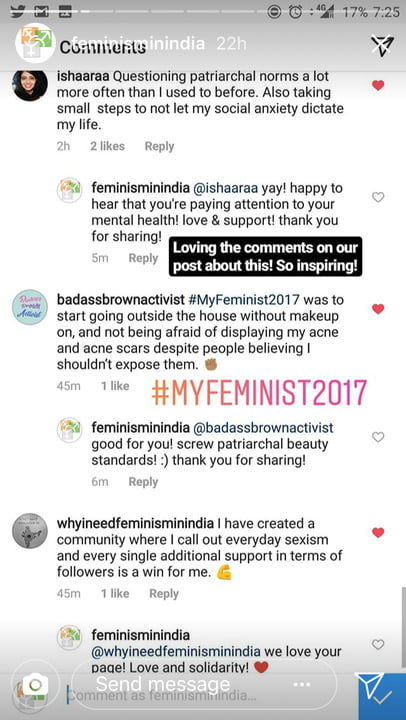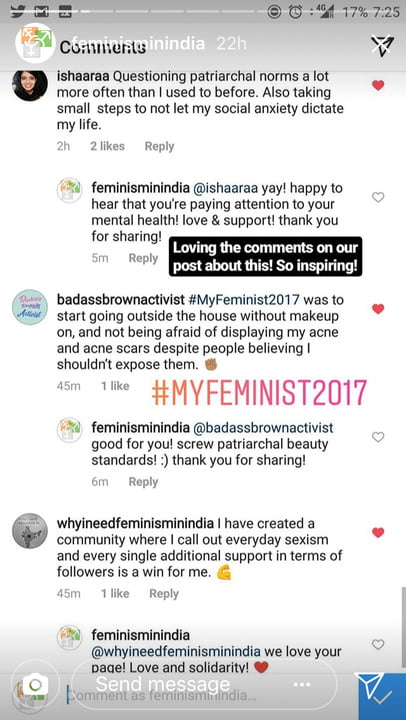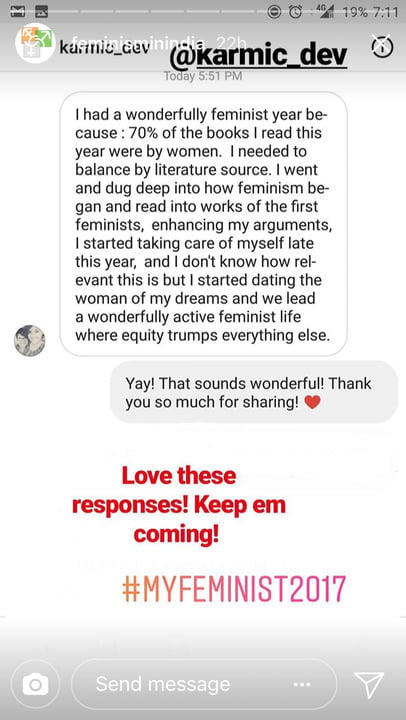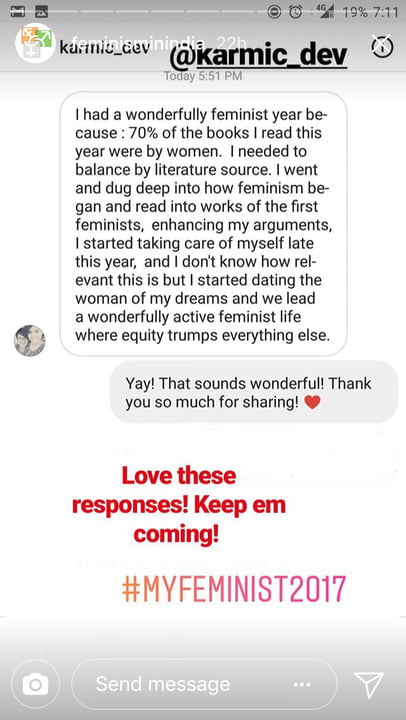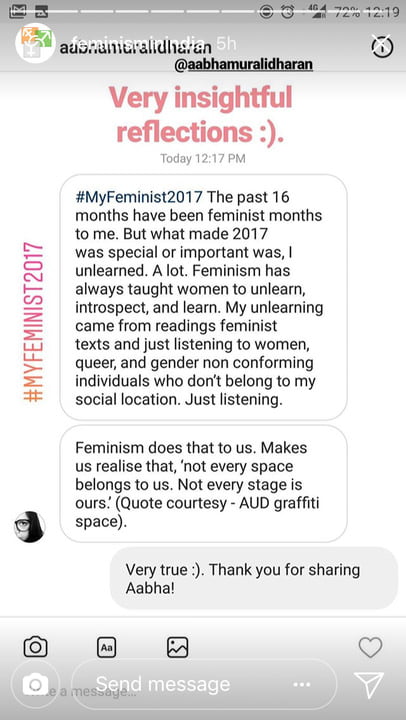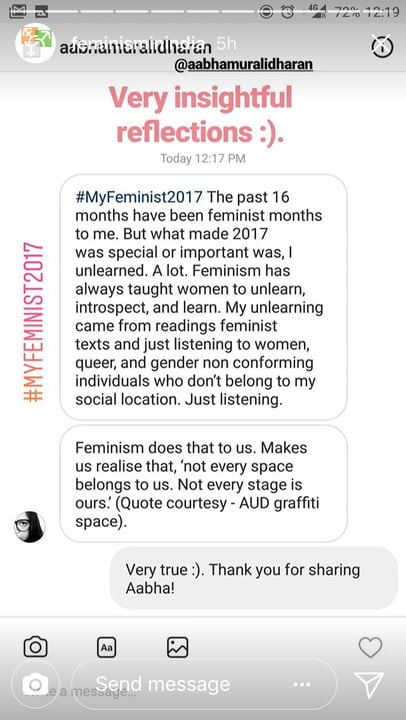 Thank you everyone for sharing your experiences. Keep smashing the patriarchy in 2018 as well!