On 6 December 2018, Feminism in India visited the campus of Ambedkar University Delhi to conduct a workshop on online abuse and violence, and how to combat it. The workshop is a part of our campaign #DigitalHifazat, to end online violence against women and marginalised communities.
The workshop began with participants speaking about personal experiences of abuse. One participant spoke about the non consensual sharing of her private images online, the other spoke about the relentlessly misogynist content she was subjected to online from so-called 'funny' pages and accounts, and someone else spoke about facing trolling and hate speech.
We are at #AmbedkarUniversity Delhi, talking about #DigitalHifazat. pic.twitter.com/93ojGX0Pa2

— Feminism in India (@FeminismInIndia) February 6, 2018
We then identified all the different forms of abuse that can take place online, which is a lot more than just trolling on social media. Online abuse can include doxxing, image-based sexual abuse (or 'revenge porn'), stalking and voyeurism.
The workshop then moved on to a short exercise, where the participants worked in pairs to talk about how they could 'take back the tech', and reclaim online spaces that were fraught with patriarchal elements.
Students discuss ways in which they can #takebackthetech at Ambedkar University. #DigitalHifazat pic.twitter.com/AnxcF35XLn

— Feminism in India (@FeminismInIndia) February 6, 2018
"Block the trolls. If you can't affect my life positively you don't need to be in it at all." #DigitalHifazat #SaferInternetDay pic.twitter.com/cLcxx47iX8

— Feminism in India (@FeminismInIndia) February 6, 2018
We then moved into the laws and processes that exist to protect victims of online abuse. Some participants raised concerns about how the law would protect queer individuals from online abuse from ex-partners.
Finally, we moved onto digital security tips and tricks. We discussed safe apps and platforms to share private images and videos, which guaranteed encryption of messages, and in some cases, automatic deletion of images after a certain period of time. The workshop ended with a fun exercise, where participants were asked to stand in a line and move forward and backward depending on the strength of their passwords!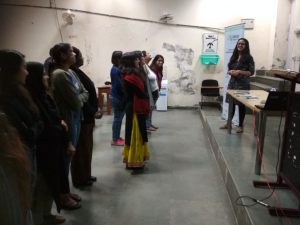 We'd like to thank Dr. Shelly Pandey and Ambedkar University Delhi for organising this workshop and inviting us. If you would like Feminism In India to visit your college or university to conduct a workshop, email us at info@feminisminindia.com.
Also Read: Workshop On Media Reportage Of Gender, Sexuality & Violence By FII & Nazariya