On Sunday, 11 February 2018, Delhi celebrated One Billion Rising Day. One Billion Rising is a global campaign launched in 2012 by Eve Ensler (author of The Vagina Monologues) to end violence against women and girls. It is celebrated on 14 February every year. The Delhi campaign is celebrated every Sunday before 14 February.
According to the United Nations, 1 in every 3 women across the world face some form of sexual violence during their lifetime. Given that the global population is more than six billion, this comes to more than one billion women subject to gender-based violence. The campaign is a call to come together in solidarity and rise against the systemic problem of gender-based violence against women the world over. The South Asian campaign goes by the slogan, "power of love, not love of power".
The day kicked off at 11 am, with Asmita theatre group's rallying cry of "Aao aao, naatak dekho" (come and watch the play).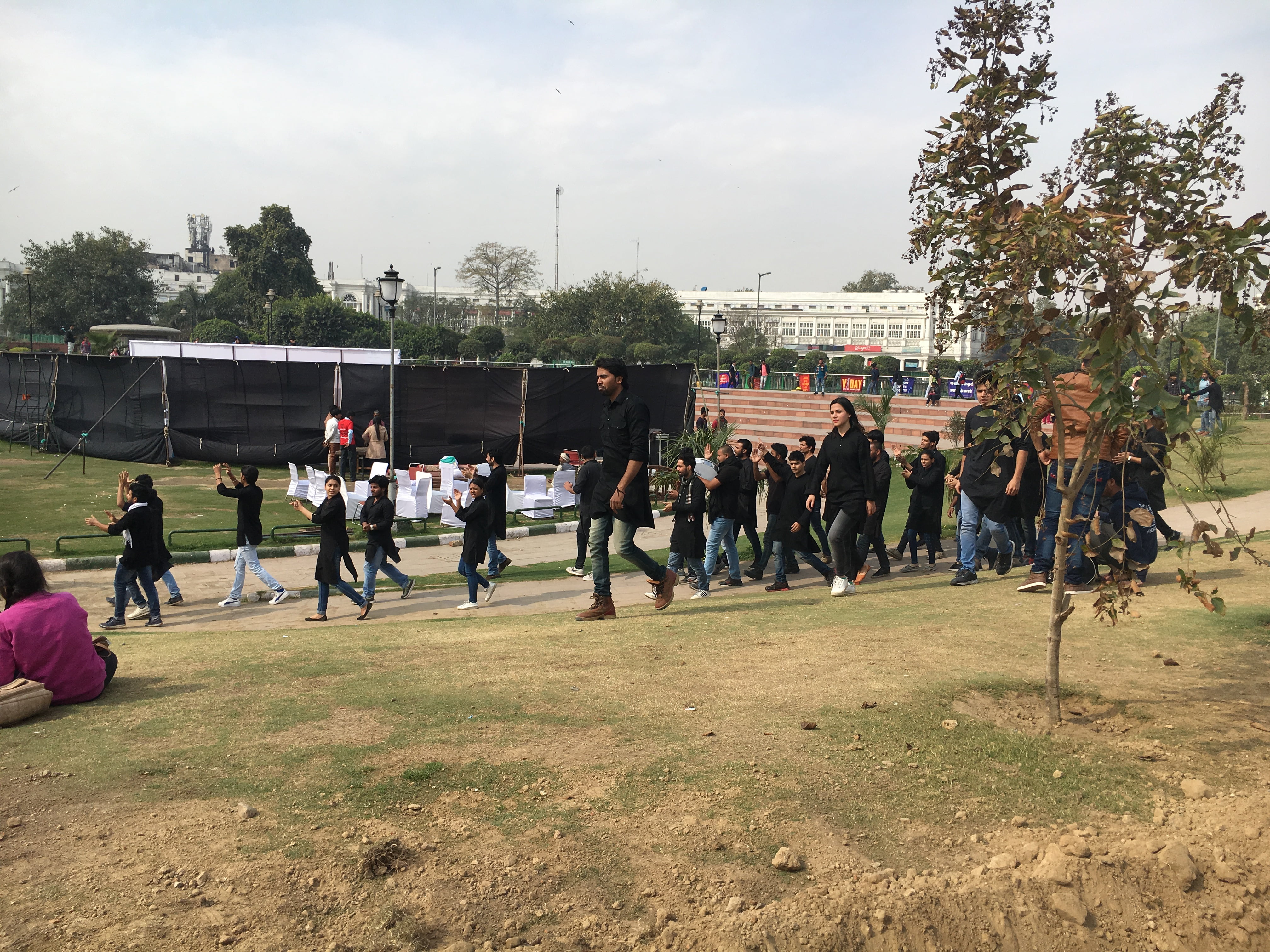 As their stunning street play about the discrimination faced by women right from the womb up until the grave began, crowds gathered to watch the intense performance. Sample this beautiful dialogue: "Sab cheezein mardon ki banai hui hain. Kyunki is desh mein auraton ko khaana banana ke alava kuch aur banane ki ijazat hi nahin hai" (Everything has been made by men because, in this country, women do not have permission to make anything except food).
The entirety of the Central Park periphery had been decked in beautiful banners spreading the message to stop violence against women and girls, as the stage anticipated those who would step on it to spread the power of love later in the day.
After Asmita's performance, a host of college students performed short sketches and engaged the gathered audience in a discussion about gendered insults.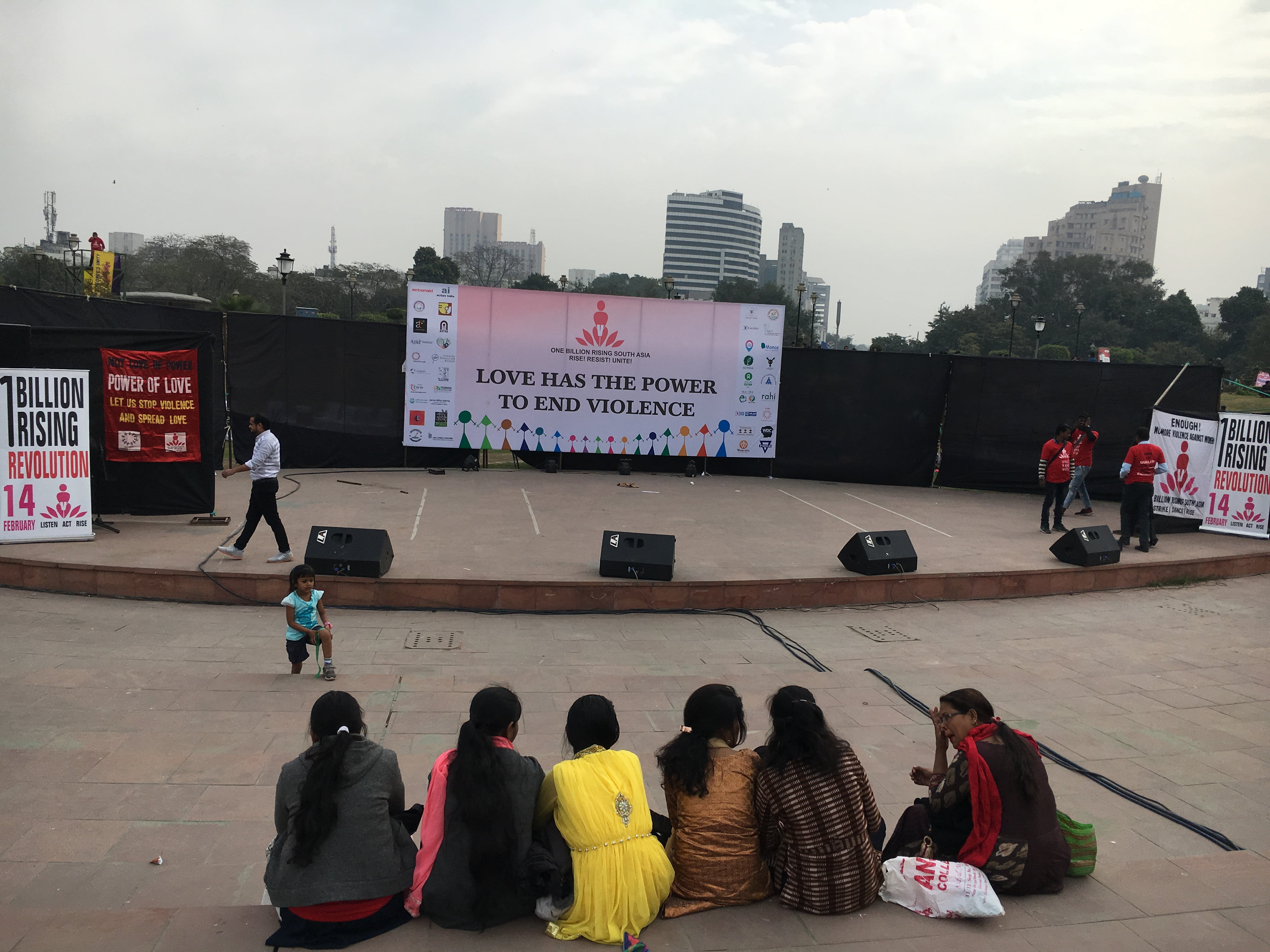 Throughout the day, an organization called Mittika conducted activities aimed at encouraging a discussion around gender discrimination and violence against women on the side of the stage.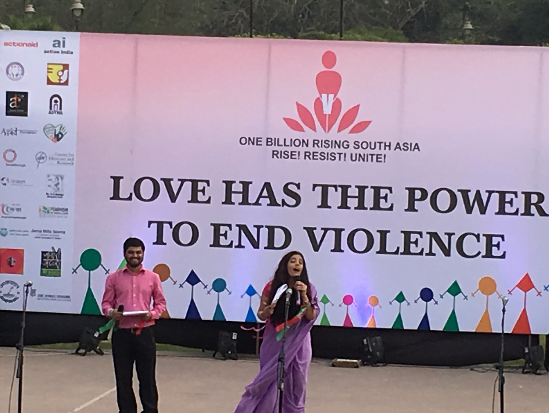 Finally, the main event was underway around 1 pm, with the hosts Prabhleen and Suraj providing a spirited start to the afternoon.
The first performance was from Azad Foundation, an organization that has been working for years to engage men and boys in the fight against misogyny. Azad has also been training women to be cab drivers, to earn their own living and be independent despite the massive resistance these women face from their families and communities because "driving is a man's work". These inspirational women sang songs of resistance with the same melodies as old popular Hindi songs.
This was followed by a beautiful dance performance by Lady Shri Ram Dance Society on societal constructs of beauty and how the constant chase after them destroys women from the inside.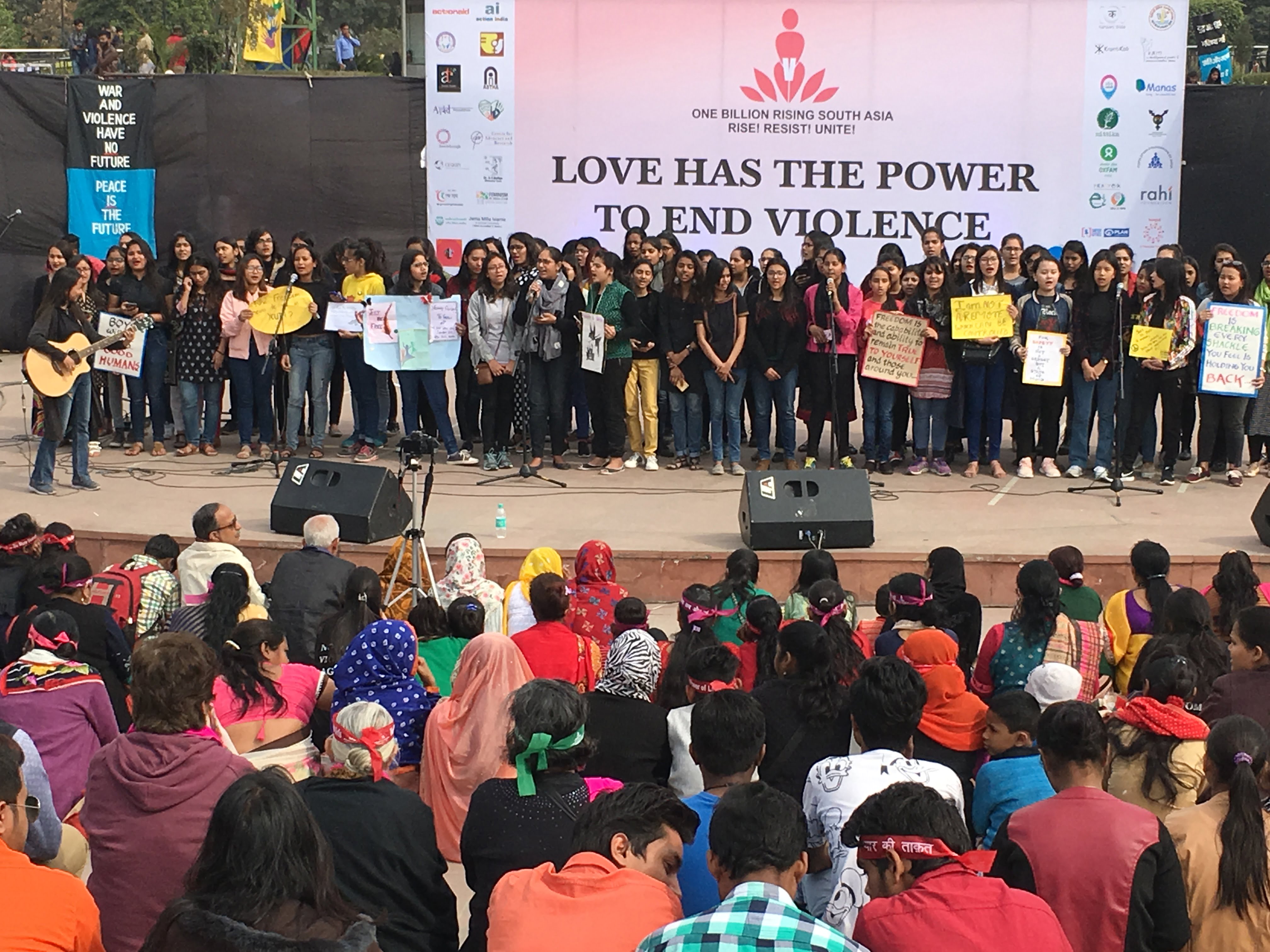 There was a beautiful song performance by the Centre for Advocacy and Research (CFAR), who sang songs of resistance including 'We Shall Overcome', after telling the audience that as per a recent economic survey, 63 million girls were missing from India, followed by a dance showing how far women can go if they are just given the opportunity, by taking the example of sports, by the Centre for Equity and Inclusion (CEQUIN).
Also Read: Dhai Aakhar Prem Ke: Talking About Gender-Based Violence Through Music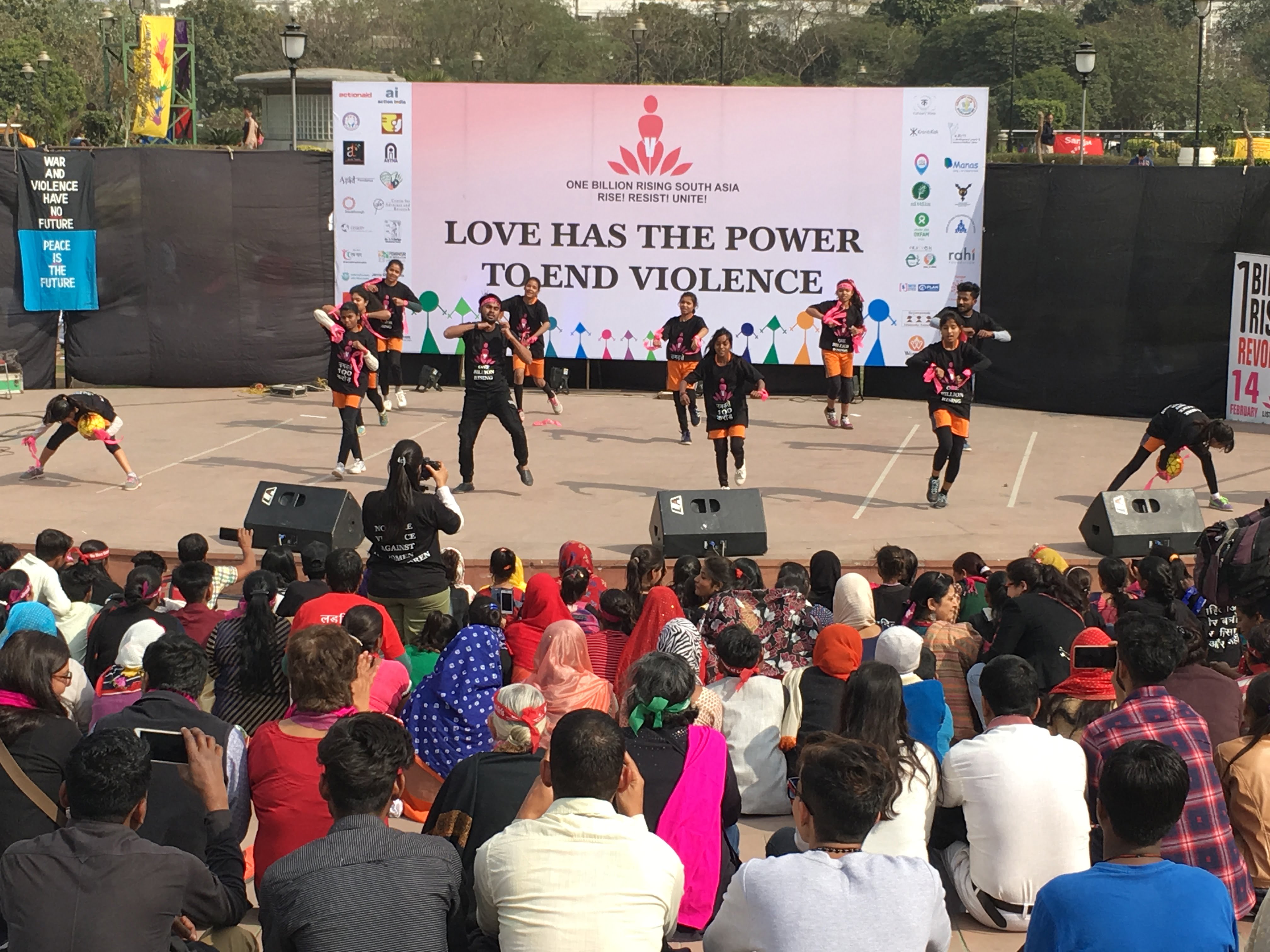 After this, the Music Society of Shivaji College took the stage, with their melodious voices soaring in resistance, singing songs against discrimination and dowry ("mujhe kya bechega rupaiyya"/how can money sell me). There was then a performance by the kids from the Joint Women's Program (JWP) on domestic violence and how it perpetuates a cycle of anger and affects kids particularly viciously.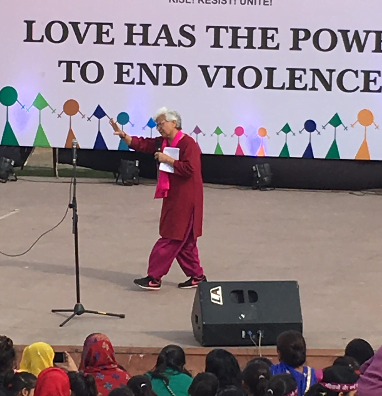 Finally, it was time for Kamla Bhasin (one of India's foremost feminist activists) to say a few words. She spoke spiritedly about the massive support the campaign had this year (from 37 organizations), the importance of celebrating a day to spread the message of ending violence against women ("apna din hum manaayein toh bada maza aaye!") and ended with slogans supporting revolution, including: One solution, one solution, One Billion Rising Revolution!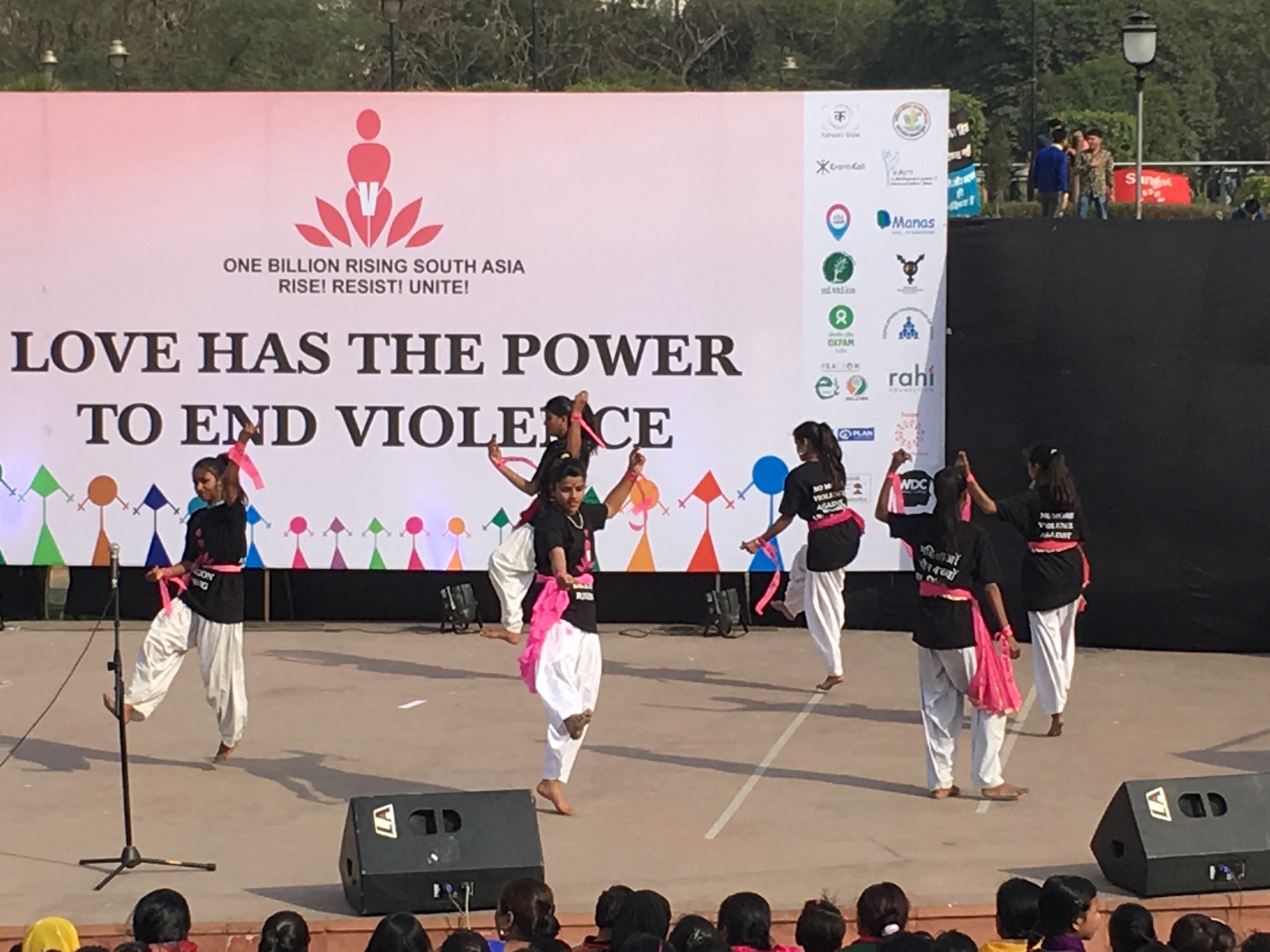 Jagori (one of the oldest Indian nonprofit organizations working for women's empowerment) members performed an energetic dance. There was a short speech by Kusum representing the All India Network of Sex Workers (AINSW) urging people to see sex work as a result of economic duress instead of something shameful never to be spoken about (but often indulged in).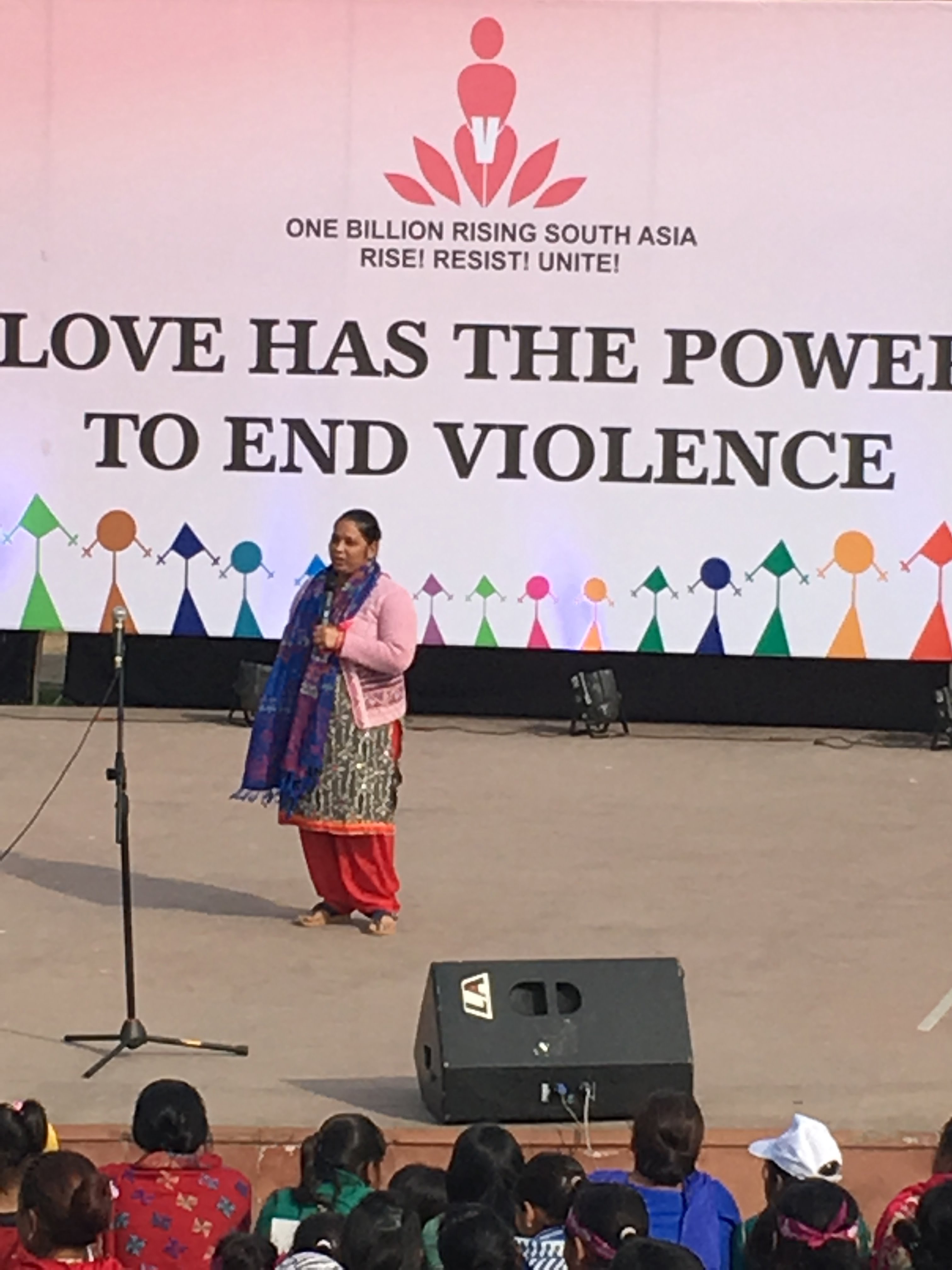 This was followed by some very powerful ballads from Janasamskriti in multiple languages. They energized the crowd and many joined them on the stage as well. There was then a brilliant circus performance from the kids at Nine Is Mine, an organization working on child rights.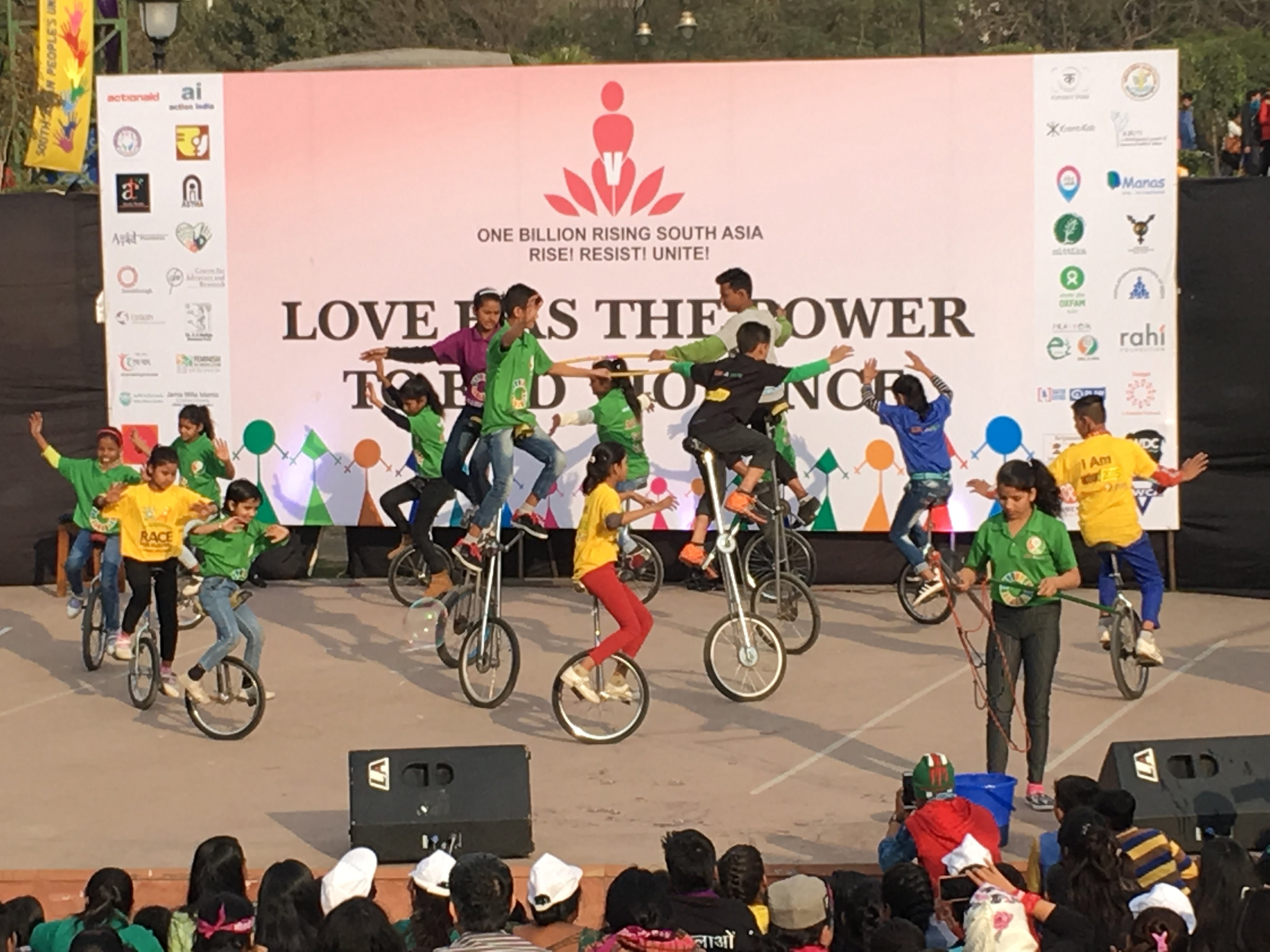 Breakthrough did a fantastic feminist rendition of the famous Bollywood song, Urvashi: "Yeh society, patriarchy, nahin chahiye, Urvashi. Don't take it lying down, Urvashi. Kehte hain woh consent ke jaane kitne matlab! Jeet ka ek matlab, break the glass ceiling Urvashi" (this society, patriarchy, don't want it Urvashi. Don't take it lying down, Urvashi. They say consent has many meanings. But victory has only one: break the glass ceiling, Urvashi). They ended with, "don't take it easy Urvashi!" There was then some slam poetry from students at Miranda House in four different languages, all preaching the language of love.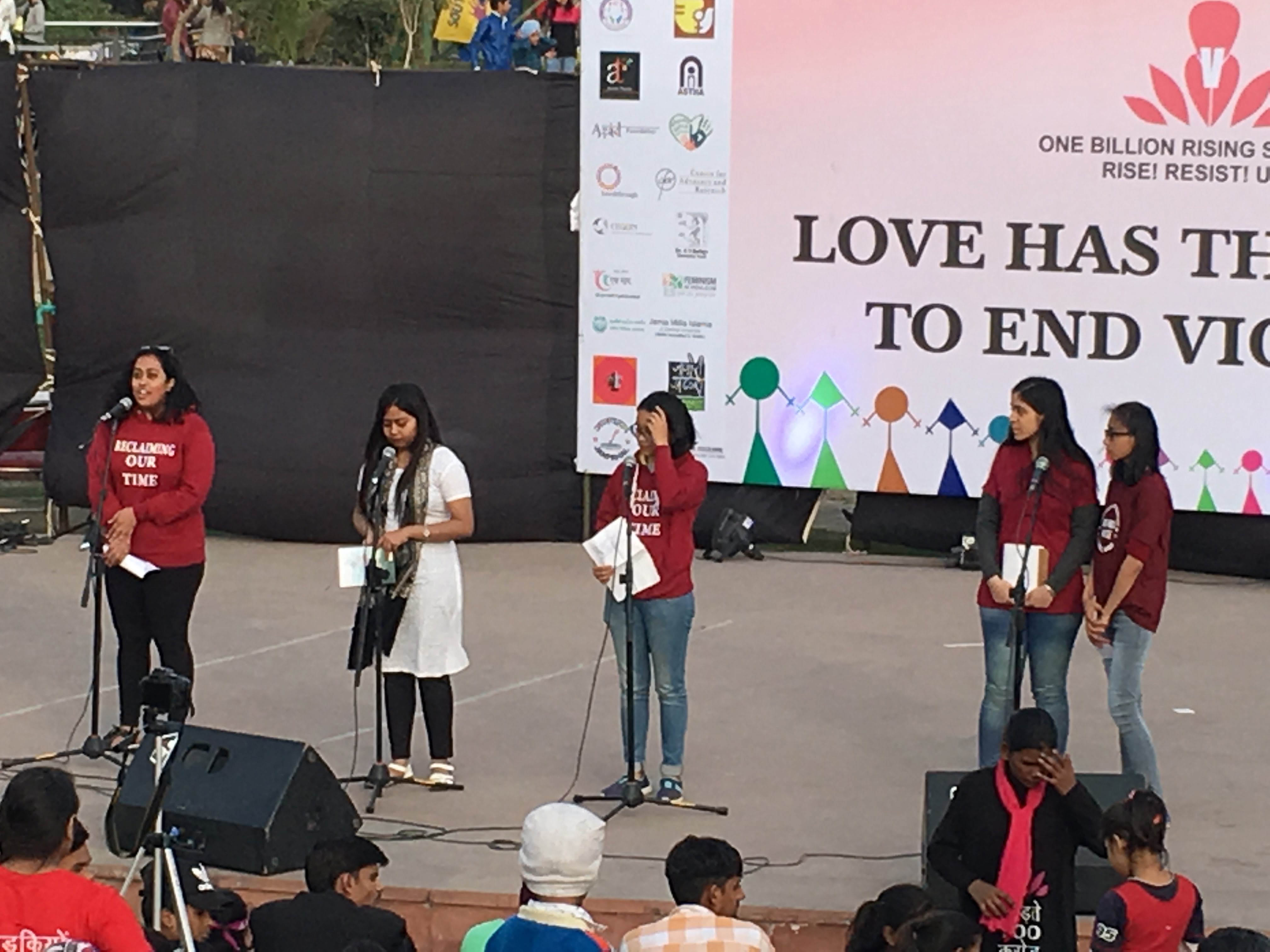 Finally, it was time for the heavy-hitting musical performances of the evening. As twilight set in, first Sonam Kalra and then Rene Singh dazzled us with their musical talent and love-filled performances! Sonam specifically spoke about economic equality and property rights for women by repeating the slogan, "beti dil mein, beti will mein" (daughter in the heart, daughter in the will), and reiterated, "ek aawaaz hain hum" (we are all one voice), calling for solidarity.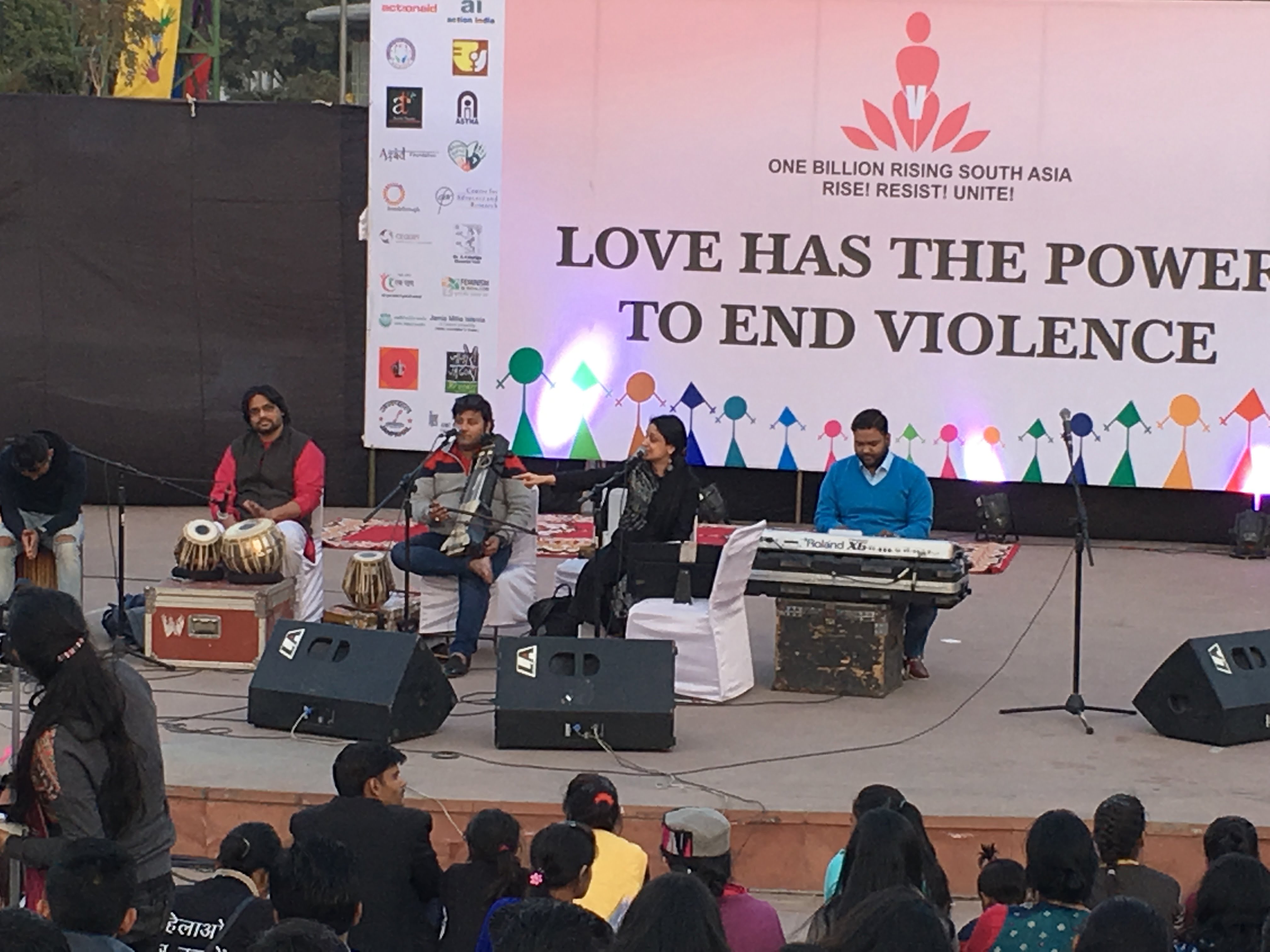 Coming down to the last few performances, Womenite College did a fantastic dance which made the entire crowd stand on its feet and dance along! Kahaani Waale added some humour to the evening with a stand-up act from Mahima Vashisht, coming up with gems such as "koi chinta ki baat nahin, naarivaad hai, aatankvaad nahin" (no need to worry, it's feminism, not terrorism!).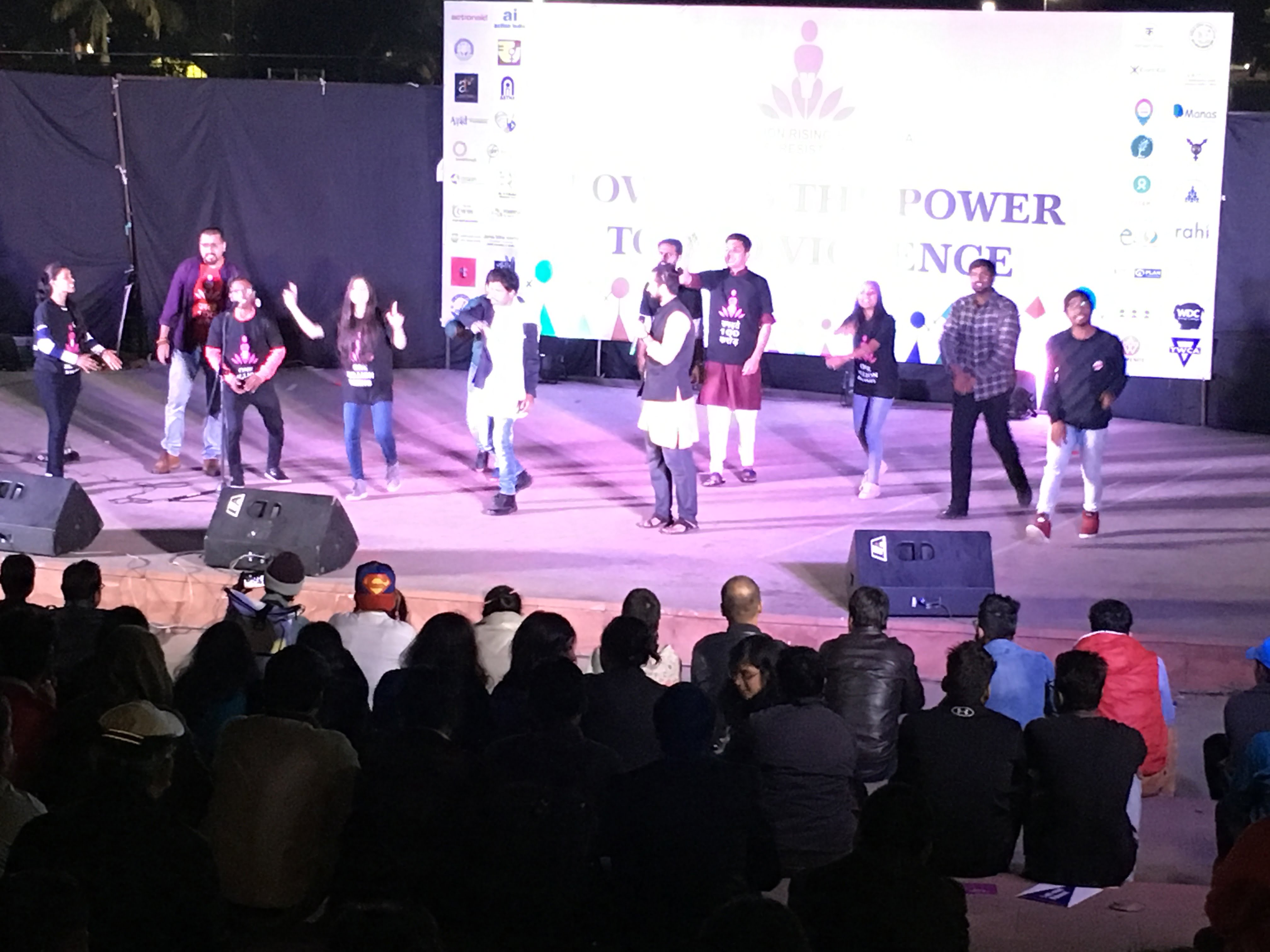 The evening wrapped up with a play by Mittika and another of Asmita's thought-provoking street plays. All in all, it was a beautiful day to spread the message of ending violence against women.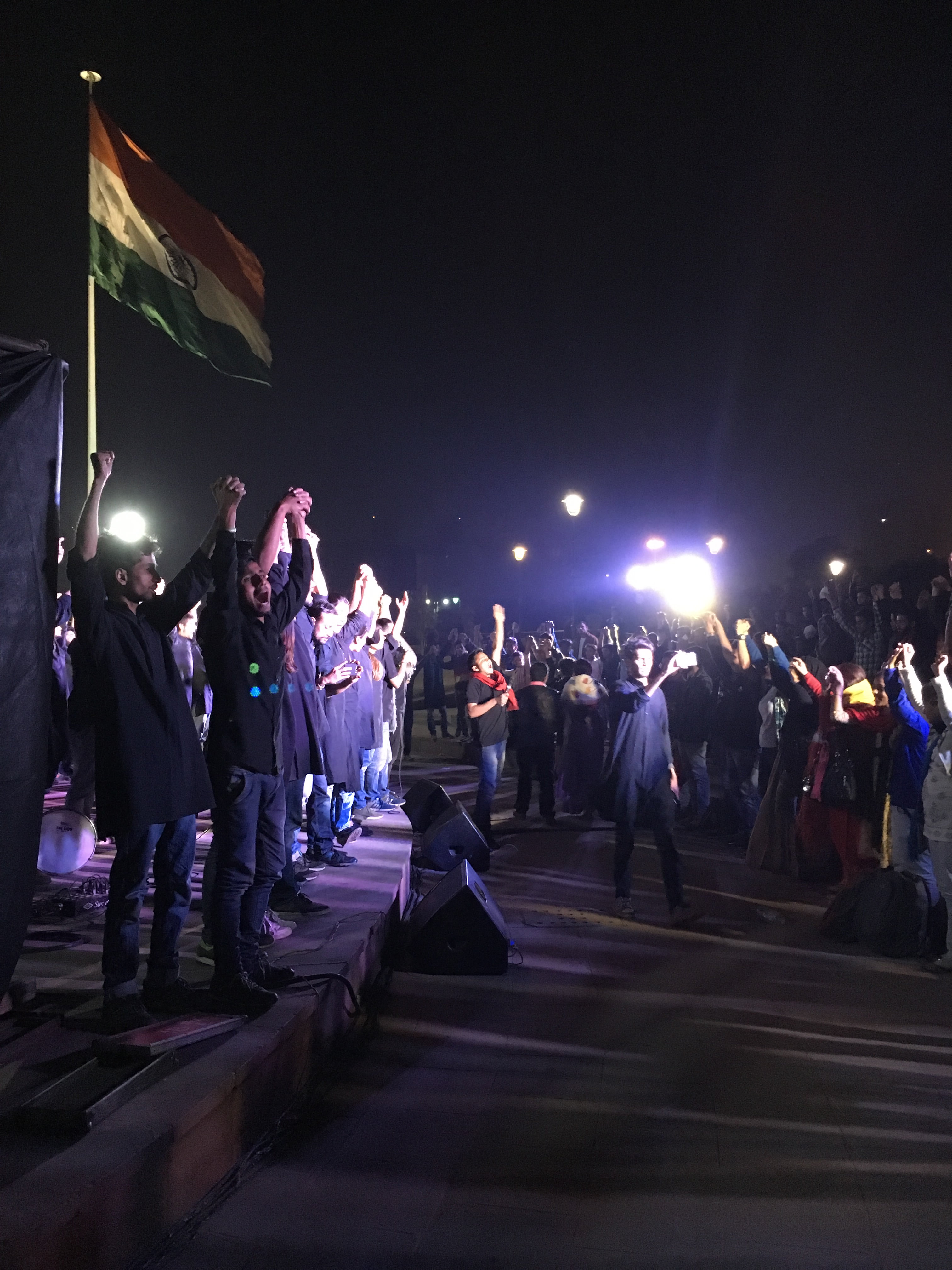 Special mention
Overheard in the crowds! (And then you say we don't need feminism…)
"Arre auraton ko aur kitna haq denge? Already itna diya hua hai, mard toh zamin mein dhass gaye hain" (How many more rights must we give to women? We've given away so much already; men have been buried in the ground).
(Speaking about the event) "Hum toh educated hain. Humein yahaan jaane ki koi zaroorat nahin hai" (We are educated; we don't need to attend this).
Response to the #IWillGoOut campaign from a man (main bhi bahaar jaaoongi): "haan, India se bahaar jaayengi" (Yes, they should go out of India).
Also Read: The South Asia One Billion Rising 2017 Launched In Nepal
---
Note: If you are a woman and have been a victim of violence, either sexual or domestic violence or intimate partner violence, you can call the Jagori helpline at +91 11 2669 2700 or +91 8800 9966 40.
Image Credits: Mini Saxena