Not much is known about Rani Avantibai who is, today, honoured as a warrior queen and an important, inspirational figure in the history of the Indian freedom struggle – notably, the 1857 War of Independence. Very little has been written about her. Steadfast in her loyalty to her people and throne, Rani Avantibai is an icon of rebellion, sacrifice and martyrdom in a long, brutal history of fighting colonial rule. This is her story.
Early Life
Avantibai was born on 16 August 1831 into a zamindar family. She is known to have been extremely independent and well trained in her childhood years. She was not only skilled in military strategy and state affairs but was also fully capable of archery, horse-riding and wielding a sword.
Her political and combat education made her a good candidate for a ruler. With word spreading about her skills and charismatic personality across the Narmada Valley, she was accepted as a suitable bride for the king's son. At a young age (c.1849) she was married to Vikramaditya Lodhi of Ramgarh (which presently lies in Madhya Pradesh).
Given how accomplished and well-suited she was for taking over the throne, it is no surprise that when her husband became too ill to continue ruling, she was the one who took over in his stead. Although her kingdom flourished under her rule, the British did not approve of her sitting on her husband's throne.
Court of Wards
After the king fell ill, the British refused to accept Avantibai's sons (Aman Singh and Sher Singh) as legitimate heirs to the throne, given that they were minors. Seeing as, in their eyes, there was no heir to the Ramgarh throne, it allowed them to install their own administration to replace the Lodhi rule.
This was due to a fairly ambiguous annexation policy (the Doctrine of Lapse, commonly associated with Lord Dalhousie) that was applied by the British East India Company before 1858. It allowed the Company to install administration in any princely state if the ruler was incompetent or died without a male heir – taking away Indian rulers' rights to appoint successors.
On 13 September 1851, Ramgargh was declared the Court of Wards with a British-approved administrator – Sheikh Mohammad – installed in place. This decision did not sit well with Rani Avantibai. Deeply insulted by this act of the British East India Company, she bided her time until she could retaliate.
After the king's death in 1857, she found the perfect opportunity to respond to the foreign insult. She had the administrator thrown out of the kingdom and declared war upon British rule.
The 1857 Rebellion
By May 1857, news about the incidents in Meerut and Delhi had spread across the subcontinent. For months, people in villages had been preparing for a rebellion after the news of rifles using cow and pig fat began to make rounds. Rani Avantibai, too, decided to send her own message.
Carrying handwritten notes and a set of bangles, emissaries were sent to neighbouring kingdoms to gain support in the war against the British. The message – if they had any semblance of loyalty or honour towards their country, they would pick up arms and fight – or they could sit at home and wear those bangles.
Also Read: Rani Abbakka Chowta: The Queen Who Made Portuguese Colonisers Miserable | #IndianWomenInHistory
After an incident where the British caught a whiff of rebellion and executed King Shankar Shah, the entire region was incensed and ready to fight back. Rani Avantibai's own people relied on her to become the leader of the rebellion. Her influence had multiple central provinces joining her armed fight. She raised an army of 4000 people, leading them to the war.
Rani Avantibai in battle
Rani Avantibai led her troops to a village named Kheri, near Mandla. While the British expected an easy victory, they were shocked to be defeated by her army. They had no choice but to back down while she controlled Mandla from December 1857 to February 1858.
The British did not take this slight with grace. Determined to wipe out her rule, they retaliated with brutal force and attacked Ramgarh – and no amount of passionate patriotism and love for her people could stop them from crushing her army with military strength. They set the region on fire and Rani Avantibai had no choice but to seek safety in the hilly forests of Devharigarh.
Still, the queen did not give up. Utilising guerrilla warfare techniques, she infiltrated General Waddington's camp and disbanded his forces. Unfortunately, a fighting spirit was not enough against sheer battle power. Eventually, she found herself trapped by British forces, who had surrounded Ramgarh. Knowing that her defeat was imminent, she found it better to sacrifice her life than to be taken at the hands of the enemy.
On 20th March 1858, she fell upon her own sword and became a martyr. Her last words are said to have been: "हमारी दुर्गावती ने जीते जी वैरी के हाथ से अंग न छुए जाने का प्रण लिया था. इसे न भूलना बडों" (Our Durgavati vowed to never let the enemy get their hands on her while she lived. Don't forget this).
Legacy
While Rani Avantibai's story did not necessarily make it to mainstream narratives, it continued to live through local folklore, theatre performances and written across the official documents and writings that recorded the events of that time.
The Narmada Valley Development Authority decided to honour the valiant ruler by naming a dam in Jabalpur after her. Called the Rani Avanti Bai Lodhi Sagar, it is a multi-purpose irrigation and hydro-electric project across the Narmada river in Madhya Pradesh. It is located approximately 45 km from the city and aims to provide annual irrigation of 2,19,000 hectares in the Jabalpur and Narsinghpur districts.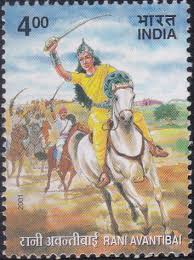 The Department of Posts and Maharashtra Government also issued stamps in her honour. After much protest from the BJP and BSP parties, she was also finally added to the NCERT history textbooks in 2011.
In recent years, her name is slowly making its way to the forefront as a reminder. A reminder that, while many well-known freedom fighters have names and histories that we know at the tip of our tongue, many have been lost to the annals of history. As people whose current socio-political life, a difficult but ultimately free life, comes at the expense of these sacrifices, we owe it to these brave-hearts to remember their stories.
References
Also Read: 6 Indian Queens Who Fought Colonialism
---
Featured Image Source: Aazad