Viewers all over the world were glued to their televisions and laptops on the late night/early morning of Sunday (20/21 May) for the Billboard Music Awards 2018 (BBMAs), an annual phenomenon that has been showcasing enchanting live performances, celebrating diverse genres of music and awarding acclaimed artists since the 90s. Although a highly anticipated event every year, since 2017 it has kicked up excitement for fans of the Korean boy group BTS (Bangtan Sonyeondan/Bulletproof Boy Scouts).
This musical year saw seven boys – a group already known for defying expectations and writing a true underdog story – rise to fame in a shocking way, setting and breaking their own records with multiple songs, music videos and their newest album Love yourself 轉: Tear. In 2017, BTS was the first Korean act to win a Billboard Award, the Top Social Artist Award (with a Guinness World Record number of Twitter engagements), dethroning Justin Bieber from a seat he's owned for almost 6 consecutive years.
This year was slightly different, however. Not only did BTS once again win this award (by a 94% margin and another possible Guinness World Record with over 42 million votes in 24 hours), they were also set to be the first to debut their album on an American stage. They, thus, became the first Korean act to perform at the BBMAs.
The success of the performance left aftershocks for days – well known Western celebrities noticing their talent and media outlets wondering who these 7 men were, taking the worldwide musical fanbase by storm. However, being in the spotlight also brings out attention that is not-so-positive.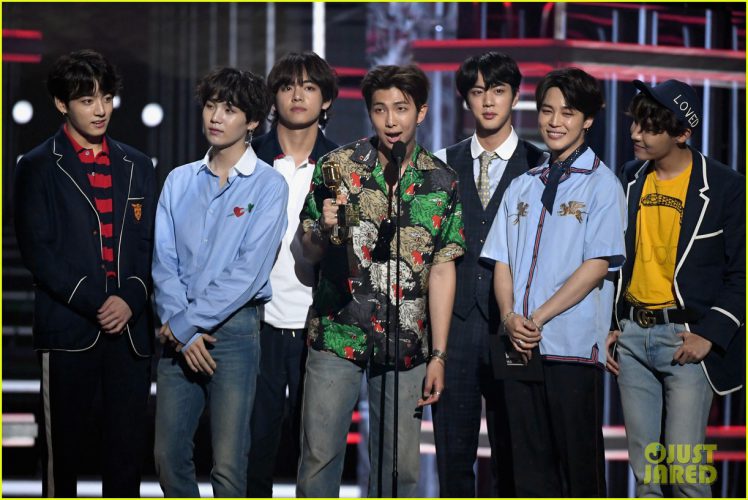 The K-pop phenomenon has always been subject to racist rhetoric, both as an undertone and blatant attacks. Thus, the exponentially increasing popularity of an Asian boy group (particularly one that had to struggle to rise to the top even in their home base) has created room for further scrutiny.
Their rising fame has brought with it an alarming amount of (perhaps unfair) scepticism. Some of it stemming from Western audiences unable to understand how and why music in another language could possibly be capturing the hearts and minds of people all over the world.
This has translated into switching the narrative around the group's success by making it seem like they're merely an oddball phenomenon made famous by their predominantly female fan-following (called ARMYs). Although this is not a bad thing (the group has repeatedly said they are proud of their fans), the excessive attention the Western media has on ARMY seems to suggest that BTS is only famous because of their fans.
As though BTS is some kind of one-hit viral phenomenon without any substance. Moreover, the frequent labelling of the fans as "crazy", "intense", and even "rabid" and "dangerous", is an insult not only to the group but also the countless people (especially women, LGBTQ and POC) whose unwavering loyalty to them stems from more than just their physical looks.
The "rabid fangirl" trope is often used to denounce artists based on the assumption that if they have a large female fandom then there must be little to no substance to them. As if women and teenage girls are only capable of forming superficial and exaggerated connections with media.
The assumption is a harmful stereotype that implies girls and women are unable to make informed decisions about the people they idolise, and also completely unnecessary since it's their fanbase that is constantly promoting the depth of their work and ideas. It's also an incredibly sexist argument, often used against women to invalidate their valid concerns.
While their fans continue loving them for their personal, relatable lyrics and commendable music production (the group produces and writes their own music), the public image put forth by naysayers is that they are merely a mob smitten with a group and carrying it forward on superficial grounds. This is an insult to not only the fans but also the hard work the artists have put into their careers.
Also Read: 10 Feminist Songs To Listen To When The Patriarchy Has Got You Down
This is not to say that the appreciation of ARMYs is a bad thing. The group themselves have stated how everything they've achieved would've been impossible without the fans and it is definitely their social media popularity that has introduced their music to the world. There is no denying that the public attention, which this album has garnered, is a major achievement for the group.
A lot of the attention they are receiving is positive in nature, with major critics like Pitchfork giving them objective scores as high as 7.1, and news outlets talking about how meaningful their work is. So, perhaps, it's expected that the positive will also bring attention that is questionable.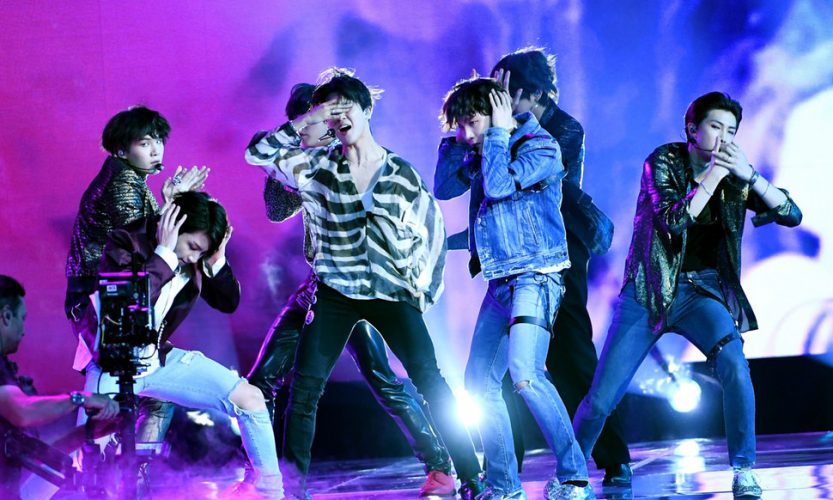 The way some people (both famous and not) are treating the boys as a vehicle for fame, as accessories to pose and smile with without even knowing their names – these are clear indicators that BTS is succeeding and people are feeling threatened about it.
In fact, one of the most common questions they are asked is which Western artist they wish to collaborate with. While this is a good question when asked with utmost respect and curiosity, sometimes it can take the ugly undertone that BTS need a collaboration to become relevant. They are also often asked when they will release an English album or interact with fans in English, despite the fact that they are writing in their own language and should not have to change for others.
Interestingly, their collaborations have been with POC, which is an attempt at lending authenticity to the cultures that created the genres they experiment with. Furthermore, most of the Western celebrities who have been giving them and their work genuine attention are POC themselves – people who know what it's like facing racism in the Western music industry.
But what is there to be so threatened about? BTS is a group that has constantly questioned what is considered the norm. Back home it was through exhibiting musical diversity in a fairly cookie-cutter industry, spreading social awareness and breaking local records (despite coming from a small company that provided them with no privilege). Abroad, it's by defying the trope of toxic masculinity (they are comfortable showing emotion, wearing makeup, being experimental with fashion) and increasing the bar of what is expected of performers.
The lack of acceptance of POC in the Western musical arena – especially Asians, who remain severely underrepresented despite being the largest continent in the world – is very telling of the xenophobia and preconceived notions people have for the Eastern hemisphere.
For example, BTS and their record company felt the need to mute words from their lyrics (naega, which means "I" in Korean – a basic unit of speech) because they were worried that people unfamiliar with the language would misconstrue it as the N-word and did not want to offend anyone.
While that forethought reflects incredible sensitivity on behalf of the group, it's a larger commentary on the audiences who are unwilling to think beyond their own languages and the work that suffers as a result. Even some of the articles written about them, or their album, clearly reflect internal bias on behalf of the reviewers. Not to mention, on social media, the insult that their fans have to hear are often incredibly racist in nature.
The fact remains that BTS is here to stay. Having broken album sales records in South Korea, they are predicted to debut at #1 position on the Billboard 200 (a commendable feat that will propel Asian representation in music) and have already sold out 4 shows in the Los Angeles' Staples Center. It is only a matter of time before media and celebrities realise that these achievements are not merely based on mindless propping by "boy-crazy" fans.
Maybe that is exactly why it is important that they make a comfortable position at the top – to change the way people think about POC musicians and artists. People often compare their fandom to that of The Beatles – perhaps it is time to remember that some of the greatest musicians in history have always had "crazy" female fans and it is with the love and support of these fans that their game-changing discographies have gone down in history.
Also Read: Gender Stereotypes Based On The Music Playlist
---
Featured Image Source: Billboard