Editor's Note: #ChalkfullBullying is a campaign that resolves to tell stories about gender-based bullying that happens in school, where students, especially non-binary and girl students, are subject to harassment, moral policing, severe disciplining and punishment, and routine bullying. Their fault being: not conforming to outdated gender stereotypes, the repercussions for which can scar us for a lifetime.
---
Posted by Prakriti Victoria
Reading all the posts about harassment and misogyny at schools brings back horrible memories for me as well. I decided to share a few.
We were subjected to skirt length checks ever since grade 4. I was asked to wear a slip over my bra in grade 8 by my class teacher because she felt boys were getting distracted. I had just started wearing bras then.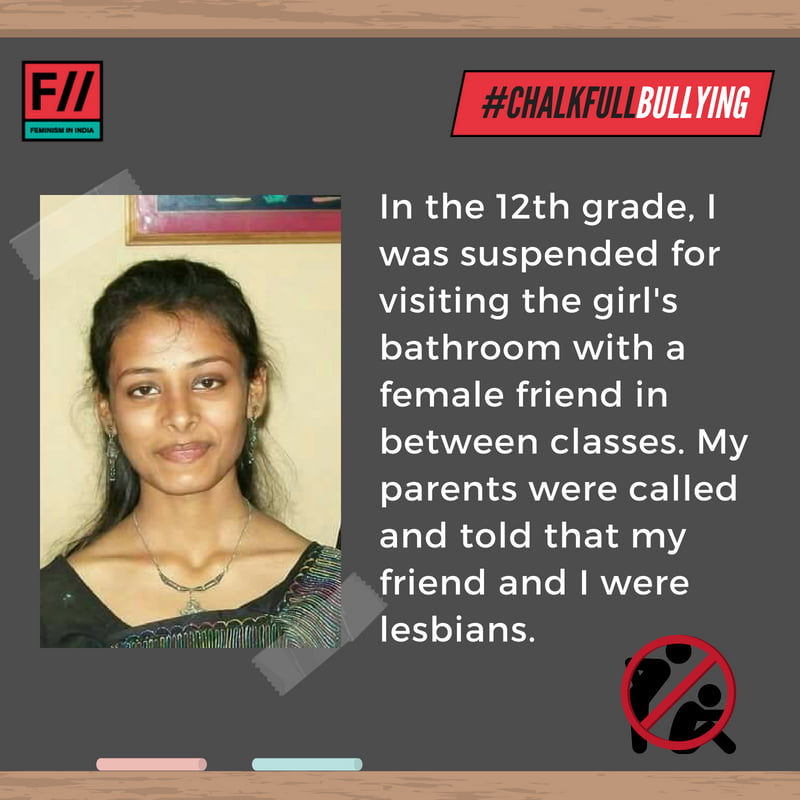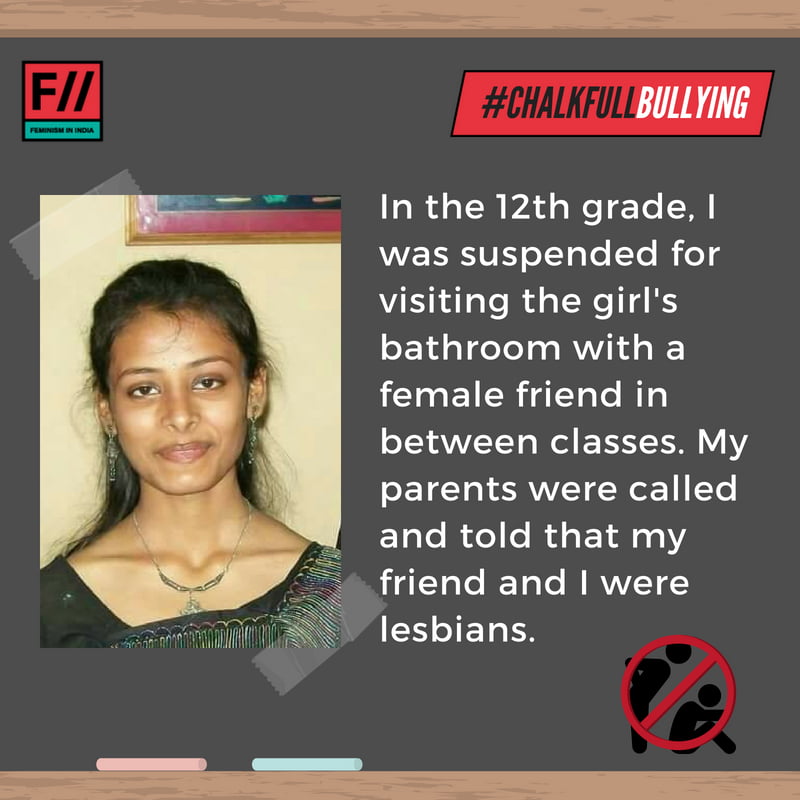 In grade 9, I was suspended "until the henna fades" for applying mehendi on my hands. I tried to wash it off by applying bleaching powder and what not. Then in 10th grade, I was accused of having coloured my hair. When I said I applied henna in my hair I was called a liar and a female teacher who regularly got her hair coloured inspected my hair and came to the conclusion that henna couldn't achieve the burgundy colour I had.
In the same grade, the school headmaster came at me with a pair of scissors and threatened to cut off my bangs. My parents were called and I was instructed to tuck the bangs under a hairband. The same headmaster asked me to concentrate more on board exams and less on "loveology" when he saw me hanging out with a male friend on saraswati puja day.
I was asked to wear a slip over my bra by my class teacher because she felt boys were getting distracted.
In the 12th grade, I was suspended for visiting the girls' bathroom with a female friend in between classes. My parents were called and told that my friend and I were lesbians. I was called retarded because I "showed no remorse" when my class teacher slut-shamed me for allegedly distracting boys by having long hair.
Sometime later, my mom received a call from my class teacher who complained: "your daughter has run away with a guy during the school picnic" to which my mom replied, "my daughter is sitting right in front of me. She didn't even go to the picnic". The class teacher refused to believe it and mom had to hang up.
I'm so glad I'm out of school.
I had changed more than 10 schools in total, across 5 cities in 3 states. This is not the case in just one school but across so many schools in India.
Also Read: The Female Student's Body Is Treated Like Property | #ChalkfullBullying
---
Prakriti is a dentist who wants to build a culture of peace. She can be followed on Facebook, Instagram and Twitter.
Featured Image Credit: Newslaundry