Editor's Note: #ChalkfullBullying is a campaign that resolves to tell stories about gender-based bullying that happens in school, where students, especially non-binary and girl students, are subject to harassment, moral policing, severe disciplining and punishment, and routine bullying. Their fault being: not conforming to outdated gender stereotypes, the repercussions for which can scar us for a lifetime.
---
I studied in a co-ed convent from the nursery level. I was a very good student. My mother took special care of my studies and I did not fail her. I always brought home good scores. My era was highly misogynistic and we were a class of eight girls among forty-two boys.
We grew up playing together, though there was one particular boy (Abhishek) who always beat me with a ruler whenever I secured better marks than him. Both of us were competitors and we always had a tussle with our results. Sometimes he stood first and I stood second or vice versa. Whenever the latter took place, he beat me up till I cried and begged him to stop hitting me.
Back home, I complained to my parents but they consoled me saying that he too was small and that I should not be taking such beatings seriously. I was in standard three when I secured the first position but our class teacher did not look happy. While handing out the report card, she made a sexist comment "Abhishek I expected you to secure the first position and not her. You are good in athletics, you are tall, you are good at everything and you are a boy so you should be ahead of a girl".
Tears welled in my eyes, to which she said, "This is how girls are, they cry for silly reasons." However, in the fourth standard, Abhishek stood first and I stood second. The class teacher looked quite satisfied with the results. The first boy and the third boy were congratulated and I was just given a casual smile with the teacher commenting, "Put little less oil in your hair. You look like a drenched crow" and the entire class laughed at my humiliation.
Things turned worse when we reached standard six and Mrs Chatterjee was assigned as the class teacher. She was also our geography teacher. By that time, two girls had failed and we were left with six girls in the class. Mrs Chatterjee had the reputation of being a terror to students, especially girls.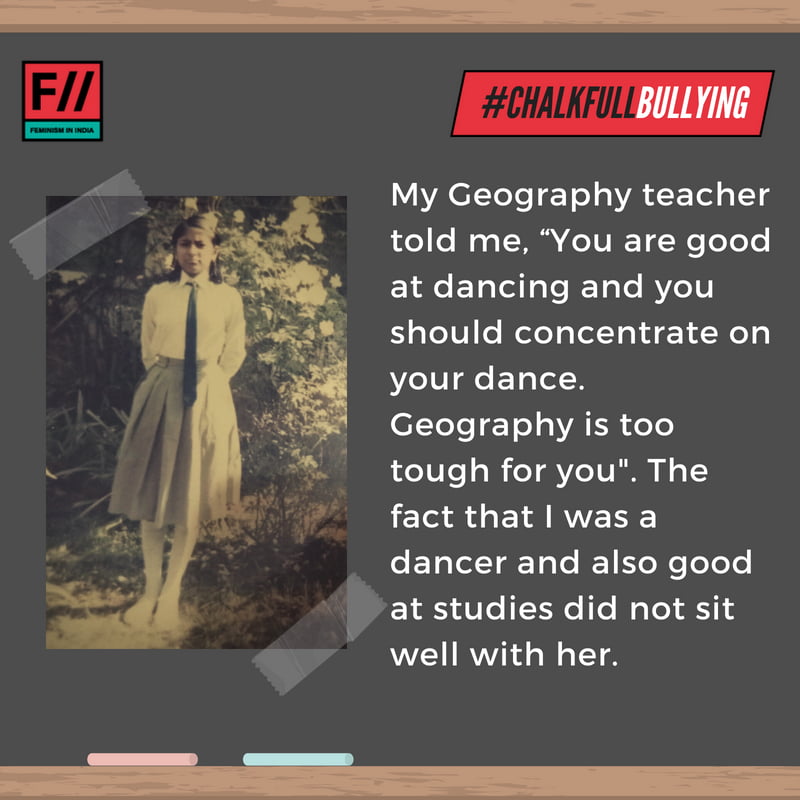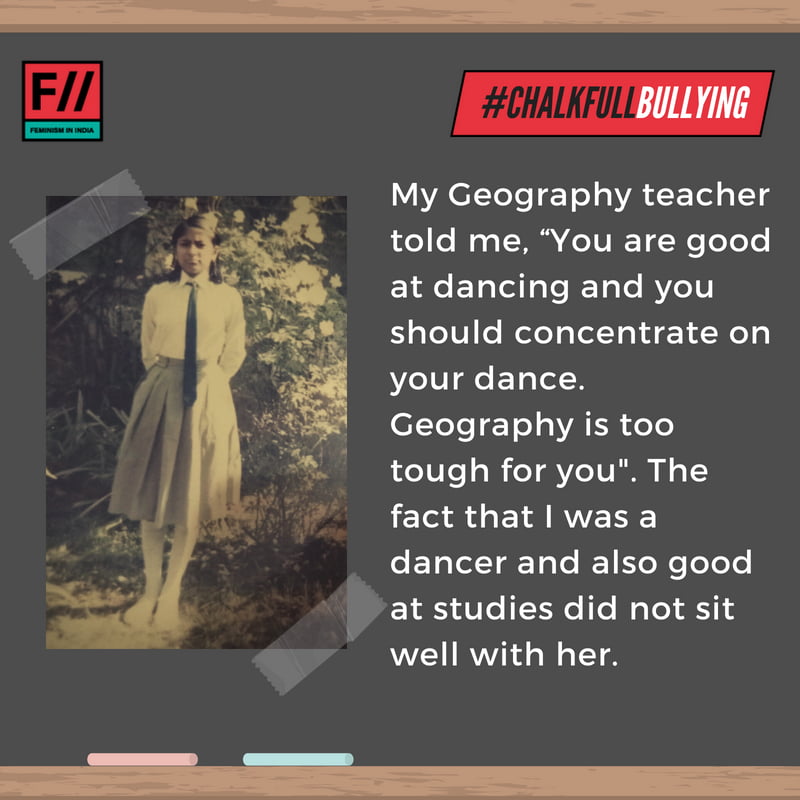 Geography was a loveable subject and Mrs Chatterjee made this subject the worst for us. Without explaining any chapter, she used to pose random questions to girls and even if we knew the answer we would forget and tremble in front of her. She couldn't tolerate the fact that a girl could be the class topper and I was the subject of her constant bullying.
We used to have this subject thrice a week and I shook like a leaf each time Mrs Chatterjee entered the class. My parents were aware of this situation and once my mother wanted to confront Mrs Chatterjee. I broke down, asking her not to visit my school as it will fetch more punishments for me. My self-esteem had already started taking a downward toll.
During the finals, I could not even place among the first five. Mrs Chatterjee told me, "You are good at dancing and you should concentrate on your dance. Geography is too tough for you". The fact that I was a dancer and also good at studies did not sit well with her. Apparently, my geography marks were so low that I had simply managed to pass in that subject and this made my results worse.
I was voluptuous right from childhood, so by the time I reached standard eight, I had very large breasts. During those days we didn't have sports bras, nor could I find something suitable for my size. My mother tailored tight-fitting innerwear for me and Mrs Chatterjee was quick enough to notice my innerwear.
Also Read: Where's The Prestige Now? St Anthony's Students Speak Out | #ChalkfullBullying
During one of the dance practice sessions, she made a remark in front of other teachers that my inner wear was stimulating the boys and wrote a note to my parents asking them to meet her. This time I pleaded my mother not to argue with Mrs Chatterjee and listen to whatever she said but my mother didn't.
During the meeting, my mother lashed out at her saying she had been receiving complaints about her from me and my mother wanted to know what exactly her problem was. There was a war of words between my mother and her, with Mrs Chatterjee breaking down and apologizing for her misbehaviour.
We thought the problem had ended but the ordeal had just begun. I was called to the staff room and was reprimanded by the female teachers. I was told I am an attention seeker and that my innerwear was posing a problem, which Mrs Chatterjee had wanted to sort out but instead my parents had misbehaved with her. I was tired of this repeated harassment and started believing I was the sole reason for all troubles.
In the middle of one of her classes, Mrs Chatterjee asked me a question "Tell me which month gets longer in every four years". I knew the answer was February, but in front of her, I stood tight-lipped. She labelled me foolish and that year I just managed to pass in geography but still secured the third position.
During our Annual Day, Mrs Chatterjee selected me for the dance recital and we were to wear ghagra and choli for that particular dance. I wore that costume only to hear "I told you to cover your breasts with a dupatta and you haven't even bothered to wear one". I had already worn an uttariya and there was no need for a dupatta, but still she rebuked me to the extent that I started crying and she decided to shut her mouth.
I was told I am an attention seeker and that my innerwear was posing a problem.
We reached tenth standard and it was time for the board exams. I was in ICSE board and Mrs Chatterjee declared in class that she desired to see the boys scoring better marks than us girls. I was enraged. My marks in geography in the test results were horrible and it was a major setback for me as exams were scheduled in March the following year.
I wept to my parents but they gave me words of courage saying that I should be seeing the marks of the other subjects where I have fared well and also concentrate harder in geography as board papers would be checked by external paper checkers and not by Mrs Chatterjee. My board results were great and I scored an 'A' grade, with above 90% in social studies, which included history, civics and geography. Since then I had never seen the face of Mrs Chatterjee but heard that she had left school.
Years later, I was surprised when I found a friend request on facebook from Mrs Chatterjee. By that time, I had forgiven her and was working for a good company. I was surprised when Mrs Chatterjee asked me if I still remembered her. I bluntly said that I do remember her reprimands and how it had shattered my self-esteem when I was a little girl.
Mrs Chatterjee explained had she not disciplined me I would not have fared well in my corporate career. She started communicating with me daily through facebook and whatsapp, and I had flashbacks of those horrible episodes with her. One day, I found an offensive message sent to me and the next day she clarified that her drunkard husband checked her facebook account and he was the one who had sent me the nasty message. I could no longer deal with her. I blocked her forever.
Now I am forty, but I still haven't forgotten the trauma which I faced back at school as a little girl. The extent of the mental damage was such that when I went to register my daughter for school, I had asked the office if they had any teacher like Mrs Chatterjee. They all heard my account and assured me they had none like her in the school and I could go home without any fear.
Also Read: How I Internalised Misogyny As A 'Teacher's Pet' | #ChalkfullBullying
---
Featured Image Source: Pinterest