Leela Roy (née Nag) was a great social reformer, a staunch feminist and a social and political activist. She was also a close associate of Netaji Subhash Chandra Bose. She was born on the 2nd of October, 1900 in an upper middle class family in Goalpara, Assam, while she was raised in Sylhet, Bengal (now in Bangladesh). Leela was sworn in as a member of the Constituent Assembly from Bengal on 9th December 1946, being the only woman member from Bengal to be elected to the assembly. However, she resigned her post a few months later to protest against the partition of India.
Early Life And Education
Growing up in Bengal which was one of the centres of political and nationalist movements of that time, Leela Roy managed to carve her own identity in the contemporary freedom struggle. Her formal education led to a BA in English from Bethune College, Calcutta, where she received the Padmabati Gold Medal for her academic performance. Thereafter, she became the first woman to obtain an MA from the University of Dhaka in 1923. Leela, along with three other women, joined the Master's course in Bengali and Sanskrit at the University and fought for their right to study in a non co-educational university. After completing her education she completely devoted herself to social work.
Leela set up a martial self-defence group for women which was the first of its kind in the region.
Career And Social Work
As an advocate for women's education, Leela established Dipali Sangha, an association for women in December 1923. It was a women's group that encouraged and taught social and political awareness to women, imparting leadership training. Subsequently she founded a school named Dipali School and twelve other free primary schools with the help of the Dipali Sangha. Later in 1928, she also established two other schools known as Nari Shiksa Mandir (Temple of Women's Education) and Shiksa Bhaban (House of Education). Besides this, Leela also made an important contribution to Muslim women's education by setting up one of her schools (Dipali 1) later as Qamrunnessa Girls' School in Dhaka. For the benefit of the female students she also established a women's hostel at Calcutta.
Also read: Mirabehn: A Key Player In The Indian Freedom Struggle
A Revolutionary In Making
Giving equal importance to women's economic freedom, Leela facilitated women in obtaining vocational training for which she organised Dipali exhibition. Her main objective was to defy the established norms of traditional masculine and feminine roles that were all-pervasive during the freedom struggle. Leela took to herself to create a generation of women who would play an active role in politics wholly instead of serving as subservient activists. The Dipali Sangha served as a rebellion training institute in this regard. Pritilata Waddedar, a well-know revolutionary, took training from this organisation.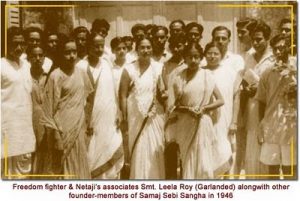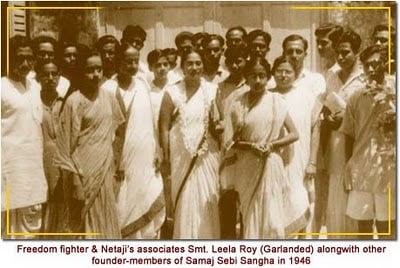 In 1926, Leela became the member of a revolutionary group called Shree Sangha whose founder was Anil Roy whom she would later marry. At that time she was the first female member to enter the core group of an 'all male revolutionary party'. Leela was successful in attracting women to this group by providing them with choices in their fight for freedom. Women were taught to make bombs, work with arms, and circulate seditious pamphlets. There were other secret revolutionary groups like the Anushilan Samiti and Juguntar which were primarily male bastions where men were in command. Leela, being a member of both, motivated women to take up secondary roles initially. Subsequently, these women became key players of the missions in Bengal's national freedom movement.
Leela took to herself to create a generation of women who would play an active role in politics wholly instead of serving as subservient activists.
However women were not limited to these activities but were also given a choice to be become part of various social projects like running schools, colleges, and vocational training institutions. In 1927-28, when women became the targets of physical attacks, Leela set up a fund entitled Mahila Atmaraksa Fund (Fund for Women's Self-defence). It was a martial self-defence group, the first of its kind in the region. In addition to this, Leela also established an institution known as Gana Shiksa Parisad (Association for Mass Education) for spreading female education at a mass level.
The Forward Bloc party, started by Subhash Chandra Bose in 1939 had her as the core member. Bose's confidence in Leela's work and his trust in her organisational capacity pushed her towards assuming greater responsibility within the organisation. In fact, Leela was one of the many people who strongly believed that Bose never died in the air crash of 1945.
Women's Writing And Political Struggle
In 1931, Leela Roy launched Jayashree Patrika, a women-centric magazine dedicated and managed wholly by women and named by Rabindranath Tagore. It was founded in the wake of Chittagong armoury raid and the crackdown on press freedom. The motive behind it was to inspire the spirit of patriotism and a fearless desire to serve the country among the women of Bengal. Jayashree Patrika went through a tumultuous phase during the independence struggle with its founder being behind bars most of the time. After Leela's release from prison in 1938, the magazine was re-launched. In a bid to encourage women's participation in every walk of life, it sought out women who could express their own views and spread political awareness
The Social Worker
In 1941, she established the Unity Board and the National Service Brigade to expand her social and political endeavours. Leela was again arrested in 1942, during the Quit India Movement. Upon her release in 1946, she was elected to the Constituent Assembly of India. After the Noakhali riots of 1946 she participated in the relief work of the victims in Noakhali and set up relief camps to minimise the horrors of violence. After the Partition of India, she ran homes in Calcutta for destitute and abandoned women and tried to help refugees from East Bengal.
Also read: These Are The 15 Women Who Helped Draft The Indian Constitution
The End Of A Leader
Leela Roy's life continues to be defined by the foundations that she laid for the education and liberation of women. She pushed the boundaries of established gender norms and challenged the very root of gender-based division of work. She prioritised raising women's political awareness and civic skills early in life and questioned the predetermined roles in the freedom struggle. In 1970, Leela passed away leaving behind a much cherished legacy of women's struggle and emancipation.
References:
---