Irawati Karve was a stalwart of Indian sociology when it had just been institutionalized in the country. Making her mark in a male-dominated discipline was not an easy feat, but Karve's prowess in her subject helped her find her footing. She was also a prolific writer whose works won several accolades in the course of her career. She pioneered the use of Indology for the study of Indian society. Her works on kinship have been canonized in Indian sociology and her ability to create a multi-disciplinary corpus of knowledge has been marveled at. She was the first female anthropologist of India.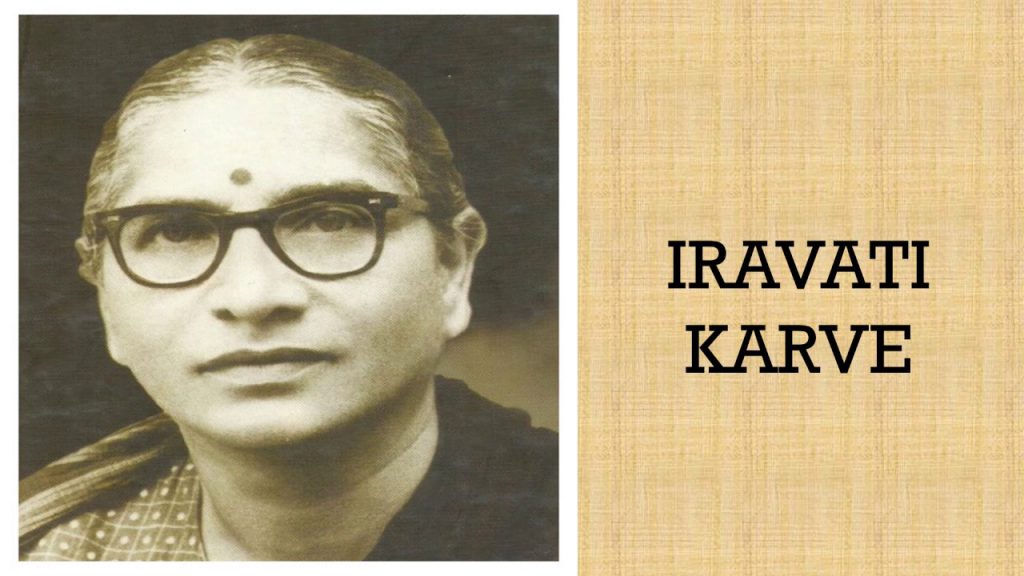 Background
Hailing from Maharashtra, Irawati Karve (née Karmarkar) was born into a cultural context that prized education above all else, and had the means to acquire it. Her father was working as an engineer in Burma, when she was born. She was named after the Irrawaddy river of Burma. Her unique name was perhaps a premonition of the continued global heritage of her life and the diversity of her work has entailed.
Named after the Irrawaddy river of Burma, her unique name was a premonition of the continued global heritage of her life and the diversity of her work this entailed.
Having studied Philosophy at Fergusson College in Pune, she went on to receive the Dakshina Fellowship awarded by the government of Maharashtra. This grant allowed her to study sociology under GS Ghurye in 1928 at the University of Bombay. GS Ghurye proved to be an excellent mentor for her Karve and his academic competence gave her an impetus, both in the ideology she worked with and the topics she chose to investigate. Under his guidance she published an essay on the 'Chitpavan Brahmins'.
In the interim, she had married Dinkar Dhondo Karve, who belonged to the illustrious Karve family that setup educational institutions. Irawati's father-in-law, Dhondo Karve, had established the SNDT Women's University in Bombay which was the first women's university in India.With her husband's support that Irawati Karve studied abroad at the Kaiser Wilhelm Institute of Anthropology, Human Heredity and Eugenics in Germany. Here, she was exposed to the studies of race, human anatomy, and genetics. Her experience in Germany was instrumental in shaping her school of thought in later years.
Also read: The Evolution of Women's Studies in India
Career in Sociology and Anthropology
Irawati Karve, after her stint in Germany, had branched out into the domain of anthropology as well. In the early 20th century, there was clear demarcation between the research methods of anthropology and sociology. The former was fieldwork oriented whereas the latter could be undertaken through case studies. It was extremely unusual for women to take up anthropology because of the strenuous physical exertion and its requirement of research outside one's culture. Further, the scientific foundation of anthropology dissuaded women from taking it up. Irawati Karve was therefore considered an anomaly in the history of the discipline.
Before venturing into the specifics of her sociological writings, it is important to place her in an academic context, especially one that was dominated by men. Works on language, and marginalisation had dominated the field of sociology in and out of India. Such a background arose out of India's colonisation. Karve took another route. She worked on kinship using Indology (the study of Indian history, culture, literature and philosophy). This method was a departure from the greatly anglicised research being conducted in India. She never lost sight of India as her object of study and attempted to use the indigenous epistemological tools available to her.
Academic Legacy
Irawati Karve's study on the Kinship Organization in India revolutionised and simplified future research on the subject. She used language patterns and geographical divisions to find out more about the variations in kinship structures across the expanse of the country. She was an orientalist and so did not shy away from using Sanskrit and Pali material to substantiate her findings. She also worked on the culture, rituals, and institutions of Maharashtra.
Her writings in Marathi have established her as a competent storyteller as well. Her book, Yuganta: The End of an Epoch is a historical rendering of the Mahabharata. The characters are not treated as fictional – instead their circumstances and actions are explained using socio-political cues. Using the Mahabharata, Karve maps the political scenarios of ancient India. Yuganta was awarded the Sahitya Akademi Award for Marathi in 1968, making Karve the first female author from Maharashtra to receive it.
Also read: Ammu Swaminathan: A Woman Of Undying Spirit And Determination| #IndianWomenInHistory
She founded the Department of Anthropology at the University of Pune in 1963. Later, the departments of Sociology and Anthropology were collapsed into one and were later bifurcated. Irawati Karve also served as the head of department of Anthropology at Deccan College, Pune. She also held the post of the Vice-Chancellor of SNDT University for a few years.
Throughout her career as a sociologist-cum-anthropologist, Irawati Karve remained true to her Indian heritage. She experimented with methodology in an atmosphere that wasn't welcoming of women researchers. Despite her elite background, she undertook research in the hinterlands of India and proved herself to be an inspiration for young anthropologists across the country.
Reference
1. Sociology: Principles of Sociology with an Introduction to Social Thoughts by CN Shankar Rao
2. Your Article Library
3. Sociology Group
4. Revovly
5. Sahitya Akademi
---