Posted by Amrita and Eman
Over the years, Hindi serials have acquired quite the reputation. They are deemed regressive, stereotypical and prosaic. While there may be some truth to it, there is no denying that the content has been moving forward. Of the countless serials that are currently on air, there are maybe perhaps one or two that belong to the 'saas-bahu' genre, but the others cannot be so easily labelled.
The Hindi serial industry has taken a different approach to female empowerment, while keep its core audience in mind – evolution. The changes in characterisation and interpersonal gender dynamics is often subtle and nuanced in an otherwise bombastic medium that it is easy to miss. Most of the channels have adopted this approach in their stories, and none more evidently than Star Plus.
In 2016, when Star Plus launched 'Nayi Soch' as their brand ethos, female empowerment at the heart of it all and their shows from that era reflect as much. The way they decided to address the underlying cultural issues regarding gender involved using the male archetype that evolved from prejudiced, myopic and controlling to receptive, liberal and progressive. In fact many of the shows from this era concluded in a manner that would be considered atypical of a serial.
In Meri Durga, the focus was on a father who wanted his daughter to get an education but she was more interested in sports, being a natural runner. The show concluded with Durga, with the support of her family and in-laws, winning a national race with the promise of competing internationally. Similarly, in Rishton Ka Chakravyuh, which was loosely based on the Mahabharat, focused on the strained relationship between Satrupa and her daughter Anaami. The show depicted Satrupa as a highly competent businesswoman who took charge of her husband's family business, had layers to her character and remained unfazed in many a precarious situation, and a completely non-traditional matriarch. These stories did not end with marriage, pregnancy or motherhood but instead with the characters beginning entirely new chapters in their lives.
In light of this, what is transpiring on Star Plus right now is concerning.For a channel that has built its identity around female empowerment, their current inaction towards the creative decisions being taken on one of their now longest running shows, Ishqbaaaz, appears to be a step backwards in every which way.
For a channel that has built its identity around female empowerment, their current lack of action seems regressive.
Ishqbaaaz has paved the way for progressive storytelling and innovation. In its two-and-half year tenure, the creators never once resorted to tried and test tropes such as memory losses, reincarnations and generation leap; instead they chose to subvert them. The lead pair, Shivaay and Annika, played by Nakuul Mehta and Surbhi Chandna respectively, have been the faces of Star Plus's ethos, which focuses on female empowerment and gender equality, and they have been present for every one of Star Plus's major campaigns, including Women's Day and most recently for HeForShe.
At the recent Star Parivaar Awards, Star Plus awarded Nakuul Mehta and Surbhi Chandna, as Shivaay and Annika, the first ever HeForShe award. However, Ishqbaaaz's legacy, as an example of innovative storytelling and Star Plus's commitment to women empowerment are both in jeopardy by Star Plus themselves in their support of 4 Lions Films, the creators of Ishqbaaaz.
Around mid-November, it was revealed that Ishqbaaaz was due to take a generation leap sans Surbhi Chandna, Shrenu Parikh, Mansi Srivastava and two of the original male leads, Kunal Jaisingh and Leenesh Mattoo. In the initial interviews and online comments by Gul Khan (the head of 4 Lions Films), the it was heavily implied that season two is in the pipeline because of the lead actress's unwillingness to play a mother.
According to the first set of interviews, the makers intended to show the female protagonist Annika, pregnant and then proceed to motherhood thereafter. However, since the lead actress felt that she was too young to play a mother on screen, the makers seemingly decided to proceed with a second season without her. In fact, they decided to let go of four of the remaining five leads as well, inferring that the female lead's departure was responsible for the cast redundancy. On the surface, this situation may not appear problematic and seem like standard practice in the industry. However, if we look beneath the superficial, there are certainly some worrisome underlying gender politics at play.
Although, officially, the makers stated that the decision was driven by the falling television ratings, they later revealed, in response to a query on social media, that the ratings were not the driving factor behind this decision. This situation became further confounded when the lead actress gave an interview explaining that the leap was going to happen regardless of whether she opted to play a mother or not and that she had not actually been consulted per se and the producer had taken a unilateral decision.
In a different interview, Mahesh Thakur, who played Tej Singh Oberoi on the show, also confirmed that the decision to take a leap had been exclusively the producer's prerogative and there was no real clarity as to why the show as moving in this direction. The problem that this situation presents is that the producer essentially implied that there was no narrative for a female protagonist beyond motherhood and that there was nothing left to explore in a character like Annika, which is in contradiction to previous interviews where the makers have discussed many potential arcs that have yet to be explored on the show.
Also read: Do Saal Ki Aurat Caters To Every Patriarchal Stereotype There Is
Even the lead actress herself feels there is much to be explored in Annika, yet the makers have chosen a direction that does disservice to the female protagonist, the show and the channel itself.
When the makers were questioned by the media and viewers about the implications of gender discrimination in this issue, the makers disagreed with the criticism. Their argument was that five of the six leads are being let go, of whom two are male, indicating that it is not a gender issue. However, this is where they may have failed to see the nuances and flaw in their own argument.
The initial interviews implied that the female lead was given no other choice but to either agree to confine her character's journey to traditional gender norms or to exit the serial. As it was believed to be the case at the time, the makers essentially implied that their decision to alter the narrative, and let go of the other five cast members, is a result of and rests on the actress's decision.
If it had not been for subsequent interviews by the other two female leads, Mansi Srivastava and Shrenu Parikh, and Mahesh Thakur, the popular belief would have been that in choosing not to confine herself to a gender archetype, the female lead was acting autonomously in choosing not to confine herself to a gender archetype, her actions could be deemed irresponsible and inconsiderate as she was 'technically' would have been responsible for the cast redundancies, thus tarnishing the actress's professional reputation.
The proposed leap and change of female lead also presents an issue of significance. The producer is adamant to take a leap by mid-December as per news articles, which means that the current female lead will be departing just five to fifteen episodes shy of the 700th episode milestone. In the event this transpires, the 700th episode milestone will be celebrated by the new entrants, bar one, who have not contributed to the show's success whilst those who have will be excluded from the event as they are no longer a part of the show.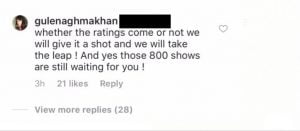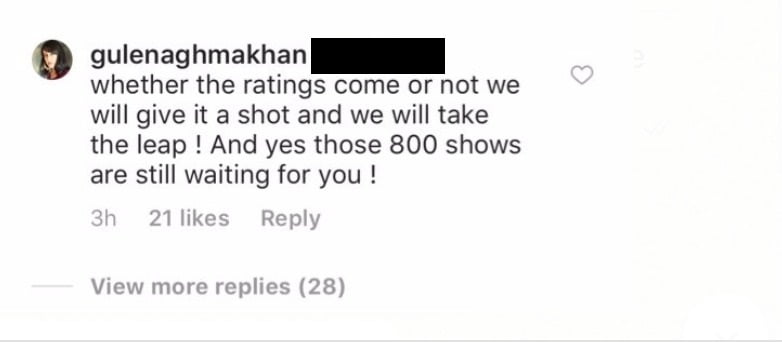 This begs the question why the producer is so determined that the leap take place prior to the 700th episode to which there has been no response. Though there are rumours that the lead actress has been retained for two weeks after the leap, the fact of the matter is that even if this does transpire, the lead actress will have been relegated to a supporting role on her own show and will technically not be in a position to celebrate the milestone as her achievement.
Adding fuel to the fire is the channel's response to this entire situation. When the viewers' queried the channel's decision to support the producer's decision, Star Plus's response fundamentally undermined their own ethos. Star Plus and its parent company Star India, have built their identity around female empowerment and through storytelling they promote the idea that women are more than just 'wives' and 'mothers'. Yet Star Plus is choosing to align with the producer's vision where idea that post motherhood, a female protagonist has little-to-no arc to explore other than death, brings into question the channel's sincerity towards their core value.
It forces the viewers to question the channel's sincerity and wonder whether it Is all a ploy to get ahead in the GEC race.
It forces the viewers to question the channel's sincerity and wonder whether it is all a ploy to get ahead in the GEC race, and the viewers have been raising exactly those questions. However, the way this entire situation has been handled by Star India and Star Plus only serves to further damage their image.
Upon hearing the news of the female lead's departure, countless viewers have called and emailed to complain about the producer's decision and in response, they were dismissed, mocked and patronised by the channel's representatives. Some were told they were hormonal female teenagers, when many who complained are well into adulthood, while others were given unsolicited medical advice to find help for their mental health even though the email that was sent did not in any way imply mental instability.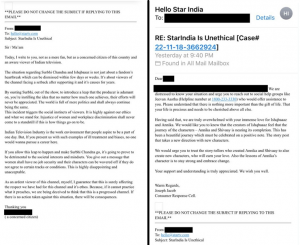 Essentially, the channel's response to its female consumers implies that women are hysterical and hormones are affecting their state of mind, vision, clarity and judgement thus questioning the validity of their female viewers' criticisms and statements. In doing so, the channel, perhaps unintentionally, is reinforcing cultural norms and practices that keep women from being able to raise their voices and this is again in complete contradiction not only to Star Plus's own ethos but Star India's, the channel's parent company.
Also read: (On) Female Anger: The Gendered Diagnosis Of Emotions
I called SP they said now if you'll call again we'll definitely take a legal action against you #SpeakUpStarIndia that's how you treat us? Just don't show off your fake kindness to the world. You guys are liers. End all this, it's high time now #EndIshqbaaaz

— Japneet (@itsjapneet) November 24, 2018
I called, a woman picked up.

Star plus preaches women empowerment and stands for heforshe right ?….

*Cut*

GUYS. TELL THEM WHAT THEY ARE DOING. THIS IS AGAINST THEIR VALUES. CALL AND TELL THEM. #EndIshqbaaaz

— Muskan SC (@Muskanrathi10) November 21, 2018
Just came here to let everyone know that I spent 500 rupees today and have called only @starplus and now I have 0 balance left. But all they did in response was cut my call as soon as I speak "ishqbaaaz" they wouldn't even let me complete it. So yeah…#EndIshqbaaaz

— ?ᵏ (@A_sickpsych) November 22, 2018
Y'day i called them on this no. They asked my number.
Now they blocked me.
Do not share your no. With them !#EndIshqbaaaz pic.twitter.com/Tc8UERtzVD

— آیت (@AayatIb2) November 22, 2018
Viewers even reached out to Lux India who are partnered with Star Plus for the HeForShe initiative for Star Parivaar Awards and Lux Golden Rose Awards. The response from Lux India was equally patronising.
#EndIshqbaaaz #NoIshqbaaazWithoutSurbhi
This is what I wanted to say.
Don't take my previous tweet away from the focus.
Peace https://t.co/WYuYTFrc2m
Plz do whatever she said we have to fight and WIN for SURBHI

— Rora Khaled (@rora_khaled) November 24, 2018
If the buck stopped here, perhaps the production house and channel could argue that their stance is a result of naivety. However, this is not the first time a situation like this has presented itself to this production house and channel. In 2017, the channel and production house launched Iss Pyaar Ko Kya Naam Doon 3, a third instalment in the franchise that attempted to replicate the success of the original by casting the same male lead, revising the title song from the original serial and even going so far as to giving the male protagonist the same initials as those of the male protagonist in the original show, Iss Pyaar Ko Kya Naam Doon.
However, the makers decided to cast a different female lead much to the displeasure of the audience. As a result, the lead actress of the third instalment was subjected to a constant barrage of scrutiny, criticism and negativity from the audience and this was despite the 5 year gap between the shows. This is not dissimilar to what is transpiring on the sets of Ishqbaaaz.
Given the viewers' unhappiness at the lead actress's departure, it is very likely that the new female lead will be at the receiving end of the audience's ire. In doing so, the channel and production house are creating an unpleasant workplace environment for a woman, which is underscored by gender dynamics where the channel and production house have essentially pitted one woman against another.
For a channel that aspires to be progressive and innovative to the point it is considered pioneering, their willingness to support the production house's creative vision, which has been deemed by some as blinkered, the channel is in an untenable position, whether they realise it or not.
From allowing the production house's initial interviews that seemed to malign an actress's professional standing to creating a potentially hostile work environment for two actresses to dismissing the opinions, concerns and voices of female viewers, everything Star Plus, and by extension Star India, claim to stand for is now very much in question.
Also read: Beintehaa And Qubool Hai Resort To Tired Stereotypes Of Muslim Women
Though the situation may appear to be insignificant, by accepting the producer's vision to go ahead without careful consideration of nuances, all the strides Star India and Star Plus have made for women in narrative, and society at large, threaten to unravel themselves.
---
Amrita and Eman are academics and professionals who have an interest in gender politics and corporate social responsibility that extends to a safe and stable working environment for professionals in the entertainment industry.
Featured Image Source: Fuzion Productions