In India, women and girls with disabilities face a high risk of psychological trauma and sexual violence. A condition which they may not necessarily have any control over, results in them being subject to much discrimination and subordination. While both psychological and physical disabilities are stigmatised by society, here are ten women with disability who kicked ass in 2018!
1. Nidhi Goyal
Nidhi Goyal is an activist and comedian working on disability rights and gender justice. She is the founder and director of Mumbai based non-profit Rising Flame and is a writer, trainer, researcher and artist. She is one of the contributors of the Human Rights Watch Report, Invisible Victims of Sexual Violence: Access to Justice for Women and Girls with Disabilities in India. Nidhi is visually-impaired. A few weeks ago she opened up about her experience of depression. In a society were publicly speaking about depression is often stigmatised, personalised accounts such as Nidhi's give courage to others to also speak of their experiences.
2. Shampa Sengupta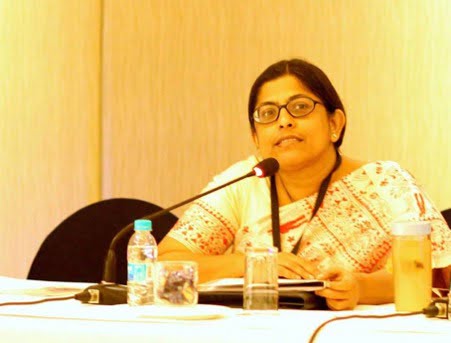 Shampa Sengupta is an activist working on gender & disability issues. She is the founder of the advocacy group Sruti Disability Rights Centre and is an Executive Committee Member of National Platform for Rights of the Disabled. She is another contributor to the Human Rights Watch Report, Invisible Victims of Sexual Violence: Access to Justice for Women and Girls with Disabilities in India. Last month she opened up about her #MeToo story. It highlights the everyday struggles women with disabilities face after undergoing sexual harassment while also giving strength to others and reinforcing that it is never too late to share one's story. Shampa hopes that her narrative will encourage "Many women in the disability sector to open up and talk about the sexual harassment they faced within the sector, after reading this."
3. Preethi Srinivasan
Preethi was awarded the I Am Woman Award on 28thApril this year. Preethi was left quadriplegic after an accident. However, this did not pull down her spirits, but instead she embraced it and then strived to help others in her position. She runs a charitable trust called Soulfree in Tamil Nadu, which strives to help people who despite severe disabilities can be 'positively abled.' In the words of Preethi, she thinks "The greatest blessing and gift in life is the ability to see the light, opportunity, and challenge in adversity."
4. Vaishali Salavkar
Vaishali Salavkar is the first Indian blind chess player to participate in the 43rd World Chess Olympiad in September 2018. She has been playing chess since 20-25 years and is an eight-time national champion.
5. Arunima Sinha
Arumina received an honorary doctorate from the University of Strathclyde in Glasgow on 6th November this year. She had to have her left leg amputated as she was pushed out of a train due to resisting a robbery and then became the first woman amputee to climb Mount Everest in 2013. She is the founder of the charitable trust Arunima Foundation whose mission is "To do as much as possible for differently able candidates, humanity and society. Arunima believes this "award delivers a good message to the youth of India and the world that if you strive to reach your goals in life your achievements will be recognised."
6. Abha Khetarpal
Abha Khetarpal has developed a digital sexuality education course for people with disabilities this year which "is realistic, emotionally agreeable, non-judgemental, and open to discussions". Despite contracting polio at the age of 3, she firmly believes that "Even while sitting on a wheelchair, one can stand up for one's rights". Abha is a disability rights and gender activist and FII writer. She is also a National Awardee and one of the 100 Women Achievers in India. Abha's work not only addresses existing issues that women with disabilities face but also involves developing a solution which she achieves through education.
7. Shivangi Agrawal
Shivangi Agrawal is one of the members of the Delhi Queer Pride 2018 organising committee. She said how this was the first time in 10 years that the stage was made accessible to wheelchair users. Although, there are still many improvements to be made, the Pride "is constantly working to become more inclusive", says Shivangi. She is a comedian and gender rights activist who addresses the many biases and discrimination that women with disabilities face through her humour.
8. Manasi Joshi
Manasi Joshi won the bronze medal in women's singles SL3 Category at the 2018 Thailand Para-Badminton International and at the Asian Para Games 2018. This was her first tournament after getting a sports prosthesis. She was required to have her leg amputated after a motorcycle accident and delayed medical attention. "The biggest challenge for [Manasi] is the society itself", Manasi says to The Hindu, and "it is sad that many still treat para athletes as lesser mortals." She continues that things have "changed a lot thanks to the performances by our tribe at the highest level." Manasi's determination and strife is inspirational; an example of how we have the power to overcome the obstacles that come our way. In Manasi's words "you are the answer to your own adversity."
9. Virali Modi
Virali Modi began a petition to make the Indian Railways disabled friendly. She is a disability rights activist, campaigner and public speaker. Virali says, those with disabilities "deserve to have an inclusive system that helps everybody." Her petition for railways to be more inclusive has been well received and changes have been made in many cities. Virali is now petitioning for the National Restaurants Association of India to make restaurants wheelchair-friendly.
10. Jasmina Khanna
Jasmina Khurana is a software professional who was born with cerebral palsy. She is also a disability rights activist who blogs about disability. Her advocacy calls for initiatives which make all spaces accessible for everyone. She petitioned against poor treatment from the Canadian Embassy in India, she said "I may be physically challenged, but I am a human too." Jasmina's petition was successful as she was granted a visa to visit her sister in Canada, she was given a letter of apology from the Canadian Embassy and assured that they will take better care when dealing with people with special needs. Jasmine exhibits how every individual has a voice, and that they are not treated the way every human should be treated then they must speak against it.
All of these women and the trajectory of their work and activism are inspirational. Their stories illustrate how everyone can make a difference to the betterment of women in their own individual way. This is only a selection of women, however there are many more women making changes, small or big, which we should all encourage and support.
Also read: Sexuality And Disability: Providing Sexuality Education To The Disabled Through Online Space
---
This is by no means an exhaustive or representative list. Suggestions to add to the list are welcome in the comments section.