Whatever your ethnicity, religion or gender, talking about sex is not easy –especially to your parents. Often while teenagers are developing and exploring their sexuality, they are unable to have an open conversation with their parents.
The Netflix original series Sex Education does not shy away from talking about sex and 'real' teenage problems. In the show, sex is both at the center yet also on the periphery. All of the characters are thinking about sex; however, it is not merely about the mechanisms of the act or sexual desires; but, as articulated by the New York Times, "sex as a learning experience about who you are, what you want and how you relate to other people."
Sex Education unapologetically highlights the many flaws and failures that teenagers encounter, rather than embellishing or glamorising them, which becomes the show's biggest selling-point.
Otis (Asa Butterfield) is the socially awkward teenage son of Jean, (Gillian Anderson) a sex therapist who is cool and sex-positive, yet at the same time overbearing and intrusive of her son's private space. Otis's fellow classmate and crush Maeve (Emma Mackey) recognises his sex therapy skills as he helps the school bully Adam (Connor Swindells) "own [his] narrative." Seeing this as a financial opportunity, Maeve urges Otis to begin an in-school sex therapy business which will help ease the sexual struggles of students of all background and sexualities. While Otis consults the clients, Maeve handles the monetary side. As the plot thickens, we see how the characters' issues are not limited to what they initially come to seek help from Otis for; but the psychological complexities of the teenage mind.
Also read: Why Don't We Talk About Adolescent Sexuality?
Sex Education is set out of place and time, with the ambiguous setting and sex positivity, making it a story for everyone. The aesthetic of the surroundings and the clothing style seem very Americanised; however, the characters have British accents, and the show was filmed in Wales. The teenagers' dressing style is very eighties, they watch Julia Roberts movies from the nineties, but use iPhones. The viewers are presented with a diverse spectrum of issues: abortion, bullying, consent, homophobia, mental health issues, parental pressure, sexual blackmail, social media hierarchy, stalking and more. The show is impressive due to its subversive nature, as it addresses the contentious social issues.
Yes, the show does include some typical classic teen plot-lines; however, it does present a fresh perspective and many intersectional characters. The show does not tokenise the LGBTQIA+ characters and develops and introduces their roles beyond their sexuality. The trajectory of each character's journey, whether a central character or supporting, is an amalgamation of unexpected revelations. All of the characters in Sex Education, are layered and multifaceted, portraying teenage angst, growth, and development. The show does not just merely depict non-heterosexual couples and throw around buzzwords, but allows each character to undergo sex education and "own [their] narrative."
Otis is a virgin and is absolutely terrified of touching his own penis. "Everyone has had sex over the summer." Everyone except Otis. His phobias run deep from a young age, as his repulsion stems from witnessing his father's infidelity and his mother's warning: "Intercourse can be wonderful. But it can also cause tremendous pain. And if you're not careful, sex can destroy lives." Thus, through the clinic not only does Otis help others with their sexual problems but also gradually detangles his own.
Anderson is excellent in the role of Otis's mother Jean, whose sex education arises from her hypocrisy towards her son. Although she promotes honesty and respect for individual space in her therapy, her overbearing interest in her son's life and sexuality becomes all-consuming for Otis. However, at the end of the series she recognises her mistake says to Otis what every teenager needs to hear: "Of course you're normal. You're 16. You're not supposed to know the answers to anything. You're going to be just fine."
Gatwa's depiction of Eric, who is unapologetically gay, African and Christian is one of the most impressive performances of the show. His character gives voice and represents the black queer community. One of the most critical scenes in the series is when Eric comes to prom dressed in drag. The conversation he has with his father before his prom entrance had me in tears. It was so beautiful to see the different portrayal of masculinity and emotional exchange between Eric and her father.
Emma Mackey delivers an exceptional performance as Maeve who experiences an array of issues such as slut-shaming, an unexpected pregnancy, abortion and familial neglect. As she says at the end of the show, she is a brilliant girl but got "unlucky in the family department." Despite this Maeve is independent and street-smart, surviving on her own. The show is applaudable, most notably due to the subtle yet emotive treatment of abortion in Episode 3.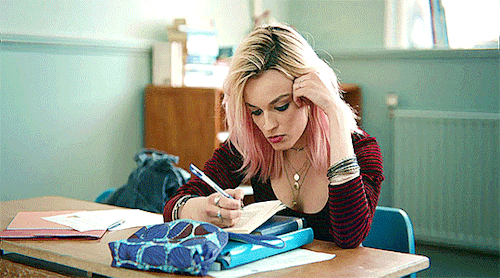 Aimee is a fascinating character as from the start she subverts expectations of the dumb blonde trope. From the beginning of the series, we see how assertive she is as she calls out Adam for "faking it." By the end of the series, she begins to explore her individual sexual needs as opposed to only trying to please the man.
Almost all the students at Moordale have their own quirks and complex story arches. Lily (Tanya Reynolds) is a sex-obsessed artist whose erotic alien sex comics occupy her time when she's not desperately trying to lose her virginity. Anwar (Chaneil Kular), who is part of the mean group 'Untouchables', reveals a surprising pathos when he comes out to his brown mother, despite being openly gay at school. Mid season the audience is introduced to Ola (Patricia Allison), who challenges Otis's feelings for Maeve when she agrees to be his date to prom.
Ola's character is inspiring in its freshness and honesty. She is direct in her approach, as she makes clear that she is interested in Otis, yet at the same time she is also self-aware. She turns up at prom in a suit looking smashing. What struck me was how her choice in unconventional gender non-conforming clothing was treated absolutely normally, with no raised eyebrows or mean comments. She also stands up for herself when she feels like she is not being treated right by Otis.

In the UK, almost no one I knew received the sex education that was required while growing up. My memory of sex education in school was limited to an animated video of intercourse between a man and women, some information about STDs and the boys in my class projecting porn on the school computers during IT lessons. This limited sex education led to many unanswered questions and, thus, created an unhealthy perspective on sex – on the one hand, literally no useful information from school and on the other hand, porn, that just presented an unrealistic performance. The show successfully creates a middle-ground between sex as educational and entertaining.
Also read: Is Sexuality Education Against Indian Culture? | #WhyCSE
Sex Education is packed with powerful performances and diverse non-heteronormative characters. The show has been lauded for having a "very feminist heart and having a female-heavy writing team," though the latter was supposedly unplanned, said creator Laurie Nunn on Good Morning America. I hope season two pushes the show's revolutionary potential even further.
Check out the trailer announcement for Season 2 below.
Also read: Netflix's Sex Education Season 2 Talks About Sexuality Seamlessly
---
Featured Image Credit: Instagram