Trigger Warning: Sexual assault, Sexual v
Tamil Nadu's Pollachi came into infamy this February after a woman alleged sexual assault and extortion at the hands of four men, which led to the discovery of a long-running sexual assault-extortion racquet. Four men – Sabarirajan, Thirunavukkarasu, Sathish, and Vasanthakumar, were accused of assaulting the woman and extorting money from her by threatening to make public the videos of her assault. Sabarirajan befriended the nineteen-year-old woman on Facebook and asked her to meet him, the three co-accused and Sabarirajan then assaulted the woman in his car. After the perpetrators made requests for money and sexual favours, the woman eventually took this to her brother, who tracked the men down to have her pictures deleted, but upon discovering a multitude of pictures and videos of several women being sexually assaulted, on their phones, he notified the police.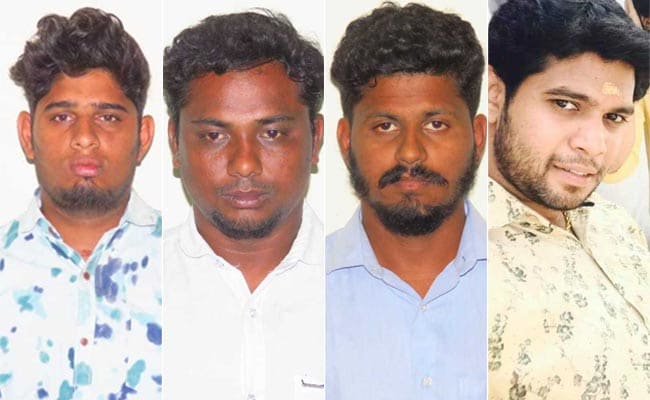 The police believe that the four men have been operating this sexual assault and extortion racket – with a consistent modus operandi – for over seven years and have had an estimated 50+ victims. The media estimates are as high as 200, although the real numbers are still disputed. As for their modus operandi, these men would befriend women online and ask them to meet them, then one of them would either sexually assault them or get them to agree to sex, while the remaining three would record the assault and use it as leverage to get the victims to give them money and sexual favours. Police found multiple videos of such assaults on the perpetrators' phones, and with that, managed to track down another victim, but her family refused to seek any legal remedies or aid with the investigation.
The police believe that the four men have been operating this sexual assault and extortion racket – with a consistent modus operandi – for over seven years and have had an estimated 50+ victims.
The issue garnered greater outrage when it began to take a political turn. Unconfirmed allegations of political and law enforcement collusion surfaced after AIADMK's party worker, Nagaraj assaulted the victim's brother in order to intimidate him into getting the victim to withdraw her allegations. The party was quick in expelling the worker, but that didn't aid in calming suspicions of political collusion with law enforcement, in what the Opposition suggested was an elaborate cover-up.
Kanimozhi accused the Tamil Nadu police of attempting to silence other victims from coming out after the Superintendent of Police revealed the victim's name at a press conference. Kanimozhi said, "The name of the survivor, in this case, was revealed only to silence the other women and prevent them from coming out in the open and complaining."
The case gained national recognition among the masses after a video of the victim resisting her assailants was widely shared on social media, but the discourse on the case has been almost entirely absent in mainstream media, with very few newspapers and news houses picking up on it.
In its home turf of Tamil Nadu though, the case has become a political tool for parties to drag each other through the mud, with unverified stories of collusion, cover-ups, and conspiracies. The victim's brother had urged politicians to not politicise the but in vain. The claims of involvement of Tamil Naidu's political elite in the racket has been rubbished by the police, but this seems like a politically directed move since the investigation is far from complete and it is too soon for any allegation to be verified or rubbished.
Also read: #ViolenceOfSilence: Chennai Protests The Murder of Rajalakshmi, A Dalit Girl From Salem
This case of sexual violence has seen unprecedented levels of insensitivity and callousness. The appalling ways in which this case has been dealt with by law enforcement, politicians, and certain media outlets is abhorrent. Identities of sexual assault victims are protected by law, but in a callous move, Superintended R.Pandiarajan revealed the victim's name, and the week after, a press-statement released by the police mentioned not only the victim's name, but her education credentials, and the locality she resides in, in a televised press-release. Soon after, the victim submitted a petition to the Coimbatore District Collector, urging that her identity be kept hidden there on. This sets not on only a dangerous precedent, but may have also deterred other victims from coming forward.
Besides, the video of the survivor has been widely circulated across social media, without the victim's consent. The video has further been carried by certain news-media outlets with their stories on the case and has been widely shared across WhatsApp and Twitter.
This case brought to the forefront not only a massive sexual assault and extortion racket but also the appalling ways in which victims of sexual assault continue to be treated, to this day. Our focus, as a nation, should have been the rape culture that we foster each day – which allows for something like this to continue to happen for nearly a decade – and the women who were the victims of this violence, instead, this has been turning into a political circus which has led to us losing perspective.
Our focus, as a nation, should have been the rape culture that we foster each day. I, this has been turning into a political circus which has led to us losing perspective.
This is the time we question rape culture and the practises that foster it. The Pollachi sexual assault racket is a testament to our failure as a society to keep its women safe of sexual violence, and it further bears testimony to how we fail victims of sexual assault at every juncture. The fact that only one woman came forward, in spite of the alleged numbers of victims being upward of 50, throws light on the fact that we have failed to create a conducive environment – both, legally and culturally – for victims of sexual assault to come forward.
The complete disregard, for the victim and her safety with which law enforcement in Tamil Nadu conducted itself, will only act as a deterrent for reportage of future sexual crimes. The general distrust of the masses in law enforcement is a huge barrier to seeking legal remedies.
Further, the fact that no other victims are willing to come forward is the result of the culture we propagate, wherein women are valued even less if they are victims of sexual assault. The widespread cultural acceptance of the objectification and commodification of women has led to the toxic and troubling collective belief that women who are victims of sexual violence have been defiled, damaged, and broken.
Also read: Understanding Rape Culture 101
The silence that led to this rackets undetected 7+ year operation is our collective doing. The culture of silence that we have foisted upon our women strengthens the rape culture that continues to beset our society. The Pollachi incident and the subsequent responses are a grim reminder that we fail our women each day and foster, promote, and even celebrate the culture that allows for violence against them to exist, as a quotidian phenomenon. It is time we bring in reforms, it is time we hold anyone who fails victims accountable. Ultimately, it is time we put an end to the everyday violence against women. Time's up.
---
Featured Image Source: Scroll