"Mein awaara. Mein badchalan."
I loiter. I'm characterless.

23-year-old photographer and journalist, Manal Khan had no idea that these two phrases calligraphed on her poster would take the internet in Pakistan by storm and create a stir in her own life in the form of internet trolling.
Since last year, Aurat March – Pakistan's own version of Women's March – has been taking place on the 8th of March on the occasion of International Women's Day to celebrate womanhood and raise a voice on issues faced by women and other marginalised gender communities in the country. This year was no different; when approximately seven thousand women and members of the LGBTQIA+ community from different corners of Pakistan decided to march the streets for equal rights and representation, to question gender roles and to call out sexual harassment prevalent in the country.

However, what sounds like a harmless march for equality turned into a nationwide debate when images from the event went viral on Pakistani social media. Some demanded apology for 'obscene, religious/cultural-norms-depleting' slogans used at the march, a few petitioned for the Prime Minister to take severe action against the organisers who have brought this calamity upon the nation while others suggested a more pragmatic solution – the Mard March (Men's March) to 'safeguard' the rights of men in the country. If these intelligent solutions weren't enough, many also took to social media to harass the organisers and the participants of the Aurat March and threatened them with vile consequences like rape and death.

You know what they say: hell hath no wrath like a [Pakistani] man scorned – for being called out on their misogynistic values – or maybe they don't say that because such stereotypical quotes are reserved for women only. Anyway, Pakistani men have placed an interesting twist to things by reacting to the march in the most absurd of the ways. So, what has Aurat March done to deserve such national fury? Is asking for equal rights and end to gender-based discrimination too much to ask for in a country like Pakistan? Or are these men – and ironically quite a lot of women too (see: internalised misogyny) – lack some basic sense of humour to read satirical slogans? Perhaps both and more.
Many also took to social media to harass the organisers and the participants of the Aurat March and threatened them with vile consequences like rape and death

Only days after the controversial Aurat March came the news of two teenaged Hindu girls forcibly converted to Islam and married off to Muslim men but this news did not provoke similar sentiments of anger as the march did. Cynics would say it is because the lives of women (especially those of other faiths) are matters of little concern for Pakistanis unless, of course, they are out on streets protesting for their rights, but we will keep our good faiths intact and assume that the lack in the intensity of reactions stem from the nationwide understanding that a dead woman is better than the one who loiters on streets or worse, dares to ask for equal rights.
Backlash And The Future For Aurat March

Aurat March was hailed to be highly intersectional in nature; it included not only women from various social classes and strata but also different age groups and faiths. However, perhaps one of the most striking part of the Aurat March was the inclusion of the marginalised LGBTQIA+ community which does not find enough avenues to express its concerns and is constantly subjected to various human rights violations.
Also read: Rural Women In Karnataka March To Bengaluru Calling For Alcohol Prohibition
The visibility of this community is what brought the march a lot of backlash too since people believe that a 'western concept' like the LGBTQIA+ rights is immoral and corrupting the religious and cultural threads of the country which identifies as an Islamic republic. Umema Khan, an openly queer, Karachi-based advocate of the LGBTQ+ thinks so too. They told FII, "Aurat March is the closest that we have been to a pride parade in Pakistan; it has provided the LGBTQ+ community with the much-needed visibility and perhaps this is one of the biggest reasons why people are criticising the march so vehemently."
Hamza Baloch, a human rights activist and law student, who came out as a non-binary person a few days following the march cited Aurat March as one of the decisive factors in his decision. Talking to FII, Baloch said, "The Aurat March gave me the motivation to share this information about myself on a public platform. I saw others like me in the march and that encouraged me that I am not alone in this – I have support, I have people who will fight for my rights. I was not made to feel like the other, I was instead, an ally." However, Baloch's valour did come with a price. He was not only called out for his effeminate behaviour for attending the march draping an orange dupatta (long scarf) but his Islamic faith was also questioned by many he knew closely.
Noreen Zehra believes that the Aurat March has served its purpose by initiating a very important conversation regarding gender roles and sexual harassment in the country.

Mahila Ch, a marketer and rights activist from Islamabad, has a similar tale to share. When her image with h/er poster saying "Agar meri nose ring slutty hai, apke dimag mein tatti hai." (If my nose ring is slutty, your mind is shitty) went viral on social media platforms, not only Ch but her sister and a few close friends had to face the brunt of angry Pakistani men – and of course some women, alas. Not only did she have to restrict her social media activity but also had to answer endless questions about the people from her social circle regarding her motives behind her poster and participation. However, despite all the opposition and roadblocks, Ch says she feels "very glad to be a part of the march and (is) eager to participate again next year."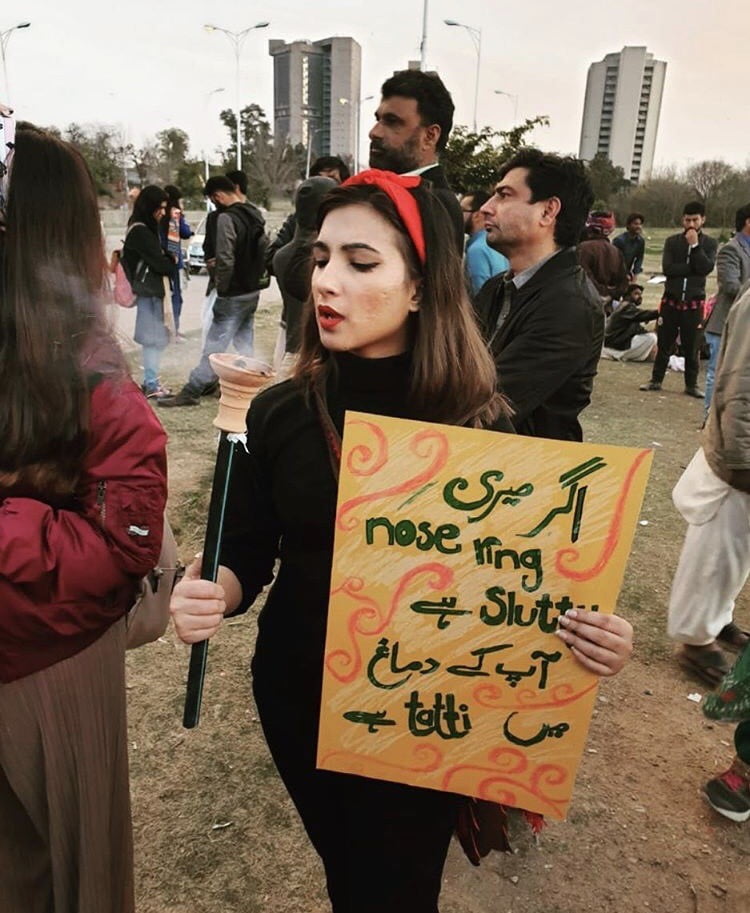 Manal Khan seems to share this sentiment. Khan faced not only harassment on the internet when her image went viral but also faced backlash from the male members of her extended family and was questioned over the motives of her supposedly very controversial slogan. While talking to FII, Khan spoke about her intentions behind the slogan and the backlash she got for it, "I made this poster because it is something that a lot of women including myself hear all the time whenever we decide to make unconventional choices. Though I did not expect to receive so much hatred over these two simple and often-used lines, it (the backlash) did not impact me much because I was used to it prior to this. However, my mother, who is otherwise very encouraging of my endeavours, was very concerned for my security after the trolling and threats on social media and asked me to take certain precautions."

However, Khan ended the conversation with FII by thanking her 'haters' and trolls who she said gave her a lot more strength than she already possessed and the resilience to keep pushing the boundaries – strongly echoing the spirit and mantra of the Aurat March itself.
Also read: In Photos: Aath March Saath March – International Women's Day 2019
Noreen Zehra, senior producer at Geo News who participated and broadcasted the march via social media, believes that the Aurat March has served its purpose by initiating a very important conversation regarding gender roles and sexual harassment in the country. While talking to FII she said, "I believe that the minds behind the march used the disruptive strategy to start this much-needed conversation. They have knowingly put their lives in obvious danger in order to bring out a change in the Pakistani society that is much delayed already and extremely crucial." Zehra also believes that the Aurat March has the potential to escape the fringes and become a mainstream movement in Pakistan.
---
Featured Image Source: Aurat March 2019 Facebook page