In the latest episode of 'How Ugly Can Indian Politics Get?' we saw Atishi Marlena, Delhi based politician, educator and activist, get viciously slandered as questions about her caste, identity, and character were raised. Marlena is a Delhi University topper, Chevening scholarship recipient and a Rhodes Scholar. She served as an Advisor to the Deputy Chief Minister of Delhi, Manish Sisodia from July 2015 to 17 April 2018 and is widely credited for bringing much needed educational reforms in Delhi.
What Went Down
Atishi Marlena is contesting from the East Delhi parliamentary constituency as an AAP party candidate for the 2019 Lok Sabha Elections. On Thursday last week, a pamphlet started doing the rounds on social media (and offline) which called Marlena a "beef-eater", "prostitute", "a very good example of a mixed breed." In a press conference with fellow AAP colleagues, she broke down while reading out loud the obscene and derogatory remarks against her that allegedly were distributed in the East Delhi constituency by her BJP rival Gautam Gambhir, a charge vehemently denied by the cricketer-turned-politician.
Atishi Marlena filed a complaint against Gambhir with the Delhi Commission for Women (DCW). Taking suo moto cognisance about the distribution of pamphlets, DCW has also issued a notice to the city police seeking details of the investigation into the matter. Chairperson Swati Maliwal in her tweet said that the comments made against Marlena were "disturbing and sickening" and "How will women participate in politics if treated this way? Why is no action taken against such dirty tricks?"
Defamation vs Defamation
Gambhir, when accused, immediately jumped on the offensive and filed a defamation suit against Delhi CM Arvind Kejriwal, Deputy CM Manish Sisodiya and Atishi Marlena for "levelling baseless allegations against him with regards to circulation of defamatory pamphlets." The BJP leader has further demanded an unconditional and unqualified apology for defaming him with the false and baseless allegations. In a particularly bitter, defamation versus defamation instance, Kejriwal responded by sending a legal notice to Gambhir, saying his recent tweets about him were "defamatory and misleading", and sought his apology in writing within 24 hours.
This matter did not end here and a photo of Gambhir sitting inside a vehicle and a man looking and dressed like him standing atop the same car during a roadshow on Friday triggered another war between AAP and BJP. This led to Manish Sisodia alleging that the cricketer-turned-politician was using a doppelganger to escape from the summer heat. Gambhir denied it; counter-questioned Sisodia and the men were at it again.
People on Twitter were quick to pick sides; #IStandWithAtishi and #IStandWithGambhir were the trending hashtags this weekend. The latter makes no sense as Gambhir was never the victim? But ultimately, one cannot expect empathy from testosterone-fuelled men who cannot look beyond the ex-cricketer profile of Gambhir and jumped to defend him (I wonder what it is about cricket, is it the association with balls? The Phallic symbolism of the bat, comment below!). If one goes through his tweets, it is clear Gambhir went on the offensive and used extremely unparliamentary language against serving ministers in office. Even then, in an outstanding show of bromance, Mr Gambhir's former teammates, Harbhajan Singh and VVS Laxman, tweeted in his defence and said he would not say such things about a woman. Gambhir played his part of the innocent man on trial well by saying he would "hang himself" in public if AAP could prove that he had any link to the offensive pamphlet.
Gambhir played his part of the innocent man on trial well by saying he would "hang" himself in public if AAP could prove that he had any link to the offensive pamphlet.
BJP MP Subramanian Swamy came with his own segment of fatherly advice and told Gautam Gambhir to ignore the "self-generated Naxalite promoted anonymous pamphlet" and not be defensive about it. The Rajya Sabha MP further said that if Gambhir needs any help in courts then he will be happy to help him out. "If a dumb Commission issues notice just ignore that," Swamy tweeted. So, a BJP MP just called the Delhi Commission for Women, "dumb"? EC, you sleeping?
Atishi Marlena's work
Union Minister Vijay Goel said the BJP did not support the language in the pamphlet and questioned why AAP did not file any police complaint. "Levelling allegations without proof is petty politics. AAP has targeted Mr Gambhir because he is winning the poll from East Delhi," Mr Goel said. First of all, no. Gambhir is not winning the poll from East Delhi; he is competing against a woman who has done visible work in the past few years that benefitted Delhi citizens in a quantifiable way. Take a look at his rally pictures: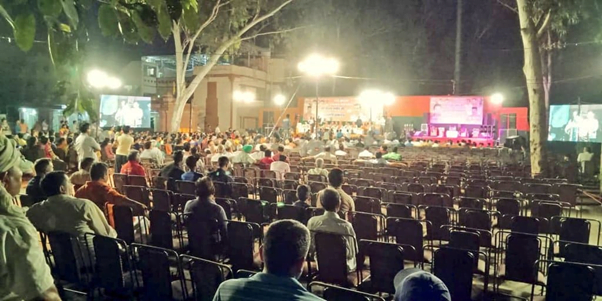 During her three-year tenure, her work, according to reports, included improving the infrastructure of Delhi government schools, strengthening regulations to restrain private schools from hiking fees arbitrarily, forming school management committees under the Right to Education Act, and introducing the Happiness Curriculum, which the Delhi government claimed was aimed at "creating good human beings" through classes on meditation, moral values and mental exercises.
"Atishi Marlena attracts the middle classes – both upper and lower, especially the youth – for her work and lucidity of expression," Pradip Datta, a professor at the Centre for Comparative Politics and Political Theory, Jawaharlal Nehru University told Scroll. "She is seen as a fresh entrant to political life and is valued for it." Thankfully, the pamphlet does not seem to have changed peoples' minds about who they want to vote for. "I am a woman and the pamphlet is very upsetting to me," Anamika Gupta, a resident of Okhla told Scroll.
"Nobody will change their mind after reading the pamphlet. Elections are here so everyone will spread rumours. But this should not happen. My husband is telling me to vote for Modi but I will vote for Atishi Marlena." This is the picture of female solidarity, regardless of what party, Atishi was attacked for her gender. A male candidate would not have these particular allegations levelled against him. This makes female politicians, Delhi BJP vice-president Shazia Ilmi in particular, saying things as "Earlier, she played the caste card and now she is playing the woman card," even more revolting.
Whodunit
This is not a case for Sherlock Holmes or more recently, Detective Pikachu. No one is claiming that Gambhir himself typed out, printed and distributed these pamphlets, but the fact of the matter is that his party is indulging in misogynistic, casteist politics. Whether it was sanctioned by the party leader or just the work of an enthusiastic BJP supporter, it is not unfathomable to me that this comes from BJP's tent. The accusation that it is a media stint orchestrated by AAP itself is quite frankly, laughable. Recently, Kejriwal was slapped in a public rally and the BJP called that too publicity stunt. While the perpetrators of these incidents have not been proven, it is clear who the victims are.
Also read: BJP And Feminism: How Has BJP Been Treating Indian Women?
According to The Wire's coverage of the issue, this can be credited to right-wing activists, including those at the BJP IT cell, who cheerily share fake news about Jawaharlal Nehru's interactions with women. Sonia Gandhi has not been spared this filth either, while such material and jokes abound on WhatsApp. There was also this bit of "sexual" fake news put out by a BJP leader to tarnish the reputation of Jawaharlal Nehru University students?
Whether it was sanctioned by the party leader or just the work of an enthusiastic BJP supporter, it is not unfathomable to me that this comes from BJP's tent. The accusation that it is a media stint orchestrated by AAP itself is quite frankly, laughable.
That a Union minister can popularise the use of the word "presstitute" and a prime minister follows trolls who threaten women is all of a piece with the moral ecosystem that produces such a pamphlet. The pamphlet also calls Sisodia names and says he "is a Scheduled Caste". It goes on to say "he is a handsome man but an SC cannot be handsome" and then makes offensive remarks about his parentage. BJP president Amit Shah calls illegal migrants "termites", Union minister Anantkumar Hegde says terror will not end unless Islam is uprooted from the country while Pragya Singh Thakur, an accused in a terror attack that killed Muslims, gets a ticket to head for parliament. "People want to know where her (Atishi Marlena's) husband is. Generally, family members are seen campaigning for the candidate, so I wonder where her husband is… I had gone to a wedding in Shastri Park, where I saw a man bringing a packet and telling her that he had brought something that she likes eating. Later, I got to know that it was beef," is what BJP MLA Anil Bajpai told The Indian Express. This is the same vocabulary as the one used in the pamphlet.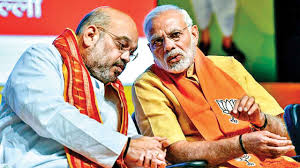 A Gambhir Case
Gambhir has, in the past, been accused of having two voter IDs. This complaint was made by Atishi Marlena herself along with supposed proof but no action was taken. This is not the first time the Election Commission has turned a blind eye or gone soft towards Misdemeanour by BJP candidates (Namo TV, Pragya Thakur's comments on Hemant Karkare and Babri Masjid, and many more).
Also read: A Critique Of The BJP Government Through A Feminist Lens
The first honourable thing for Gambhir to do would have been to condemn the pamphlet, deny his involvement but also present himself and his party members for investigation. Or you know, just deny it and keep quiet. He went on a vehement accusatory spree and created a spectacle just a few days before Election Day. Very Ungambhir-like of him. And the matter of hanging himself in public? Calm down, Mr Gambhir, you're watching too many Bollywood movies. Is it your time of the month?
---
Featured Image Credit: Scroll