When the whole of India was occupied with the swearing-in ceremony of the Chowkidar, the state of Tamil Nadu was busy praying for the healthy recovery of a contractor. The contractor called Nesamani was hit on the head by a hammer and Tamil netizens and twitteratis took to the internet praying for their beloved Nesamani's well-being. #Pray_For_Nesamani, #Save Nesamani, #Nesamani became trending across the world for two days. Who is this contractor Nesamani, you ask? Let me try to answer that with a straight face.
Contractor Nesamani is a fictional comic character played by the iconic actor Vadivelu in a Tamil feature film called Friends which was released in 2001. The character of Nesamani comes across as an angry painting contractor who struggles to get even the simplest of jobs done by his new indifferent and inept apprentices. The movie which definitely deserves no praise for its unoriginal, nonsensical storyline still managed to mark its place in the collective cultural memory of Tamils through its epic comedy scenes.
So why did a character from a movie released some 18 years ago suddenly resurrect today and become so relevant and important? To answer honestly, no one knows. We could trace back the Nesamani phenomenon to a simple Facebook comment. On a Facebook page called Civil Engineering Learners, a picture of a hammer was posted, asking people to comment saying what the tool was called in their countries. A Tamil person commented saying it was called "suthiyal" and further expanded that "contractor Neasamani's head was broken" by it. Another Tamil person got in on the joke and pitched in enquiring how Nesamani was doing and thus #Pray_for_Nesamani was innocently born.
Common people, politicians, film and media personalities, journalists, news editors, writers, poets, and activists contributed to the joke in their own unique way.
The Tamil community quickly jumped in and in a few minutes Nesamani wave took over the internet. Common people, politicians, film and media personalities, journalists, news editors, writers, poets, and activists contributed to the joke in their own unique way. Things escalated pretty quickly and people did not hesitate to add "Contractor" to their Twitter handles, taking a jibe at the campaign strategy used by the BJP members and supporters who had added "Chowkidar" to their handles.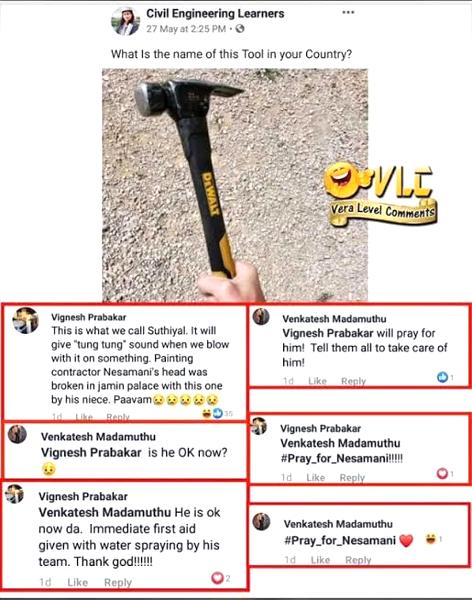 Also read: Panels, Politics, and Penn (Women) In The Land Of Tamil Nadu
#Nesamani's area of scope gracefully spread covering popular references from Kollywood, Hollywood, cricket, social issues and – true to Tamil patriotism – did not spare politics. All of Vadivelu's famous characters were creatively brought into the joke, forming hilarious connections and relations. The hammer that fell on Nesamani's head was said to be Thor's and that all of the Avengers were united to seek justice for Nesamani. M.S. Dhoni's absence in India was regretted as Dhoni was seen as the only person capable of saving Nesamani from this misfortune. ICC World Cup was said to be postponed owing to the ill health of Nesamani. Memes of world leaders like Donald Trump and Imran Khan conveying their wishes and prayers for Nesamani's good health were created.
People of Tamil Nadu did not miss this opportunity to once again to bring into question the mystery surrounding the death of former C.M. J Jayalalitha and mock the political gimmicks that happened when she was in the hospital. Photoshopped statements from Apollo hospital (the one where Jayalalitha was admitted) regarding Nesamani's health were released. Social responsibilities were not shrugged off as #WhereIsMugilan was added along with Nesamani memes and tweets to reiterate the importance of urging the Government to find anti-Sterlite activist Mugilan who went mysteriously missing the day he revealed the involvement of police officers in the Thoothukudi firing.
Nesamani cannot be dismissed as just another humour-filled entertaining trend created by unemployed engineers turned MCs (who apparently chose not to sell pakodas) to while away their time. It was not mere coincidence that Nesamani reached world popularity on the day Prime Minister Modi was scheduled to take office for it would not take an expert to decipher that #Nesamani wouldn't have gained the momentum that it did if it had not been for the swearing-in ceremony. At one point, Tamil twitteratis even made it their mission to push #ModiSarkar2 behind and reach the number one spot on the Indian trending list – which was achieved quite easily.
Given the history of Tamil Nadu and the non-blooming nature of its relationship with the BJP, it's not very difficult to understand why Tamil Nadu did what it did on the day Modi was sworn in as the Prime Minister. When the rest of the country was being swept by the Modi wave, Tamil Nadu safely remained ashore. In the 2019 elections, BJP's performance in Tamil Nadu was so underwhelming that it lost even the one seat that it had managed to secure in 2014.
It was deep-rooted sadness, anger and helplessness caused by the Indian election results that took the form of funny tweets and memes.
People of Tamil Nadu are not just comfortable and happy with the election results of their state but take pride in it and are celebratory and boastful about their unified decision. Tamil Nadu, being the land of Periyar, stands vehemently against and resists falling under the regressive narrative of "one nation, one religion, one language" that BJP propagates. All of the people's movements that happened in Tamil Nadu over the past few years – Jallikattu protests, protest against Neet, Sterlite power plant, Hydrocarbon project, and Chennai-Salem Greenfield Highway – were passionately directed against the BJP.
Every time Modi visits Tamil Nadu, #GoBackModi could be seen trending on the internet as a protest against Modi. Since the swearing-in ceremony took place in Delhi and did not require him coming to Tamil Nadu, #Nesamani took over. #Pray_For_Nesamani is just #GoBackModi 2.0.
While Nesamani being the face of protest against the fascist government was purely accidental, the choice couldn't have been better, when you come to think of it. The name Nesamani in itself champions love and affection (Nesam means affection in Tamil), antithetical to the hate that the ruling government is spreading against the minorities. The popular culture reference which left rest of the country decontextualized and alienated, unified the Tamil speaking community thus asserting the uniqueness of Tamil identity. This again doesn't sit well with the BJP as it strives to create a homogenous singular identity stifling all other plural identities.
Perhaps the only other state which truly got the reference was Kerala (as the source movie was borrowed from Mollywood), yet another land that is sterile to lotuses. Nesamani was an epic comic character and all the tweets, memes, gifs, posts and articles centred around him never missed out on the humour. What better weapon to undermine power and authoritarianism than humour? And like the cherry on top, the inception of all this incidentally happened on a Pakistani run FB page. Nesamani, on the whole, becomes a symbol of protest, resistance, difference, and plurality that a regressive ultranationalism tries to smother.
Also read: Periyar Rally In Trichy: An Anti-Caste And Anti-Fascist Movement
Behind all the fun and frolic of #Nesamani, lies the saddening psyche of the southern state of Tamil Nadu. It was deep-rooted sadness, anger, and helplessness caused by the Indian election results that took the form of funny tweets and memes. Humour was used as a mechanism for collective coping as creating and sharing these posts provided comfort and consolation for the Tamil souls that see the current government as a threat to everything that India stands for and prayers for "Nesamani" will see no end for the next five years.
References
1. News Minute
2. BBC
---
Featured Image Source: Seithipunal