The remake of Telugu film Arjun Reddy (2017), Kabir Singh can be labelled as an attempt to recreate misogyny in another widely spoken language and earn crores by not just glorifying but also justifying violence, addiction, stalking, and abuse. The movie has received a lot of backlash on social media, which sparks a debate on the representation of women on the silver screen and the accountability actors, directors, and scriptwriters must have towards the kind of content they produce.
Aside from the cast, one cannot spot a single difference between Arjun Reddy and Kabir Singh. From the dialogues to costumes and even the director, Sandeep Vanga, is exactly the same. With a predictable plot, unnecessary violence, the resurgence of a broken hero and typical stalker-turned-lover relation, the movie is a painful three-hour experience for the viewer.
From the very first scene, the androcentric nature of the film is evident. Kabir Singh's grandmother is reminiscing with her friends about the time when young Kabir lost his beloved doll and kept looking for it in an obsessive fervent. When the grandmother tries to explain to young Kabir to let go of his doll, Kabir replies with a decisive no, saying that it is his doll and he must find it. The group of old women laughs at the tale of this masculine obsessive nature, inability to hear and comprehend no and boys-will-be-boys justification.
Also read: Tumhari Sulu Film Review: Always Somebody's Sulu
Sadly, the tale of the lost doll is basically the script of the movie. Kabir Singh looks at Preethi, played by Kiara Advani, a demure and submissive first year medical student and decides that she is his new doll, I mean, his bandi (his woman). Unfortunately, Preethi has exactly as much agency in film as the poor unanimated doll would, and thus, is subject to abuse and toxic 'love' which is romanticised and glorified.
Unfortunately, Preethi has exactly as much agency in the film as the poor unanimated doll would, and thus, is subject to abuse and toxic 'love' which is romanticised and glorified.
Due to predictable turn of events, Kabir Singh loses Preethi (read: his doll), and turns into an alcoholic and drug addict with even more severe anger issues, who is somehow still a certified medical professional apparently excelling in his field. A series of drug-fueled bad decisions later, the protagonist hits his ultimate low⁠—losing his medical license and death of his grandmother—which magically cures his addiction and he is reunited with Preethi and they live happily ever after.
Before turning to the problems in the film (which are numerous), it is important to clarify why there is a need to critique such content. No, it is not wrong to make movies on obsessive love and it is not wrong to show addiction, depression, and loss on screen. However, it is wrong to glorify it. Instead of showing Kabir checking into rehab and getting his anger issues, drug and alcohol addictions, and numerous other flaws into control, we see how love is supposed to accept it all. How 'true love', which here is a toxic relationship, is supposed to bear all the abuse and still survive. The movie shows how Kabir can be ungrateful, vengeful, violent, misogynist, patriarchal, and yet the woman he loves will accept him.
No, it is not wrong to make movies on obsessive love and it is not wrong to show addiction, depression and loss on screen. However, it is wrong to glorify it.
Kabir Singh is the poster boy for toxic masculinity. He has no respect for women and often objectifies them. He pulls a knife on a girl when she refuses to sleep with him, and he runs behind his domestic worker with the intent to hurt her after she breaks a glass while cleaning. The worst part is, these scenes were meant to be humorous as if the threat of rape and abuse can incite laughter. Unfortunately, the audience did chuckle at this misguided attempt at humour, showing how ingrained the misogyny is in the mindset of the people.
Kabir Singh's treatment of women doesn't improve when it comes to his love interest. He decides he loves Preethi after looking at her once and threatens the boys of the college to not misbehave with her, all while not knowing her name. When he does get to know her though, he convinces her to bunk classes and kisses her without her consent. He even chooses 'a healthy girl' to be her friend because a pretty girl should have a healthy friend. For her part, Preethi doesn't get her first dialogue till almost 50 minutes into the film, and we see a typical story of the abused falling in love with the abuser.
In their relationship, love is expressed with anger and violence. There are scenes where Kabir screams at Preethi and she slaps him, where he pushes her and slaps her and yet she runs back to him, and where Preethi forgives him after hitting him numerous times. Not one intelligent and understanding conversation takes place between the couple, and it is assumed that sex portrays both physical and emotional intimacy of the relationship.
Moreover, Kabir's hypocrisy and his dominant nature overpower the relationship. On one hand, he tells Preethi "Dupatta theek Karo" (asking her to cover her chest properly with the scarf) and in another scene, he decides not to kiss her because his college was 'orthodox'. While Preethi does end up convincing him to kiss her, this just shows how orthodox Kabir's mindset actually is and what is permissible and what isn't changes according to his convenience. Another incident of his hypocrisy is when he tells Preethi to focus on her studies as MBBS is a difficult and serious course and yet he keeps distracting and incentivising her to skip lectures.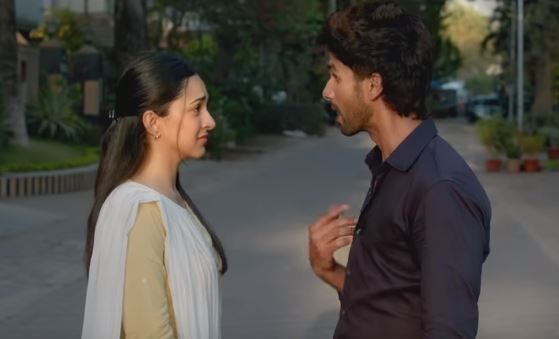 Throughout the movie, one thing stands out—Kabir Singh's anger. In the beginning of the film, he says "I'm not a rebel without a cause". However, the director doesn't deem explaining this cause important enough. Kabir Singh has everything—supportive parents, lovely grandmother, understanding brother, amazing friends and even a submissive girlfriend—and yet he is angry. The movie gives no reasonable explanation for such anger but thoroughly justifies it. It seems that just because Kabir is a man, he can afford to be rude to his parents, his patients, his staff, and his friends and suffer no consequence.
Also read: Film Review: Parched, Of Women Thirsting For More
At a time in the cinematic history where films like Photograph, Anarkali of Arrah, Masaan, Razi, and Queen are being produced and even gaining box office success, it makes one wonder if movies like Kabir Singh are a step backwards in time. While it is great to see a critical uproar over the blatant misogyny in the film, it is also disheartening to see the movie earn 70 crores in the opening weekend and hear the audience laugh as toxic masculinity is normalised and rape threat is trivialised onscreen.
---
Featured Image Source: Hindustan Times