Brishti Chanda looks older than she actually is. At 19, standing just over five feet tall, she speaks with pauses, carefully weighing every word before she utters them. One can see her considering the impact of her words, and one can also see how deeply she cares about her work. These are qualities that she shares with people such as 15-year-old Harshini Dhara from Hyderabad and 17-year-old Vidit Baya from Udaipur, as well as the one of the best-known teenagers in the world today, 16-year-old Greta Thunberg. 
Greta, Brishti, Harshini and Vidit are only four of thousands of young people across the world protesting government action on the climate crisis. They are part of various transnational activism movements like Fridays For Future (FFF), Climate Strike and Extinction Rebellion (XR).
The potency of her fear is striking. Tragically, the terror of an inhospitable world and an uninhabitable future is built into the minds of this generation, it would seem.
The twin phenomena of 'climate panic' and 'climate anxiety' are increasingly being recognized as real, as the barrage of op-eds will tell us, but Brishti Chanda, the Gen Z girl, felt them acutely at an age when us millennials were barely even aware of the term. "I've been scared about it since fifth or sixth grade," says the college-goer. "My nickname at school was 'Miss Global Warming', because I was so afraid that I would literally run out of the class crying when our Environmental Science teacher started teaching us about it. I literally tore out the pages from my book. I wish I was making this up!" she adds, with an embarrassed laugh.
The potency of her fear is striking. Tragically, the terror of an inhospitable world and an uninhabitable future is built into the minds of this generation, it would seem.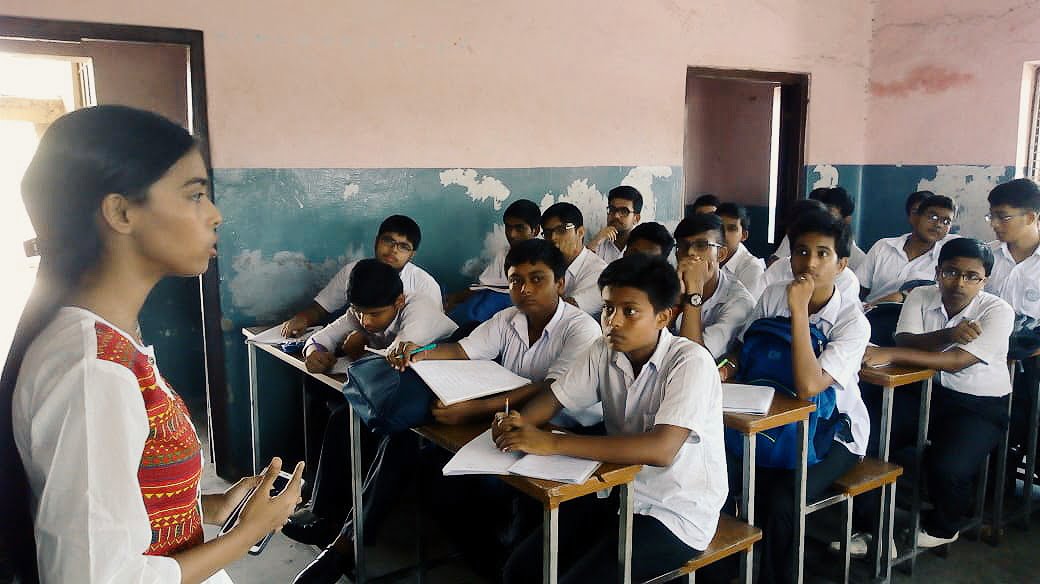 After she passed out of school in 2018, when alarm bells about an irreversible climate crisis had begun ringing loud and clear, she found out about Greta's movement and started reading up on it. "That's when I decided to join," she says. "It became about not running away from my fears anymore. I watched the movie 2012 again, and I told myself, 'This might happen. But we must fight this. There is no point in sitting and waiting for our deaths to come.'"
Brishti Chanda is now part of an umbrella group that calls itself Climate Strike, made up of members of Fridays For Future or FFF West Bengal and XR Kolkata. "In early 2019, I came across Zel Whiting from Adelaide, Australia," recalls she, referring to a thirteen-year-old climate activist whose family has lived in India for many years. He introduced Brishti to veteran activists such as Kaajal Maheshwari, an activist from Hyderabad and co-founder of Hyderabad Rising, and Bhavreen Kandhari from Delhi. "Unlike many people from Western countries, Zel understood the needs of India as a developing country. He has been working here from mid-2018. He put me in touch with Janine O'Keefe, a climate activist who works with FFF internationally. We had a talk and then we decided to start FFF West Bengal as a separate initiative, focusing on systemic transformation rather than individual change."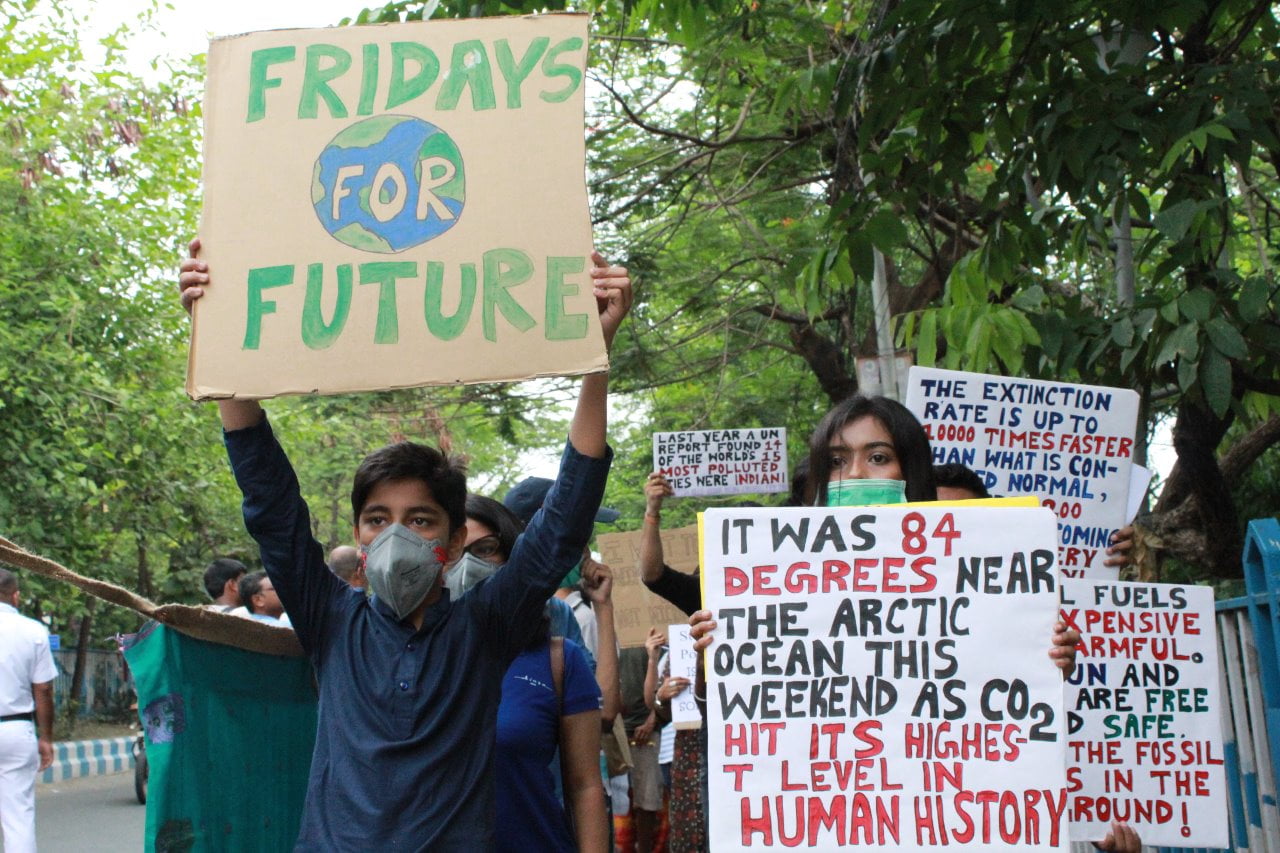 Apart from organizing rallies, seminars and strikes to spread awareness, the group also focuses on collaborations with smaller, local groups with specific focus. A major personal goal for Brishti is to bring all the different movements in the state under one umbrella. However, the one thing she wants to avoid is to turn it into an NGO. "I doubt their effectiveness. The funded NGOs all work within the bounds set by corporate concerns." She refers to the current forceful eviction of 1.2 million advasis from their traditional homelands in the name of conservation, by order of the Supreme Court. The case was filed by a gaggle of entities, including NGOs such as Wildlife First as, according to Brishti, a blatant misuse of the Forest Rights Act.
The movement in general resists any attempts at institutionalization, instead maintaining records of goals, activities and membership through pan-India spreadsheets and Whatsapp groups.
The movement in general resists any attempts at institutionalization, instead maintaining records of goals, activities and membership through pan-India spreadsheets and Whatsapp groups. Delhi, Hyderabad, Mumbai, Pune, Chennai, Guwahati and a statewide group in Bihar are the most active at the moment. "If we don't know the coordinators personally, then we reach out and ask if they would want to be associated with us."
One such collaborating group is the Jessore Road Gach Bachao Committee that is fighting to save four thousand heritage trees at Jessore Road near Kolkata. Planted in the British era, 356 of these massive trees were scheduled to be cut down to make vehicle movement easier. The group registered a case about this, aided by the Association for Protection of Democratic Rights, and it went all the way to the Supreme Court. There is currently a stay order on the cutting down of those trees on this particular stretch of road, issued by the Supreme Court, but the felling continues unabated nevertheless, as this Bengali newspaper reports.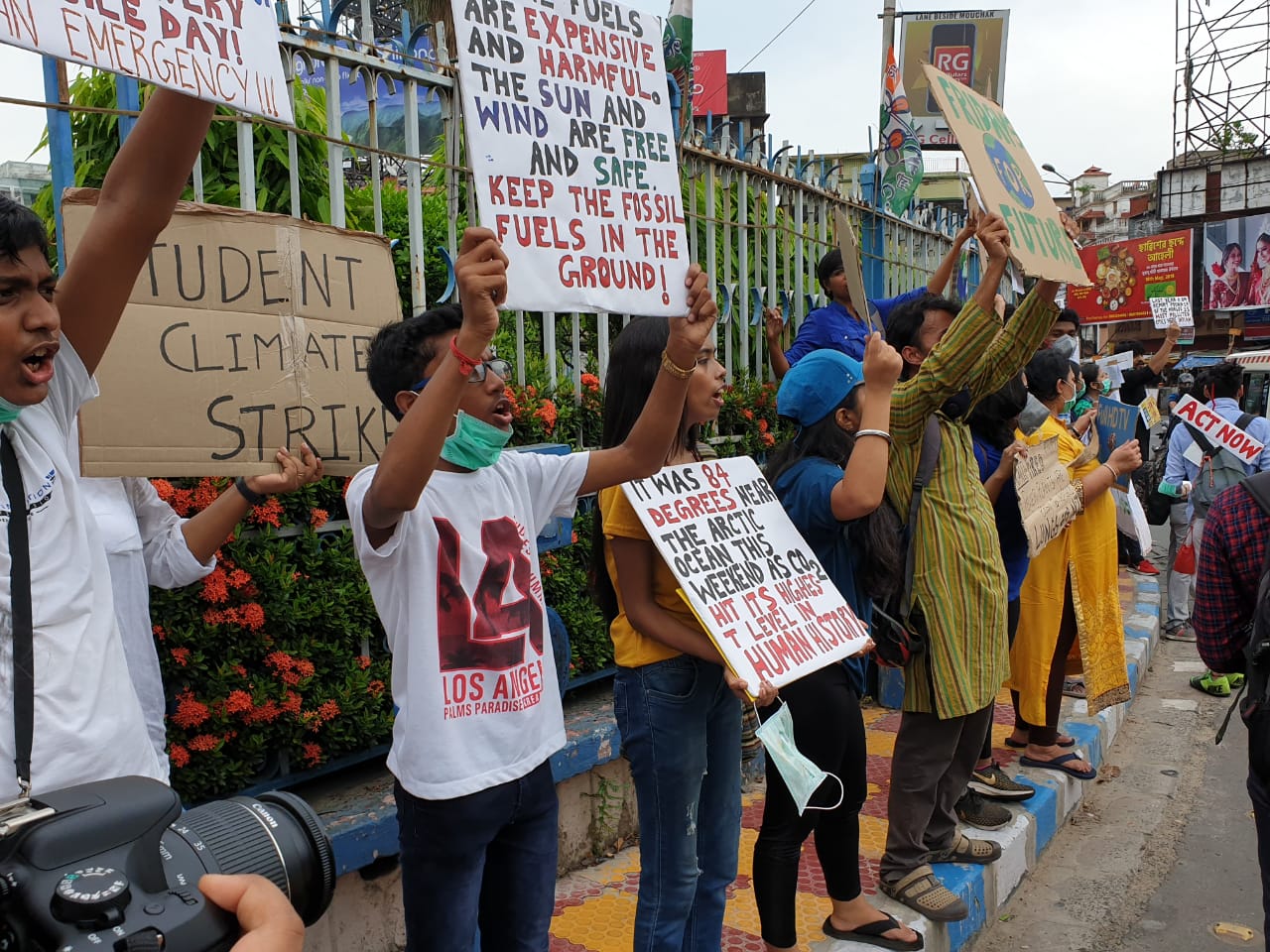 "On Friday, there is a march, during which the committee is planning to send a deputation to the local municipality, along with the residents of the road. We're joining in," says Brishti Chanda.
Deforestation is a huge problem in the state. Brishti is from the Alipurduar district of northern West Bengal, and has seen this first-hand in her own hometown, which is dogged by local criminal syndicates that regularly chop down huge tracts of trees. State and Central government projects such as railway lines, roads and bridges cut through forests without proper protection to the trees and wildlife, result in frequent encroachment on wildlife habitats. 
"The district used to be heavily forested in my childhood and large forests like Rajabhatkhawa is now just a series of fields," mourns Brishti. "Many times a year, we see encounters between people and the wildlife in the area, especially leopards and elephants, and it usually ends in tragedy for the animal."
The young activist is heavily involved in the ongoing movement to protect the remaining areas of the Lataguri forest from a government-sanctioned flyover project. Activists tried to fight a case in the Calcutta High Court, which had initially issued a stay order in 2017, but according to Brishti Chanda, they failed and much of the surrounding forest was cleared. The government promised to plant five times as many saplings in its place, but this is a useless gesture.
"Planting saplings won't help. So many saplings won't survive, the kinds of saplings they plant don't contribute to the biodiversity and in any case, it takes years and even decades until they have any effect," she says. Planting saplings is just 'a number game which will not even be achieved'.
The other, major issue in West Bengal lies further south, in the mangroves of the Sunderbans, one of the world's largest and most unique estuary habitats. As Brishti points out, the Sunderbans are sinking.
"According to reports, the number of climate migrants in the South Asian regions currently amount to 6 million," says Brishti. "These large-scale movements are already visible on the Indo-Bangladesh border, as huge parts of the Sunderbans become submerged." The roots of the mangrove trees are rotting as the sea levels rise and coastal erosion and flooding occurs. Thousands of species are losing their habitats and millions of impoverished communities, such as deep sea fishermen, are losing their livelihoods.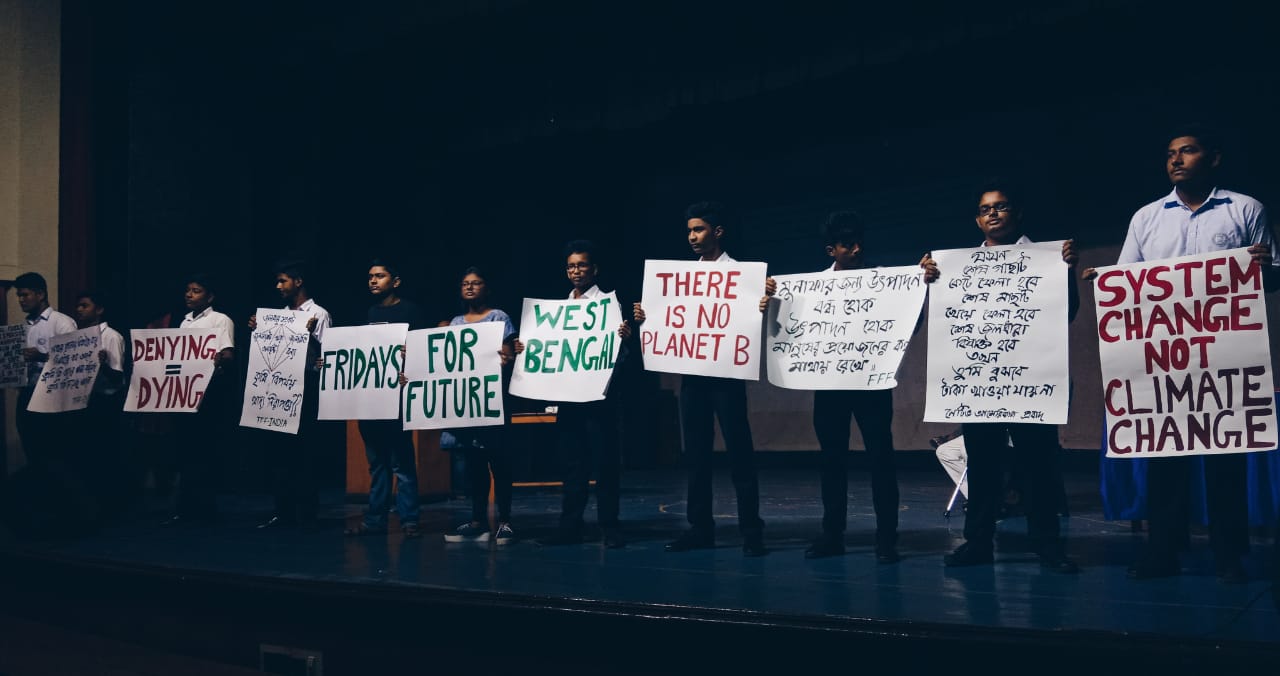 "At a meeting recently, a man who was involved with the industry and is now an activist pointed out that the people are worried about their job and the food. They are all preparing to leave the coastal areas," says Brishti. The result is large-scale multigenerational migration to cities, stretching already limited urban resources. As the activist points out, it's time to hear from these people, who will be the first victims of the climate crisis. Climate Strike is participating in a meeting in Hyderabad, from 18 to 21 September, which involves people from small-scale industries, from farmers to fishermen who are being affected by climate change, as a first step towards addressing this.
Also read: Is The Water Crisis In India The Beginning Of Climate Breakdown?
As coordinators of FFF West Bengal and Climate Strike, Brishti Chanda and her fellow activists are also trying to recruit school children of all ages and backgrounds into the movement. Even the parents have started paying attention after Fridays For Future picked up pace in West Bengal. "We organized a seminar on July 26 where we invited a lot of students from all across West Bengal, especially the Jessore Road area, and we talked to them. We also expressly asked parents and teachers to come along, because who will support the children if not them?"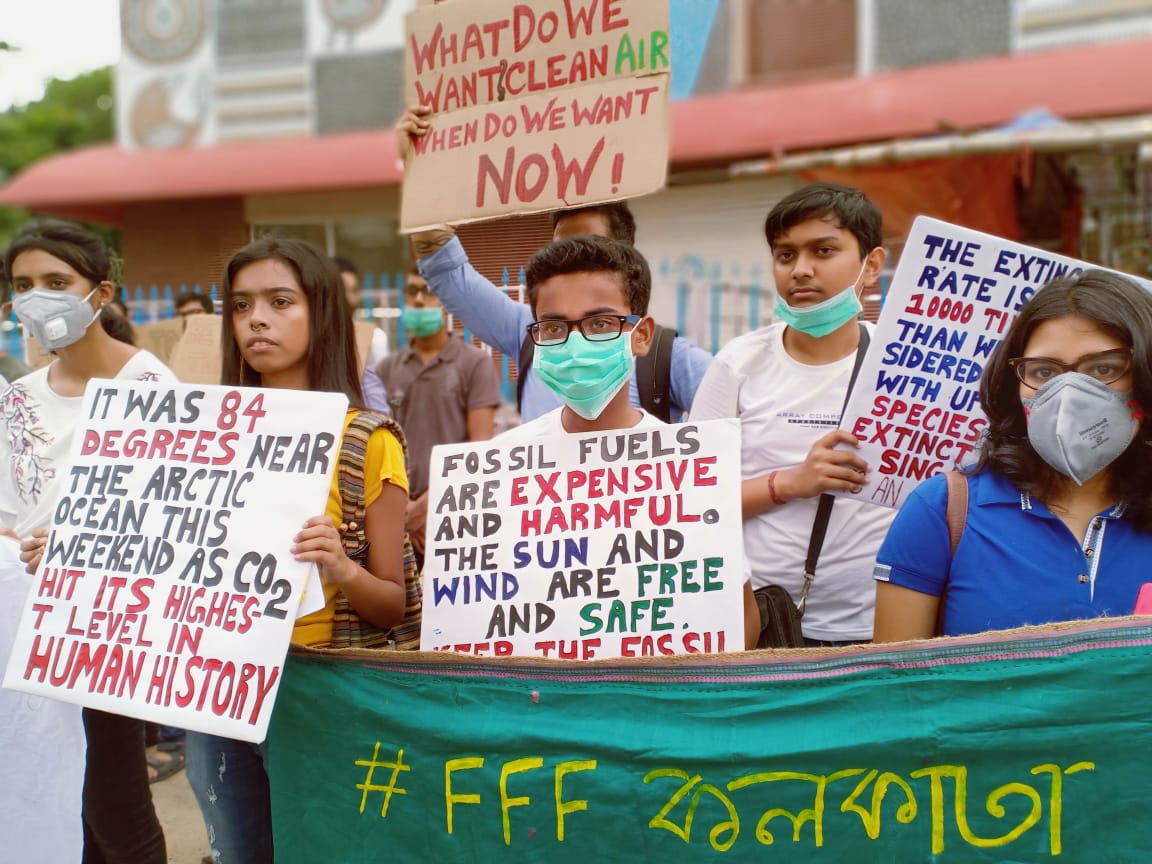 The movement has a clear set of aims for the remaining half of 2019: "Making the state and central governments declare a climate emergency and the immediate stoppage of the indiscriminate felling of existing trees," says Brishti. A first-year law student at the Shyambazar Law College under the University of Calcutta, she freely admits that she has a lot more studying to do to prepare a more robust policy for the group. "Right now, I'm reading up on the Forest Rights Act. And then I'll slowly start getting through the rest of the laws!" she smiles.
She still has those fears, but now, she says that she tries to fight it with logic and with hope, and believes that there's still time to turn the crisis around. Her reply to my final question—'who, among India's phalanx of climate activists, she considers to be her personal heroes'—is true to the spirit of the movement in every way: "I believe that everybody who is part of any movement associated with climate change is a hero in their own right."
Also read: Supreme Court Evicts Adivasis Forcibly And Rejects Claims Over Forest Lands
Her parting words, however, are a dire warning for all the 'grown-ups' failing to pay attention, "Development without considering environment is bound to fail and somehow people are failing to realize that. People at all levels of society are noticing the change, such as the unbearable heat, but they are not able to relate it to the term 'climate change'. They will say, 'Oh my god, it is so hot', but they won't realize that it will keep getting hotter and hotter and hotter unless something is done. That is what we're doing: let people know what is happening, why it is happening and how they can help to stop it. This is not child's play. Their own lives are being held at gunpoint."
---
Note: All pictures in the article have been provided by the author.
Featured Image Source: Rushati Mukherjee