With more than four million young people taking to the streets to demand climate action from their respective governments, the September 2019 Global Climate Strikes were nothing short of a historical event. All the spotlight was on the 16-year-old Swedish teenager and climate activist Greta Thunberg, who started a global movement for climate action by skipping school every Friday to demand climate justice.
the global movement against climate change is listening the least to those who are in fact affected the most.
While there is indisputably nothing wrong with Thunberg's activism, big media's reluctance to give the same recognition to young black, brown and indigenous climate activists is just another example of the racism that comes at play whenever we talk about environmental justice. Thunberg's words echo what indigenous, black, and brown activists have been saying for years, but one cannot ignore the fact that they are not as much rewarded for their activism as they are punished. From the murder of Brazilian indigenous leader Emrya Wajãpi to attacks on Adivasi activists like Soni Sori – the global movement against climate change is listening the least to those who are in fact affected the most.
But new voices are emerging every day to demand climate justice and to fight environmental racism – voices which belong to young black, brown, and indigenous climate activists all over the world. Spearheading movements locally as well as representing their communities on a larger scale, these activists of colour have been at the forefront of the fight against climate change. Below is a list of just some of the many climate activists of colour who are leading the fight for climate justice worldwide.
Also Read: Capitalism And Colonisation: How The Climate Change Movement Is Being Whitewashed
1. Mari Copeny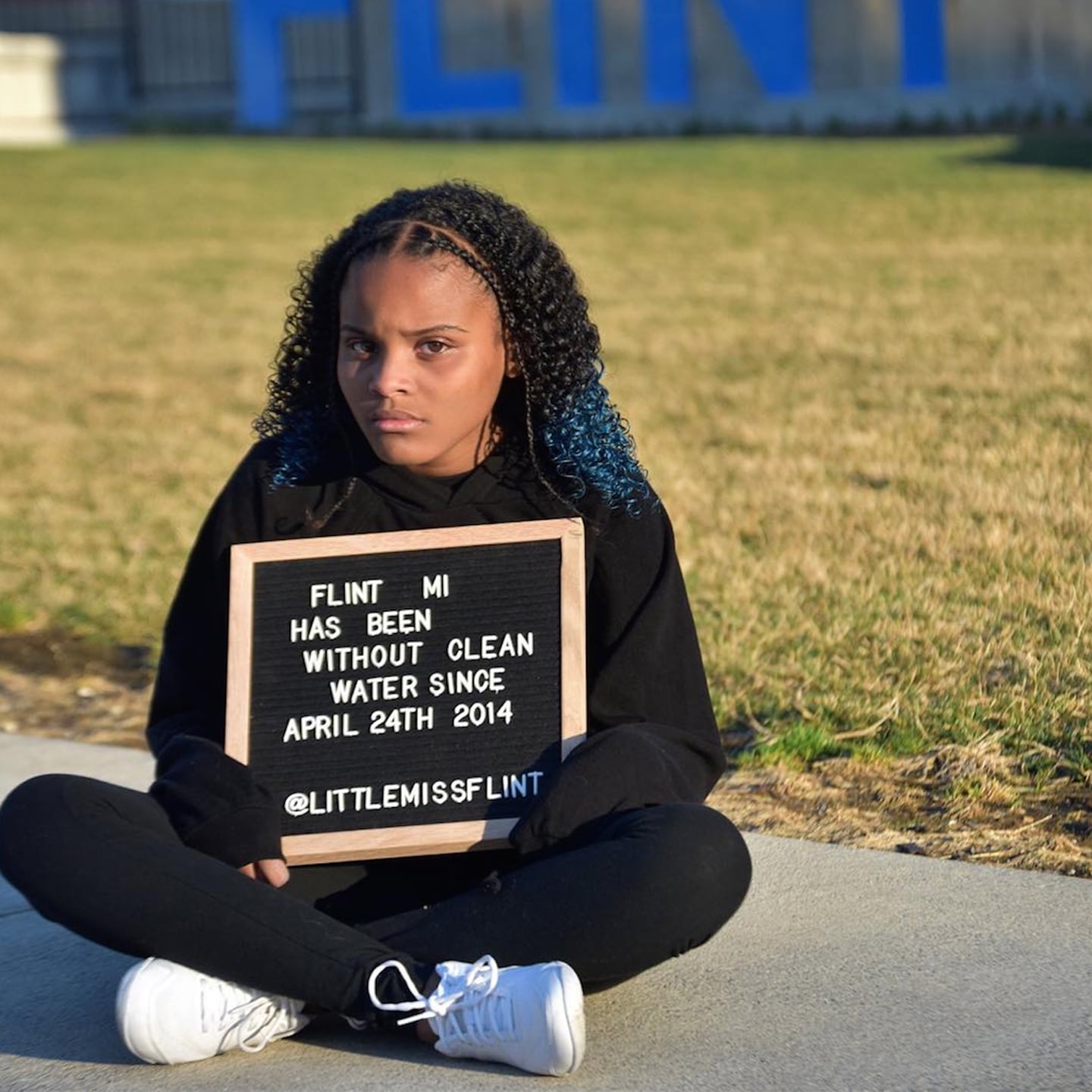 Mari Copeny, aka Little Miss Flint, is an 11-year-old American climate activist who has been actively fighting for the children of Flint, Michigan for a while now. The water crisis in Flint began in the year 2014, after the city's main water supply was changed from Lake Huron and Detroit River to the Flint River to save money. But the water was not properly treated, which lead to Flint residents being exposed to unsafe levels of lead. In 2016, 8-year-old Copeny wrote to the then US President Barack Obama, asking him to come to Flint and see for himself how grave the situation had become. Obama not only read Mari's letter but in fact visited Flint, which led to the city's water crisis gaining attention and support all over the country. Along with the nonprofit organization Pack Your Back, Mari has fundraised more than $500,000 since 2016 – which has supported over 25,000 children in Flint and other cities.
2. Autumn Peltier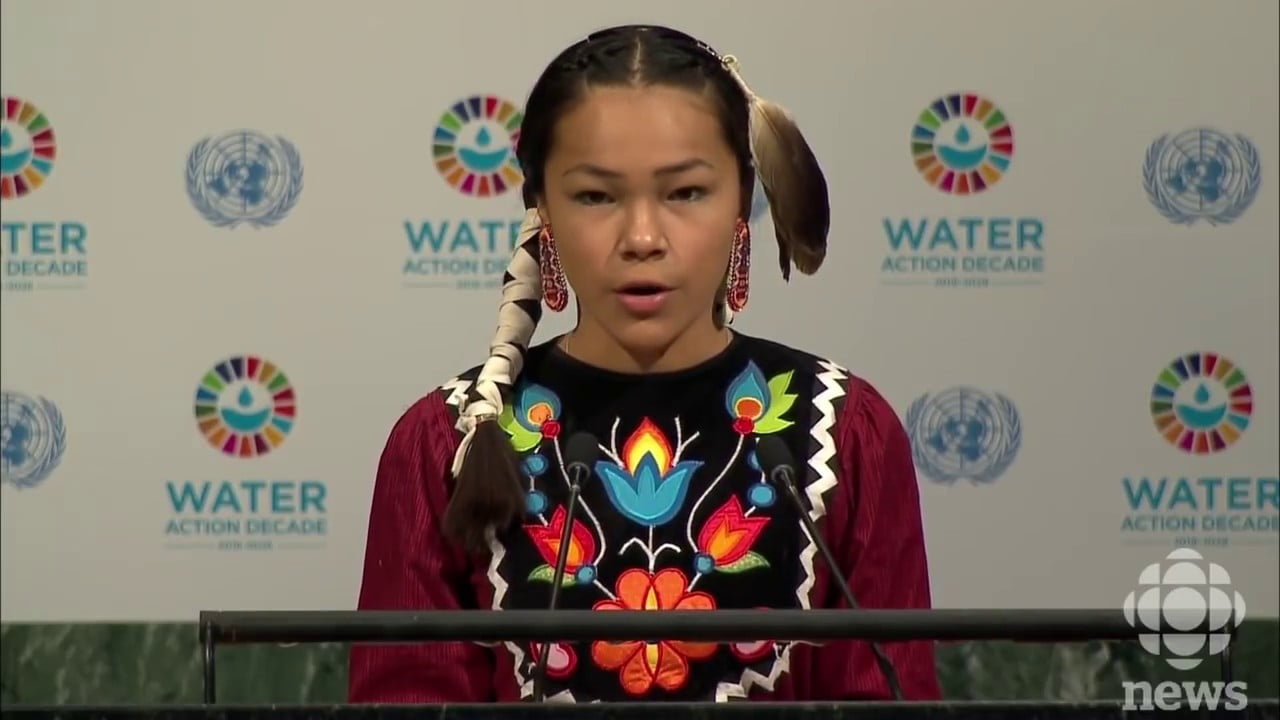 Autumn Peltier is a 15-year-old indigenous climate activist who fights for access to clean water. Peltier is a member of the Wikwemikong First Nation in Ontario, Canada. While Peltier grew up near Lake Huron, one of the five Great Lakes of North America and therefore had access to clean water, she was aware of the fact that such was not the case with many others. Peltier is a front line advocate for indigenous water rights – she met with Canadian Prime Minister Justin Trudeau in 2016, and asked him to do more for providing safe drinking water to communities in Canada. Trudeau himself had endorsed several pipeline projects, which has endangered over 100 indigenous communities. Peltier also addressed the UN General Assembly in New York in 2018, where she talked about water rights and the access to clean drinking water. "Water is the lifeblood of Mother Earth," Peltier would go on to tell the UN, "Our water should not be for sale. We all have a right to this water as we need it." She returned to the UN this year and spoke at the Global Landscapes Forum.
Earlier in 2019, she was named the chief water commissioner by the Anishinabek Nation. Peltier was nominated for an International Children's Peace Prize in September but has already received many accolades for her relentless activism like the Water Warrior Award at the Water Docs Film Festival in Toronto earlier this year, and the Water Leader Award.
3. Helena Gualinga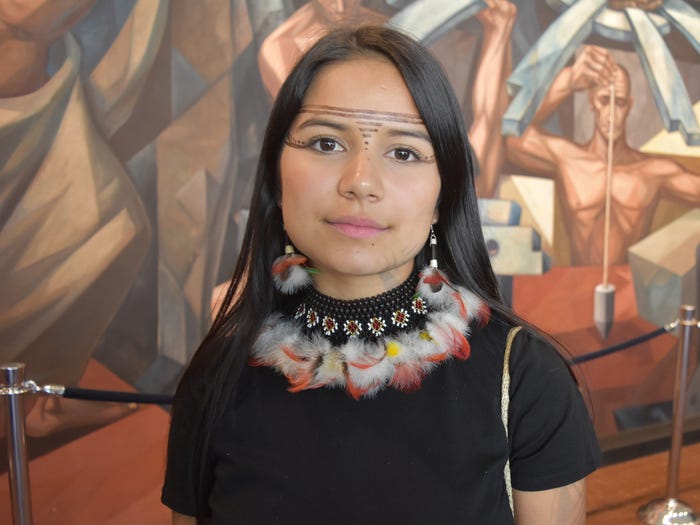 Helena Gualinga is a 17-year-old indigenous climate activist from the Ecuadorian Amazon who has been fighting against climate change ever since she was a little kid. Gualinga also works with indigenous women and children in the Amazon and has been informing people all over the world about what's happening to the Amazon rainforest through her online activism. Talking to Insider, Helena said that world leaders should be stopping the fossil-fuel industry and protecting the indigenous people living in the Amazon. "Those are the people who have been protecting the world's rainforest for a very long time now. There are a lot of things happening to indigenous people. They are persecuted by governments and companies, and that would be a huge step if that stopped," she said. Gualinga also participated in the Global Climate in New York in September, holding a sign that said, "Indigenous Blood, Not a Single Drop More!"
4. Xiuhtezcatl Martinez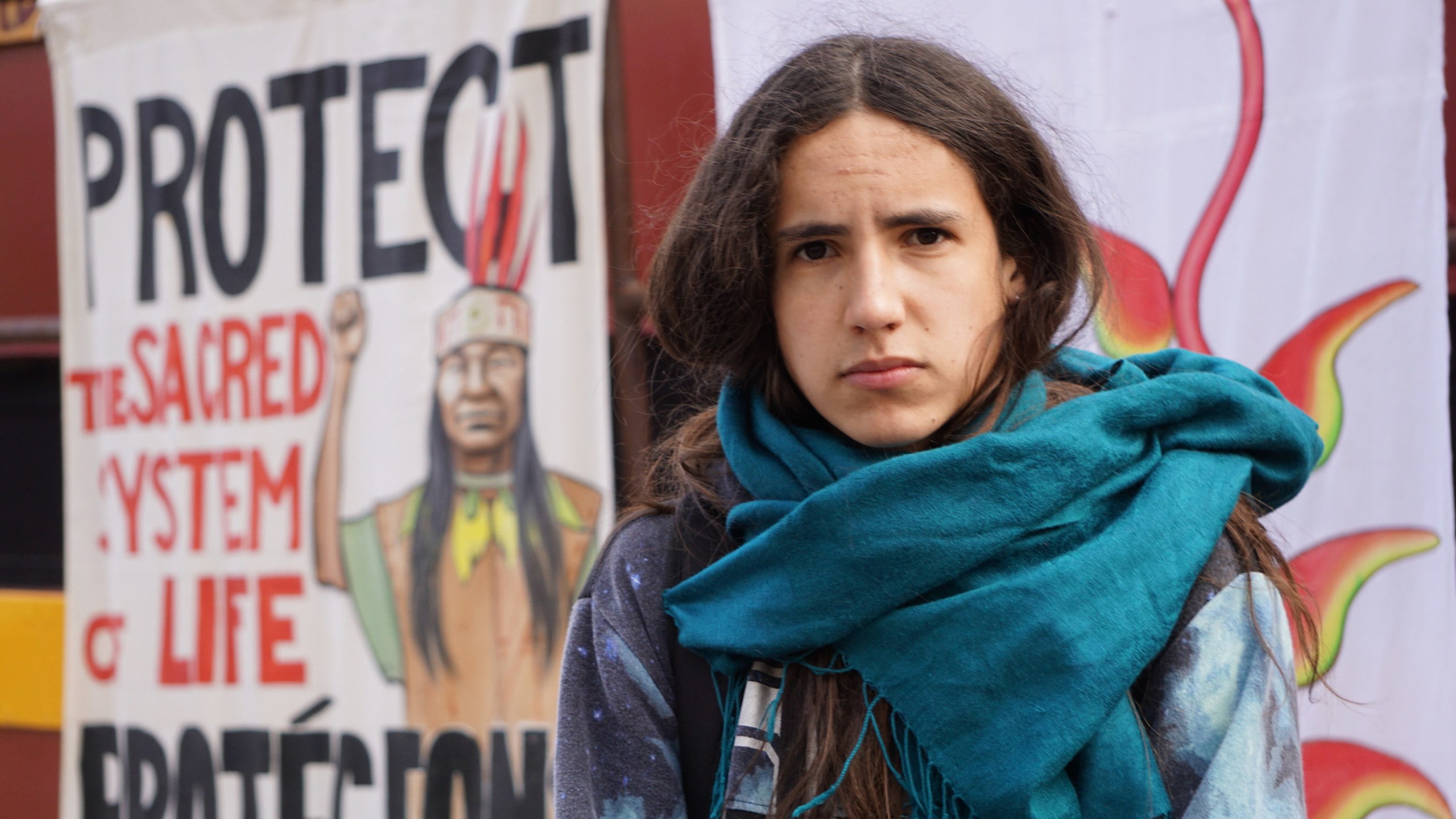 Xiuhtezcatl Martinez is a 19-year-old artist and indigenous climate activist from Colorado, US. Martinez is also the Youth Director of Earth Guardians, which is a 'tribe of young activists, artists and musicians from across the globe stepping up as leaders and collaborating to defend our planet'. At only six years of age, Martinez started campaigning around the world. He has worked to get rid of pesticides that coal ash contained, from the parks in his local community, and is also one of the lead plaintiffs in the teen-lead lawsuit against the federal government of the United States for its failure to protect the atmosphere for future generations. Martinez has been a speaker at the Rio+20 United Nations Summit in Rio de Janeiro and has also addressed the General Assembly at the UN Headquarters in New York. Apart from leading and educating the youth about climate action, Xiuhtezcatl is also a conscious hip-hop artist who writes and produces music to highlight the issues faced by many communities worldwide, using his art as a form to create change and bring people together to fight oppression.
5. Leah Namugerwa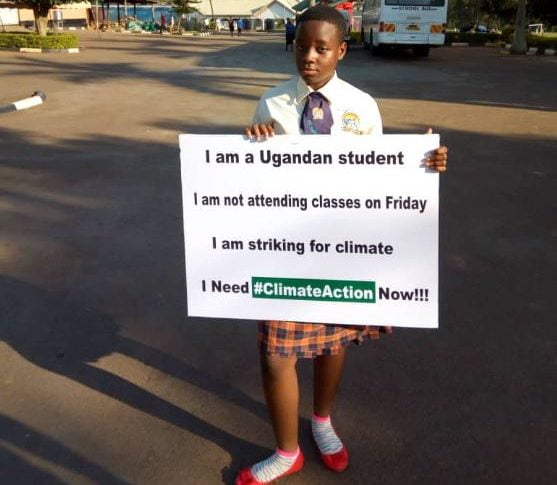 When the Ugandan teenager Leah Namugerwa turned 15 in August this year, she decided to plant 200 trees to highlight the environmental damage in her country. Since then, Namugerwa has been juggling school, striking on Fridays to demand climate action, and giving speeches in Kampala and other cities in Uganda. Talking to people about climate emergency in Kigali in Rwanda earlier in September, Namugerwa said, "If adults are not willing to take leadership, I and fellow children will lead them. Why should I watch on as environment injustices happen before my eyes?" She has not only led a campaign demanding the Ugandan President to ban plastic bags in the country, but has also spoken about the massive deforestation in the country and brought attention to extreme weather events such as droughts and floods happening due to climate change. Namugerwa currently is one of the several activists associated with the Fridays for Future movement and has received the Amnesty International's human rights award for her work.
6. Artemisa Xakriabá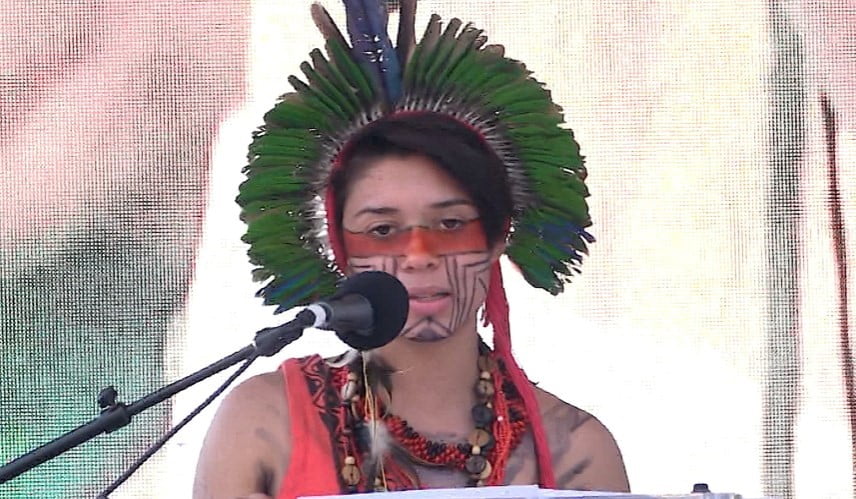 19-year-old Artemisa Xakriabá is an indigenous climate activist from São João das Missões in Brazil. She has been an advocate for the movement to stop environmental destruction across Brazil – especially in the Amazon Rainforest. Xakriabá is also a representative of the Global Alliance of Territorial Communities for indigenous communities and participated in the first-ever indigenous women's march in Brazil earlier this year, protesting against the Brazilian President Jair Bolsonaro's "genocidal policies". In her rousing speech at the September 20 Global Climate Strike in New York, Artemisa said, "We, the indigenous peoples, are the children of nature, so we fight for our Mother Earth, because the fight for Mother Earth is the mother of all other fights. We are fighting for your lives. We are fighting for our lives. We are fighting for our sacred territory. But we are being persecuted, threatened, murdered, only for protecting our own territories. We cannot accept one more drop of indigenous blood spilled."
Also Read: Save The Amazon: Indigenous Women In Brazil Protest Against Bolsonaro
7. Ridhima Pandey

Ridhima Pandey is an 11-year-old climate activist from Haridwar, India. She is one of the 16 children from around the world who have filed a petition with the UN Convention on the Rights of the Children against five countries – Argentina, Brazil, France, Germany and Turkey – on grounds of failing to reduce their carbon emissions. While India has not ratified the convention and therefore cannot be petitioned, Pandey actually has challenged the Indian government before, back in the year 2017. She filed a case against the Indian government at the National Green Tribunal (NGT) after the 2017 floods left Uttarakhand in pieces. Although the case was dismissed by NGT, Pandey moved to the Supreme Court seeking further action.
8. Chaitali Shiva Gavit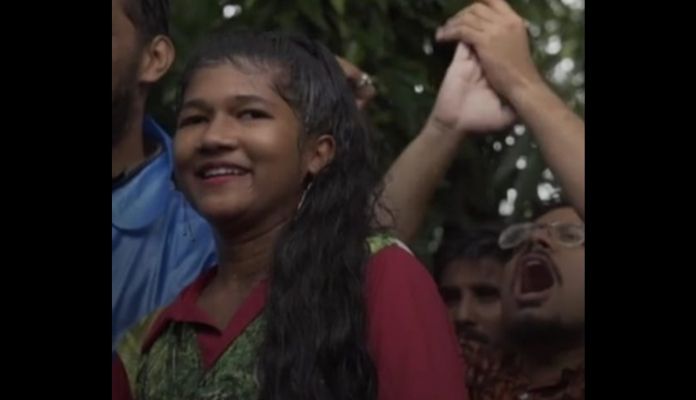 Chaitali Shiva Gavit is one of the many young Adivasi activists fighting for climate action in India. Gavit, a member of the Warli Tribe that lives in the Aarey Forest in Mumbai has been actively fighting against the Mumbai's government's decision to cut over 2,000 trees in the Aarey Forest in order to build a Metro-III car shed. In a Brut India video, Gavit can be seen making a rousing speech, urging protestors to turn up in large numbers to protest against the felling of trees in the forest. Gavit was one of the 500 protestors who tried to stop the Mumbai Metro Rail Corporation Limited (MMRCL) from felling trees in the Aarey forest on 5 October. While Chaitali was also amongst those who were detained by the Mumbai Police for protesting, she continues to fight to save Aarey.
References:
---
Featured Image Source: The National