We have all heard, 'Books are our best friends'.
I was a little taken aback though, by the concept of both 'best friends' and 'books being best friends'.
Over the years, my realisation has been that best friends won't be around us forever. Yet, we all want to be understood, respected, valued, heard and develop a sense of belonging. It won't hurt to have someone our back in times of crisis. But it is also true that not all who listen and understand us, become best friends, or, stay with us forever. Sometimes, these personalities become a part of moments that are whole on their own. After that, they leave and go wherever they are supposed to. Even when I write all this, I also feel that it is important to be surrounded by an environment of genuine niceness, in the form of books or otherwise.
Recently, there has been a shift in my reading pattern. I am reading stories from books where characters live a 'not so disastrous, rueful life'. Sure, they have challenges. But these challenges bring us closer to situations of kindness rather than vileness; a dash of positive reflected as we turn page after page of these books. There was no 'Oh My God!' how will the character get out of the situation, but more like 'I like what she did there.' Here is a list of such books, greatly admired, all because they pull us up in life, and make us more aware, less arrogant, fostering our growth and teaching us something about being nice; all this while supporting us when we needed them, just like positive friendships.
This list of books is not exhaustive and any other suggestion of such books with positive female friendships are welcome.
1. I started with reading a travelogue by Nabaneeta Dev Sen, On a Truck Alone to McMahon Line, translated by Arunava Sinha.
Nabaneeta is a curious woman, who on hearing about interesting places, catapults caution, and ends up visiting places. She is capable, brave and quite a charm, who does not hide behind panic. Even though panic is a natural thing to be felt in the face of crisis. As you travel with this character, the reader realises that not everything in life follows the formula of 'worst will happen'.
Sometimes, the Jaguar won't show up on the trek. Sometimes, you can borrow your niece's woollen if you are planning to travel in chilly places. Sometimes, asking for help means help will come. Even though the protagonist faces a lot of difficulties—absolute cold weather, insufficient clothes, delay in getting permits, absence of pre-planned accommodation—our traveller finally manages to get a ride in a truck. She is a person who sees possibilities and tries her level best to get what she wants.
The book does not talk about her trip in terms of just roads and landscapes. If you can picture a video song for this road trip, it won't be limited to shots of skies, roads, trees, and rivers. There will be a lot of noise and I think this is what I like about her narrative. She talks to people. She sips chai (tea). She gets uncomfortable in trucks. As a traveller, she sees indications of turmoil prevalent in areas where mainstream media does not care to show much care. The book agrees that limitations are possible in our world, but so are ways and means around that. At the end of the story, it manages to appreciate distances, questions those distances, and asks us to be curious of these 'truths' hidden or told in places. If the book could have talked, it would have said in the end, "Friend, it's great even if you are not going to Chikmagalur for the weekend getaway. Get to the walk in the public park and feed the crow!"
2. With the Fire on High is my second recommendation. It is a novel by Elizabeth Acevdo, about a teen character Emoni who wants to become a chef. She has a two-year-old daughter. Emoni wants to join culinary school but due to her financial condition isn't very confident of her future as a chef. She is a fantastic cook, who loves it and knows it, too. A lot of that confidence comes from her passion to keep learning about recipes and experiment with it.
The duo of Grandmother and Emoni is the healthiest positive female friendship I have read in a long time. Good enough to make you roll over in comfort! The book has a lot of supportive characters, something which I have not encountered in many young adult fiction. This is a book where you will hardly face meanness. All you find are people who have a lot to give to each other. There is a happy ending as well as happy middle parts, along with happy beginnings. The book is filled with scenes that are rooted in kindness, compassion, honesty, and delicious food!
3. Another recommendation is a collection of poems called If They Come For Us by Fatimah Asghar which talks about what is it like to be a Pakistani Muslim Woman in America. It is a book fiercely insisting on resistance and looking after each other. Reading these poems, you will find that resistance will have a strong hand to grasp and hold on to. I was at a loss of words and brimming with emotions after I finished reading.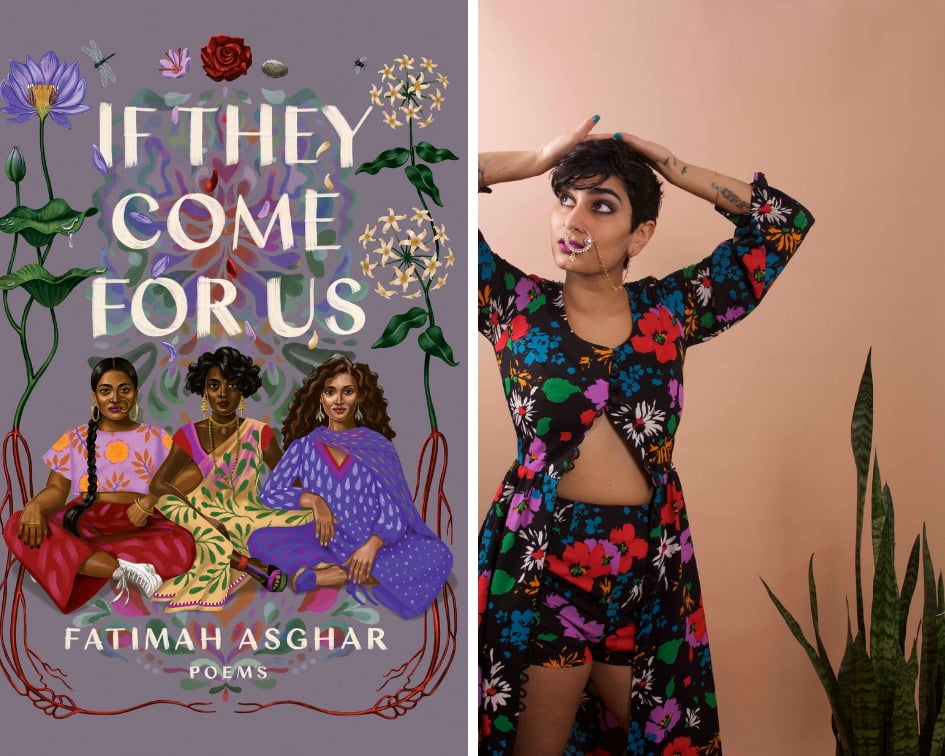 This is a book you should take your time with, to understand your own notions of identity, place, and belonging. A review by Roxane Gay best describes it: "An outstanding collection of poetry . . . wonderful play with form . . . These poems cover so much—identity, loss, brown girlhood, the complicated bonds of family, what home is when home is torn apart. Much to admire here. [I] will be thinking about these poems for a long time to come."
4. My Story is Kamala Das's outspoken and straight forward 'Listen to me. I know what I am talking about'. Her voice is an inspiration for all of us out there juggling with the routine of life. An autobiography that has become a cult classic, telling us about the life of Kamala Das. Her self-belief will make you throw all self-doubt out of covers. The two words that you will take away after reading the work are – conviction and courage.
5. The description of Leah Off the Beat on Amazon says, " Leah Burke who loves drumming but her life isn't always so rhythmic, is an anomaly in her friend group, she's the only child of a young, single mum and her life is decidedly less privileged. And even though her mom knows she's bisexual, she hasn't mustered the courage to tell her friends – not even her openly gay BFF, Simon (from Simon Vs the Homo Sapiens Agenda). With some messy dynamics emerging in this once tight-knit group of friends, senior year suddenly gets even more complicated for Leah, as she realises, she's falling not for the guy who's taking her to prom, but for the girl who's dating her best friend".
The story shows Leah dealing/resisting/contemplating 'coming out', discussing how irritating and satisfying the whole idea of 'I don't know' can be, something which I relate to. The girls in this book will make you cheer for friendships. They mix music for each other, go on road trips, take care of each other, call out their friends and support girls looking out for each other. The book reclaims a charming new attitude on kindness, happiness, and affection, something that I had been missing in my readings lately.
Also read: 9 Young Adult Books With Diverse Leads That You Shouldn't Miss
6. Besharam by Priya – Alika Elias, is a part memoir and part tips on what Indian Women experience Life as. In her essays, she talks about masturbation, dating, body image issues, friendships, mental health, abuse, hurt, guilt, love, Indian aunties and hugging the dramatic woman that we are made to feel guilty about. There is so much the book engages with, as it makes you realise that fight comes every day at your doorstep. It makes you shake hands with the fact that we are allowed to feel weak. And since it'll be there again, we should be keeping our thoughts by our side too.
When you are alone at your workplace or traveling or at home, you don't always see the women who are walking beside you. This book makes you see them. Solidarity is regained. There is anger, humour, despair, sarcasm—all of which in these great stories (anecdotes) about women, creates an understanding between the writer and the reader that what we feel is valid and real. The writing is like a conversation you have with oneself (and others) in order to better understand your own awakening and experiences.
7. The Moons of Jupiter, by Alice Munro, is a collection of 12 short stories, replete with characters who populate our daily lives and yet we can't seem to remember them forever. This book will make you think of them.
Her writing focuses on ordinary moments of ordinary women. In one of the stories, an aunt visits her niece and her husband. We have all seen such scenes happening. The story ends with the aunt leaving and the niece making a much-required move because the husband doesn't stop dissing her aunt when she leaves. I loved it! You would too if you read it.
The next story was about the stories that a woman heard from her aunts about their lives from both sides of the family. We all grow up with weird, relatable tales about people close to us. We only have their words and no evidence to corroborate these stories. One such story that the protagonist discusses is about 'a stone in the field'. She visits the corner and finds that stone isn't there. It must have come in the way of corn field, so they would have hauled it out. "But the boulder is gone. Mount Hebron is cut down for gravel, and the life buried here is one you have to think twice about regretting."
The characters live and breathe, laying bare the everyday of life. The stories will support your everyday thought on what it means to be in the unexceptional and yet inescapable pain of human contact. Another story talked about a friendship between two women in an institution who spend time with each other, discuss their families, take interest in other people's lives, get distanced over time, and finally meet up again while playing a game of scrabble. These were Mrs. Kidd and Mrs. Cross.
The story ends with Mrs. Kidd giving a push to Mrs. Cross on wheelchair (calculated, delicately, balanced push) to roll forward smooth and come to a stop where she had said it would. Mrs. Cross had hastily raised her feet and hands for this last bit of the ride…Mrs. Kidd sank to her bed to recover her strength and prayed that no nosy person would come until she could recover her strength from pushing Mrs. Cross on the wheelchair and get started on her trip back.
Also read: 15 Books By Indian Women Writers That You Loved In 2018
Friendship isn't always about being together in joyful moments. It is also about comfort in the distance. These new points in life will keep coming back and we don't have to cling to people/moments. Mainly because they always redefine themselves.
---
Shreyasi is a postgraduate in Literary art and Creative writing from Ambedkar University. She writes narrative non-fiction, fiction, poems and performs poetry. Her writings have appeared in The Citizen and The Hindu. She likes writing about the labour that goes into the world of books, reading in metro, transforming city spaces, and situations created due to climate emergency – basically about everyday life . Currently, she is trying to find work that involves a lot of reading, a lot of writing and a lot of reading. Her writings can be found at Loony Tunes and on Medium.
Featured Image Source: Simply Read Books