In contemporary politics the discourse around toilets has received greater deal of importance through various political campaigns. Nevertheless, it is also important to highlight how such a discourse has also set foot in India's populist media and culture. Thus, from 'Swachh Bharat Abhiyaan' to 'Toilet Ek Prem Katha' we have often overlooked the history and functionality of such a discourse.
India has often been projected as a country characterised by poor sanitation facilities and thus, the quality of life in rural parts of the nation is constantly getting affected. However, though such parts of India have constantly been identified with open defecation, we have often overlooked the conditions driving such instances. It is also important to address thereby how sanitation facilities are correlated with the water supply. There is also serious lack of conversation around 'choice' of open defecation that is constantly practised in urban setting.

In various transport mediums like trains, in spite of the availability of infrastructure, the poor condition of their toilets have made its operation difficult. Thus, in order to understand the implementation of various public policies adopted for a particular region, it is important to examine other necessary socio economic, political and ecological factors along with the influence of civil societies and development programmes having its impact on certain demography.
Policies Around Toilets
Over the years, various policies have been formulated and implemented by the existing governments in power to address this discourse. During the post colonial period, in 1986, the 'Central Rural Sanitation Programme' was launched by the then prime minister, Rajiv Gandhi, which can be identified as the first nationwide sanitation programme. This programme also addressed the importance of sanitary complexes in community spaces, for instance the lack of toilets in anganwadis or public schools in their guidelines.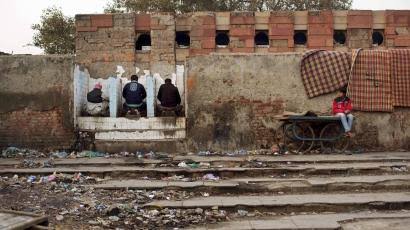 The scheme promoted financial assistance to families belonging to below poverty level, to construct toilets in their houses. This programme was restructured again in 1999 which tried to put emphasis on public participation. The awareness building campaign around sanitation and usage of toilets was established along the lines of formulation of 'Total Sanitation Campaign' (TSC), which was introduced in the year 1999 by Atal Bihari Vajpayee government. The focus was to generate public demand around the sanitation facilities which will eventually lead to supply and construction of infrastructures. Though the programme addressed school sanitation and hygiene, it still remains questionable how much it has been implemented in practice even after two decades. However, the cost of this programme was shared by both the union and the state governments.
In 2007, this scheme was renamed as, 'Nirmal Bharat Abhiyan' by the then government. This scheme however, coincided with the Mahatma Gandhi National Rural Employment Guarantee Scheme (MGNREGS). It is also important to address the Department of Drinking Water and Sanitation (DDWS) which is part of ministry of rural development, responsible for addressing rural sanitation policy and programme. It was expected that this scheme would achieve the modified goals around sanitation by the year 2012.
It was only with the introduction of National Urban Sanitation Policy in the year 2008, the importance of framework required for planning sanitation strategies in cities were given vital importance.
It was for a long time, the urban sanitation facilities were not paid proper attention. It was only with the introduction of National Urban Sanitation Policy in the year 2008, the importance of framework required for planning sanitation strategies in cities were given vital importance. This aimed at building public toilets which shall contribute to facilitating city spaces free of open defecation and also ensure safe disposal of human wastes. The government provided various financial schemes to promote individual toilets, community toilet blocks and waste water disposal and treatment facilities in the urban space.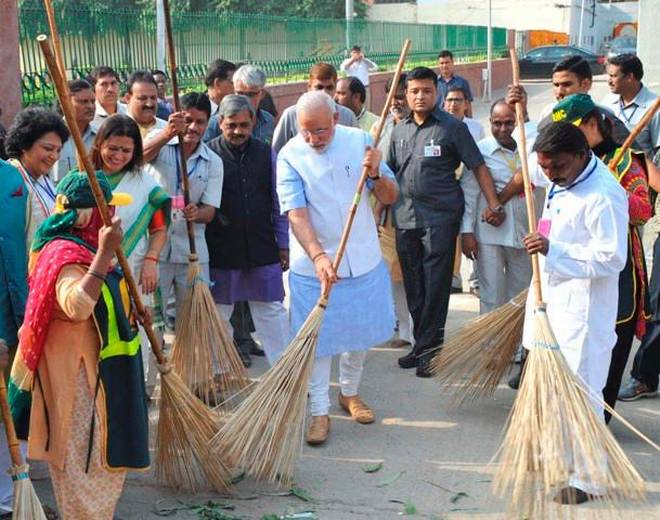 However, in 2014, with the shift in political power, this scheme was renamed as 'Swachh Bharat Abhiyan' which aimed at eradication of open defecation by the year 2019. The responsibility of funding was distributed between both the state (40 percent) and the union government (60 percent). It included $ 1.5 million of loan from World Bank. Though this scheme has shown some improvement in sanitary condition in various parts of the country but its success still remains contentious.
Accessibility In Question
The access to public toilets in city levels still remain a questionable instance for women, disabled individuals and Queer communities. There are also certain applications which enable us to find such locations but there has only been little awareness around such technological assistance. The everyday practice of public urination in urban spaces in spite of public toilets for men has also contributed to deteriorating conditions around sanitation.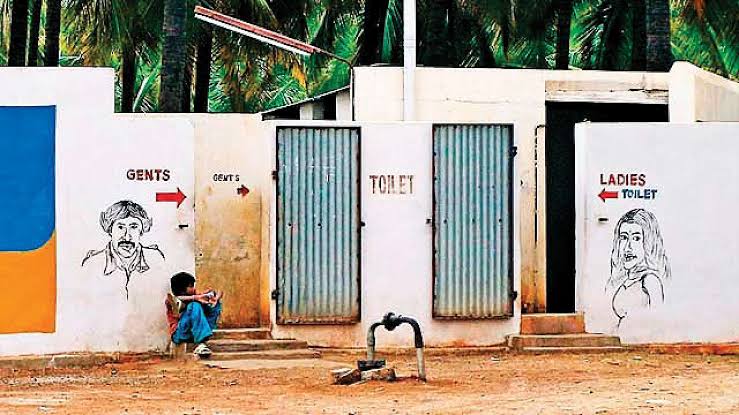 In spite of all these policies, it is important to take into consideration, if the formulation and implementation of policies are aligned with each other. It is also important to address how socio-cultural aspects influence this discourse. The narrative around 'cleaning' of toilet is strictly regulated by caste based biases. It is not only the state policies but also traditional institutions advocating 'purity' and 'pollution' that plays a governing role how inequality persists in this sector.
The 'cleaning' of toilets are identified as caste based occupation and the individuals adhering to such occupation are ostracised and discriminated. The discourse around 'toilet' in rural spaces where they often prefer to open defecate, raises the fundamental question of 'who shall clean it?' But it is also important to raise conversation around sanitation in spaces with drought conditions. Though we have constantly emphasised on how open defecation impacts public health, it is important to reflect on why 'open defecation' is not a choice in many drought-prone rural regions in India.
Though we have constantly emphasised on how open defecation impacts public health, it is important to reflect on why 'open defecation' is not a choice in many drought-prone rural regions in India.
The villagers prefer not having 'in-house' latrines as it would result in creating foul smell and also unhealthy conditions. The entire act of 'cleaning' for them can be associated with a 'form of luxury' as a result of access, allocation and distribution of water supply. As the accessibility to water has changed over years in these rural regions of the country, the fundamental question witnessed a shift from, 'who shall clean the toilet?' to 'how shall the toilet be cleaned?'
But due to lack of 'toilet' inside the house, women in rural areas often find it difficult to open defecate during night as a result of safety conditions. This has also contributed to creating a space of homosociablity amongst the women of the villages as they prefer to travel in groups during such acts. However, in case of urban spaces the unhealthy, unpleasant and hostile working condition of sanitation workers has continued to be the same in spite of various promises made. These individuals are not provided with any form of safety equipment which has often lead to unfortunate deaths.
Also read: Toilet Ek Prem Katha: A Well-Meaning Film Minus The Stalking
Role Of Civil Society
This also brings us to the role of existing civil societies along the lines of this discourse. They are contributing not only to assist toilet training programmes but also providing financial assistance in certain regards. They have played significant role in influencing the intent of the villagers regarding the construction of toilets in many instances and how this is a beneficiary act specifically for the women, children and elderly individuals of the family. It helps to bridge the gap between broader understanding of the discourse and its implementation in local grass root level.
The inclusion of schemes around sanitation being a part of sustainable development framework has also lead to collaboration between government and civil societies. The various self-help groups are also playing an important part in creating awareness around using of toilets amongst the villagers and how such a practice can improve hygiene and health conditions. This implies how women often do play an important role in being the driving force to create community learning and how their contribution is overlooked after such ventures are achieved.
Conclusion
But in spite of such policies and ventures, the quality of construction is substandard as a result of corruption. The lack of maintenance and how the toilet spaces are used for other purposes by the villagers address deficiency in case of both policy interventions as well as creation of educational awareness. Are the constructed infrastructures really getting used?
Also read: World Toilet Day: Why Are Toilets A Feminist Concern?
732 million people have no access to toilets in India. It is impossible to bridge the gap between policy interventions and its practice without behavioural changes not only amongst villagers but also urban elites who tends to overshadow various discriminatory politics along the lines of this discourse. This 'World Toilet Day' has been themed around 'leaving no one behind' can only be made possible if community participation is included in further formulation of policies regardless of individual's socio-political and cultural background. Such a venture can pave the way for the acknowledgement of marginalisation in this sector and thereby look into various prospects of tackling it.
References
'Indian Sanitation', Economic and Political Weekly, by Bathran Ravichandran,
Swachch India: experience of Water Sanitation Programmes in three Indian states of Madhya Pradesh Odisha and Andhra Pradesh, by Babu K. S.
---
Featured Image Source: United Nations University