Editor's Note: This month, that is November 2019, FII's #MoodOfTheMonth is Regional Indian Cinema, where we invite various articles on regional films from across the country which have had some impact on you or on the society, in either positive or negative, or in both ways. If you'd like to share your story, email us at pragya@feminisminindia.com. 
---
Tamil cinema is largely, a formula based, production initiative, dictated by rigid patriarchy. Lost in the hordes of item songs, intro dance cameos, macho fight scenes, "socially acceptable" soft porn scenes, women have played and do play a role in what has come to define Tamil cinema. While it is easy to dismiss the superficial façade of empowerment Tamil films often embody, it's important to remember female protagonists from progressive films. There were many who have served as role-models for generations of Tamil women. In the 'eat, pray, love' culture of Tamil society, one such movie that remains at the forefront would be Aval Appadithan (That's how she is).
Also read: Radha Ravi's Comments Show The Misogyny Of Tamil Film Industry
Rudhraiya inspired feminist conversations in Tamil cinema with his debut Aval Appadithan. Released in 1978, its vocal social commentary on women's liberation values, within Tamil society gives it rightly a cult status. The camera angles, shots, editing, narrative style employed in the film were trendy for its time. Additionally, the film critically examines women's status in the prevailing media culture.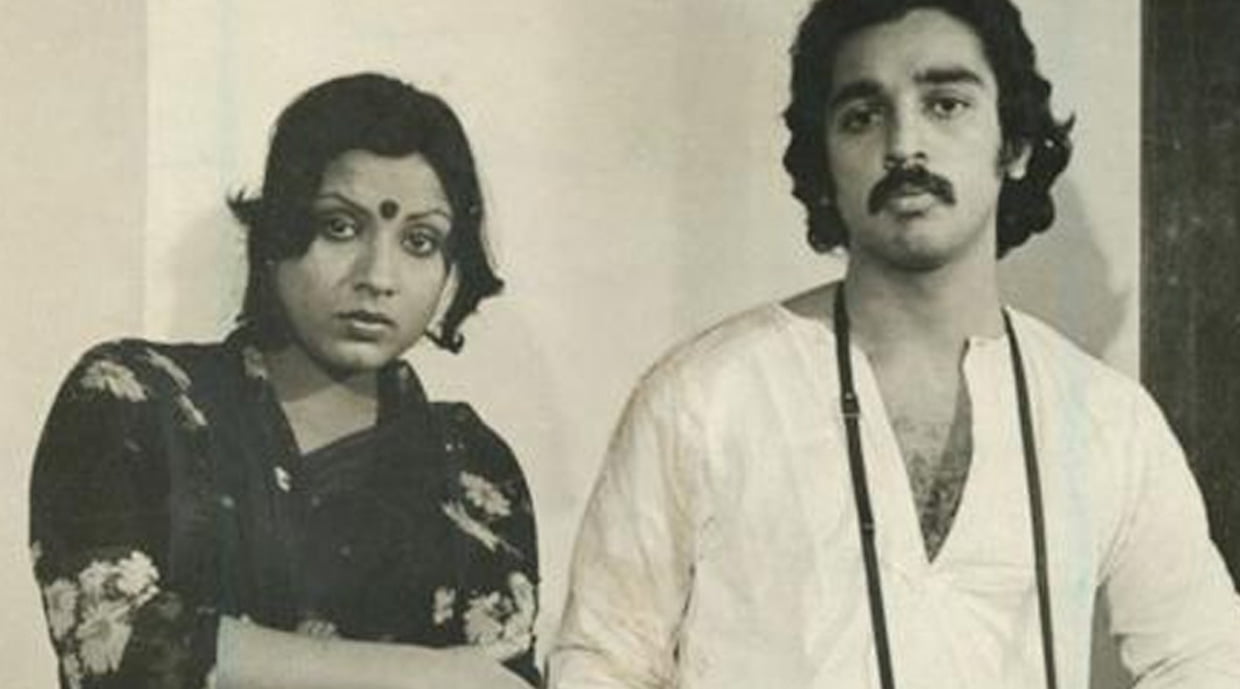 The crux of Aval Appadithan rests on the theme—women's liberation, with all its cultural contradictions. Three characters Manju, Thyagu and Arun form the framework that dissects women's place in society. Sexual roles, power relations in family, workplace harassment, abuse are all examined in the film, and their frank portrayal makes this film definitely a class apart. The English dialogues, progressive deliberations, double-standards in women's empowerment make way for realistic, relatable scenes. The titling sequences, followed by film-in film scenes slowly introduce the characters. This is followed by a discussion of market values for social issues which dictate media trends.
The film's climax keeps Manju true to her character. She remains free-spirited and more importantly unapologetic.
The primary character, Manju (portrayed by Sripriya) is an epitome of feminist angst which permeates a dysfunctional upbringing, toxic relationships in a stifling patriarchal society. The male characters Arun (Kamal Haasan), Thyagu (Rajinikanth) are poised in opposite ends of "so-called progressive values". The present day-superstar as Thyagu, in his role of a lifetime flawlessly plays the privileged Indian male. His counterpart, Arun essays the role of a metrosexual that would definitely rank high among his numerous iconic roles till date.
The film contains lots of scenes that depict exploitation of women but they are not voyeuristic. Throughout the movie the "single woman" question is raised in various aspects.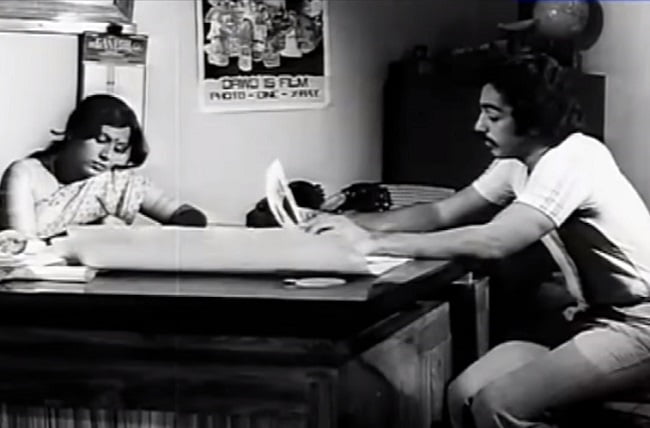 Manju embodies this role as an independent woman. Her lifestyle choices, her outspokenness, remain an eyesore to the people around her. The movie poignantly describes the effect of a broken marriage, domestic violence and the troubled childhood that marks Manju's life. It then proceeds to trace her complicated relationships with men.
One very striking aspect of Aval Appadithan is the consensual sexual choices of Manju. She has no qualms of her choices and only gets disgusted by the hypocrisy, selfish motive of her partners. Misogyny often defines, the "respectability" norms of a society. It has been depicted by the gossip mongering that surrounds Manju's actions. Her attitude is impertinent when challenging rampant sexism, patronising chauvinism and societal double-standards. The male characters Thyagu and Arun contrast in a range of moral codes and values.
Women's liberation has often been hijacked as "an urban" phenomenon, but the film discusses the universality when it comes to women's issues.
The film dissects the power relations in many real-time situations where patriarchy passes off as innocuous. This commonly held "boys will be boys" view, perpetuates patriarchal values. Thyagu's patronising actions, sexist statements represent the commonplace attitude of society at large towards women empowerment. The faltering attempts of Arun in trying to become Manju's knight in shining armour are shown through their individual deliberations. Their actions and the subtext deserve special mention. The songs and background score keep pace with the action onscreen and unconventional style of filmmaking. 
The film's climax keeps Manju true to her character. She remains free-spirited and more importantly unapologetic. The brief cameo in the end (to avoid spoilers!) with the message "ignorance is bliss" exemplifies the irony in women's liberation. 
Women's liberation has often been hijacked as an urban phenomenon, but the film discusses the universality when it comes to women's issues. Scenes that show a vox-populi in progress with regard to woman's lib values act as a time capsule. The irony however remains that the challenges remain the same and progressive values have been moving at a snail's pace for decades.