While caste and ethnic hierarchies have existed before, during, and after the colonial rule, the Nationalist Movement for an Independent India had witnessed a significant amount of participation from its caste and ethnic minorities. People from Dalit, Bahujan, and Adivasi communities fought many battles and wars against the oppressive colonial rule, while simultaneously fighting local and regional forms of marginalisation which was engendered by brahmins and the upper caste groups. However, due to historiographic invisibility, their resistances fail to feature on our history books.

On the 74th Independence Day this year, we look back at those Dalit, Bahujan and Adivasi women whose contributions to the Nationalist movement against the imperial exploitation is seldom acknowledged due to the multiple gaps in documentation in history as well as in contemporary times.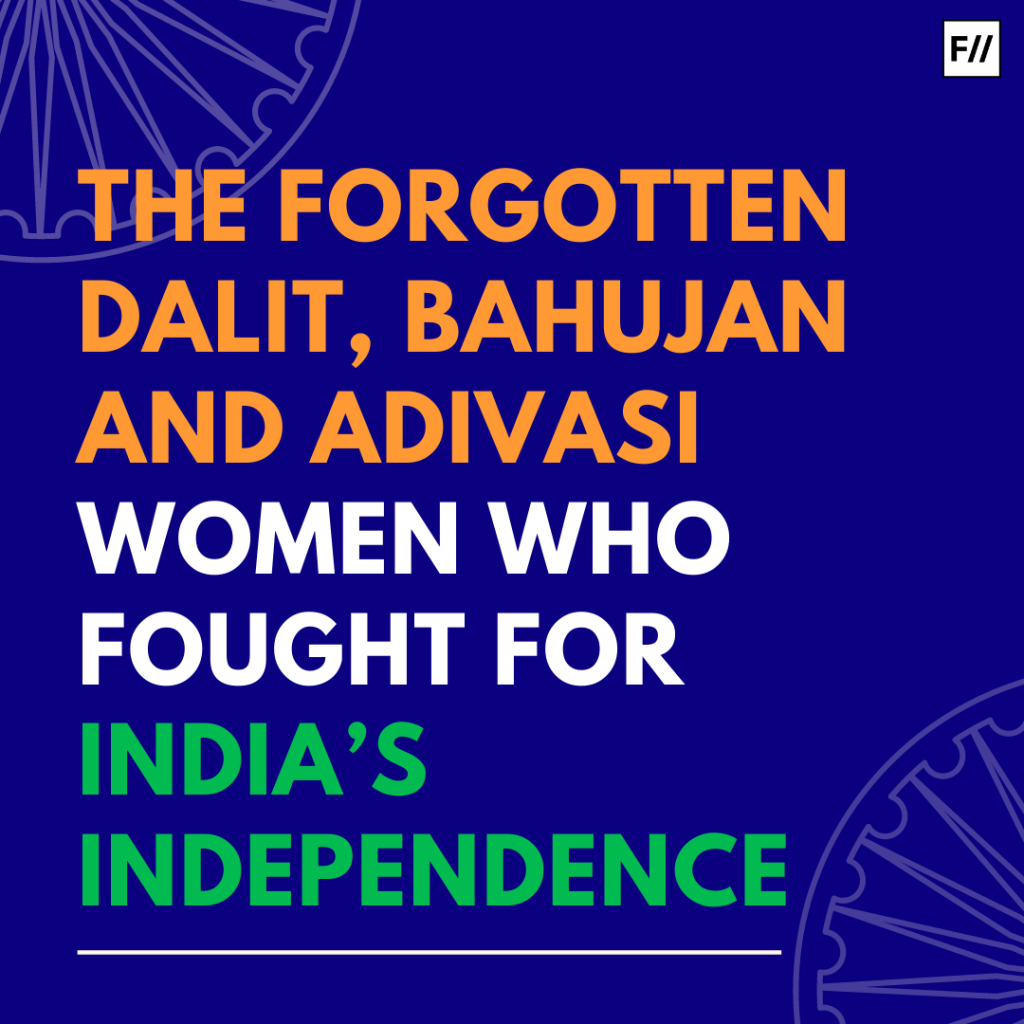 1. Kuyili
Kuyili was the commander-in-chief to Velu Nachiyar, the Queen of Sivagangai, a place in the southern part of the Tamil Nadu. Remembered by her admirers as 'Veerthalapathy' (The Brave Commander) or 'Veeramangai' (The Brave Woman), this freedom fighter was born in a lower caste family of Arunthathiyar. She led her army on an attack against the Britishers. In the process, drenched in oil, she set herself on fire and self-sacrificed her life.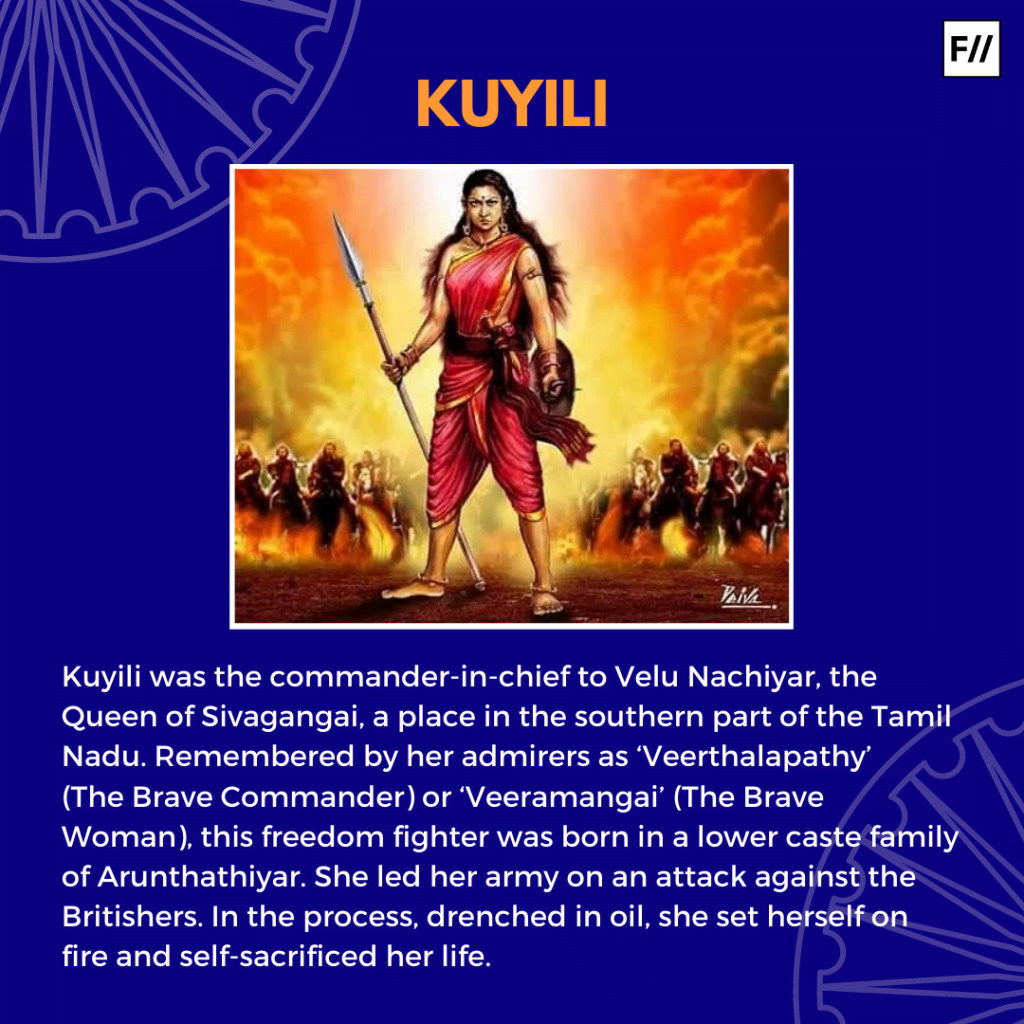 2. Jhalkaribai
One of the most trusted companions and advisors of Rani Laxmibai, Jhalkaribai was a Dalit warrior from the Kori caste, who played a pivotal role in the first war of Independence, the Revolt of 1857. Impressed by her skills, Jhansi ki Rani inducted her in the women's wing of the army, where Jhalkaribai was trained to shoot and ignite cannons to fight the wars against British rule.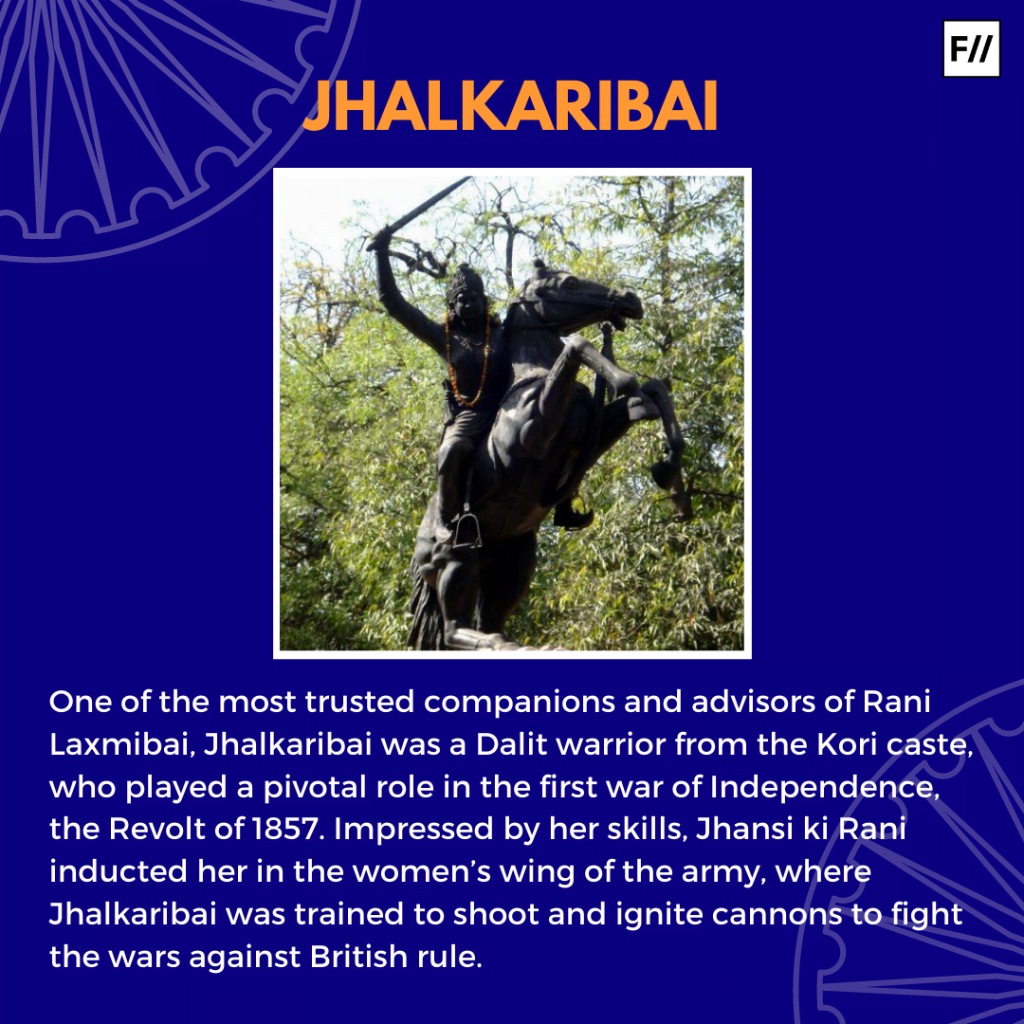 3. Uda Devi
A Dalit freedom fighter, Uda Devi and her courageous Dalit sisters or Veeranginis (warriors) fought fearlessly against the British East India Company, infamous for looting local resources. Admirers remember her as a feisty and valiant Dalit woman who defied both caste and gender hierarchies enforced by the brahminical and patriarchal society.
Also read: The Forgotten Dalit, Bahujan And Adivasi Women Who Fought For India's Independence
4. Helen Lepcha
Helen Lepcha or better known as Sabitri Devi, played significant role in the Non-Co-operation Movement, where she led a rally of thousands of labourers from Jharia Coalfields in Kolkata. She also immersed herself in social activism. She was the chairperson of various associations in Kurseong like the Sherpa Association, Nagar Congress, Anjuman Islamia and the Lepcha association.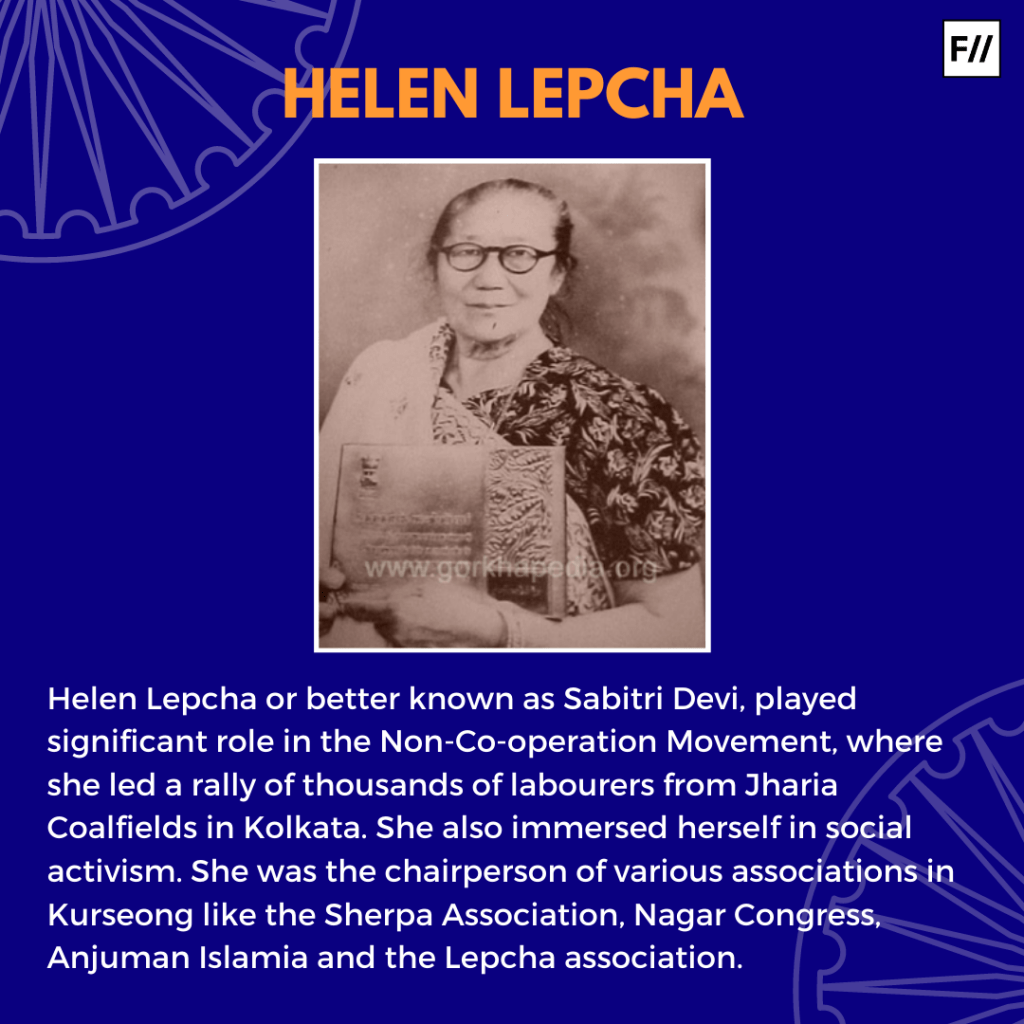 5. Rani Gaidinliu
Often referred to as the "Rani of the Nagas", first described by Jawaharlal Nehru, Rani Gaidinliu, at the age of 16, evaded the Britishers, before being captured and sentenced to life imprisonment, which ended only after India's Independence. She mobilised people from the Zeliangrong tribe to resist paying taxes to the colonial regime and helped them evade the British forces.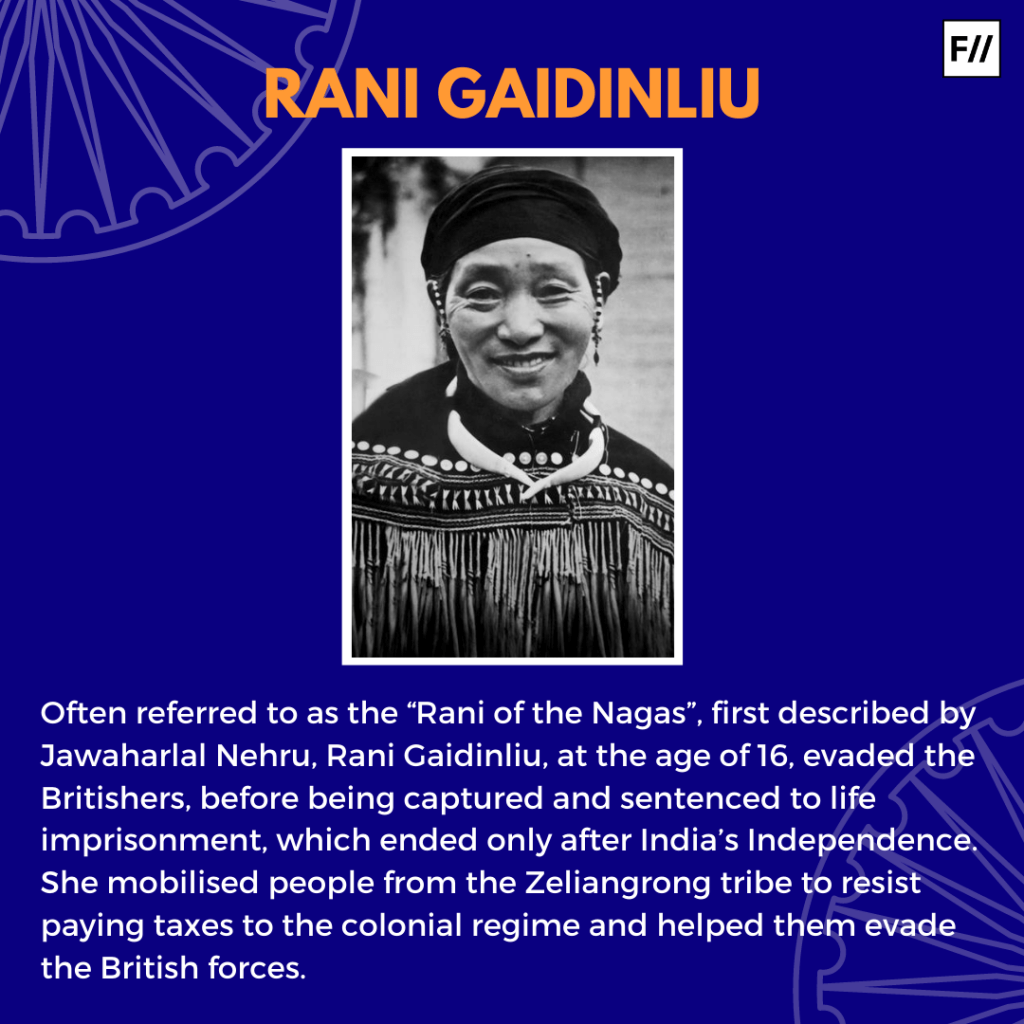 6. Putalimaya Devi Poddar
A Gorkha woman born in Kurseong, Putalimaya Devi Poddar was renowned within her community for fighting both against the imperial and social order. When Kurseong had established an office for the Congress Committee in 1936, she finally was able to concretise her ambition of becoming a freedom fighter. She also started a Harijan Samaj in Kurseong which dealt with mobilising Dalits and Shudras to receive an education.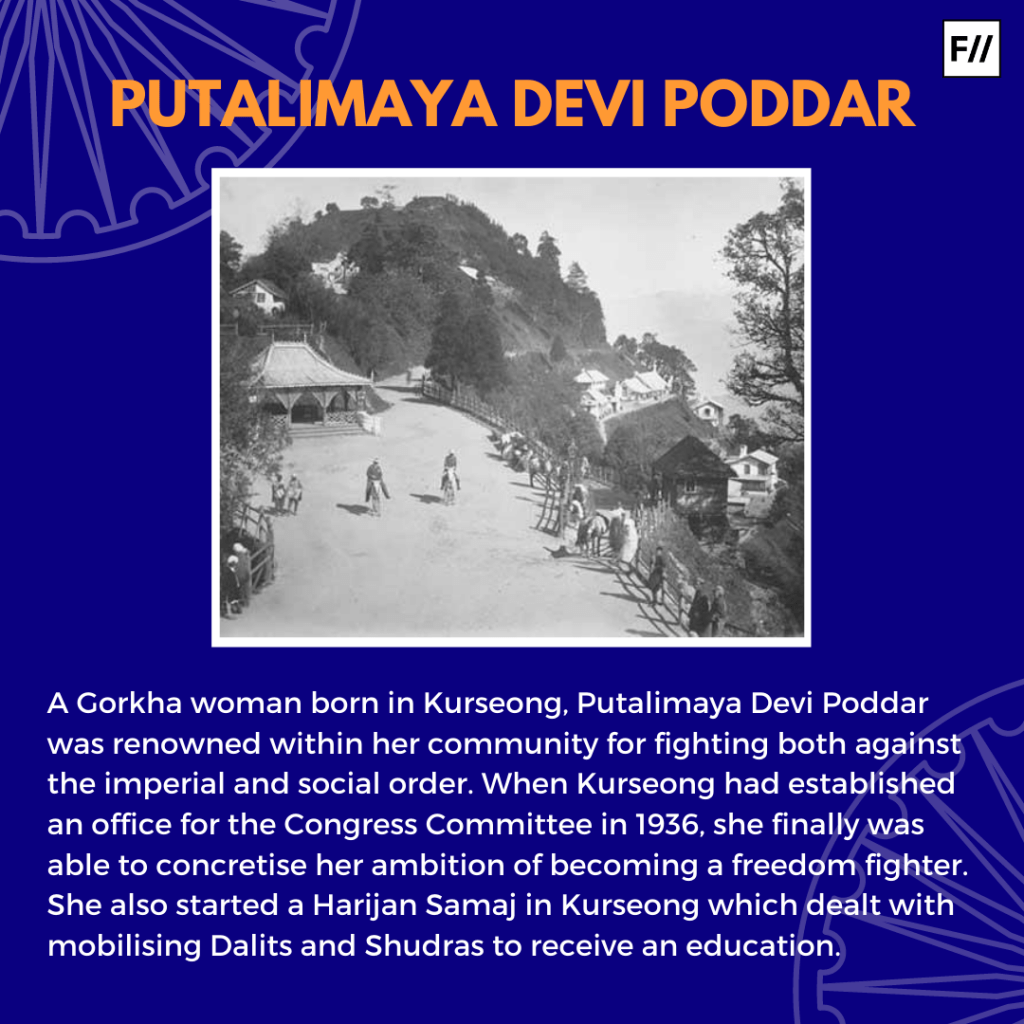 ---
Also read: Migrant Women Workers On The Road: Largely Invisible And Already Forgotten