The weaving sector is the second largest economy and employment generator in rural India after agriculture. Weaving is a method of textile production where clothes are woven on handlooms and/or power looms. Multiple stages are required to produce a piece of cloth, including pre-loom activity, weaving and post-loom activity. 
A traditional (domestic) weaver is usually confined to their own houses, resulting in a higher rate of women participation. This article will look into the women weavers and women allied workers associated with the traditional household weaving industry of Uttar Pradesh's weaving sector.
Soni* is a weaver who operates a power loom in the weaving sector of Tanda, a town in Uttar Pradesh. She exists in a space where most of the master weavers are men. As a necessity for her to assist her husband in the family business, she was driven to acquire weaving skills. Her family and in-laws have been in the weaving business for the past 50 years, but she did not learn to weave until there was a financial crisis.
Although none of her four daughters weave, they all engage in what are known as "allied activities," which encompass both pre-loom and post-loom work. Her family makes around ten and fifteen thousand rupees a month from their modest business. Due to the fact that her contribution is considered "family income," she is not compensated monetarily for it.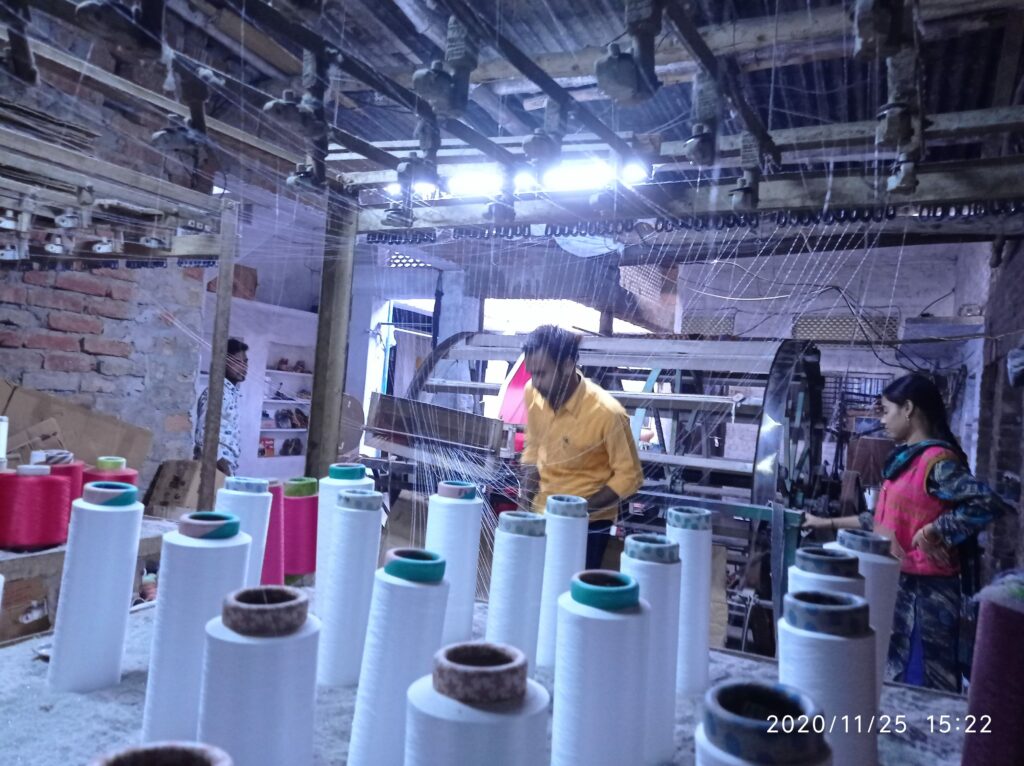 Raunak* works as an allied worker in yet another town,  Mau, in Uttar Pradesh. For the past fifteen to eighteen years, she has worked as a contract allied worker. The work materials, which she and her daughters are required to complete, are delivered to her house by middlemen or are carried by the male members of her family. Her husband is a temporary worker at a weaving industry. Her daughters are still in school.
Raunak and her daughters only have time to work after lunch when their daughters have returned from school and she has completed all house chores. When the workload is heavy, they may have to stay till late at night to complete their tasks. Raunak is working to support her family financially. Depending on the workload, she and her kids could earn 700-1000 every week. Many times, middlemen give the payment to the male members of the household, which Raunak normally does not receive.
Raunak and Soni's experiences are representative of those many women working in this field in the rural parts of Eastern Uttar Pradesh. Let's take a deeper dive into the impact of patriarchy on the lives of women weavers and allied women workers, as well as their contributions, invisibility, status, and position in the weaving sector of Eastern Uttar Pradesh.
How are women placed in the weaving sector?
Approximately 95% of the hand-loom and power-loom sector in India is unorganised in nature. India has approximately 28.2 lakhs looms, providing direct and indirect employment to 35.22 lakhs handloom workers out of which 72.3% are women workers. 26.73 lakhs adult workers are engaged in weaving, out of which 73.7% are women, while 8.48 lakhs of workers are engaged in allied activities in the country, out of which 77.9% are women.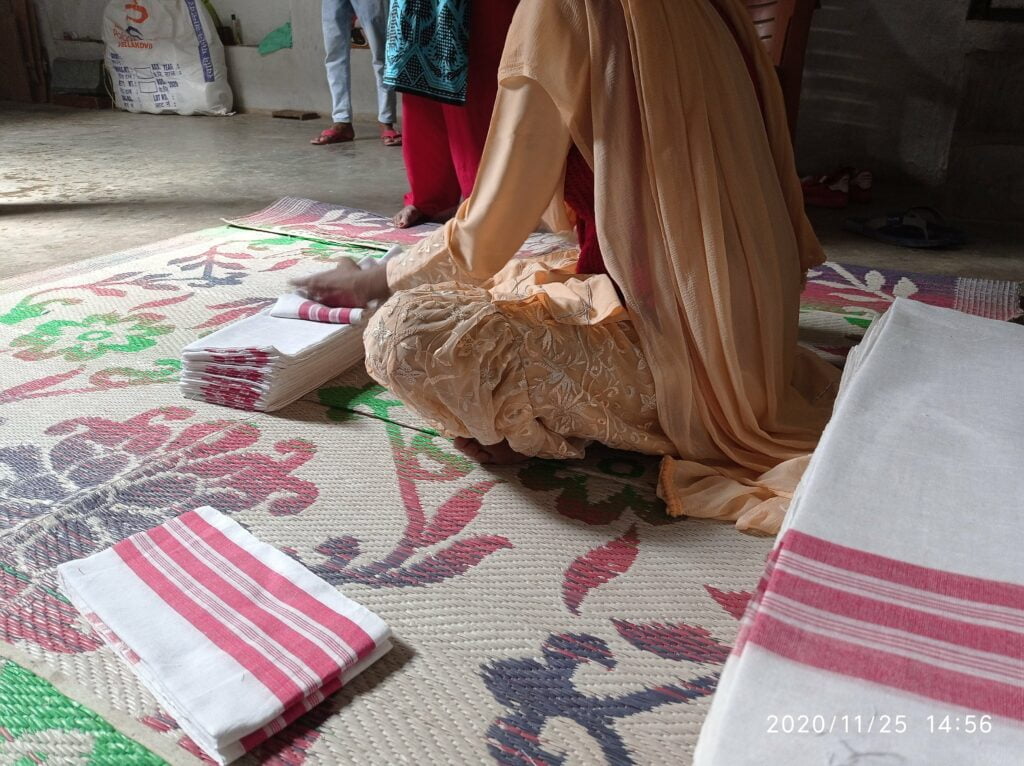 Even if women are not weaving, they will be a part of the allied workforce since it involves the entire family. Therefore, the number of women allied workers is greater than men allied workers.
Also read: The Impact Of Covid-19 On Assam's Women Weavers
The involvement of women in operating looms is lesser than men, as they are more likely to participate in skill-based work, which generally belongs to the public sector, such as production (preferably weaving) and manufacturing. In contrast, women are more likely to work as allied workers, who are homebound and require a bare minimum of skill.
Patriarchy and weaving
Like any other profession, women allied workers and women weavers are victims of the gendered division of labour. As contractual labourers, they receive low wages as compared to men for similar work. The work participation of women is higher than men in allied work. These activities form a crucial input to complete a finished weaving product, but the contributions of women in these works are highly neglected; allied works are taken for granted, mainly because it's the women of the weavers' house who work without any pay and recognition.
Even after being the dominant workforce in the allied sector, their contribution goes invisible and unrecognised because weaving is an in-house activity, and the private sphere tends to be inferior to the public sphere. The public sphere is considered to be a male-dominated sphere and the private sphere is considered to be women's domain.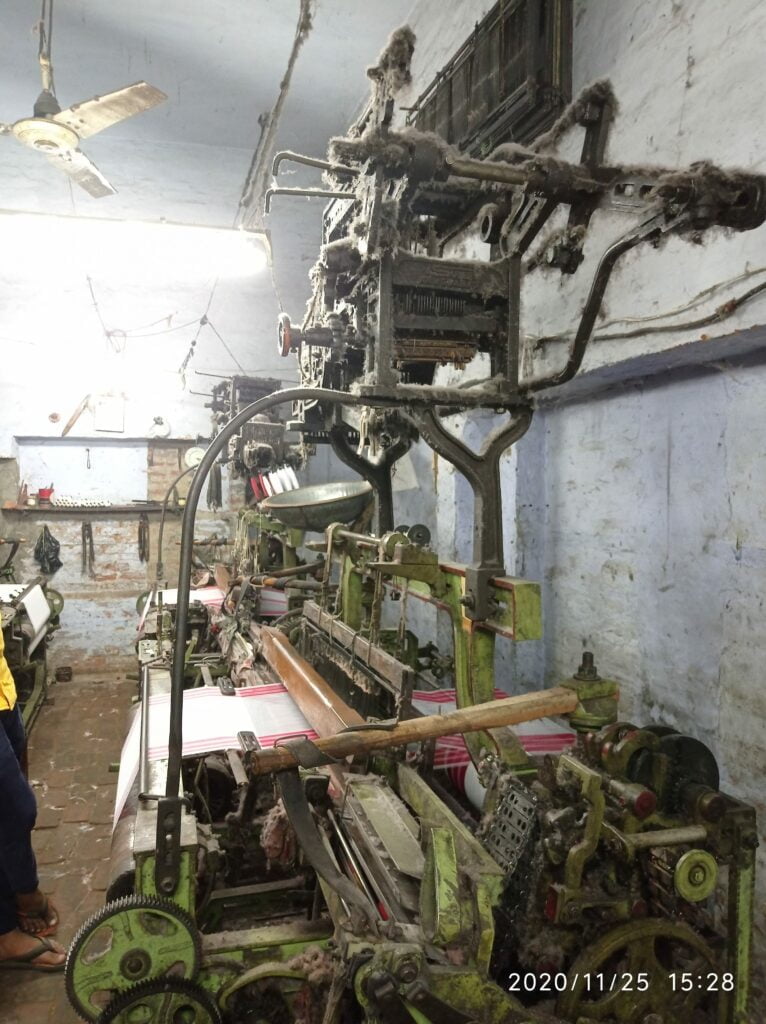 Patriarchy plays a vital role in maintaining the inequality in wage distribution and power position among the weavers and allied workers. Primary activities like decision-making, production, sales, marketing, policy-making, are taken under the public sphere that falls under the province of men. Women are meant to stay in the private realm and function as helpers for their male family members.
"Hume bazar ka nahi pata, hume to ghar baithe baithe kaam mil jata hai itna he bahot"

(I have no knowledge on markets; the work I get to do at home is enough for me).

Raunak
The handloom sector is predominantly family-bound; hence the majority of women working in the handloom sector are 'family workers'. Like Soni, who operated the loom, all her daughters were involved in allied activities, but because their work was considered "family work," they were never paid for it.
"Mere liye ye kaam baki ghar ke kaamo ke jaisa he hai" (For me, this work is like other household chores I do), says Soni to FII when asked how she felt being unpaid. The deeply embedded patriarchy does not allow women to recognise their worth and work. Further the patriarchal mindset of our society lets a man, the proportion of income they earn from family production, but on the contrary women are not paid anything for their work, as it gets included in the 'family income'.
The fact that women's work is not counted in family income makes them considered secondary to their male counterparts. The perception of women's work is this industry goes against them and puts them in lower pursuit.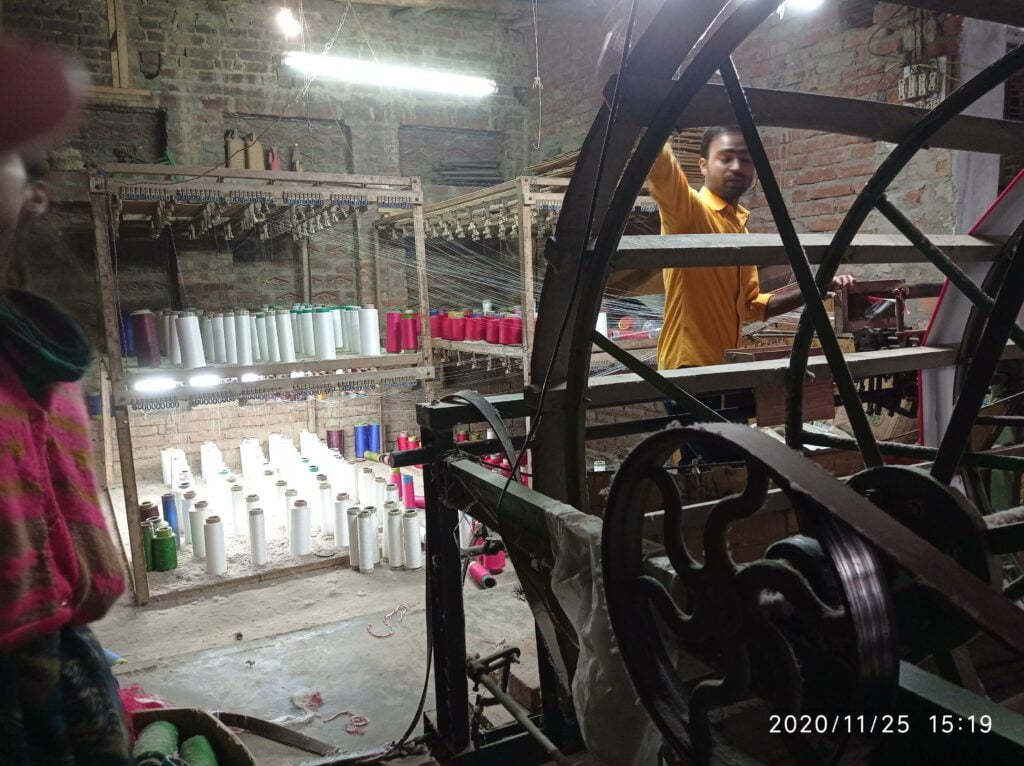 The patriarchal cultural norms restrict women from working outside their homes. As was the case with Raunak, she and her daughters worked on a contractual basis and received work at their home from middlemen. "Hume bazar ka nahi pata, hume to ghar baithe baithe kaam mil jata hai itna he bahot" (I have no knowledge on markets; the work I get to do at home is enough for me), says Raunak to FII.
On the one hand, this work provided them with the opportunity to work and be paid for it, but on the other hand, it limited their negotiation capacity and work opportunities because they were dependent on middlemen.
Women operate only those looms which are installed in their household premises. Although they are authorised to sit on the loom and do all sorts of activities involved in this sector, all the production and marketing are handled by men and hence many women do not get their share of earnings. Furthermore, women's lack of knowledge about production and marketing works against them in the weaving industry. The limitations placed on women's freedom of movement keep them from venturing outside of their homes and hence prevent them from reaching the market and learning about the world beyond their front door.
Raunak and Soni's situation is similar to that of many women who are part of this sector. Most women work to supplement their family incomes, particularly if the family is not in a position to hire workers. Soni's work is evidently a supplement to her family, she and her daughters work for the family business but are not compensated.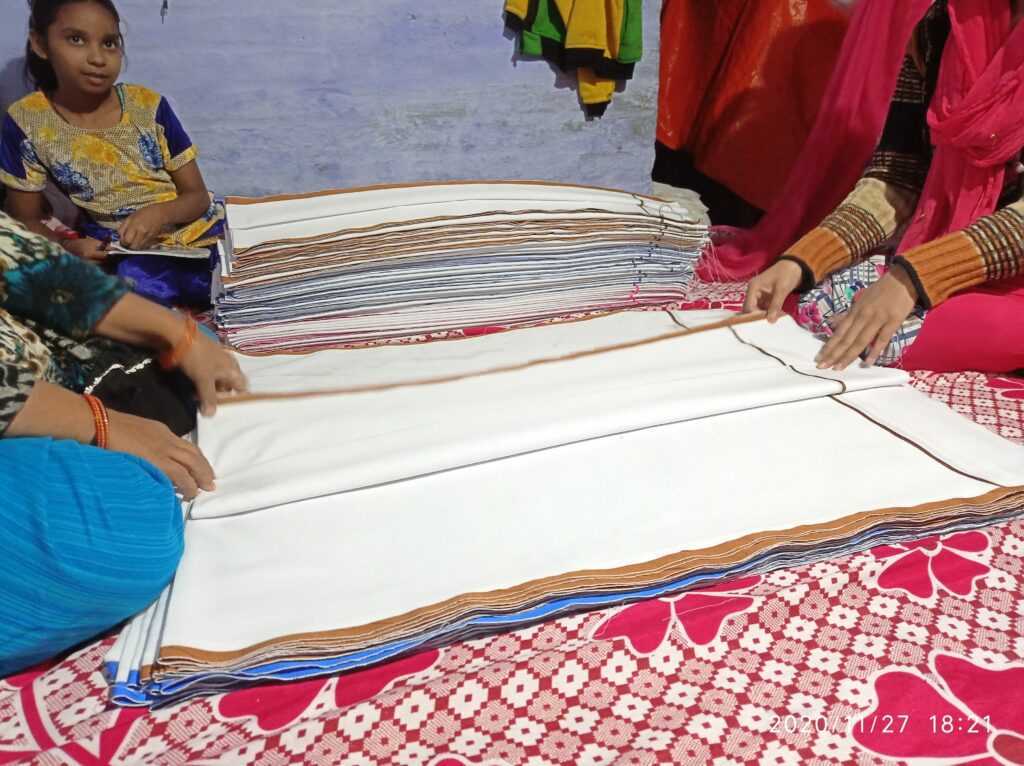 From this, we may conclude that women's ineligibility for being paid in their own families is directly proportional to the low wages they earn as allied workers and weavers on a contractual basis. Raunak and her daughters did allied work as contractual labour; allied work may appear menial, but it unfortunately involves critical, strenuous, and repetitive chores; however, their work is taken for granted and considered an unrecognised skill, and as a result, they are in a pathetic condition, either due to a lack of wages or low wages.
Also read: The Art And The Artist: The Situation Of Weavers In Santipur Of West Bengal
Most women work to supplement their family incomes, particularly if the family is not in a position to hire workers. Although women in allied activities are higher in number, they are in pathetic condition either because of the absence of wages, low wages or because their work is taken for granted and considered as unrecognised skill. Allied work may seem menial which unfortunately involves critical, strenuous and repetitive chores. Their contribution is ignored and they have no recognition as a weaver.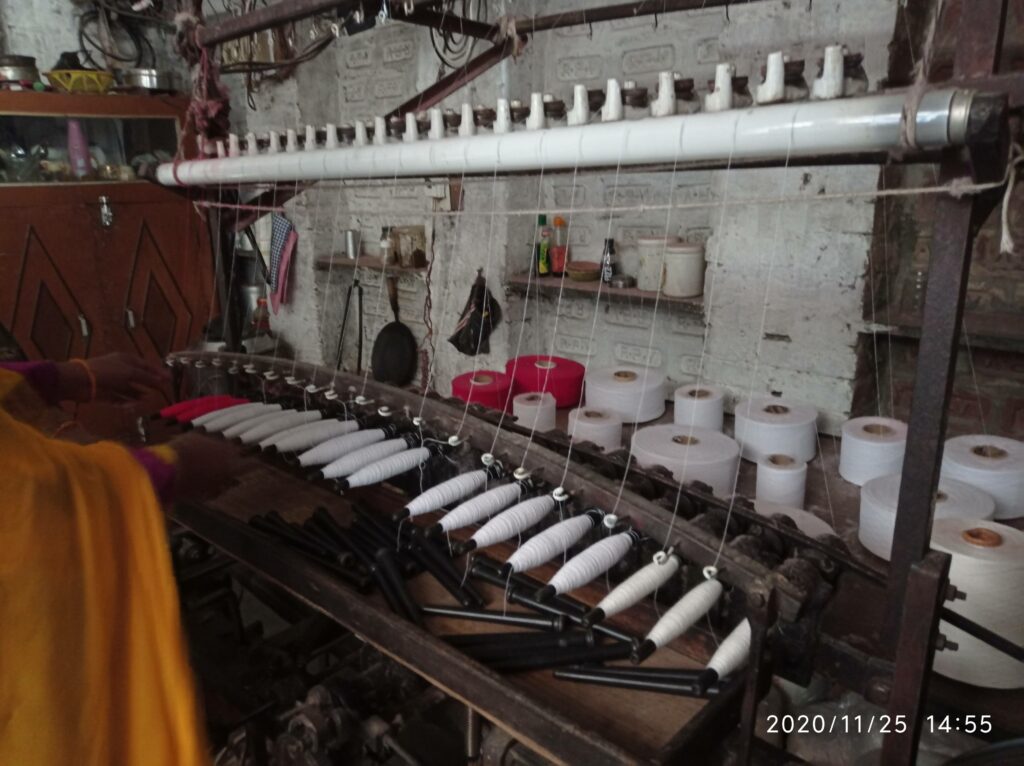 Weaving is largely a family business, with the skill handed down over generations. Women are rarely seen working directly on the looms, but a visit to any weaver's home will reveal that women's contribution is spectacular which is not complemented enough with due recognition. On one hand, this family-bound work gives an opportunity for women to work; on the other, "home" or  "private sector" puts several restrictions in their path as workers.
---
The names of the sources (women weavers) have been changed due to privacy reasons.