Class is the remake of the critically and commercially successful Spanish show Elite (which has run for six seasons so far). The Indian adaptation, aptly titled Class follows the lives of three students – Dheeraj (A Dalit boy with an alcoholic father), Saba (A Muslim girl whose family migrated from Kashmir) and Balli, all from underprivileged backgrounds as they get admission into the prestigious Hampton International School and struggle to make their own space within this unfamiliar space dominated by spoiled, rich brats. The reason for the transfer is a big scam where a local school was destroyed in fire by the owners of Ahuja Properties, who in an attempt to save their image, sponsor the three children.
The other characters are the brother-sister pair of Suhani Ahuja (youthful but messed up girl and also Dheeraj and his brother's love interest) and Veer Ahuja (loud, overprotective, and reckless). Suhani's childhood friend is Koel, who already has a partner in Sharan but both Sharan (who identifies as bisexual) and Koel are interested in Balli. Veer's partner is Yashika, another insensitive rich student who believes the Hampton Scholarship is her birthright.
Another brother-sister pair is of Saba and Faruq, the latter of whom is gay and sells drugs to make a living. Rounding up the wide range of characters, Faurq's love interest is Veer's best friend Dhruv, who is struggling with his sexuality. To make matters more complicated, Dhruv's mother is the principal at Hampton, his father being the Sports Coach among multiple webs connecting all the characters.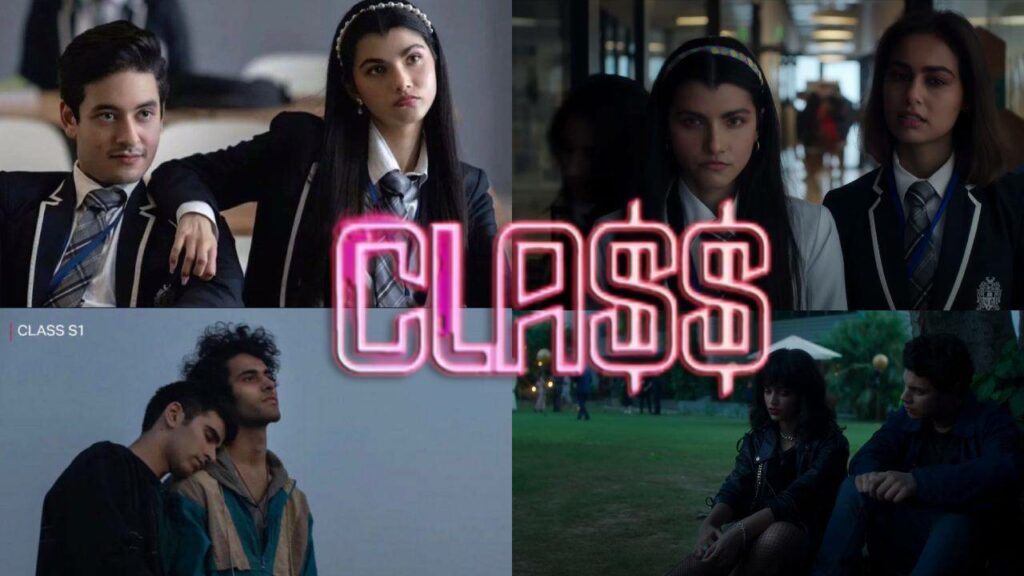 While the acting and the production is phenomenal, the writing is simply terrible. The series is riddled with cringe dialogues like – "You can never be in the same class as them" (referring to both classroom and class in an economical sense) or sentences like "The working class can never understand true class." While these statements might be showing the lack of sensitivity, they are simply poorly written, often trying to appear smart but in reality are lacklustre. Unpacking the 'class' in Class is pretty easy but the repeated usage of the word seems futile.
High on drama, low on self-awareness
High on drama and trying relentlessly to set up benchmarks for Indian television, Class fails miserably to live up to its promise of delivering a true, diverse understanding of our society. While the character arc of Faruq stands out, especially with a similar story that involves his uncle, the other story arcs are just forced enough to ensure that all the subplots are connected for the big finale, which is also poorly executed. It has all the tropes and markers of what differentiates the 1% from underprivileged people, yet, there's no sensitivity. Moreover, it sets a dangerous precedent by focussing on optics and showing how the rich carve out empathy on an individual basis for the marginalised, but won't do anything for them systematically.
Also read: The Class Privilege In Indian Matchmaking & Four More Shots Please
Many reviews of the show have also stated the inconsistency within the episodes. The show states and defines characters in a specific setting and then they proceed to act opposite to the context that has already been established. Particularly with the character of Saba, an academically inclined Muslim girl and Dheerj and Neeraj, the brothers who are Dalits, there is a massive disservice. While the show is riddled with the most stereotypical understanding of caste and religion (manual scavenging, terrorism etc. are referred everywhere), it fails to offer a systemic understanding of these issues. Class might get brownie points for representation but it's not authentic. The representation is for the sake of it, pretty similar to diversity and inclusion policies.
The references to Dr. Ambedkar are merely used to show the revolutionary and reactionary behaviour from Neeraj, without actually going into deeper understanding of Ambedkar's ideology for anti-casteism. The show does an excellent job at showing the life of the ultra rich but the minority characters exist as plot devices, full of tropes, as if they exist only to elicit reactions from the 1% and push forward the story. In fact, the most pertinent issue with Class is that it treats its minority characters like mere caricatures of their community.
Forced inclusivity with no real sense of how friendships work
The young audience towards which the show is targeted knows better than anyone else the importance of friendships and how it takes efforts, dynamics, and trade-offs to reach to a place of sharing joy and grief. Class gets a C+ in that aspect as well – one example is how the childhood friendship between Koel and Suhani is used merely as a trope for carrying out a heist, without paying even a fraction of a second for the development of this long running bond. While movies like Joyland are actually exploring the tenderness of female friendships in an orthodox setting, Class feels like a betrayal by delving into stereotypes about how men and women fare with each other. It doesn't help either that all the queer characters are men.
Also read: Privilege And Performativity: The "Influencer" Culture Is Rife With Caste Entitlement
Veer constantly tries to protect the family and his loved ones but always through making choices for them. A rich man who feels all other women are damsels in distress is nothing new but there are constant fluctuations in Veer's character development that stand at odds with his own self-awareness based on his conduct throughout the series. For instance, he understands his friend's Dhruv's sexual orientation as a gay man and offers him solace and safe space. At the same time, he makes fun of Faruq's homosexuality very publicly, which is not a very self-reflective reaction, especially given that it's done in front of Saba, who Veer feels for. Veer, in fact, is more concerned about Dhruv because they share the same class and he doesn't have any allyship or sympathy for the queer community.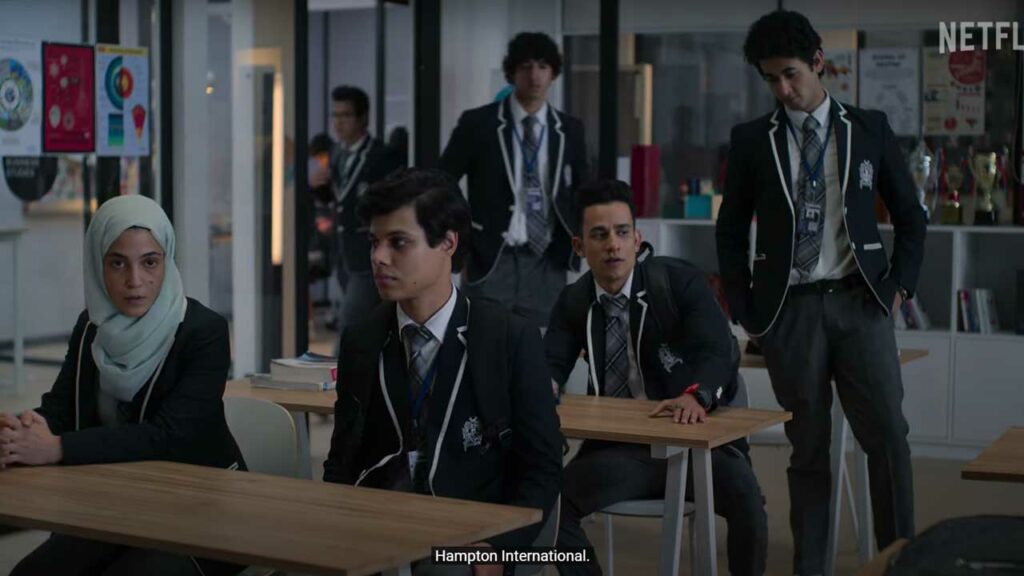 For the people who are from the upper echelons of the society, the struggle is humanised, showing their softer, humane side. For the minorities, the struggle or their life purpose is to make a name for themselves. Overall, there is hardly a scene where these characters are resting – or where they are not an emotional support system for their rich peers. It is understandable that the show seems to anchor the critique of society around the three underprivileged characters but the reflexivity and awareness has to come from the other side, which the show doesn't address. Rather, it portrays relationships that transgress social norms as simply fighting on an individual basis.
Crime is a necessity for minorities
For many characters, to protect the honour of the family's name, violence is seen as the easiest and most convenient option. The show decodes a different portrayal of violence and crime, which at times, offers a confusing perspective. While the rich commit crime and loots the poor to make their own life secure and better, the poor are shown as if they have a moral dilemma in committing crimes. The argument here is not about the morality of the crime. It is more about the power structures which leave crime as a necessity for the minorities, which is further amplified by discrimination.
There is a lot of grey area when any of the minority characters commits a crime, especially when the show forgets that crime can be the last resort. This is particularly true to people like Faruq, where queerness is also attached to criminality (referring to the criminalisation of homosexuality which still exists in many countries around the world). There is a link between crime and second class citizen status in any country. It has been established that when the state treats any identity as criminal, there is a significant impact on someone's psychology. When their existence in itself is criminal, actively deciding to be or not to be a criminal is not going to do anything, that too, at a time when survival and getting out of home to gain freedom is the ultimate goal.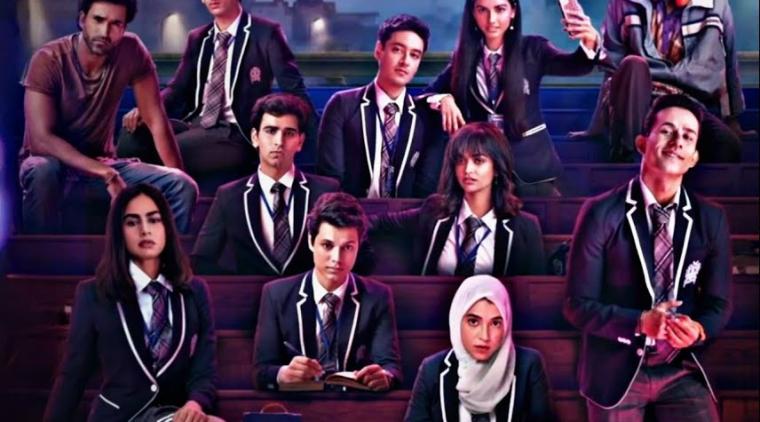 The role of the police also points to corruption and power, particularly in scenes where the people are interrogated about the death of one of its leading characters. Even here, while the show exposes the true nature of those in power, it passes a moral judgement on them in the name of drama. What would be a better avenue would be to understand why parental neglect, abuse of power by police, extreme disconnect between parents and children, and a host of other issues exist because of social status, and the unending need to maintain the status quo and norms.
Also read: Netflix's 'Blonde' Reinforces Marilyn Monroe As A Sex-Symbol Without Deconstructing The Gaze
Class is unfortunately not the love letter to Delhi which it tries so hard to be. Led with a high quality production and marvellous performances from its ensemble cast, it is severely let down by forced inclusivity and hollow, fast-paced narratives that lack any chemistry. Instead of actually navigating the issues of class, sexuality and privilege through a nuanced lens, Class is more busy sprinkling tokenism and making the most out of its soap opera. A worthy contender for the new age to change the landscape of Indian Television, it is still a better alternative than cringy soap operas but it has a lot to live up to in terms of the precedents set by Elite.
---
Class is streaming on Netflix India.