On 19th February, after almost two decades, thousands of Christians again gathered at Delhi's Jantar Mantar to protest against the escalating hatred and violence being faced by the community. Specifically, against incidents that happened recently in the states of Chhattisgarh, Jharkhand, Madhya Pradesh, Uttar Pradesh, and Karnataka in January-February 2023. After the 1999 protest against the brutal murder of Christian missionary Graham Staines and his two children, the community again raised their voices in huge numbers.
More than 100 churches and organisations with more than 15,000 people participated in this protest gathering. Apart from Delhi and NCR, Ethnic Christian groups from the Chhota-Nagpur, Punjab, Rajasthan, Kerala, Tamil Nadu and North East states also participated in the gathering. The protestors offered prayers and songs of worship in their respective regional languages. They expressed their belief that education brought to these regions by the missionaries could help these languages and traditions survive.
What do statistics suggest about the cases of hatred and violence?
The United Christian Forum (UCF)'s President Michael Williams, Activist John Dayal and Human Rights Activist Meenakshi Singh released a report on violence against Christians. UCF is a human rights group organisation based in New Delhi. It monitors atrocities against Christians in India. By the end of December 2022, they mentioned how the organisation recorded a total of 597 incidents of violence against Christians in 21 different states by December 2022. Another such organisation, the Federation of Indian American Christians of North America FIACONA also documented detailed accounts of more than 1,198 incidents of violence against Christians and their churches. Both organisations understood how all the cases of violence and threat followed similar patterns of coercion and aggression by religiously extremist mobs and vigilantes.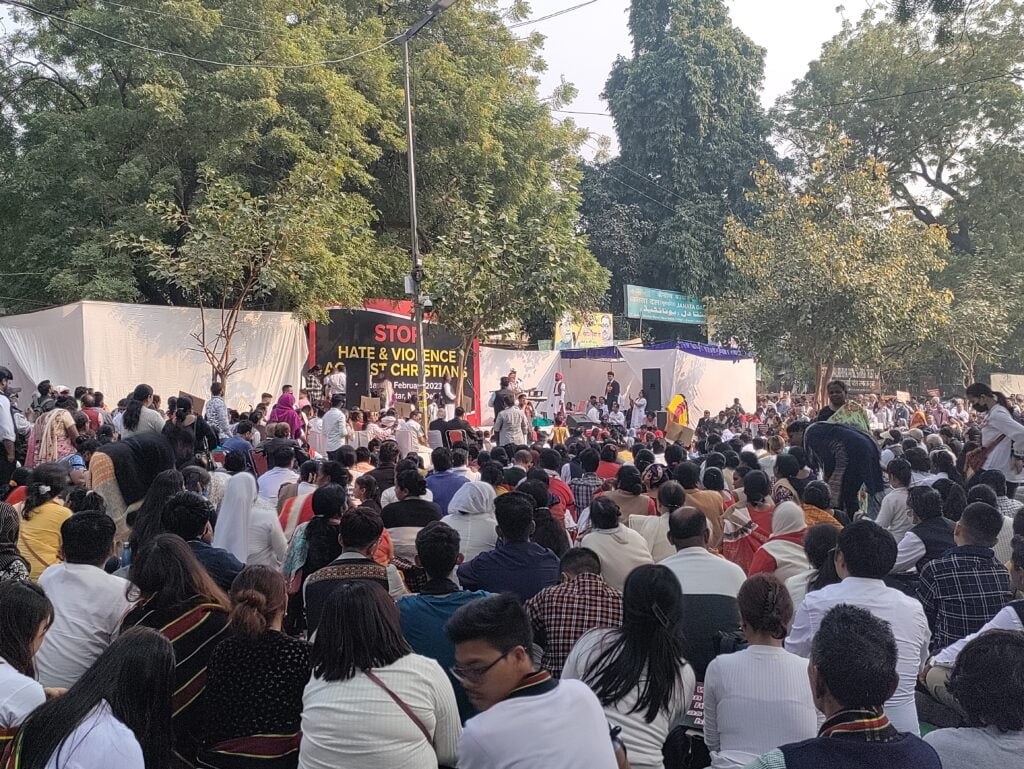 They mentioned "these vigilantes seemed to enjoy a sense of immunity from the rule of law, police and even the local media ".  And further added, "these mobs are accompanied by weapons and injure children and women too while the police watch in silence". In addition, they expressed concern over anti-conversion laws and the threat they pose to the community.
Activist John Dayal mentioned incidents of denial of ration and burial grounds to Christians, attacks on churches during Sunday services, and ultimatums of "Ghar Wapsi" being given to tribal Christians of Chhattisgarh which resulted in their forceful eviction from villages. They have been compelled to take refuge in forests. Dayal mentioned the incidents again from the protest site on Sunday and said, "They want this country to be without father and chadar." President Michael Williams mentioned meeting the Chief Minister of Chhattisgarh in mid-December informing him about the incidents taking place in the Bastar district. Still, people from the villages were forcefully evicted. 
Accounts of the protestors
Bhupendra Kora, the activist from Chhattisgarh, shared his experience of atrocities faced by him and other Christian Adivasis in the state. Over a thousand of them were, in December 2022, hounded out of their ancestral homes and villages in what appeared to be an organised attack, as he mentioned. "They were presented with three hostile choices – perform "Ghar Wapsi", leave the village, or be killed. Those who refused to budge were assaulted, their homes and places of worship destroyed, their harvest burnt and their livestock slain and consumed. Essentially, there was nothing left for them to come home to. He also mentioned the insensitivity towards the cause by local authorities. Tribal Christians had no option left except to live in hiding in the forest."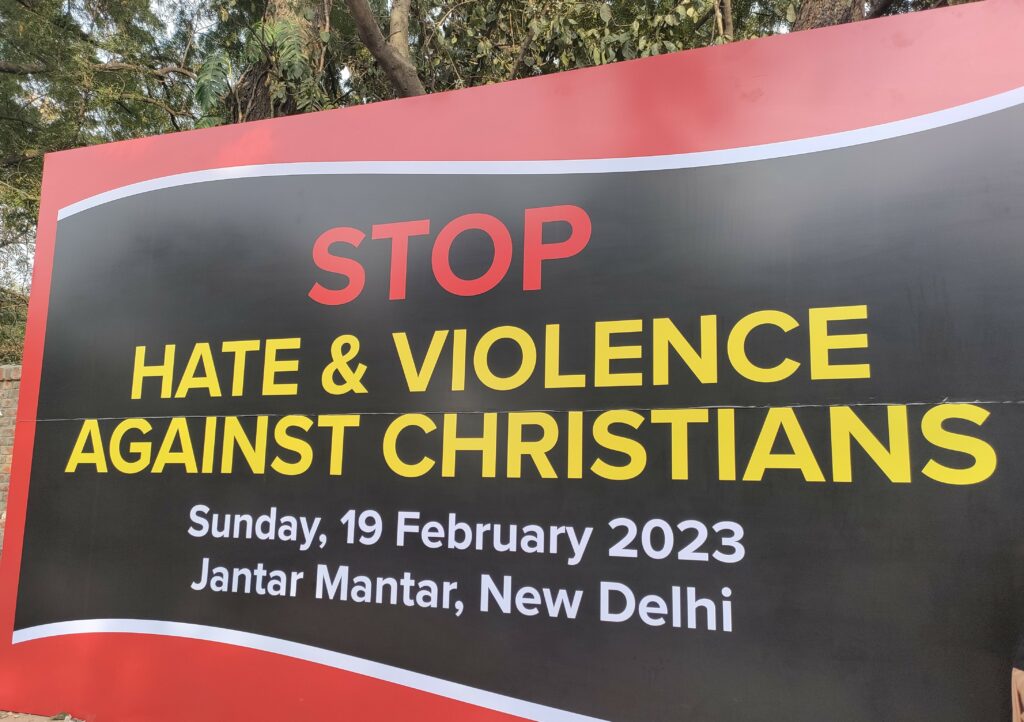 He addressed that on 27th December 2022, three tribal Christian women in the Narayanpur district were physically assaulted in front of hundreds of onlookers summoned to a village meeting and asked to leave their faith. Upon refusal, they were publicly stripped and beaten up. Incidents of vandalism in the Ekta village of the same district were also observed where a grotto of Mary was vandalised in a church. The school on the same campus was functioning when the perpetrators attacked the church.
Also Read: Why Must Hate Speech Against Muslims In India Be Condemned?
Even though the High Court, on 4th January 2023 and then again on 11th January 2023, directed the government to provide relief to these displaced people in government camps set up in the area, most Christian tribals chose to remain in hiding, because of fear of being forced back. Many of them say that they want to return to their ancestral land and their regular lives, but seek police protection and action against the perpetrators. They also addressed issues of Registration of Malicious FIRs, non-registration of FIRs in spite of complaints filed by victims and lack of CCTVs in police stations & illegal detentions among some of their main concerns.
What are the demands of Christians in India from our state?
The members of the community sent a nine-point memorandum in a letter that they have collectively sent to President Droupadi Murmu, urging her to protect freedom of practicing and propagating their faith, so that they live without fear or threat to their lives whether in metropolises, towns or remotest villages of India.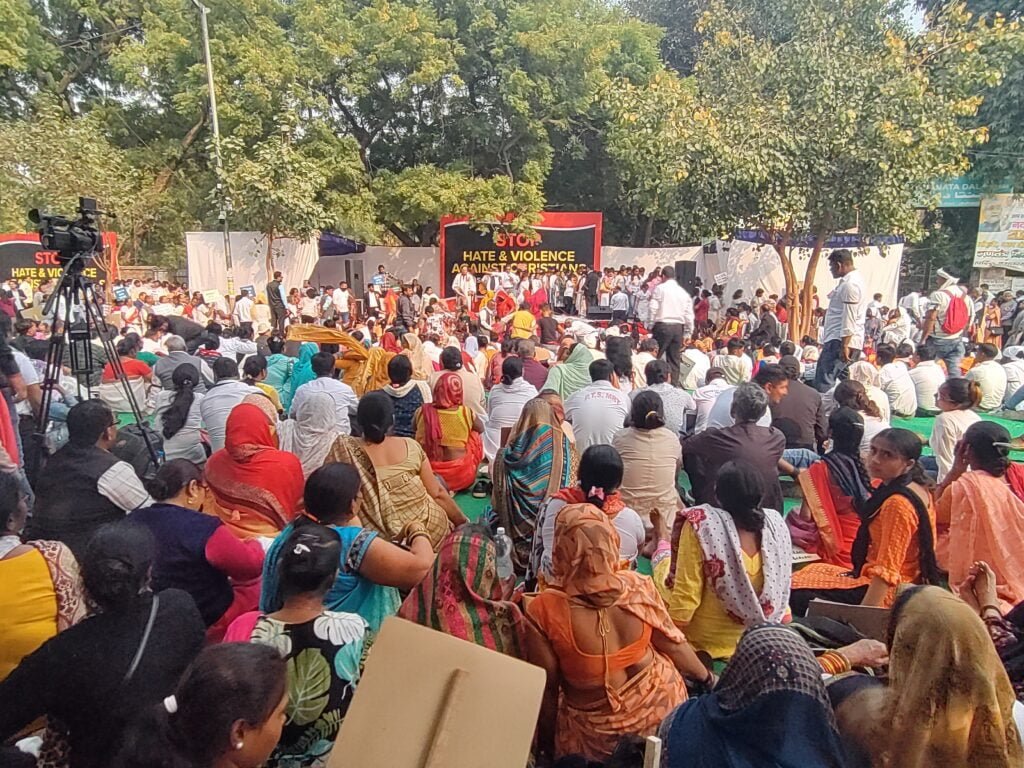 The memorandum in the letter consists of the following nine points as read out at the protest:
"Strengthen human rights monitoring mechanisms, including the National Commission for Minorities and the National Human Rights Commission. 
Constitutes a National/State Redressal Commission/s headed by a retired Supreme Court Judge with representatives of the community and civil society to address the issues of targeted violence against minorities. 
Speedy closure of cases where false allegations have been levied against Christians, for instance in the case of the Late Fr. Stan Swamy who died in prison and many others who continue to face wrongful detentions and prosecutions. 
Reconstruction of illegally demolished churches across the country. 
Appropriate and adequate compensation to Christian individuals and institutions who are targeted for their religious identity, under the central and state victim compensation schemes. 
Strict action against vigilante mobs who round up individuals trespasses private property belonging to churches, Christians or persons of other religions who also have their faith in Christ or raise communal slogans outside police station premises, on the pretext of forcible religious conversions. 
Basic preliminary investigation may necessarily be conducted by the police in cases alleging religious conversions before the registration of FIRs. 
Installation of CCTV cameras in local police stations across India 
FIRs may immediately be registered on receipt of complaints by victims of religion-based violence or discrimination. " as read out at the protest. 
They urged the government for better-equipped law enforcement to offer protection against divisive vigilante groups who curtail religious freedom in the nation and still enjoy impunity while at it. Among thousands of protestors, Father Arul Anthony mentioned, "As per our Constitution, we have the freedom to exercise our faith. But I don't know why we are being attacked. The government comes to our help, but (it's) not enough, it's sad that they are not so supportive of us…". Senior Journalist and activist, John Dayal also mentioned how the protest was more about bringing to the authorities' – government, Supreme Court and local authorities' notice– this sharp rise in the violence against Christians on a national scale.
Also Read: "The Law That Must Protect Us Ends Up Exploiting Us": Discrimination And Violence Against Sex Workers In India
He further appealed to fellow citizens to stand in empathy and solidarity with the community and raise their voices at the targeted, violent and organised injustice happening across the nation against the right to freedom of religion.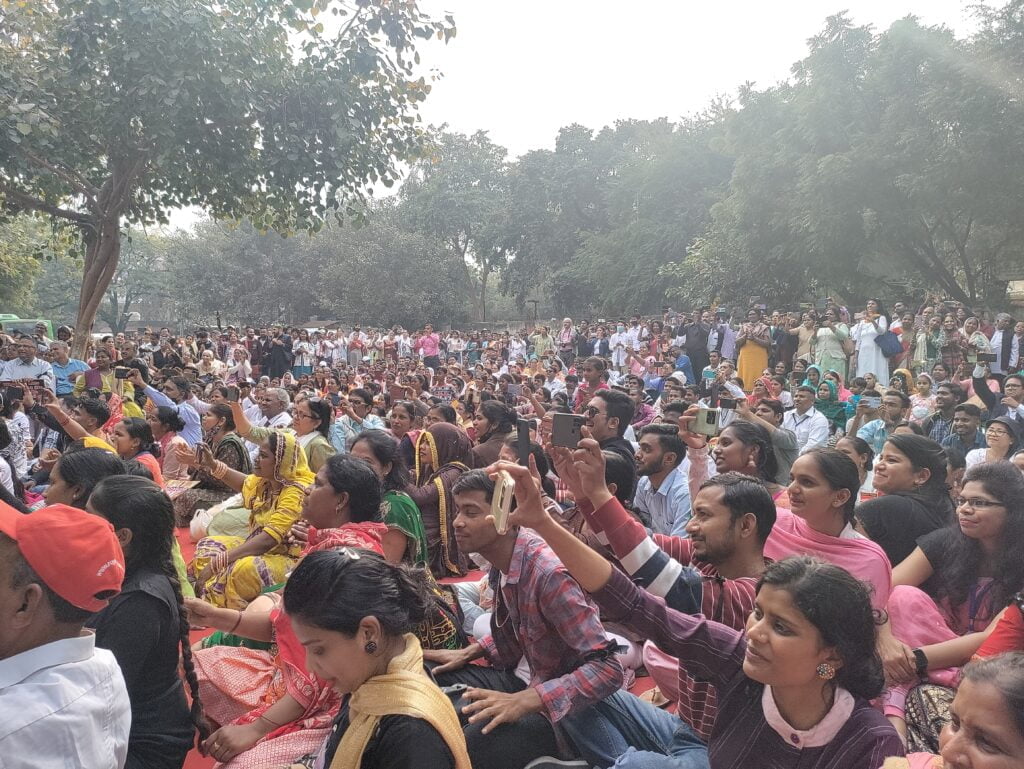 Another protestor raised concerns about how it's the police's responsibility to handle the mob and Christians would carry on their legacy of peacefully protesting further requesting government and law-implementing bodies to take serious actions. Christians in India account for 2.3% of the total population of our country. Recently we topped the Global Minority Index 2022 charts, the TV news was flooded with appreciation and praise for the state. However, the results do not reflect reality very well.
---
A note to the readers: Official documents were received from a source associated with the Council of Evangelical Churches of India, one of the member organisations that moderated the protest. The documents include a list of participating organisations and churches in the protest, annexure, press release and letter sent by the community to President Murmu.