Women in Delhi feel unsafe while travelling, going out for work or just loitering around. This in a way curbs their freedom of movement as the government still lags behind in tackling women's safety issues in the Capital and NCR region. According to National Crime Records Bureau (NCRB), a significant surge of more than 40% from 2020, in crime against women in the city. Hence, it's quite ironic for Delhi as the capital city to remain the most unsafe metropolitan city for women in India.
However, breaking this notion, with art as a medium of expression by representing 'Delhi as a city of women' in this sunny warm spring, ten women from across the country painted beautiful murals on Dwarka Sector-14 metro station's, Gate No. 1 wall. Diligently working on it continuously for more than 9 days, they joined the initiative through an Instagram-based project 'Chronicle of Colors'. A Delhi-based non-profit organisation which works for women's welfare initiated the project along with the design team. The foundation initiated the project in association with the Delhi Metro Rail Corporation (DMRC).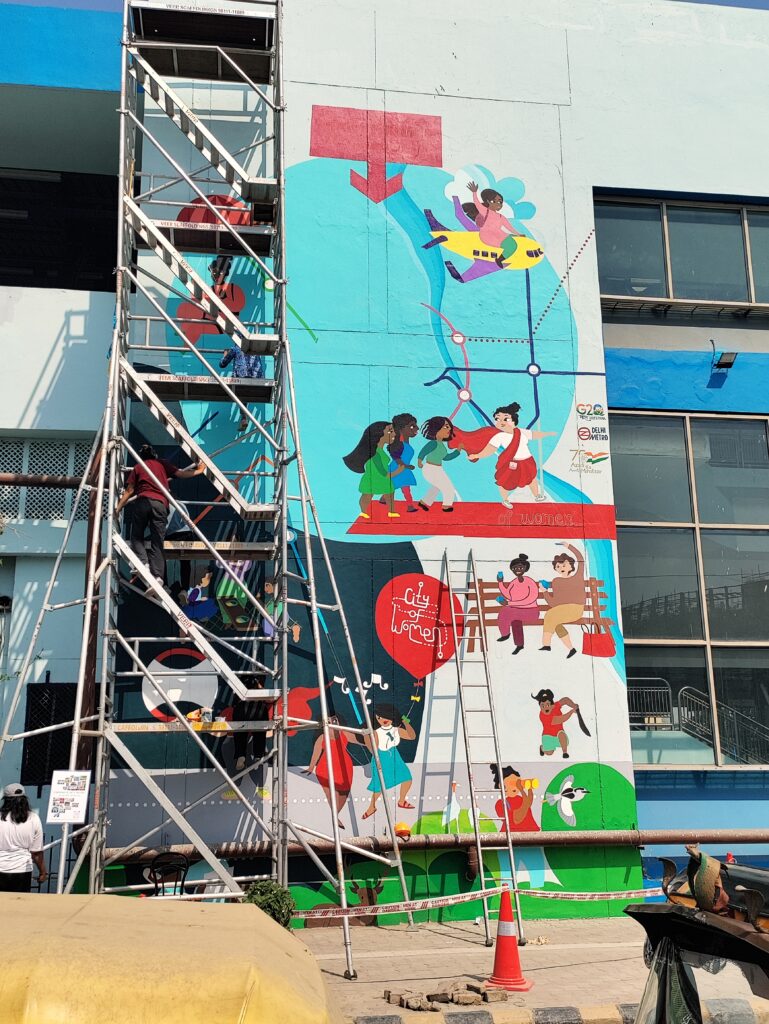 Not a woman's space?
As International Women's Day comes up, the project covered the theme 'City of Women'. Shruti Maheshwari, Co-founder of Chronicle of Colors, told FII about her own journey and the initiative, "I started Chronicles of Colours as just a hobby until last year with founder, Aakash Makan when we completed painting around 60 murals across the country." Explaining what the murals represented, she mentioned,
She talked about the online trolling that they received from people on their reels posted about the initiative on social media. Moving forward with the spirit of showing women at work, she wanted to 'break the stereotypes of whether it's a woman's job or not a woman's space'. Shruti also emphasised the idea of how convenient the metro has made for women to travel across the city.
Also Read: Can Indian Cities Be Better Designed For Women?
Art and women's 'freedom of mobility'
Today, I believe women can pursue so many different activities from playing sports to having a night out and eating at a Dhaba. From flying an aeroplane or riding a parachute to playing cards in parks. That's what these murals aim to narrate. "Regardless of day or night, how women can conquer the city and own these public spaces, making it the city of women," Shruti added.
As International Women's Day is coming up, they expect Delhi to address this issue of women's safety and freedom of mobility. Shruti graduated from Delhi University's Rajdhani College and later pursued her passion for the arts. She mentioned how during covid art healed her health and increased her passionate dream of painting every city wall. Even most women that she hired for the project were also passionate self-taught women artists.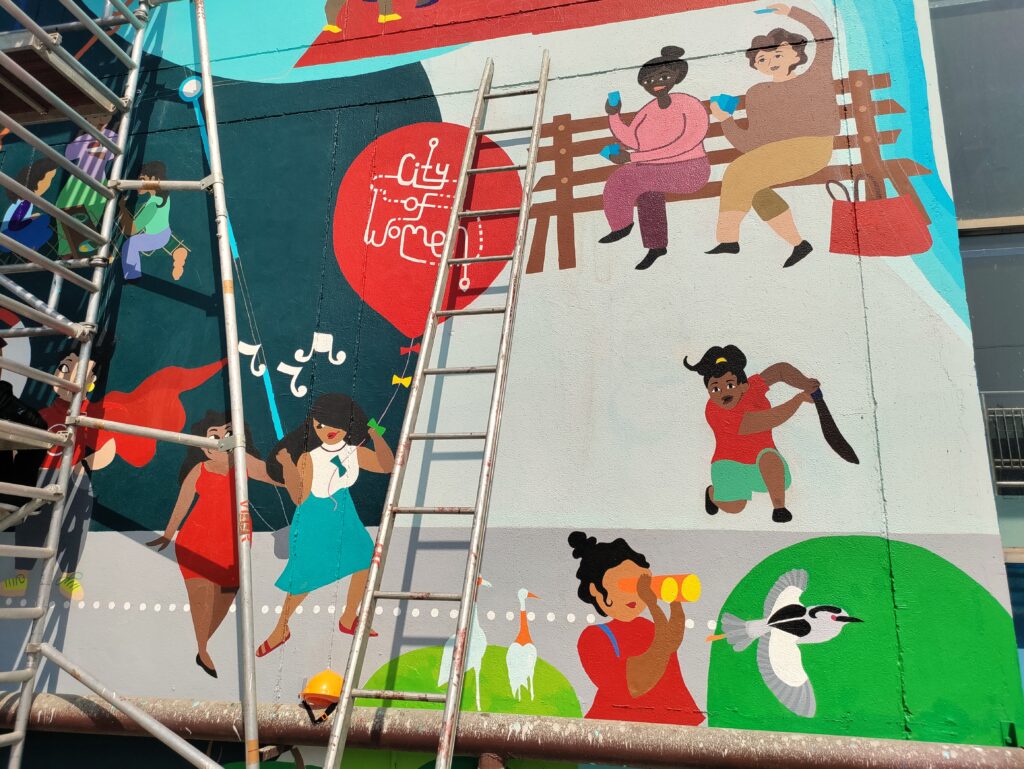 While some were from Delhi, others were from Agra, Mumbai, and even Telangana. They had been pursuing their primary professions but still continued doing art. Although all women hailed from different states, their passion for art and the belief— "Delhi is as much a woman's city, as that of a man's" managed to bring them together. As the Financial Express recorded, this is the first time ever that women from across the country came together to paint a wall that presses on an important socio-political issue, the security of women. A wall that raises a discourse on what Delhi's city life should be like for women.
Also Read: 'Bas Socho Aur Chal Pado': Uber's New Campaign Ensures Easier, Safer Mobility For Women
10 women, one cause
Akansha Agarwal, (27) a professor from Mumbai joined the initiative. In her interaction with FII, she said that this journey made her realise her love for pursuing arts as a profession for the rest of her life. Her indomitable passion for art took her all the way long from Bombay to Delhi for this cause.
"I just started pursuing art as a hobby and I kept wanting to paint on a bigger campus. This is where I started painting my house walls and now my house has turned into an art gallery. Here again, I thought why didn't I do something like this earlier?" Sharing her experience of working together with the other women artists she expressed how they all created a great bond and had a lot of fun. "I have put my heart and soul into these murals and I believe all hard work was really worth it". She expressed how Instagram brought them together and now they share a bond beyond the project.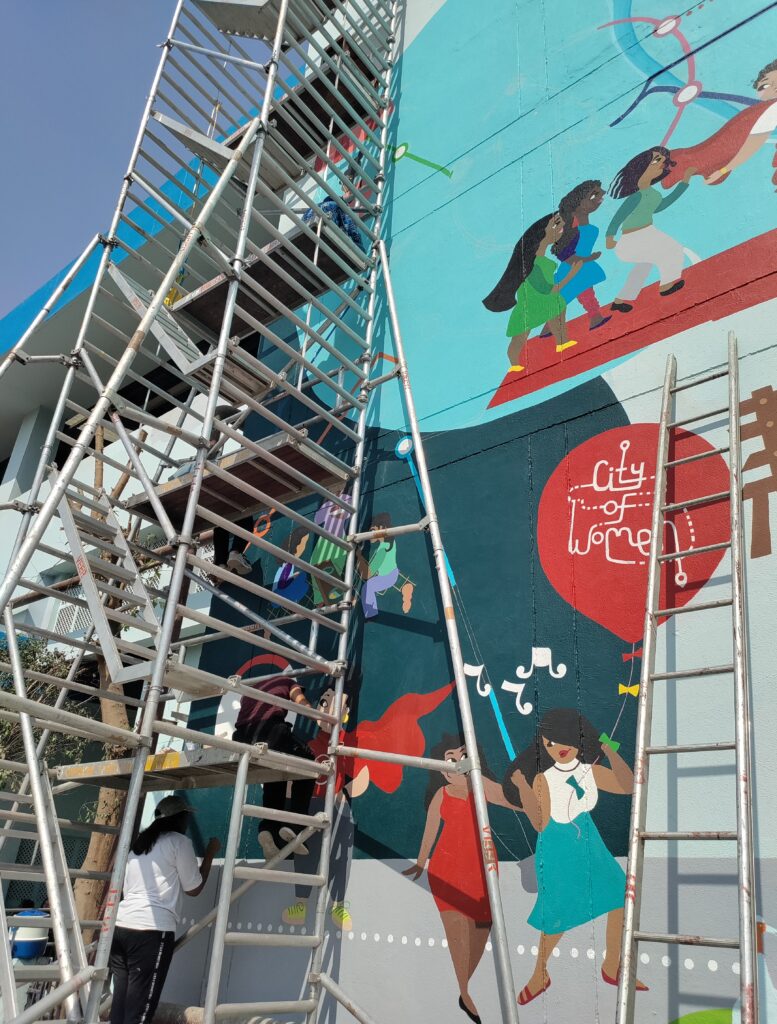 Another artist, Gargi Shingte, a Wall Mural Artist and Digital Nomad who always liked working alone, previously got the opportunity to bond with the team. "I was surprised, even though we all practice different art forms, we still managed to paint in great harmony. While some did sketching others worked on the painting of these murals. Being from Mumbai, I have always grown up with this idea that being a woman, you need to tread your feet carefully in Delhi. But thanks to the metro that connects the entire city into this unique single thread."
Another artist, Shrea who works as a teacher at Air Force School, Agra mentioned her covid experience. During covid "I asked myself, what is it that I actually want to do? Then I came across the work of Colette Miller, an American artist who painted the roadside in New York. I was inspired by her idea of painting walls to remind humanity that we are angels of Earth. This made me feel the magic inside of me. I will put it out as a trinity of spirituality, science and art. This is what I live by. I am pursuing both teaching and art trying to establish a balance. Let's see how far I will go. That's all for my story." she told FII while they completed the mural.
---