Foregrounded in violence and dilemma, Vadh delivers a story of the ethical turmoil a virtuous man and doting husband finds himself in, at the hands of a corrupt and cruel system. However, the very name of the film carries the tone of a decisive moral victory, a story of good over evil with a distinct hero and villain. In its attempt to complicate the notions of good and bad, the film ends up affirming many ideas of justice and revenge that go along with our pre-existing constructions of masculinity.
Vadh follows the tale of Shambunath Mishra who lives a financially difficult yet content life with his pious wife Manju Mishra in Gwalior. Despite being plagued by the familiar aches of loneliness that come with old age and a grown-up child who has moved away from home and remains unreachable, the two are shown to enjoy a life of mutual companionship.
However, this common story is quickly broken apart by the entry of a local rowdy and vulgar loan shark, in cahoots with the corrupt police, who makes the couple miserable and has evidently trapped them in enormous debt. One particularly aggravating demand by the loan shark – Prajapati Pandey – pushes the otherwise gentle and apathetic Shambunath over the edge as he murders Pandey. The rest of the film is spent evading the police investigation that follows Pandey's death.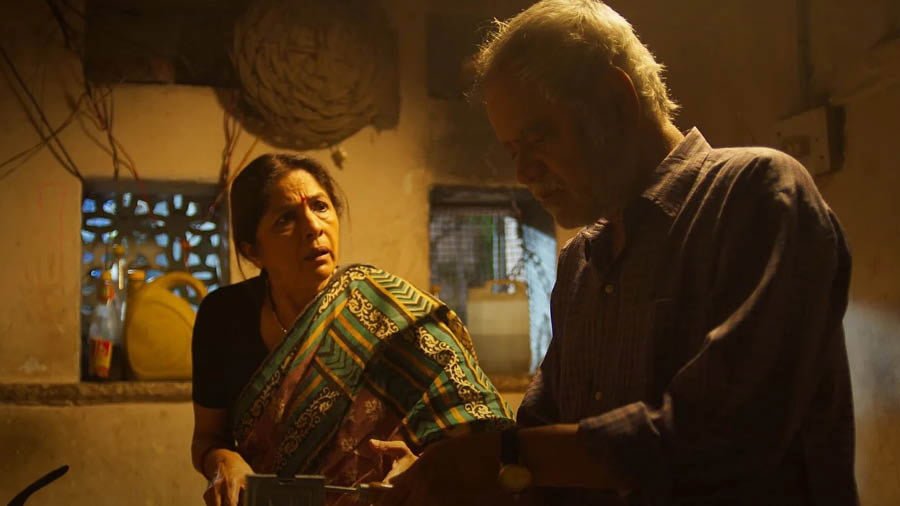 The entire film is premised on and driven by a familiar trope in Indian cinema: a paternal figure who problem-solves to protect his family. Subsequently, the moral dilemma he faces is also unique to paternal figures who are 'providers' and 'protectors.' The moral dilemma that Shambunath faces is thus, not universal but unique to a man in the Indian context. The considerations that turn a murder into a 'Vadh' (slaying someone) are therefore only valid in masculine space.
The initial troubles that Shambunath and Manju face are linked to Shambunath's 'ability' to provide. Their son is insistent on going to America to upgrade from their current lower-middle-class lifestyle. The Mishra family finds itself in a sea of high interest because Shambunath takes heavy loans to finance his son's move to the US. Their son had initially promised to help them repay the loans but eventually distances himself from his parents, becomes engrossed in his own family life and leaves his parents behind to deal with the aftermath of the loan.
Also Read: Film Review: 'Gaslight', Who Is Gaslighting Who?
We feel compassion for the debt-trapped parents who not only have to repay an enormous amount but also must deal with the humiliations of Pandey. In a flashback we see their son make a biting remark, accusing his father of not doing enough to financially support his move to the US and scoffing at his father's pay grade and achievement. Clearly, we are meant to sympathise with a man who went above and beyond to fulfil his paternal role of providing.
However, Shambunath is an incessant provider. He sets rat traps in the household, goes out to get groceries and is the sole earner in the family. In other situations, when the womanising Pandey brings a woman to their house and has intercourse with her in Sambhunath's and Manju's bed, Manju is horrified at seeing a used condom on the floor after Pandey leaves. Shambunath gently ushers her out and promises to deal with it.
Shambunath's paternal instincts also extend to one of his 12-year-old students – Naina. He runs a tuition service and both Manju and he have grown fond of a neighbour's daughter who comes to study at their house. Even with very little money, Shambunath buys a cake for Naina's birthday and both Manju and he celebrates her birthday together. Shambunath is the figure of an ideal man who upholds his duty of providing even for his chosen family when his own son abandoned him.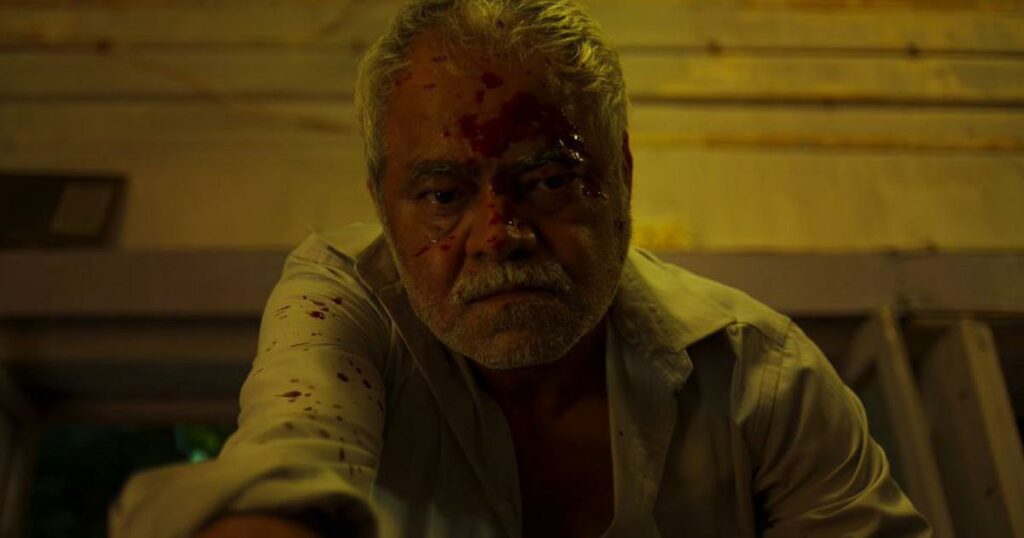 It is for Naina, that he ends up murdering Pandey. Pandey promises to lift all of Mishra's debt and the source of all his misery if he 'brings him' Naina in the middle of the night. Enraged by this demand, Shambunath murders him.
It is this rage and the fervour to provide and protect that the Vadh valorises. Upon seeing Pandey's dead body, Manju is horrified. She is scared of her own husband and when Pandey's wife and child come enquiring about his whereabouts the next day, she breaks down when they leave and states that they have committed a grave sin. She validly raises the question, 'What authority did we have to kill him?'
Manju is deeply troubled because a man was murdered in her house when she wouldn't even allow a rat trap in her home. Her ethical dilemmas are attributed to her religious considerations of sin and virtue which are no comparison to the characteristically rational Shambunath's decision to murder Pandey.
Also Read: Film Review: 'Rekha' Questions Gender-Based Violence And Abuse
Shambunath at no point feels as though he has done anything wrong. However, his wife's judgement irks him. He seeks her validation. Eventually, when he tells her about Pandey's demands, Manju's ethical considerations are dissolved and she once again begins to see her husband as a virtuous man who did what he needed to do.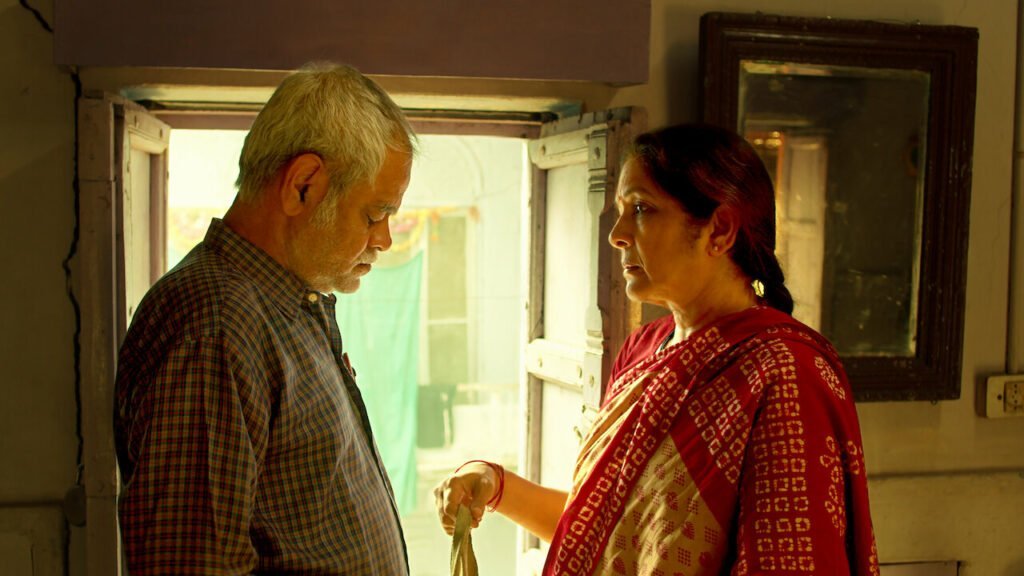 The point here is not to weigh in on whether Pandey deserved it or not, rather it is to gauge the ways in which the Vadh constructs an ideal masculinity that is aspirational and comes from notions of defending the 'honour' and 'protecting.' The film does this by projecting Shambunath as the ideal man and never truly engages with the nuances of his moral dilemma. Instead, his decision to murder another man is celebrated as the correct action since he was acting out of indignant rage and a need to protect.
Towards the end of Vadh, Shambunath admits his crime to the investigating officer. He states with pride and confidence that he was unable to sleep for three days after he slapped a child in school one day but slept peacefully knowing that he had 'slayed' a demon.
Also Read: Bheed: A Well-Intentioned, Heavily Censored Film Uncovering The Tragedy Of The Lockdown
Manju adds to this narrative by admitting that after her forty years of marriage to him, she could attest that he was a good man. The investigating officer, after hearing the reason for the murder, also decides to perform his small act of justice by not arresting Shambunath for Pandey's murder and instead arresting an equally troublesome Dada that Pandey worked for. Shambunath cockily admits to Dada that he was the one who killed Pandey and that he would do it again if the need arose as triumphant and inspiring music plays in the background.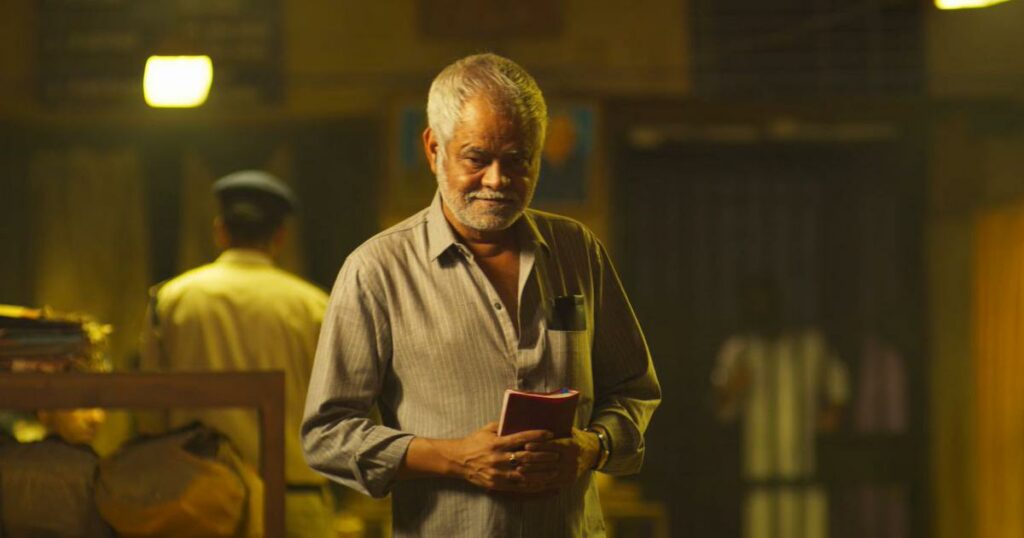 The elevation of the father or paternal figure to a capable Drishyam-style problem-solver is not new in the cinema. In the context of Malayalam cinema, Navaneetha Mokkil stated:
"…the apprehension about women's sexual violability is interrupted because of the actions of the father who is granted heroic powers. Drawing on structures of stardom to configure the father as capable of action and retaliation, a clear boundary is established between active masculine bodies and vulnerable feminine bodies."
Vadh introduces an intriguing idea. Can justice be secured even when your means of achieving it are 'wrong?' This is an excellent question for cinematic exploration but perhaps the gendered nature of the idea of justice needs to be questioned too.
---