The Gujjar are an ethnic group found in the Indian state of Jammu and Kashmir, as well as in Pakistan, Afghanistan, and other parts of South Asia. They are primarily known for their pastoral and nomadic lifestyle and are considered to be one of the largest communities in the region.
They have lived in the region for centuries, and their unique culture and way of life have become an integral part of the local identity. The major ethnic communities living in Jammu and Kashmir all have their own distinct attire from Kashmiris to Gujjars, Bakerwal, Pahari and Dogras.
Initially, all Gujjar women would possess the art of stitching, jewellery making and embroidering, which kept their traditional attire alive for a long time. However, the younger generations are showing less interest in the rich traditions and the art of making skull caps is fading away which has hit the livelihoods of many in the tribe.
Also Read: Gujjar Women's Ongoing Struggle For Education And Employment
Shahida Khanum, a graduate in social sciences of a remote area of North Kashmir's district Bandipora, seeks to restore traditional attire by knitting, embroidering, stitching and making handmade jewellery of the Gujjar community of Jammu and Kashmir.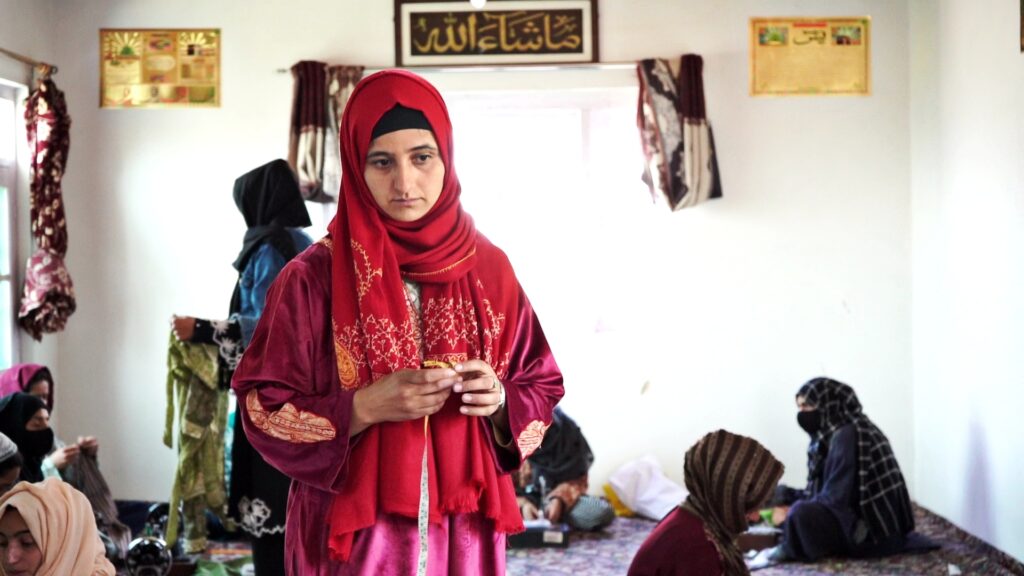 This tribal community makes up a sizable portion of Jammu and Kashmir's multicultural population. As per Census 2011, the region's Gujjar population were around 9.8 lakhs while the Bakarwals, a related community, numbered 1.1 lahks. Both are almost entirely Muslim. A study of the 2011 Census data by the Centre for Policy Studies shows that the population of Gujjars and Bakarwals had grown by about 33 per cent over the previous decade, much higher than the state's average growth of 23.6 per cent.
This population possesses their own culture of clothing, food and lifestyle. Tribal lifestyle, especially wearing traditional clothing has been diminishing in recent decades, as the new generation of youth is influenced by modern fashion.
Discomforted about the dying culture, Shahida has opened up a centre in her native village Aragam which is located in North Kashmir's district Bandipora where more than fifty girls learn stitching, jewellery making, embroidering dresses and skull caps for tribal men and women.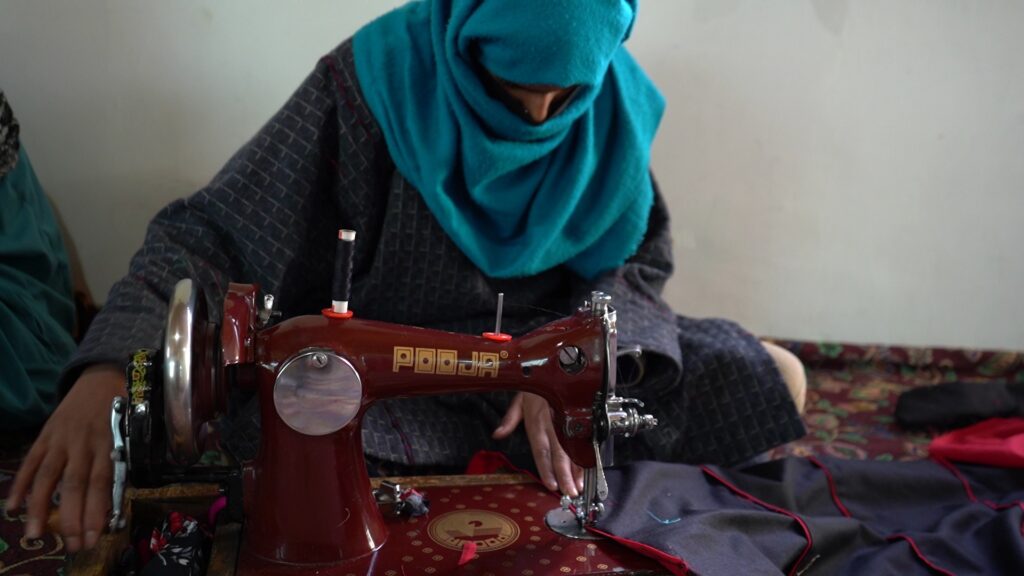 Shahida has learnt these skills from her family members including her mother, who is an expert in Sozni (Needlepoint embroidery technique) and Roshni, her sister-in-law, who has done an Industrial training diploma from Srinagar in knitting, tailoring and embroidery.
"Traditional attire of tribal community is vanishing because young generation doesn't know how the making of these apparels is done and no one was able to revive and preserve it," Shahida Khanum told FII.
"Beginning is always tough for a person who wants to do something on his own but when I opened this centre I got a great response from my family and this attracted many local girls to pursue training here which is totally free of cost," she added.
Also Read: The Tale Of Zuni Gujjari And The Women's Militia Of Kashmir
"We are not getting any financial support from Government and that's the reason we are not growing as we expected," she added further.
The Noor Centre opened by Shahida is going to benefit a vast population of tribal communities and this has ignited a ray of among tribal women. There are already some trainees who travel five to six kilometres on foot just to learn here these skills which are quite appreciable.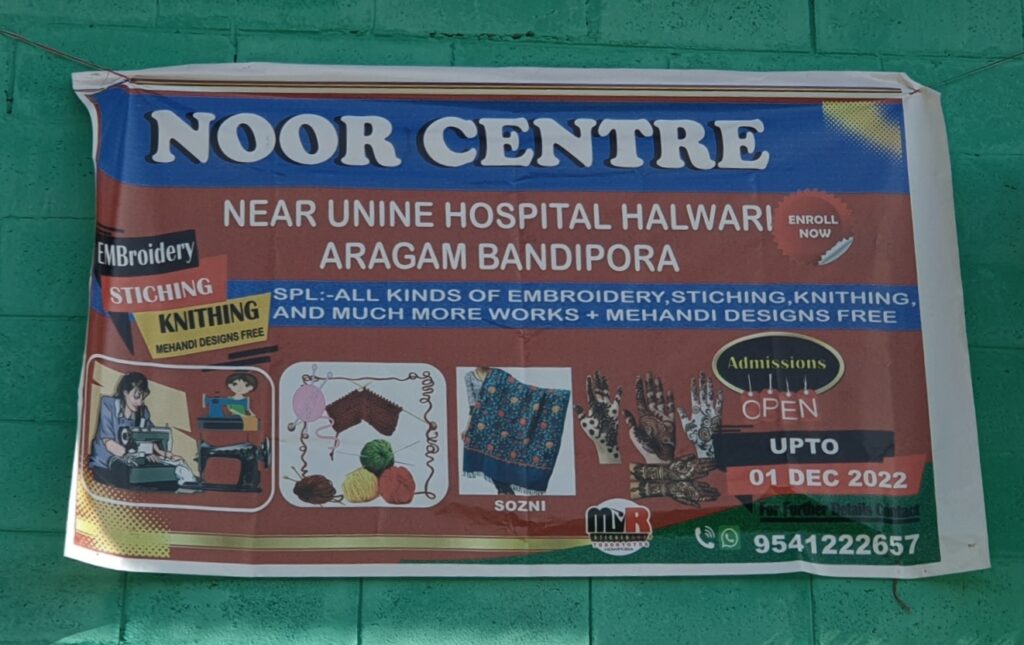 "The motive behind all this is to reclaim the lost glory of tribal attire and make women financially independent," Shahida said to FII.
In the centre which is set up in a big hall where trainees are young girls, most of whom are graduates and some have completed their secondary and higher secondary education. The centre remains open from 10 am to 4 pm with at least one-hour training in each of the skills.
"We enjoy and feel comfortable in this centre because our instructor is herself a woman and these days it's difficult for a woman to learn in co environment," Zarina, a trainee, mentioned to FII.
Dr Ghulam Mustafa, who is the first tribal scholar from the area and currently District Development Council (DDC) member from the area, who inaugurated the Noor Centre said that the youth of the tribal community in the area is highly talented.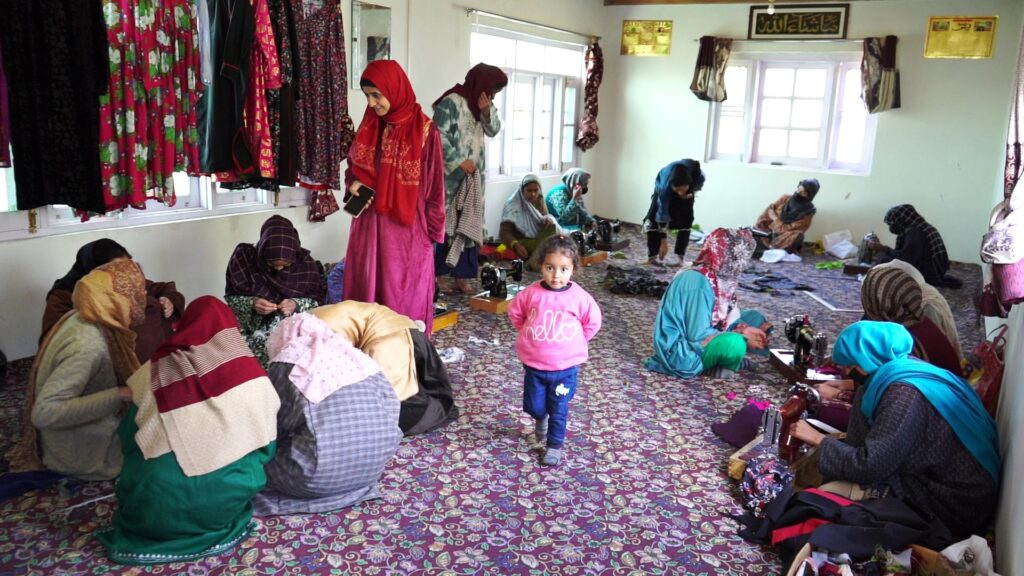 "Instead of going out to learn these skills, it's better for them to be trained here. The centre is going to make many tribal women financially independent.", Ghulam Mustafa mentioned to FII.
Shahida's family especially her father, Abdul Majeed who is a Government employee, is the main strength behind her daughter's dream of becoming financially independent. "I suggested Shahida do something different which can make her financially independent and beneficial to the community as well", he told to FII.
He said that he offered the space in his house for setting up the Noor Centre. The hall can easily accommodate 40 to 50 trainees and an office chamber. He also paid for the six sewing machines for the centre.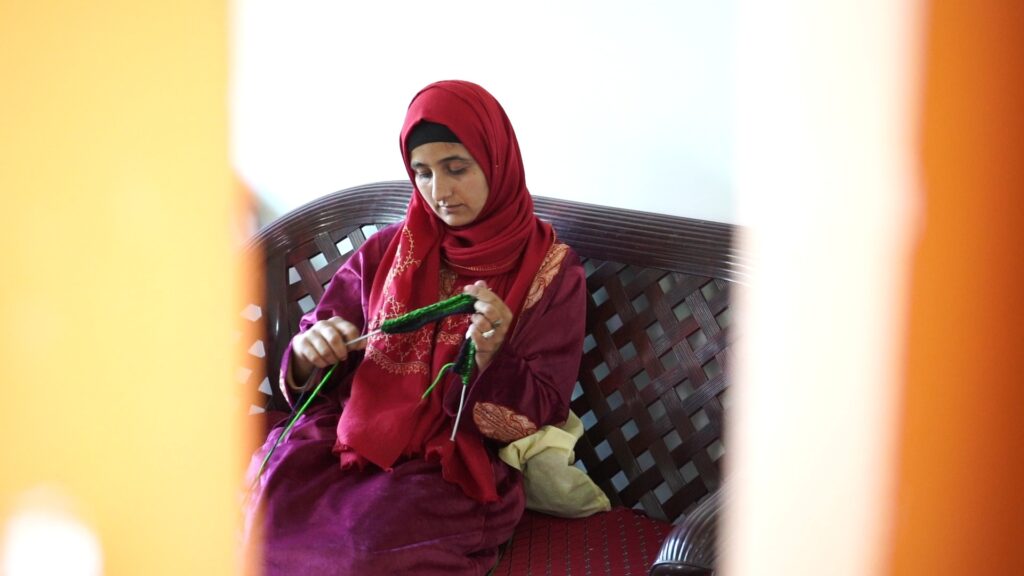 Shahida, who opened the Noor Centre for the revival of Tribal attire in December 2022, has high hopes to further grow her skills and provide free training to make tribal women financially independent.
Also Read: Meet The New Vastas: Kashmiri Women Breaking The Gender Disparity In The Wazwan Industry
The native population are also appreciating the hope that it would help the youth in getting jobs and keeping them away from vices and social evils.
---