I attended my first play party (a gathering in a private space where kinksters can safely engage in kinky activities with and around each other) in September 2022. I was a wee novice in the world of kink, wading around its waters both shallow and deep, with the help of my prized personal floatation device: the support and encouragement of a partner who has been an active part of the kink scene for a decade. Even so, I felt a certain amount of trepidation going in.
Even as a sex-positive, promiscuous person who wears her 'slut' tag with an immense amount of pride, being so completely vulnerable around a room full of people who were mostly strangers to me was a daunting prospect. Thankfully, my curiosity supersedes my anxiety on most occasions, including this one. 
Once the elaborate process of introductions—guidelines on consent, personal kinks, soft and hard limits—was done, most of the experienced kinksters dove right into it while I settled in the corner of the room to watch the proceedings unfold, having announced to the group that I would join in if and when I felt comfortable.
As I watched, I started to get mildly overstimulated by the sights and sounds around me. At this point, I noticed a woman who had introduced herself as a laid-back dominant, gliding over to me, a black satin robe swishing around her knees. On coming nearer, she asked, "May I kiss you?" in the most self-possessed way I have ever heard anyone ask that question. I was instantly disarmed. "Of course," I said, returning her smile, and then she bent down and planted a kiss on my cheek, leaning in closer to give me a warm hug before straightening up and walking away.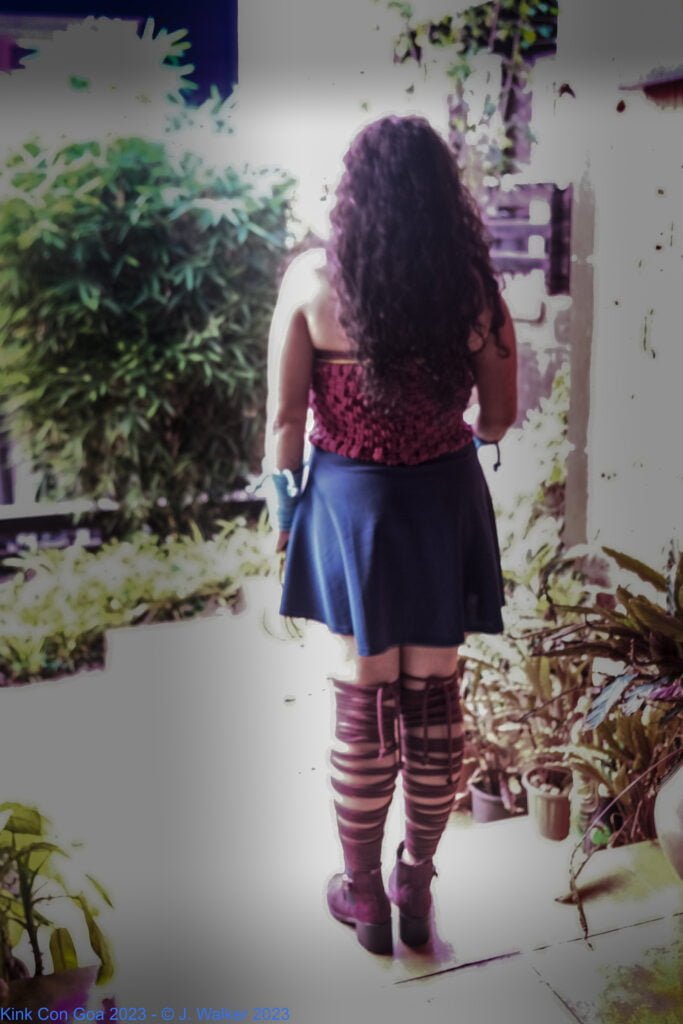 It has been six months since the aforementioned play party encounter and my interest in femdom has grown tenfold, thanks to my newfound role as a dominant. I seek out others to understand how they navigate the world of domination and power at the Kink Con, a National Kink Festival, organised by an activist group called the Kinky Collective over three days in Goa in April 2023.
"My style of playing is soft domination," says Sandhya*, an attendee at Kink Con to FII. "For me, my power is not about me taking control, it's about the submissive gradually, willingly giving it up. I know the other person has the desire to give up power and control, but at no point does it come from a place of ego. This is just play, outside of it we are equal human beings."
The other Dominants I managed to speak to at Kink Con, between the hectic panels, demos, fashion show, theatre and discussions, helped me see how singularly and unique their styles were. It isn't just a generic combination of cracking whips, cruel sneers, latex, and a list of guidelines to have strictly adhered to, which, to be honest, was one of the reasons I could never see myself as dominant.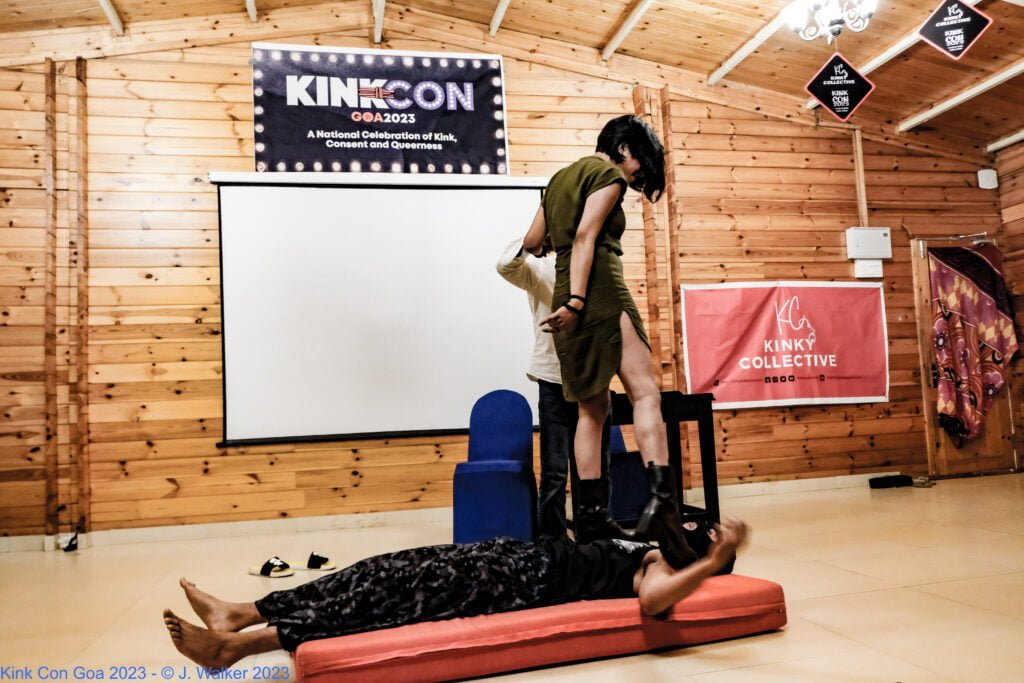 When I started to wade the waters, a submissive told me that his previous dominant, an American tough-as-nails disciplinarian, exerted so much control on him that she would maintain his diet and sleep schedule. He said this with a kind of reverence, indicating that he was ready to transfer that kind of power over his life. I couldn't help but laugh. I barely had a handle on my own schedule, I certainly wasn't going to take on the responsibility of doing it for someone else. It was, for the lack of a better word, too much power. And I didn't want the hassle of it.
"It's more about me letting go. I've never engaged with terms like 'power dynamics.' I am sure of where I am standing, I'm very sure of where my submissive is standing. I've just never seen it through that lens of power. For me, it's more about shedding layers of conditioning and doing what comes effortlessly."

Antara*
"I've never thought about it as wielding power," says Antara* to FII, another Kink Con attendee and a dominant woman who has been a part of the kink scene for almost ten years. "It's more about me letting go. I've never engaged with terms like 'power dynamics.' I am sure of where I am standing, I'm very sure of where my submissive is standing. I've just never seen it through that lens of power. For me, it's more about shedding layers of conditioning and doing what comes effortlessly."
Also Read: Wonder Woman — A History of Kink and Queer Erasure 
Antara is a woman after my own heart. She has an easy, casual demeanour and she wears her dominant tag with irreverence. As I happened to glance in her direction during the Kink and Feminism panel at the convention, I couldn't help but notice that there were two people sitting deferentially at her feet. On the other side of the room, a submissive man lay on the floor while two women sitting on chairs rested their feet on his body. At the kinky fashion show that took place the night before, Deepti*, another dominant woman, strode out with 'a pet,' a submissive woman on all fours, and her very own sense of style.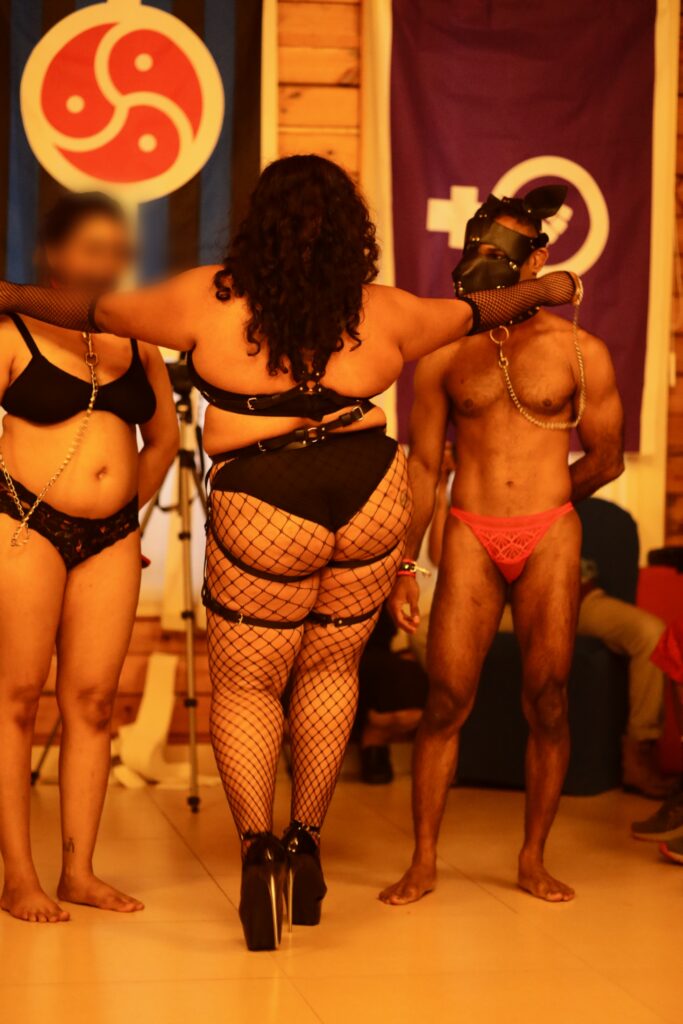 Forgoing the latex, fishnet and heels, she opted instead for a roomy (and way more weather-appropriate) dhoti-kurta, complete with a strap-on that she brandished later. She says she's always had a fantasy of dressing up like a zamindar, and this was the perfect opportunity to do it. "Even outside the kink scene, I'm always in charge," says Deepti. "Basically, I'm the man of the house and I'm a self-employed person, so I'm used to wielding power. There's this cliché, those who are always in charge seek respite in submission. I can never submit. That I have realised. My respite comes from channelling beasts or predators. If I am comfortable with the sub, I like to imagine I'm a leopard or a snake hunting for prey. Plus, there's obedience. The power of being obeyed gives me a rush."
"What if the roles were reversed???" You will find this particular question on the Internet, a lot. Usually, replies come as comments from angry straight men who are pissed off with the fact that a woman can get away with doing things they can't. This question of gender role reversal is based on a lot of assumptions (including the one where gender is binary) that leave out context and the small issue of institutional oppression, completely. While I choose not to engage in this level of elevated internet discourse, I must admit my experiences and interactions around femdom do pique my curiosity around this particular query.
What if the roles were reversed? Professor Marston and the Wonder Women is a biographical movie based on the life of William Moulton Marston, a psychologist who also created the comic character Wonder Woman, and his two polyamorous lovers, Elizabeth Marston and Olive Byrne (on whom the fictional character was based). William Marston was a vocal advocate of the practice of 'submission to loving authorities' and was also into rope bondage.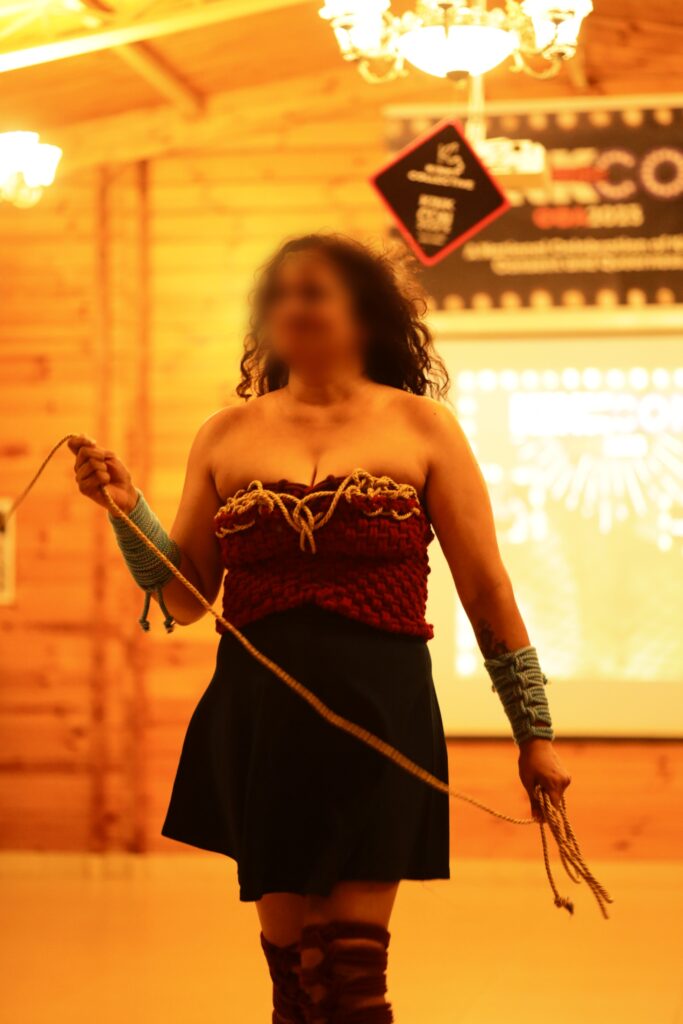 Wonder Woman's famous Lasso of Truth is an obvious call-back to that particular fetish, and to the fact that he helped invent the lie detector. You heard it right – Wonder Woman was created by a polyamorous, submissive academic who believed that the world would be a better place if we could just learn to submit to a woman's loving authority. As I watched a self-taught rigger walk down the fashion show runway in a Wonder Woman costume fashioned entirely out of rope, it was hard to hold back a giant smile. Even the comic book fanboys can't refute this one.
Also Read: Kinky Promise: Does My Sexual Submission Make Me A Bad Feminist?
---
*The names mentioned in the article have been changed due to privacy reasons.