Sarah A Soule, Neil Malhotra, and Bernadette Clavier described Social Innovation as "the process of developing and deploying effective solutions to challenging and often systemic social and environmental issues in support of social progress." It refers to the development and execution of new ideas, goods, and services that address social challenges and improve people's quality of life. Social innovation is significant because it seeks to address issues that remain unresolved.
In recent years, social innovation in India has gained tremendous traction, with individuals, organisations, and the government attempting to develop new solutions to some of the country's most serious social concerns. India is one of the world's most populous countries. It is the world's largest democracy and has a unique geographical and people diversity, as well as a bilingual and multi-ethnic community. India has the world's sixth-largest economy, with a GDP of $3.1 trillion. The country boasts one of the world's fastest GDP growth rates. According to the Economic Survey for 2021-22, India's GDP would likely rise by 8-8.5% in FY22.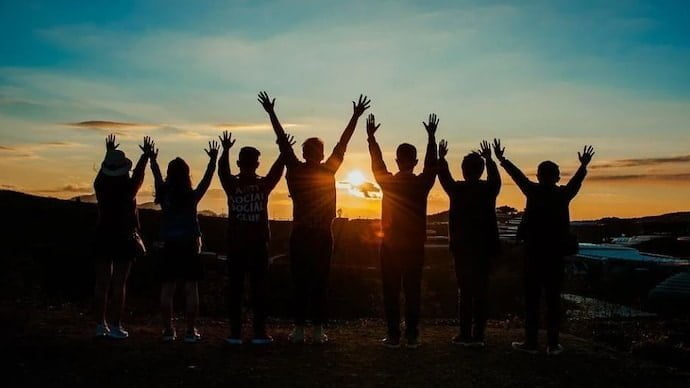 However, there are significant differences in the country's economy. Today, India has some of the most difficult obstacles in poverty alleviation, with difficulties such as low levels of education, poor health outcomes, and limited access to inputs to improve lives stifling the country's progress. Thus, in a country like India social innovation can pave the way to solving the country's most pressing issues that have somehow still not found sustainable solutions.
In India, social innovation is gaining pace with the collective efforts of individuals, organisations and governments. Head Held High is one such organisation which is among the pioneers of social innovation in the country to help empower the youth through its initiative Innovation for Telangana State (i4TS) in partnership with the Telangana Academy of Skill & Knowledge (TASK)
About Head Held High
The Head Held High Foundation is a non-profit organisation based in Bangalore that works to alleviate poverty, one of the world's oldest and most widespread issues. They respect the values of equality and dignity for all and place a specific emphasis on supporting society's most vulnerable groups by offering skill development, employment assistance, and other supports so that they can reach their full potential.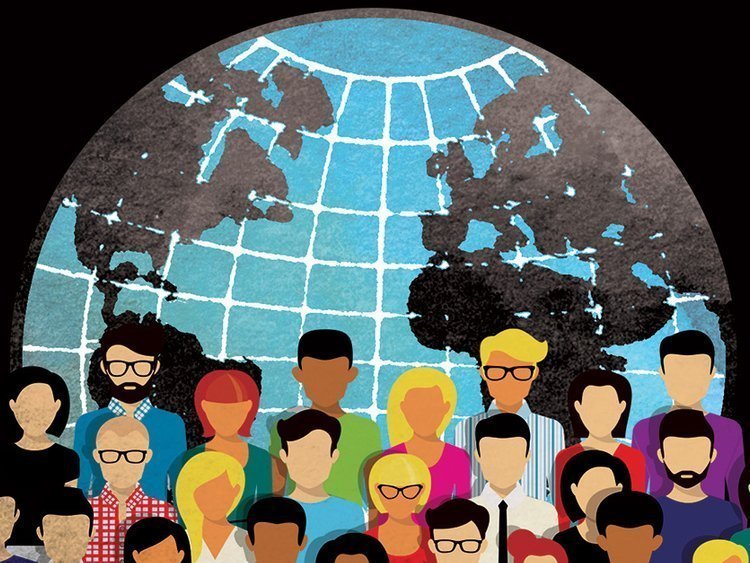 HHH has influenced the lives of 100,000 community members over the last decade, the majority of whom are teenagers between the ages of 18 and 25 with little or no formal education – from rural areas, the poorest of families, the most marginalised communities, and most girls (67%). This has been accomplished through their community-based centres based across 19 states in India.
The HHH promotes its Theory of Change, which claims that poverty has several dimensions. This extends beyond issues of income and education. Poverty, according to the organisation, can be eradicated, but only on a person-by-person, family-by-family, and community-by-community basis, with a poverty-eradication response targeted to each of them and assisted by community mentors and institutions. As a result, they have chosen the life and work capabilities and well-being plan, which is available through their community activities.
About the i4TS initiative
To accelerate social innovation in Telangana, the programme was launched in December 2020 in collaboration with the Telangana Academy of Skill and Knowledge (TASK). Entrepreneurship training, an Ideathon workshop (to help that chosen focus on ideas in one of five subject areas), and incubation to help develop some of these innovations were all part of the programme.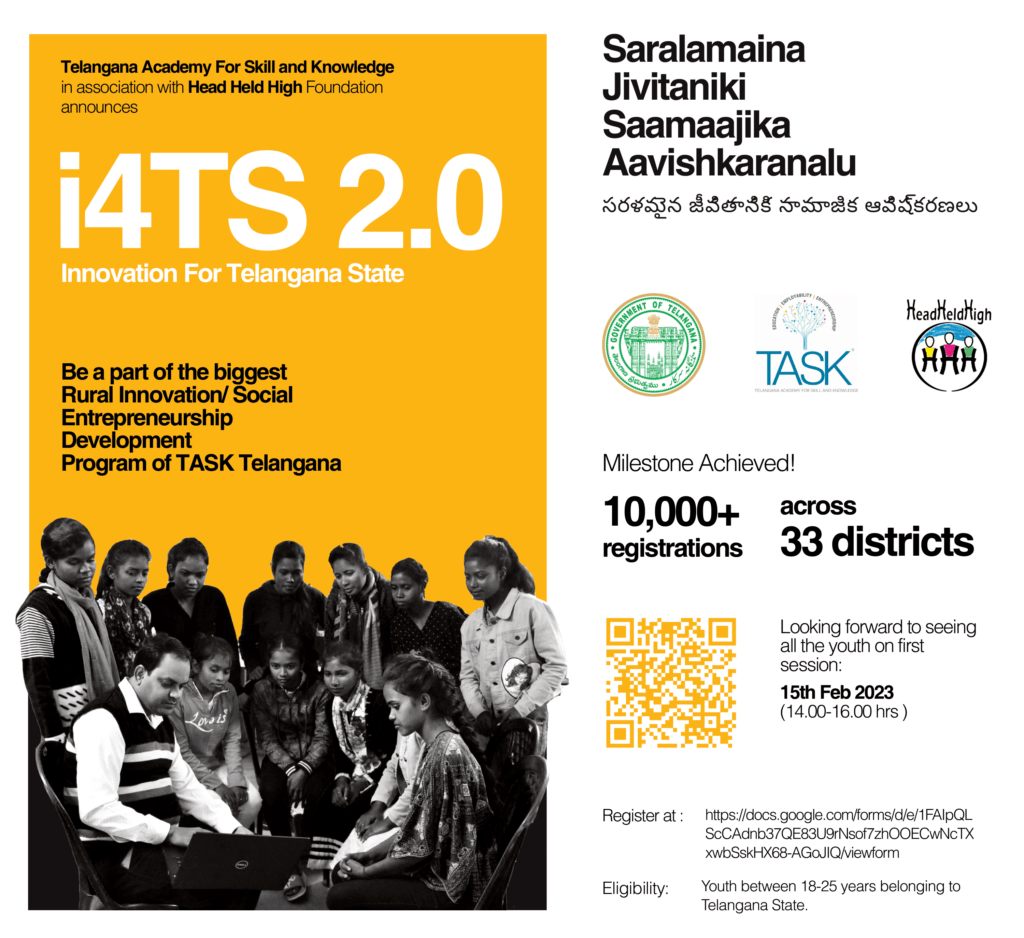 The entrepreneurship awareness program was aimed at making the youth aware of what exactly is social innovation and how can it be used in various fields like healthcare, education, agriculture etc. It aimed at developing among them the primary attributes of an entrepreneurial mindset creative mindset, persuasive communication ability, intrinsic motivation and drive, persistence, and ability to learn from failure, pursuing them to have a positive mental attitude. They were made aware of some entrepreneurial stories through panel discussions with young entrepreneurs.
Also Read: Making Its Own Way For Development: HHH And Antarprerana Lifting Up The Rural Community
They were made aware of what social innovation is, its need, opportunities, and power of innovation by young people in various fields such as:
Healthcare – Social innovations ensuring accessibility, availability and affordability of healthcare. Solutions that improve last-mile delivery of health services, and improved health outcomes for all.
Education, Skills and Employment – Social innovations ensure education, skilling and employment opportunities for all, leaving no one behind. Solutions focused on preparing vulnerable youth for the Future of Work.
Improving Access – Ensuring access and connectivity, with a focus on bridging digital and financial gaps, social protection benefits and last-mile delivery.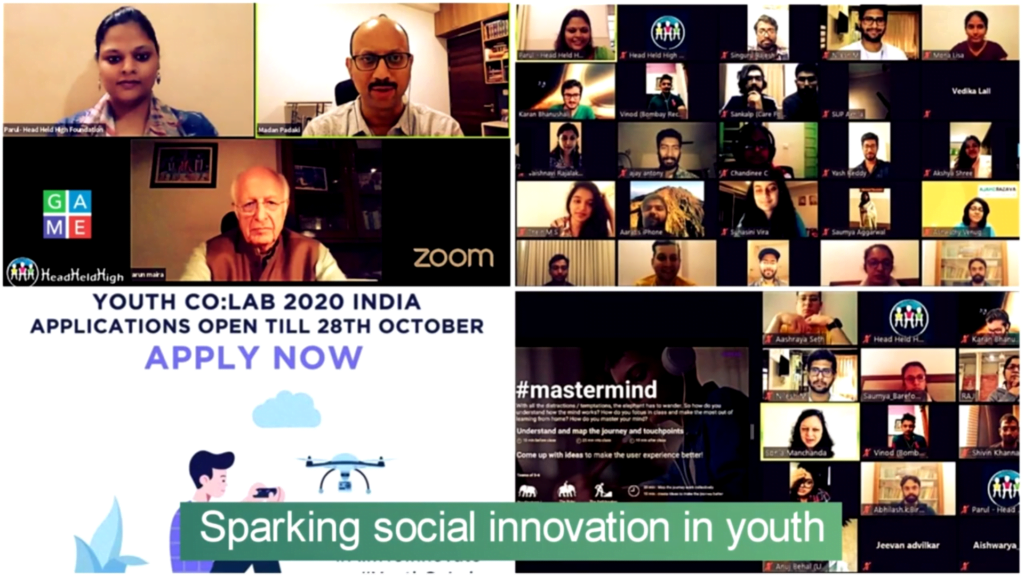 Urban Development – For the design and delivery of public services for establishing sustainable cities encompassing mobility, & smart cities amongst other solutions.
Agriculture – Social innovations ensuring improved production, crop survival and market linkages. Solutions that address farmer distress, new farming techniques and enhanced agricultural earning including value add products and create sustainable livelihood opportunities focused towards improving rural incomes through community-based interventions.
Environmental Initiatives – For regenerating natural systems, green economy & recycling to save the planet. Environment, climate, and circular economy – Design thinking for social innovation – Define the problem, ideate solutions, empathise with end users, create prototypes, and develop a business plan.
Outcomes of the initiative
It helped the youth of the state in developing insights, mindset and attitude for entrepreneurship, and readiness to start their entrepreneurial journey.
To understand the dynamics of how to create social change & innovation.
To get access to a template for self-exploration, and abilities for starting as an entrepreneur.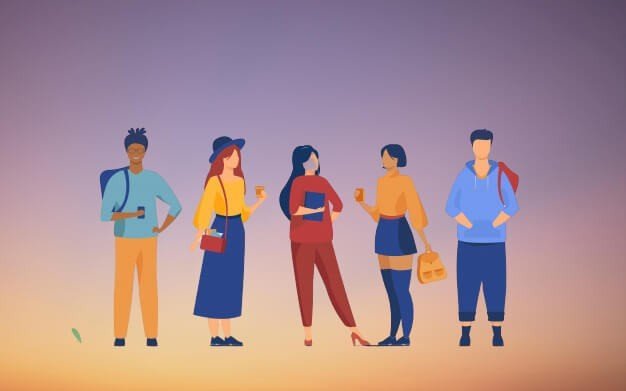 In the programme participants were asked to identify one problem in their community, who is affected by the problem, how are they affected, and what if the problem was not there based on this 'what if' – participants draw out solutions, and they also develop insights on how well the community benefit if the problem is solved the shortlisted ideas, will get further mentoring and guidance from state incubation centres mentoring by industry experts on their ideas across SDGs to enable the creation of well-rounded solutions. Incubation and partnership opportunities to test out their idea and build a strong and scalable model.
Social innovation: Relevance for India
India despite being the fastest-growing economy in the world faces acute challenges like that of social as well as economic disparities, in light of these initiatives like the HHH's i4TS can help in fostering social as well as economic inclusion among youth.
Unemployment is again a pressing issue for India. In light of this i4TS, it not only enables the youth to make themselves employable but also prepares them for being future entrepreneurs and drivers of social change creating employment opportunities for many other youths in the country.
Most of the HHH's initiatives are based on a bottom-up approach and i4TS is one of them it helps the youth in developing innovative solutions for specific communities through its training which helps in knowing the issues of the community at the grass root level and builds much more inclusive solutions.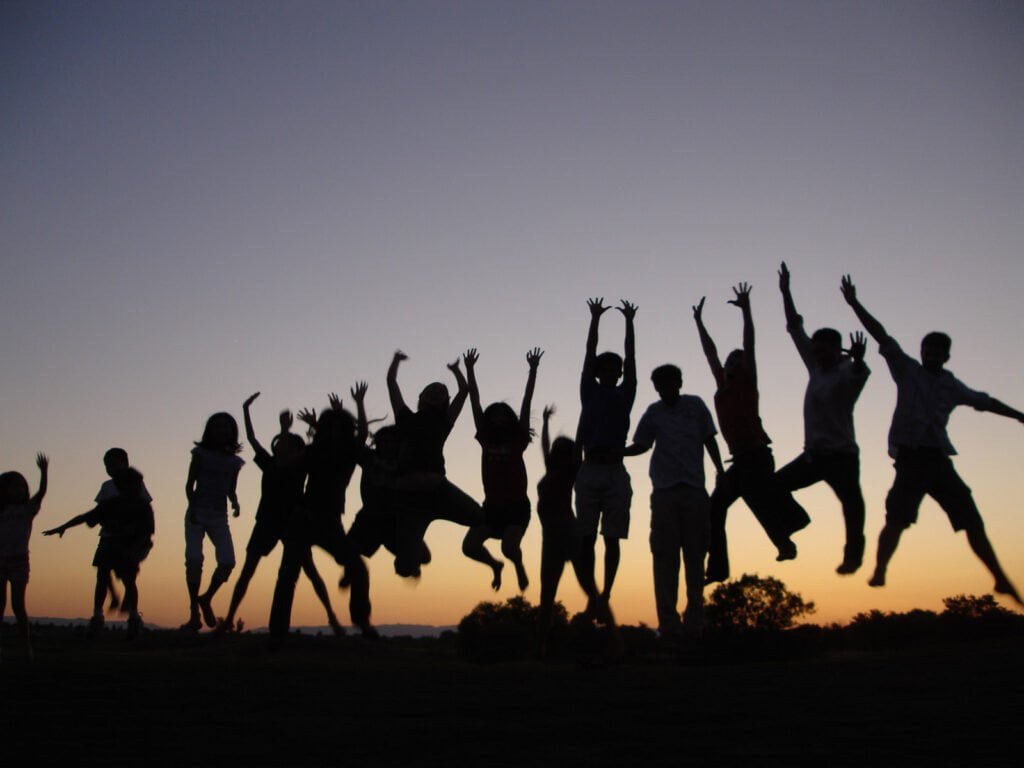 The pandemic had exposed the vulnerabilities of the country's health systems not only in India but also the world initiatives like i4TS can make health systems more sustainable.
Not just the health systems but also the supply chains were adversely affected during the pandemic, and education faced a blow with schools and universities being closed. Thus when the young generation is empowered with a vision to bring about social change through initiatives like i4TS, makes the systems more collaborative and far-reaching to help millions across the country.
In India, agriculture is still primitive with farmers not being aware of the latest innovations in the field resulting in low yield, and less productivity and creating vicious cycles for the farmers of India forcing them to die in vain. i4TS and initiatives like these can be a boon to agriculture with the youth making the newer innovations available in the field to the farmers and this way, they will too develop an interest in the field of agriculture.
Also Read: Localising Poverty Alleviation: HHH And Social Security Access From The Bottom-Up
Thus, Head Held High's i4TS initiative in partnership with TASK is a comprehensive and collaborative effort that would not just empower the youth through social innovation but will also help foster strategic and comprehensive changes in every sector of the economy giving a boost to growth as well as making the growth sustainable also.
---