Popularly remembered for her iconic pairings with Dev Anand, and her Bollywood image as the carefree, 'new-age,' woman, but most popularly remembered as wife to the superstar Shammi Kapoor, Geeta Bali remains an enigma who is nothing short of an inspiration. If not for the 70s films she managed to make before her untimely death, then for her fiery spirit that continues to kindle a flame in the son she left behind, Geeta Bali was a celebrated Bollywood female actor, singer, dancer and producer who left an indelible mark on the industry as we know it. Almost 60 years after her death, however, few remember her tragic story. 
Of the many stars and heroes who come from the Kapoor family, those that are often lost in the glamour of the names are the wives. The power of the Kapoor surname, with its ability to create the sort of buzz an industry such as Bollywood profits off from, overshadows any potential for an independent existence.
What we mean to say by that, in other words, is simply that once the surname is attached to a woman married into the family, she is merely reduced to the title of a 'Kapoor Wife.' The popular Bollywood legend that narrates how this star-studded family particularly dislikes a well-established heroine as a bahu only supports this claim. Such is the plight of many that choose to marry into this family today, and such was the plight of Geeta Bali, the 50s heroine who dared to change the game even as she played it. 
Childhood and the beginnings of tragedy 
Before all the glitz and glamour of the newly rich film industry in the then city of Bombay, Geeta Bali was an ordinary girl born to an ordinary Sikh family from Sargodha, Punjab, a region that falls in present-day Pakistan. Geeta Bali was born to Kartar Singh Bali and his wife, whose name remains unknown even now. Kartar Singh worked as a religious speaker and kirtan singer, which meant that there was always little to go around the table in the family. Even so, they lived a happy life. Right off the bat, she displayed immense talent in the performing arts. She took to accompanying her father at his kirtan recitals at an age where she did not even understand the words that she beautifully sang.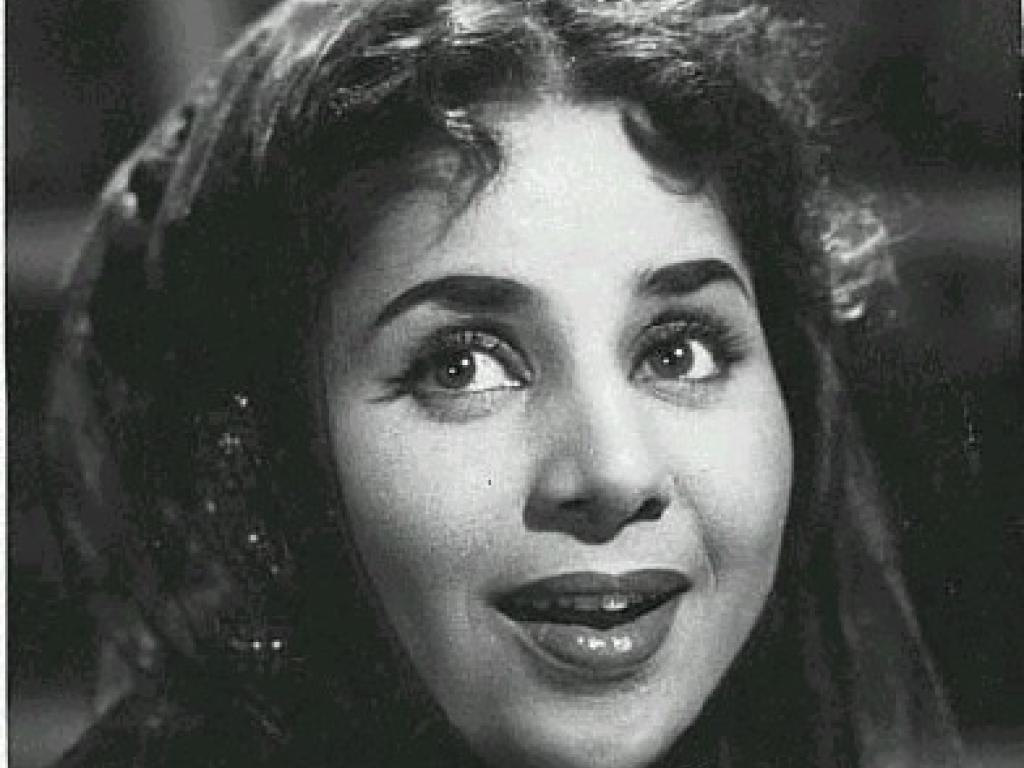 Legend has it that this practice is precisely what gained her the name of Harikirtan Kaur. However, she later dropped her given name to adopt the shorter, more trendy screen name as her career in the films took off to unprecedented heights. While the pinnacle of her fame and glamour was on full display for the world to see, Geeta Bali's venture into the acting space was one that came out of compulsion. 
Bali's climb to fame
Already deep in abject poverty, Harikirtan Kaur and her family's condition only got worse when her father caught smallpox, a deadly disease in the 30s. The infection spread fast and even affected his eyesight, which meant that the almost-uneducated girl had to begin contributing to the family income at an early age. Luckily for her and her immense talent, Harikirtan landed her first acting job as a child actor at the mere age of 12. She appeared in the film The Cobbler (1942) in a smaller role before going on to star in Badnami (1946) which was her debut.
However, her first claim to fame only happened in 1948 with the release of Suhaag Raat, directed and produced by Kidar Sharma. This was Geeta's debut as the female lead in a film as she worked with other rising names in the industry. From here on, it was only upwards for Geeta. She was a perfect fit in the industry with her cheer and charm that easily secured her a place in people's hearts. Kidar Sharma took a particular liking to her as she went on to sign several films with him.
Her first project was with her future brother-in-law and one of the biggest of the Kapoor names, Raj Kapoor. Over the course of 14 years, Geeta Bali went on to work in over 70s films with a myriad of different actors that paralleled her rise to fame, a roster that included even her future father-in-law, Prithviraj Kapoor. Geeta Bali's quintessential rags-to-riches story and her move from the small-town girl to the big-city actress was one that was dramatic, and yet inspiring to other women who looked towards the silver screen for inspiration. 
Even in that time and age, Geeta Bali chose to be fiercely independent while dodging the manipulation and politics that come hand-in-hand with an industry that makes big money like this. She avoided divulging too many personal details and yet spoke up when it was her chance to have her opinion accounted for. She was a clever woman who knew what she wanted well and knew how to get it even better. Even in the short span of her life, Geeta was an acclaimed singer, dancer, and both a stage and film actor— the original triple threat who showed us all how it's done. 
As she found her place in the industry and became a permanent member of the creative community, she began to offer the same help that she had once received in the way of Kidar Sharma. As an acclaimed film star with the money to speak for it, Geeta Bali went on to produce films of her own, helping new talent find a footing in the industry along the way.
In 1953, she produced her first film with Guru Dutt as the director, who was at the time still considered a newcomer. Dutt and Bali were already well-acquainted with one another, having previously worked together on the set of Dev Anand's Baazi (1951) which starred the producer opposite Bali, with Dutt as director. Having been familiar with his work and confident of his expertise, Bali trusted him with her most special project that welcomed her older sister into the world of film.
Dutt himself played the lead in the film, opposite Geeta Bali herself, as her sister and she shared production credits. Dutt credits the enigmatic actor for having made him realise that as an artist, he must explore the space in front of the camera as well, having already been adept behind it. 
Finding love and family 
The story of Shammi Kapoor and Geeta Bali has been a popular legend within the film industry and this tale of quick and fast love was just as filmy as the two who were embroiled in it. Coincidentally, Kapoor and Bali met on Kidar Sharma's film set in Ranikhet, the same director who had given Bali her big break. It was 1955, and Kapoor at the time was shooting for Sharma's Rangeen Raatien, in which Geeta Bali herself was involved.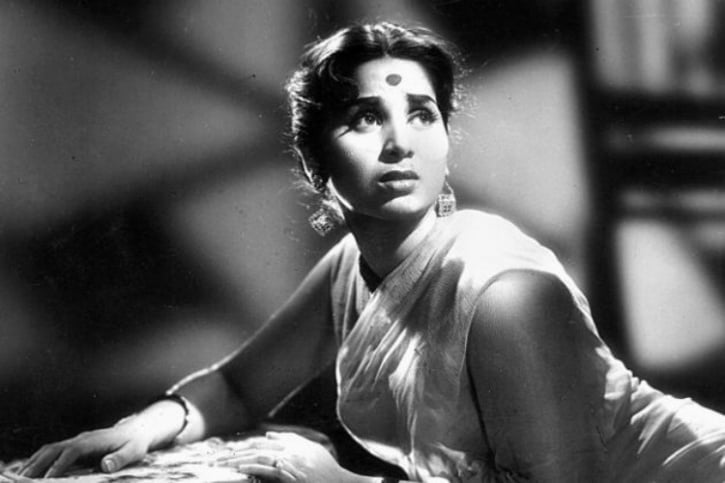 At the time, despite being related to now well-established actors in the industry, Shammi Kapoor was a 'struggling actor,' who was Geeta's junior not only in terms of experience but also age. Even though there was only a singular year's difference between the two, with Bali being 24 and Kapoor 23, the match was unconventional and sure to face backlash from their families.
Besides, Kapoor was much too focused on building his career whereas Bali was already considered a veteran, having already worked in the industry for 10 years then. 
Even so, the two fell madly in love and decided to marry each other the same year, on 24th August. Bali was hesitant to make the match permanent, however, but apparently, Kapoor had remained firm despite the fear that his father and brother would disagree with the match.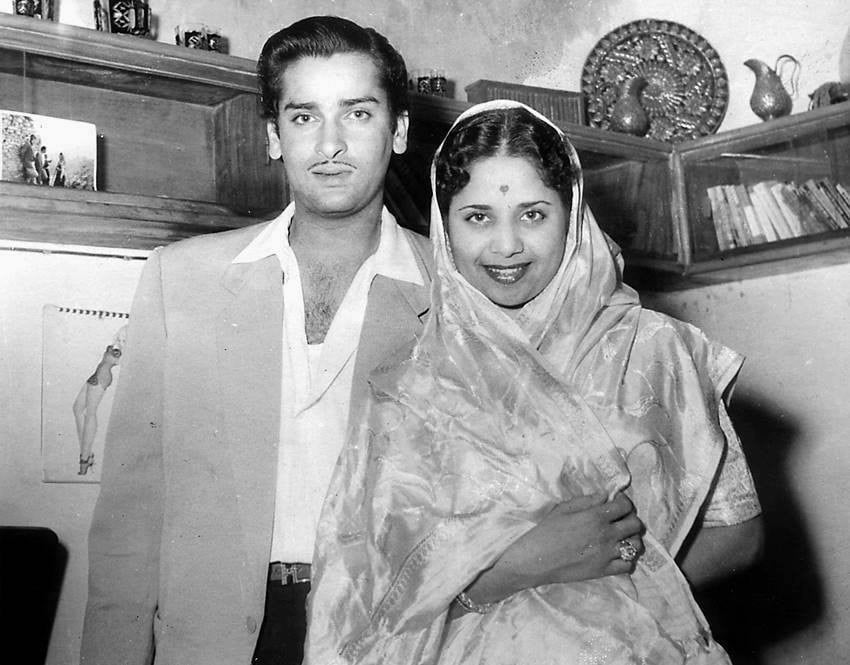 Bali having worked with the two men on-screen only made things more complicated. But the young-in-love couple decided to spontaneously have a temple marriage way past midnight— as filmy as it gets! At 4 a.m. the marriage ceremonies were complete and when the time came for Kapoor to mark Bali as his wife with the traditional sindoor, Bali pulled out a lipstick tube instead: rebellious through and through. 
The two lived a happy married life together, and eventually even Prithviraj Kapoor and Raj Kapoor came to accept her as the bahu of their house despite the fact that she continued to work with film post her marriage. Such was the charm and patience of Geeta Bali, who managed to win over even those who claimed to hate her.
In the course of their marriage, Geeta Bali had two children: a son and a daughter, named Aditya and Kanchan. She is narrated as a fabulous mother, and fun-loving, who took her children on long drives even after tedious work hours and never said 'no,' to an opportunity to spend time together. However, she was also a strict disciplinarian and wanted her children to receive the education she never did. Aditya Raj Kapoor still talks about his experiences at boarding school, how his mother made this decision and how she was the one to visit him time and time again. In fact, she seems to have been the authority in the house, often running the household completely at her own expense. 
A life come full circle 
The turn of fate can play cruel tricks however, and in 1965 when Geeta Bali was on set for another one of her films, she caught the same disease that had rendered her father blind and herself in need of a job. Smallpox at the time was deadly and Geeta Bali, despite her larger-than-life persona was no exception. The fever racked her body and even as she tried to fight, the fever would shoot up to 107  degrees and maintain the high temperature. Doctors and medics tried in vain to save her life, and on 21st January, merely 2 weeks after catching the disease, Geeta Bali breathed her last.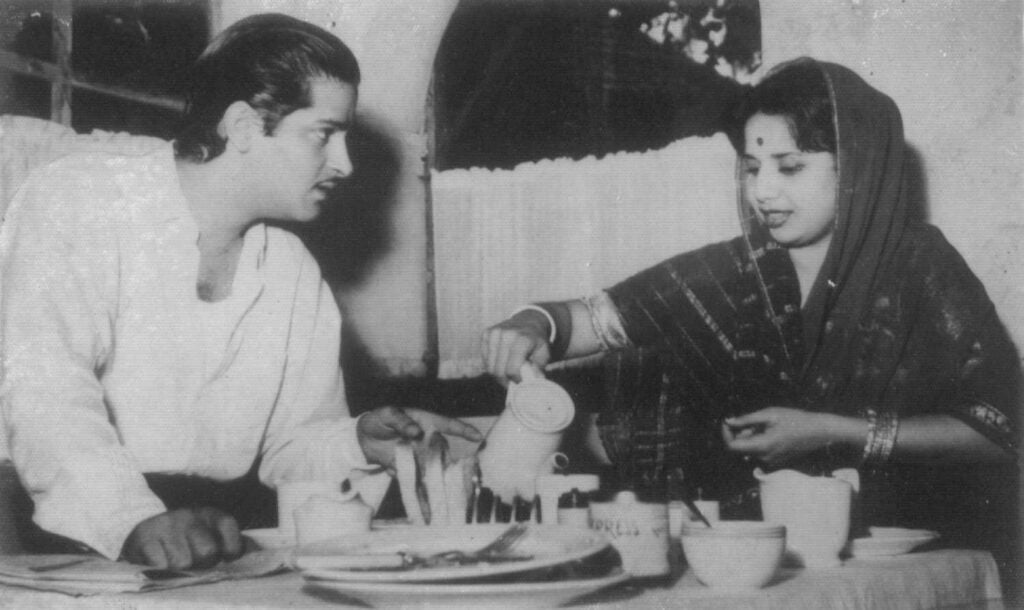 But a person does not die when their body succumbs and their memory outlasts their mortal body. Her two children and a devastated husband continue to try and remember the figure of Geeta Bali urfHarikirtan Kaur, a talented actor, singer, dancer and a human being that managed to do great things even within a young life. 
---