Sameer Samudra, 47, still remembers the tumultuous realities of living as an openly gay couple when he moved back to India in 2017 from Raleigh, USA, with his partner Amit Gokhale. 'Some of the landlords would flat out reject us, saying they will have to charge us extra money because they are taking a legal risk by giving it to a gay couple,' Samudra tells FII, a petitioner for the legalisation of same-sex marriage in India. 'Some said they have small kids in the apartment complex, so they don't want to take a chance to rent us a house.'
Samudra and Gokhale met in 2003 when Samudra, then working in Indiana, contacted Gokhale, who was studying in Ohio, after reading an advert looking for a friend in the US in the Gay Bombay mailing list. After several years of being together, they legally got married in Pittsburgh, Pennsylvania, in 2015 when the gay marriage ban was lifted in the state.
While they were able to live a happy and dignified life in Raleigh, USA, they moved back to India to support their ageing parents; however, various hardships that arose from the status of their relationship made them leave in 2020.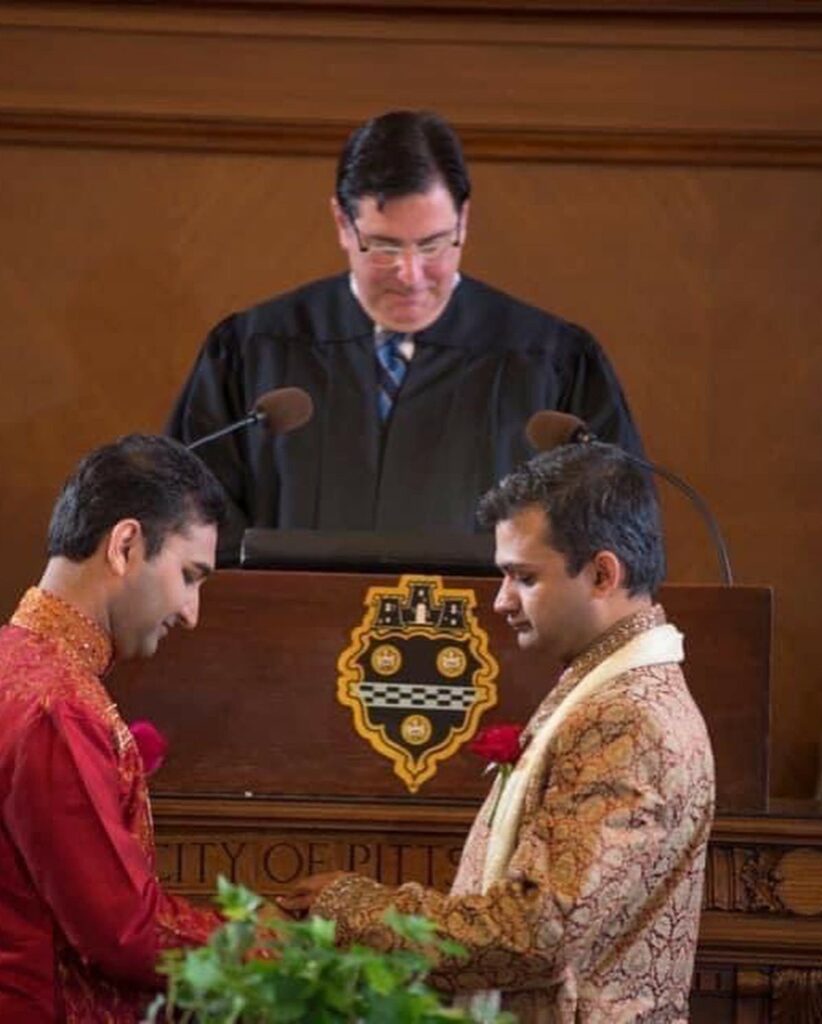 The couple's marriage is not legally recognised in India, and when they moved back to India, they realised that their country doesn't welcome LGBTQ+ persons socially either. Their motivation for filing a petition stems from instances where getting legally married in India becomes crucial for gaining social acceptance and protection against discrimination.
'You can't even get something as simple as a couple's discount in a gym. This was in 2019, a year after the decriminalisation of homosexuality in India when a gym owner in Pune denied us the couple discount saying: It only applies to straight couples,' says Samudra.
However, marriage also provides gay couples access to certain legal privileges currently denied to them, from the ability to adopt a child to various tax benefits.
'If you want to get a loan, or any legal rights, including inheritance rights that a married straight couple has, we don't have any of those rights,' says Samudra. 'When there is nothing on paper, we can't prove that we are each other's partner.'
Marriage laws in India among same-faith couples are governed by religious faith and usually fall under legislation meant to capture these socio-religious customs, such as the Hindu Marriage Act, of 1955. Couples marrying outside their faith or caste can find recourse in the Special Marriage Act (SMA), 1954. But this only applies to heterosexual couples.
Petitioners are seeking recognition for same-sex marriage under the SMA because Section 4, SMA refers to a marriage in gender-neutral terms between "any two parties," rather than "male or female."
While homosexuality is still taboo in many parts of the country, India tops the list of countries with the most LGBTQ+  persons according to a 2021 survey by IPSOS, with 17 per cent of its population of 1.4 billion people attracted to the same sex. The Supreme Court of India decriminalised homosexuality in 2018, overturning a colonial-era law. However, this did not lead to marriage equality for India's large LGBTQ+ population.
In May this year, the Supreme Court reserved its verdict on the batch of 18 petitions seeking legal recognition of same-sex marriages after a hearing that lasted 10 days. Among the 18 petitions are gay couples who have migrated to Western countries. They opened up about the discrimination they faced as gay people in India, which made them move out of the country. However, they are ready to fight for the right to marry in India and would return if same-sex marriage became legal.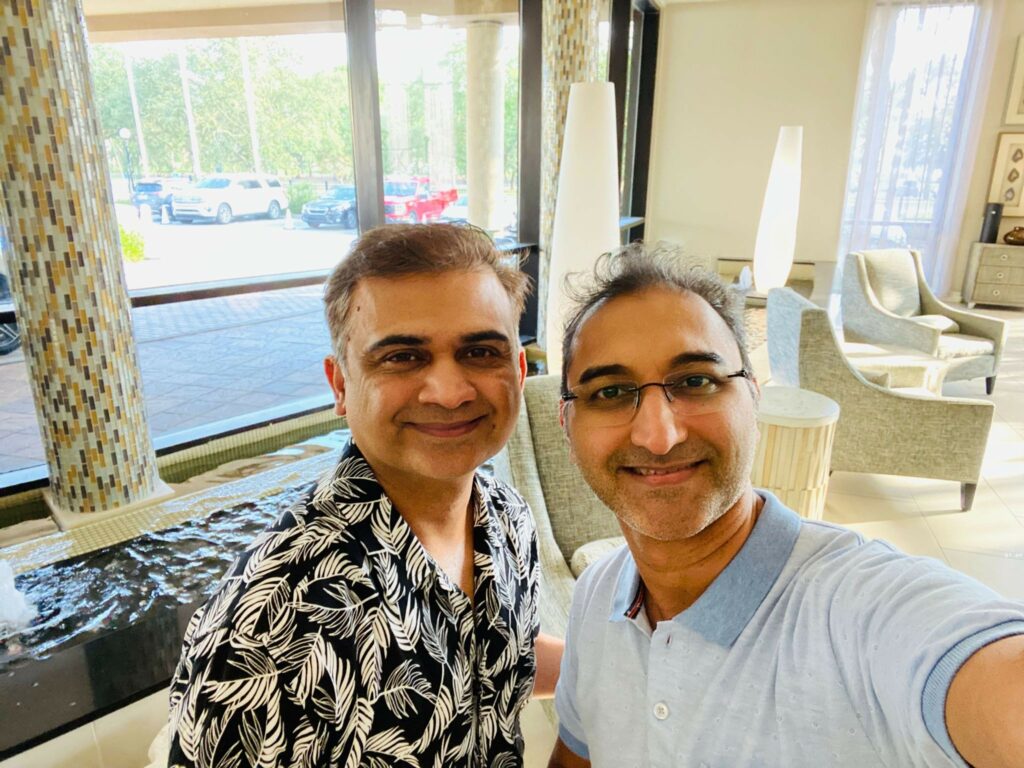 Samudra and his partner Gokhale serve as an example of the "gay brain drain," a non-economic form of migration where individuals are compelled to move due to their sexual orientation and the lack of social acceptance, as they were forced to leave India despite their high level of education, owing to the absence of rights for the LGBTQ+ community in the country.
Rohit K Dasgupta, a scholar of queer culture at the University of Glasgow, says even though he doesn't believe in the institution of marriage, he advocates for the importance of choice. 'Legalising same-sex marriage would be a significant step towards addressing the discrimination faced by LGBTQ couples. Such legal provisions would safeguard their rights and their relationships would be seen on par with heterosexual marriages,' says Dasgupta, who lives in the UK with his partner.
Dasgupta, a Labour and Cooperative party councillor in the London Borough of Newham, talks about the concept of "sexual exile." He explains that LGBTQI individuals may choose to move out of their home country for reasons such as education or job opportunities.
However, he emphasises that deep down, they often consider themselves "sexual exiles." This feeling arises from the fact that their decision to move is often influenced by the discrimination they face because of their sexualities.
Raga Olga D'Silva, 53, entrepreneur and director of Speaking Minds, India's largest international speaker-marketing agency, is an intervenor for same-sex marriage rights as an overseas citizen of India married to a foreigner. She currently resides in London with her partner of 16 years, Nicola Fenton. She grew up in India in the 80s and around her, 'anyone who was visibly gay, usually men, was derogatorily called homos' and often made fun of.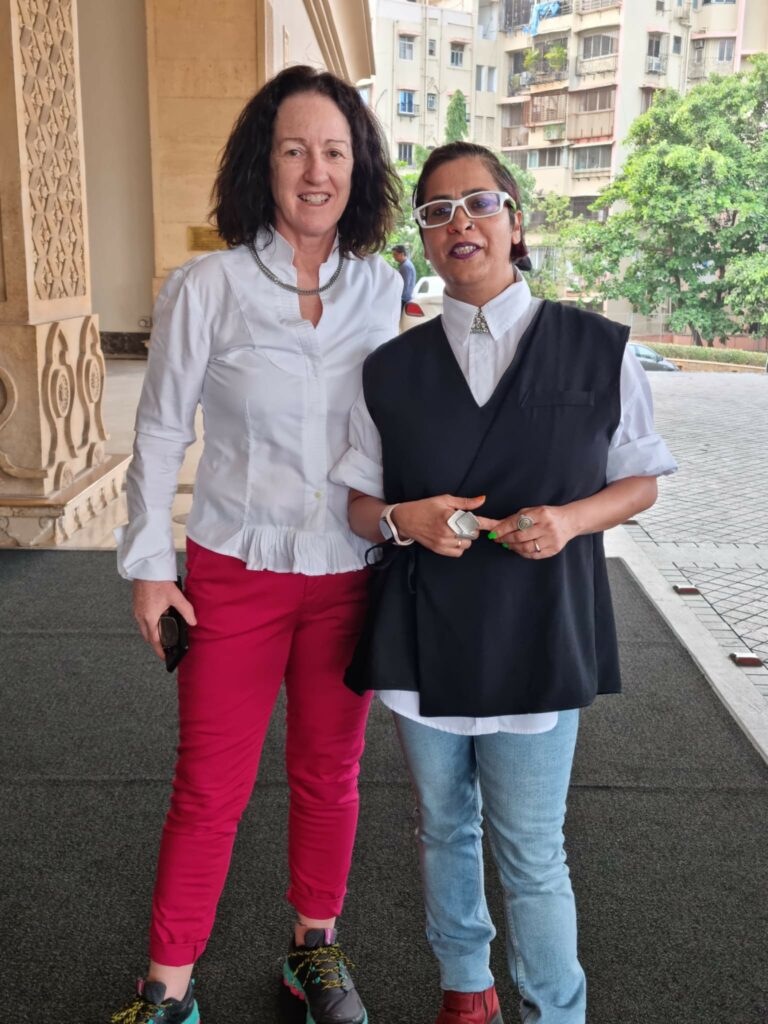 D'Silva recalls her first attraction towards girls while growing up, 'I always thought there was something wrong with me.'
During those days, there was a lack of understanding and language to describe same-sex relationships, and she had never witnessed any representation of women being together romantically. The existence of such relationships was unknown to her.
'It took me years to get the sense of the word and then in the early 90s, when I was 23, I had a brief relationship with a woman for the first time,' she says. However, D'Silva married her male best friend in 1995 and became a mother to twins. She moved to New Zealand with her husband in 2001 trying to hold on to the relationships in a new country without her family around. She eventually decided that her marriage was not working.
It was during her time in New Zealand that she was exposed to a culture more accepting of same-sex relationships, which prompted her to explore her sexuality. She moved to India in 2009 but later to London in 2012.
D'Silva, an LGBTQ advocate, came out at 50 with her book Untold Lies. Her realisation about her sexuality was not a sudden film-like epiphany but rather a gradual and transformative journey. It took her from the age of 34 to 50 to fully embrace her identity as a lesbian.
Before moving to the UK, when Raga and her partner were in Mumbai, they faced challenges coming out as a couple due to the lack of acceptance. Even after the decriminalisation of homosexuality following the overturning of Section 377, they still encountered difficulties finding a place to stay, often having to make up stories about their relationship to get rental accommodation in Mumbai.
Although the landmark change in Section 377 was significant for the LGBTQ+ community, Raga acknowledges that for many others, 'it didn't even touch their lives.'
D'Silva's decision to move to the UK was motivated by the desire for better education for her children and a better quality of life. However, deep down, it was also driven by the yearning for a life of dignity and freedom as a lesbian. 'It's hard to accept yourself when others won't accept you.' She candidly expresses that, if she were still in India today, she would leave the country to pursue a life where she can truly be free.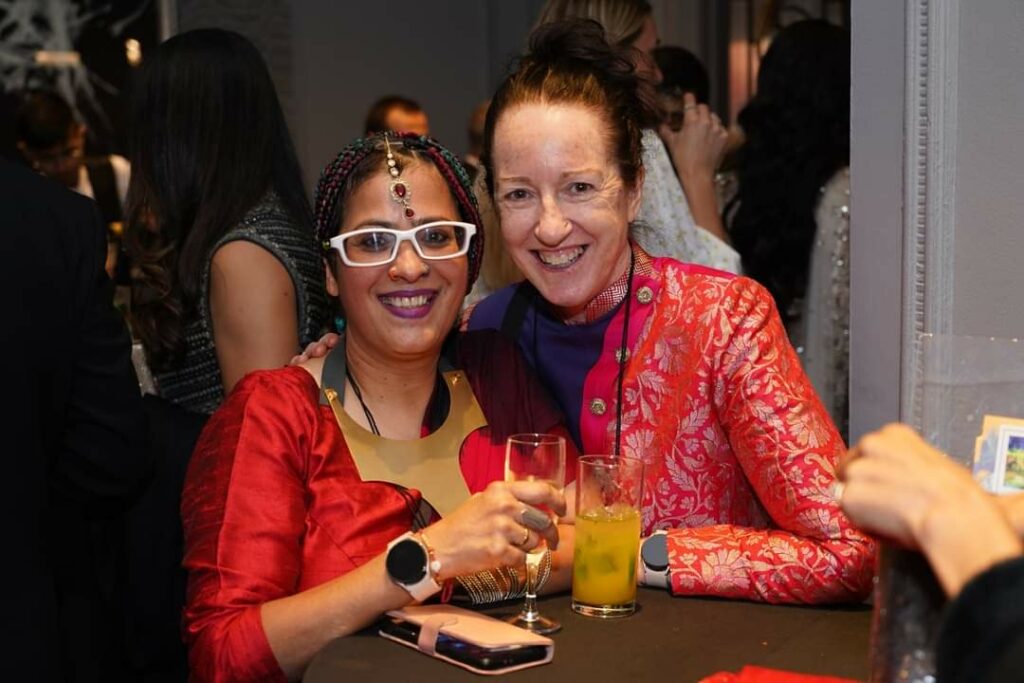 She married her partner in London last year in August. Having experienced both worlds, 'I'd been married to a man and it's so easy, so simple in terms of rights that are attached with getting legally married in the country like buying a property,' says D'Silva.
Crossing the border into India, she faces the disheartening reality of being considered single in the eyes of the law, devoid of the rights enjoyed by heterosexual couples. This includes a lack of medical guarantee, where neither she nor her partner can make decisions on behalf of each other in case of emergencies, and her assets in India cannot be transferred to her wife.
'I feel bad for what these young people are going through,' says Samudra. 'Future generations should not suffer like what we suffered. That's the bottom line.' People are often forced into heterosexual marriages, that's why 'having equal laws is not going to get benefitted the LGBTQ+ people, but straight people also suffer in all of this,' he adds further.
 If his foreign marriage gets recognised in India, Samudra will return to India with his partner. 'We have always wanted to live in India, but because of the discrimination we encountered in those three years, we moved back to the US thinking there was no point in spending our energy, resources and time and we needed to be in a better place.' However, he wants to experience a liberating life  in India in the presence of his family and friends. 
 Samudra feels optimistic that the constitutional bench that has heard the arguments is very progressive. 'India has the youngest population in the world. Most of the young people that I encountered are very much of a liberal viewpoint,' he says.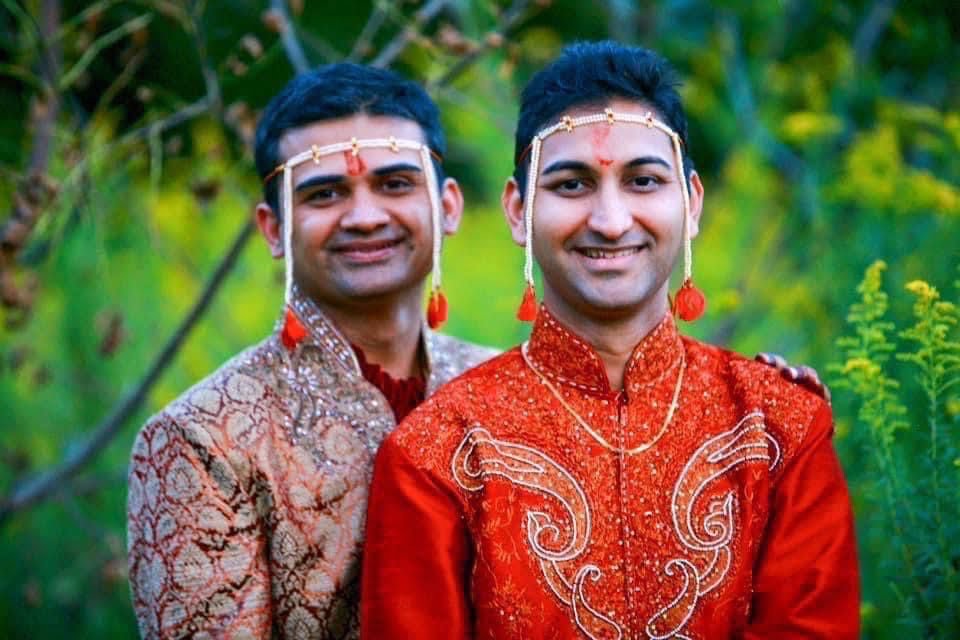 'In the US, since I moved in early 2000, society was not necessarily completely accepting as it is today. I experienced how gay marriage was legalised and how some leaders who were against it evolved. So we have seen the evolution in this country, and that's why we feel hopeful for India too,' adds Samudra.
The queer history of India is full of same-sex love and gender fluidity and reflects diverse cultural and social contexts. 'As a country, diversity, inclusiveness, and gender fluidity is part of our culture. A lot of people say, "You're aping the West," but we're taking us back to who we were,' says Samudra.
For instance, Hindu gods and deities frequently exhibit changes in gender and sexuality within the art of storytelling.
However, the colonial era brought rigid British Victorian values that stigmatised non-heteronormative identities, leading to the criminalisation of same-sex relationships under Section 377 of the Indian Penal Code in 1861.
Madhavi Menon, in her book, The Law of Desire: Rulings on Sex and Sexuality in India, says that 'The Hindu Right, emboldened by ideals of Hindu nationalism (Hindutva), actually speaks the language of our erstwhile colonial oppressors by reading into the law outdated and reductive notions of masculinity, sexuality, morality and religion. Sadly, this trend continues even in 2022 in India under the current political regime of the Bharatiya Janata Party.'
 'It's a comfortable age to live in London, but I would love to have a little place in Mangalore or Goa for my kids to go back to, but I won't do it until I know that my marriage is going to be recognised fully legally,' says D'Silva.
'However, I will continue to be vocal about LGBTQ rights so that the next generation of women don't have to go through this need to have representation.' Also, 'We'll have a big wedding in India.'
---