Trigger Warning: Mentions Violence and Suicide
On August 9, Swapnadeep Kundu, a first-year student of Bengali at Kolkata's premiere Jadavpur University, died by suicide by jumping from the balcony of the Jadavpur University Main Hostel. His death is a clear case of ragging, a phenomenon which is rampant in Indian universities, especially all-male hostels.
It appears, after further investigation that the student, who was barely eighteen, was a victim of vicious homophobic ragging by hostel seniors who made assumptions about his sexual orientation, owing to his bodily traits. Some of the hostellers who had been involved and complicit in the act were ex-students of JU and were not supposed to be accommodated in the University hostel.
Ragging in university spaces
Ragging by seniors is a common phenomenon faced by freshers in University spaces. Ragging can include a plethora of physical and emotional torture which aims to dehumanise young students with the intention to "toughen" them up. According to reports, Swapnadeep was continuously subjected to ragging by seniors in the hostel who used to 'trigger him by calling him "gay",' according to a student who was ragged along with Swapnadeep and was present on the ground floor when the victim jumped to his death.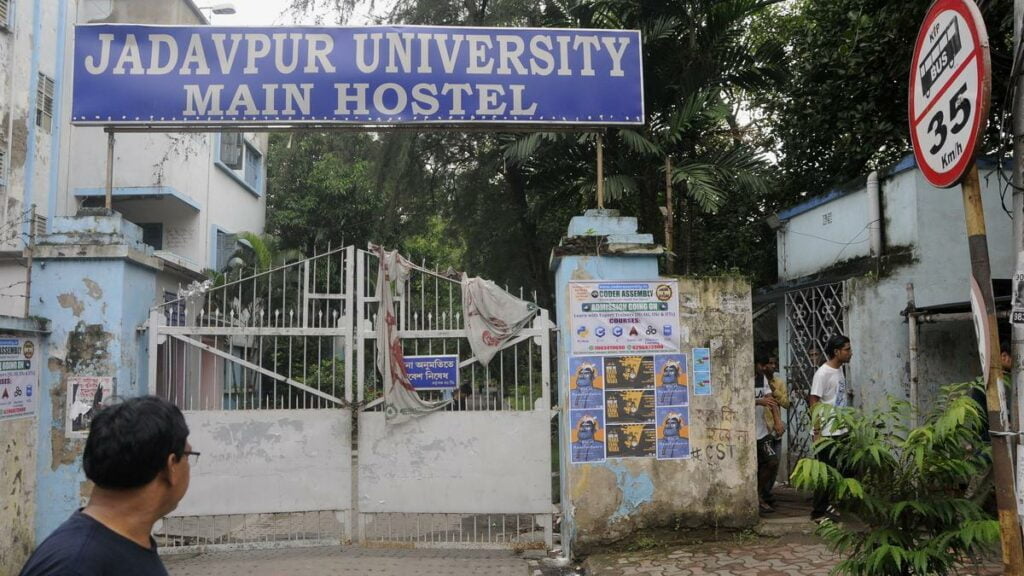 Swapnadeep had been ragged and bullied for a while before he contacted his father, asking him to remove him from the Main Hostel. Mr Kundu was to take him out of the hostel on August 11. On August 9, a phone call was made to the Dean of Students at Jadavpur University, informing him of the situation in the hostel which might cause Swapnadeep to die by suicide. The Dean contacted the Superintendent who reported finding the boy's naked body in a pool of blood a few hours later.
According to a student who wishes to remain anonymous, 'Swapnadeep's feminine features made him an easy target for homophobic bullying. He was forced to "prove" his masculinity by hostel seniors by showing them that his pen*s could get erect. After he did as told, he became a laughing stock. Unable to bear the shame, Swapnadeep jumped to his death from the balcony of A2 in the Jadavpur University Main Hostel.'
Although mainstream media is downplaying the clear homophobic tone of the bullying, it is crucial to note that Swapnadeep was subjected to brutal ragging because hostel seniors thought he was gay. As he jumped, his last words were 'I am not gay.'
Police arrests and the ensuing political blame game
After massive outrage on social media, led by Jadavpur University students, past and present, seven people were arrested on charges of being involved in the ragging. Sourabh Chowdhury (MSc Mathematics pass out), Deepsekhar Dutta (UG Economics), Manotosh Ghosh (UG Sociology), Muhammad Asif, Muhammad Arif, Ankan Sardar and Asit Sardar (ex-student) have been arrested till now on charges of being involved in the ragging case. The arrested individuals are affiliated with a political organisation called Collective which has several branches according to faculty and University.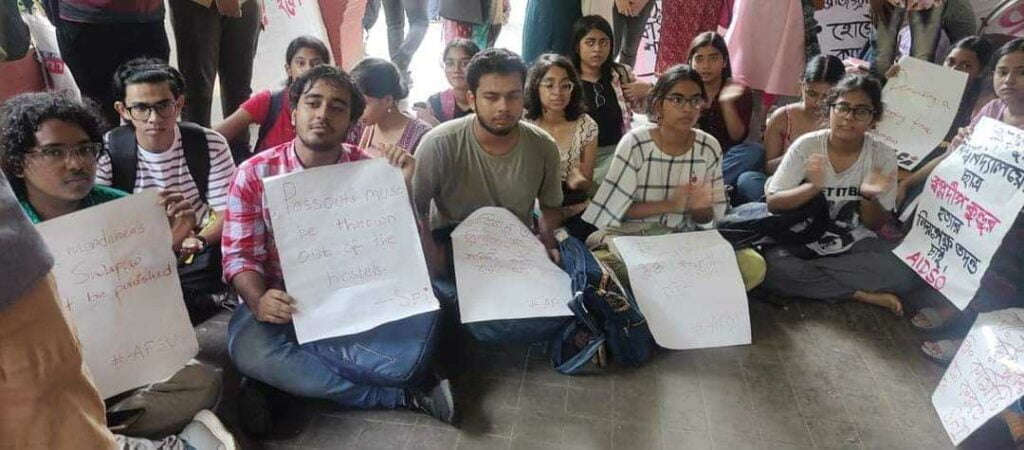 In JU, Collective members from the Arts Faculty make up Forum for Arts Students (FAS), members from the Science Faculty are a part of We The Independent (WTI) and in the Engineering Faculty they are known as Democratic Students' Forum (DSF). In Presidency University, Collective manifests as Independent Consolidation (IC). Collective is an "independent" non-partisan body which believes in issue-based activism and has its headquarters in Uttarpara, WB.
According to a former Collective member who wishes to remain anonymous, 'The moment the higher-ups in the organisation learnt of Swapnadeep's death, they sent WhatsApp messages on how to tackle this situation so that the perpetrators do not have to face repercussions. The institutional murder of the boy was to be passed off as a mere "suicide" and a "hostel issue." The organisation had even made sure that their prominent faces were absconding during the investigation.'
The scapegoating of Jadavpur University after the ragging incident
After the ragging case came to light, there has been a continuous attempt to paint Jadavpur University as a sinister, hellish place. The West Bengal CM referred to Jadavpur University as 'Atankpur' (Land of Terror). Selective media coverage refused to showcase the long-drawn protests led by students and professors on campus demanding justice for Swapnadeep. JU has a long history of being a left bastion in India and is dubbed an "anti-national" University like JNU or Jamia by popular discourse.
The media and the majoritarian political parties have consistently portrayed Jadavpur University as a hub of nefarious activities and have advocated for vigilant surveillance of students by installing CCTV cameras on campus, a move which was vehemently opposed by the students' union.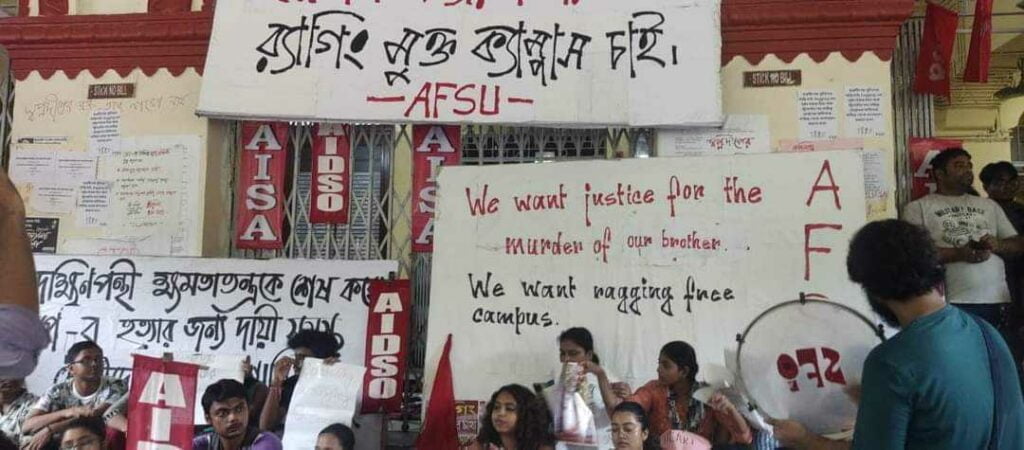 In light of recent events, the credibility of Jadavpur University, as a prestigious educational institution has been questioned. Coincidentally, as of last week, JU is no longer in the run for an Institute of Eminence (IoE) tag. UGC representatives have also cancelled their visit to the University.
Even though ragging is rampant in most education institutes in the country, Jadavpur University has been singled out on social media as a notorious hub of criminals. On 16th August, reporters from state-sponsored news channels entered University premises and harassed and heckled students on campus, questioning and filming them without consent.
A student from the Department of English told FII that 'the ragging and murder of Swapnadeep is horrifying. But JU students and professors are actively protesting against ragging and demanding justice for the victim through rallies, sit-in demonstrations, general body meetings and protest meetings. However, the media won't show this side of JU. They are hell-bent on perpetuating the negative stereotype of JU and this is the perfect opportunity to vilify the institution.'
Moreover, the erasure of the homophobic tones about the merciless bullying of Swapnadeep is telling as no news organisation is ready to deal with or talk about the pervasive culture of toxic masculinity in University spaces.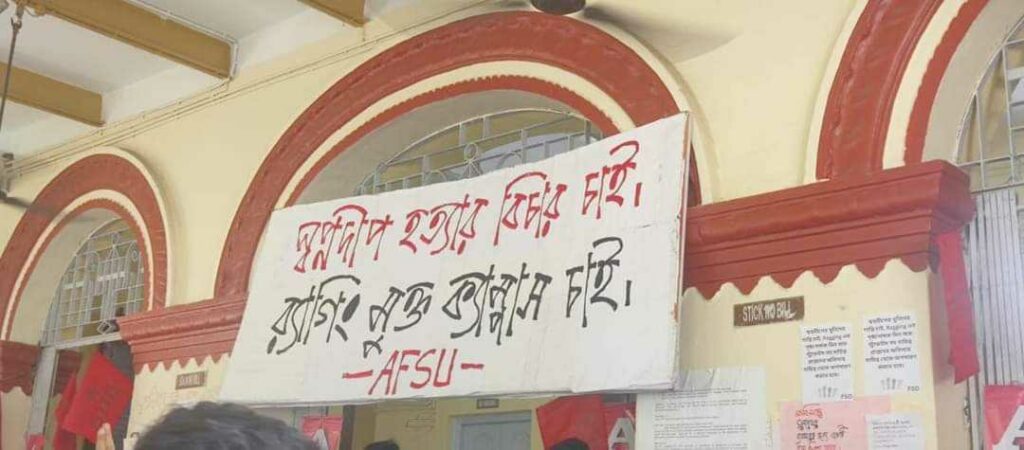 A student from the University who identifies as queer tells FII, 'It is not surprising to see the complete denial regarding queerphobia in the ragging case at JU by mainstream media. Until we collectively acknowledge the homophobic angle to this ragging and address the culture of toxic masculinity prevalent in the boys' hostel, we will not reach any long-term solution.'
As the investigations continue and more facts are unearthed it is imperative to understand that ragging in university spaces can only be combated through stringent policy and more importantly, a method or plan of action to deal with toxic masculinity and hierarchy in campus spaces.
In the words of an ex-student and former union stakeholder, 'JU has always shown the way to fight injustice at every level. But what happens when the injustice is within the university space? We must be cognizant of our shortcomings and address them immediately and efficiently so that no student has to end their life ever again.'
---