Devagiri, Andhra Pradesh: Boya Adarsh, Koti Boya Jaswanth, Boya Akash, Boya Basavaraju, and two students at Bommanahal Junior College, have missed the only morning bus that plies through Devagiri and are walking to the institute, about 7 km away. The boys tell 101Reporters that since walking is time-consuming and exhausting, when the bus is delayed or if they miss it, they have to either hope to find an auto rickshaw or hitch rides on bikes. The collapse of the Kandepalli bridge last year left the village without a bus service for nearly three months, they say.
To anyone from the outside, the serene village of Devagiri, nestled amidst the hillocks of Anantapur district, paints a charming picture. But for its inhabitants, routine life is difficult due to inadequate public transport. Devagiri is 520 km away from Vijayawada and 90 km from Anantapur district capital.
Devagiri has an anganwadi, a government primary school and a village secretariat, but it remains wanting in terms of public transport and infrastructure. Morapudi Chola Raj Kumar, YCP (Yuvajana Sramika Rythu Congress Party) state commerce secretary, stresses the need to improve bus services for Devagiri's population of 3,500 people. Andhra Pradesh State Road Transport Corporation (APSRTC) is operating only one service from Uravakonda to Bellary via Devagiri with two trips a day each way. There is no railway station nearby.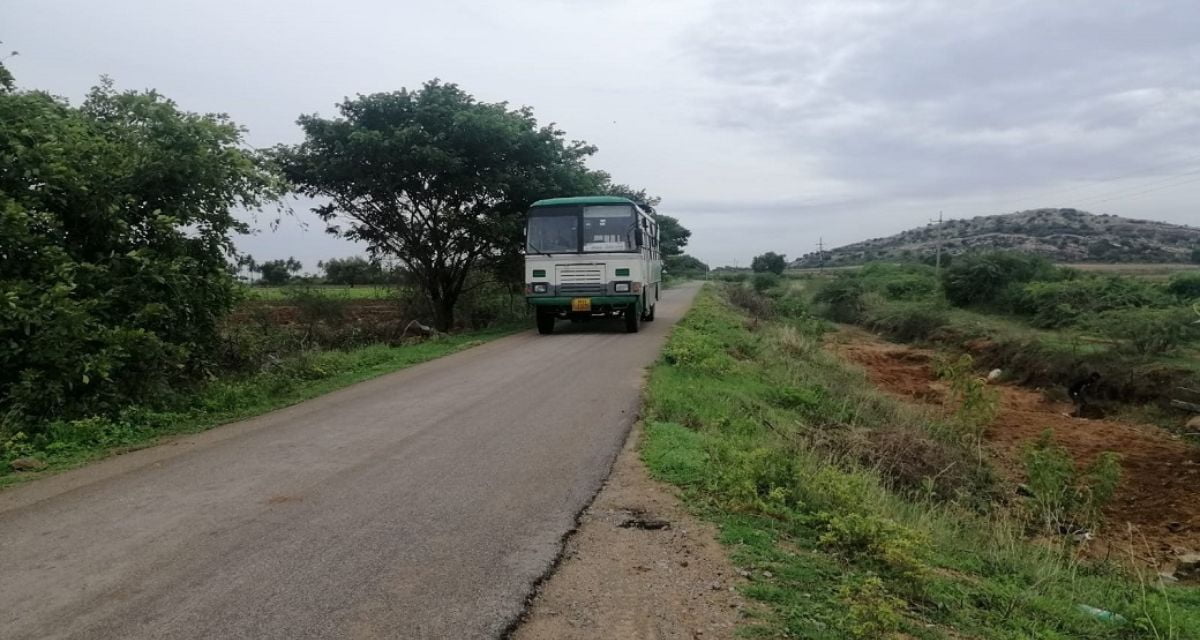 The struggle for public transport is not for the students alone but for everyone who has to travel to neighbouring villages or towns for work, errands or healthcare necessities. It is the same for daily commuters who live nearby but work in Devagiri. Employees risk arriving late for work, hampering productivity. Those who can afford the luxury of a two-wheeler also find that it eats into their modest monthly budget.
The 18 staff members of Devagiri Zilla Parishad High School, including primary school staff members, who come from various nearby places like Uddehal, Bommanahal, Kalyandurg, Uravakonda, Gutti, Anantapur and Bellary have chosen to hire a private taxi. Headmaster Changala Mallikarjuna adds, 'The timings of the bus service don't coincide with that of the school so we rely on personal transport or opt for carpooling etc. But it can be expensive.'
Then there are the aged, the ailing or even pregnant women for whom routine check-ups end up being delayed or rescheduled because of the erratic schedules of the buses. Devagiri Shankarappa, a farmer who has lived in the village for almost 50 years also complains about the limited bus service. 'Travelling anywhere outside Devagiri, be it Kalyandurg, Rayadurgam or Anantapur, is very difficult without a reliable bus service,' he says.
Homemaker Burujula Manimala from neighbouring Haresamudram, who was married into a family in Devagiri, also rues the insufficient service. 'There are no auto-rickshaws if I want to visit my village either,' she says, adding that it is even harder for girl students.
Devagiri seems so off the radar that the so-called bus stop does not have a signboard. This often causes confusion and inconveniences commuters, especially those unfamiliar with the route.
A community-based youth initiative provides respite to a small extent to those travelling between Devagiri and Bommanahal. It also helps generate employment, with the youth of the locality plying 10 vehicles including three auto rickshaws between Devagiri and Bommanahal, 7.5 km away, every day from morning to evening apart from emergency services.
Burujula Srikanth, a volunteer, says he will be notifying authorities concerned about having a signboard installed at the bus stop. He recalls how his own efforts to complete a bachelor's degree were cut short by insufficient access to regular transport. 'I couldn't afford to move to nearby towns to study and transport from here was the same even then,' he says.
YCP's Raj Kumar admits that apart from financial constraints, limited transport options often force students to abandon their dreams of pursuing higher education. 'All the higher education institutes are in nearby towns such as Rayadurgam, Kalyandurg and Anantapur so insufficient transport is a significant factor leading to dropouts in the village,' he says.
APSRTC says public demand is crucial
According to Kuruba Sambasiva, assistant depot clerk-cum-controller, APSRTC there is a service each from Uravakonda to Bellary via Devagiri at 9⁵ am and 2 pm and another service each from Bellary to Uravakonda at 1 pm and 4 pm, covering seven major villages along the route. 'APSRTC may consider the possibility of increasing the bus frequency if the occupancy ratio exceeds 60 persons per bus. But the decision to increase the frequency lies with the regional and depot managers,' he says.
A bus driver with APSRTC, on condition of anonymity, notes that this capacity is easily met on regular days. 'Every single service operating from Uravakonda reaches its full capacity (60 persons for a single service) on regular days with the demand increasing during festivals and special occasions.' The poor condition of the roads further delays the service. The bus starts from Uravakonda and arrives at Devagiri after covering villages such as Nerimetla, Rayanapalli, Honnuru, Govindawada and Bandaru.
Speaking over the phone to 101Reporters, Balaji Dayal, Uravakonda depot manager, APSRTC, says requests from the public are necessary to resolve the matter. 'As of now, no requests or representations have been received for increasing bus services. APSRTC would need to obtain a permit from the government of Karnataka to proceed.' While Raj Kumar, whose spouse Radhika is the Panchayat President, admits that they haven't formally approached the state to request an increase in the frequency of buses, he assures that it is on the agenda once the state elections, due in the next six months, are wrapped up.
---