Trigger Warning: Mention of graphic violence
Israel's war on Palestine in the Gaza Strip and the occupied West Bank has reached its second week, as a continuation of the war on occupied Palestine that has been looming over the nation for decades in modern human history. At least, 2215 Palestinians have been killed and 8714 wounded by Israeli air attacks on Gaza. The dead include more than 700 children.
In the occupied West Bank Israel has killed more than 50 people and the reports of attacks by Israeli forces and settlers have increased drastically. So far reports of 423,000 people displaced as a result of the Israeli strikes have surfaced. In Israel, the death toll has reached around 1300 killed and more than 3400 wounded by Hamas attacks.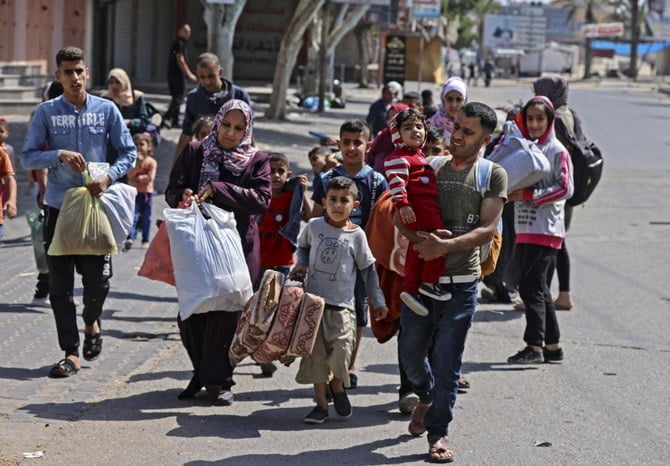 Israel has told 1.1 million Gazans, with half a population of women and children to flee from their indigenous land as Israel continues its air invasions, and carpet bombings reducing the city of Gaza to rubble.
Francesca Albanese, UN Special Rapporteur, in a recent statement, said "There is a grave danger that what we are witnessing may be a repeat of the 1948 Nakba, and the 1967 Naksa, yet on a larger scale. The international community must do everything to stop this from happening again. Israel has already carried out mass ethnic cleansing of Palestinians under the fog of war."
Albanese further mentioned, "Again, in the name of self-defence, Israel is seeking to justify what would amount to ethnic cleansing."
Israel conjures support
Israel initiated illegally occupying the West Bank and Gaza Strip in 1967 and since then reports of ethnic cleansing, gender-based violence, extrajudicial killings, illegal detentions, and curbing basic human rights (blocking water, food resources etc) have become a model to the extent that all governments are desensitised and complicit towards the crimes committed by Isreal under international law.
American President Joe Biden, and UK Prime Minister Rishi Sunak, have extended their unequivocal support to Israel and the Biden administration has already sent their second US aircraft to the Mediterranean. Following suit, the European Union and Canada have extended their support.
In June 2022, the UN Human Rights Council-mandated Commission of Inquiry (CoI) on the Occupied Palestinian Territory including East Jerusalem, and Israel ruled that continued occupation, as well as discrimination against Palestinians, are the primary causes of ongoing instability and conflict in the region.
Indian media and 'language' politics
Language is a powerful tool that can shape and destroy ideas, and make or change our perceptions of reality, truth, ideologies and public opinion. Media has harnessed this tool and manifestations of this can even influence the course of history. Plenty of evidence suggests media especially western had waged its 'own,' war on Vietnam during America's invasion of Vietnam.
Commentators, political pundits, world leaders, human rights organisations, left or right side of the spectrum, bystanders etc all took to social media to put forward their opinions on Isreal and Hamas conflict. Indian press pacing up with the international press also reported on Israel's war on Palestine. Ground analysis and reporting, as well as studio commentary, exacerbated the confusion, deception, and warmongering that the Indian media performed for TRPs (television rating points) and gimmicks.
During the contest to determine who has new information and who reports first, a lot of disinformation circulated in Indian media and social media alike. While most prime-time debates in India are rife with deception, it is the so-called non-mainstream media that did a major injury to the integrity of journalism and ethics.
Some stories from Palestine and Israel broke during the course and were quickly picked up by Indian media, with even seasoned journalists racing to react and convey the word to the larger population who may not have heard or read it.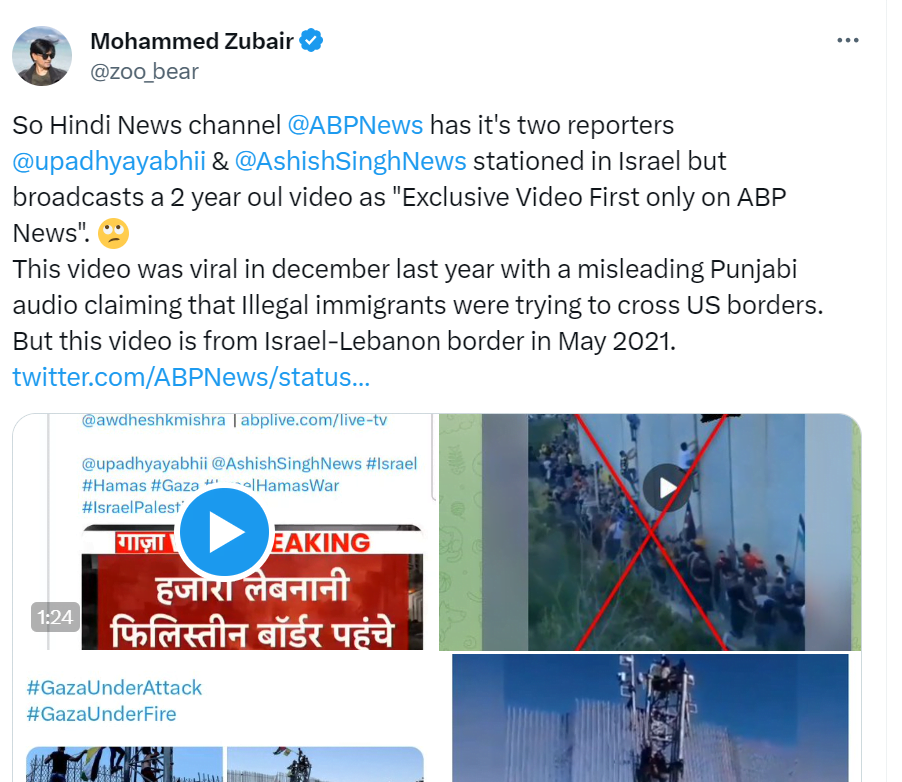 Disinformation is spread with malicious intent, to harm persons, particular communities, nations, organisations etc and during unfortunate times of wars and crisis, this spreads like wildfire.
Scores of news stories were shared on social media that had nothing to do with the current crisis or war; those pieces were simply rehashed and shared.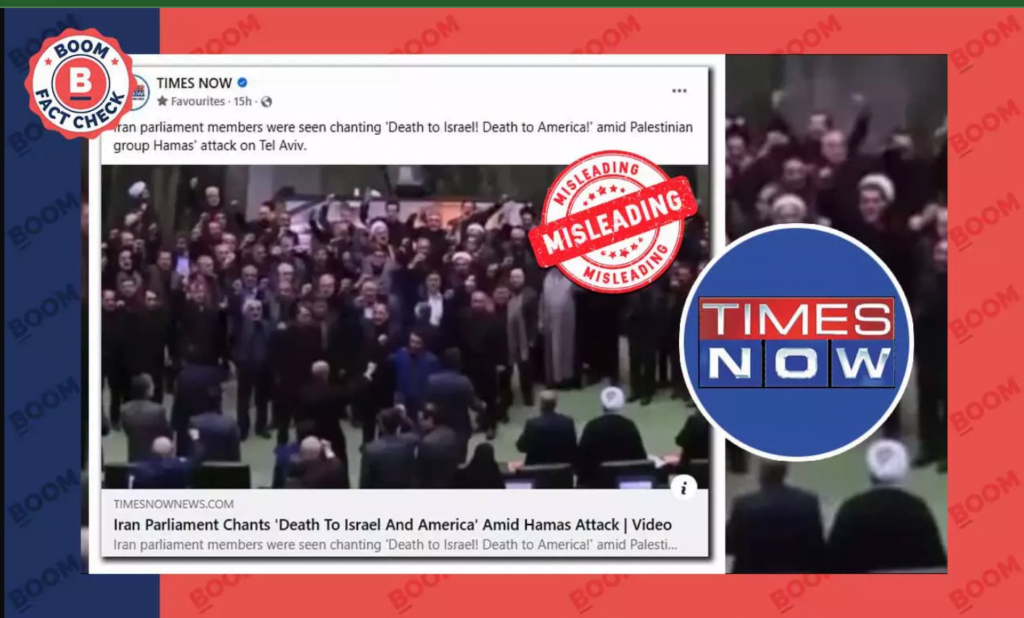 For instance, according to the New York Times, "Social media users shared a clip purportedly showing footage of, 'a new air assault on parts of Israel.' But the imagery is taken from a video game, Arma 3, as a video shared on YouTube in 2022 shows. A representative for the game's developer, Bohemia Interactive, also confirmed the clip online was taken from the game."
Another example making rounds in Indian media and social media, according to Alt News was "A video showing five children being held prisoner in cages allegedly by Hamas militants is currently viral on social media. A tweet by X (formerly Twitter) user @OCanonist gained 2 million views. 'What purpose does this serve? Are they Israeli hostages? ' asked the user."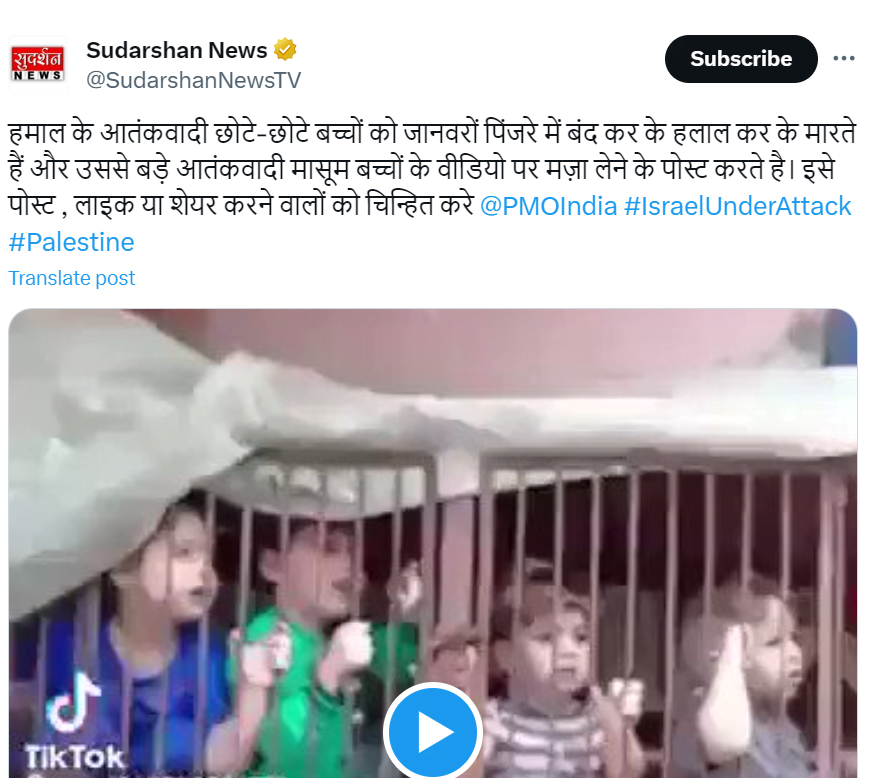 This was taken up quickly by Sudharshan news. After fact-checking by Alt News, it was claimed that "The user later posted a subsequent tweet with a YouTube link that said: Correction: They are Palestinian children being held in cages by Israeli law enforcement/army officials."
What flared the disinformation further
Fact-checkers have been going through heaps of disinformation on social media. For instance, a story of "babies being beheaded," which later was refuted and retracted, by American governments and various news agencies, was spreading quickly as some media platforms took the story up while it was still unfolding, flaring up disinformation.
According to NBC, many of these reports (of babies being beheaded) originated "from Israeli soldiers and people affiliated with the Israel Defense Force (IDF)."
A report by Nicole Zedek for i24 based in Tel Aviv mentioned that (during a tour organised by Israeli soldiers for international journalists to observe devastation caused by Hamas), Israeli forces told her that they "witnessed… bodies of babies with their heads cut off."
Uk-based Sky News was also part of the tour but Sky News didn't confirm this news. Another journalist according to Sky News present at the site took to the X and said, "During the tour, we didn't see any evidence of this, and the army spokesperson or commanders also didn't mention any such incidents."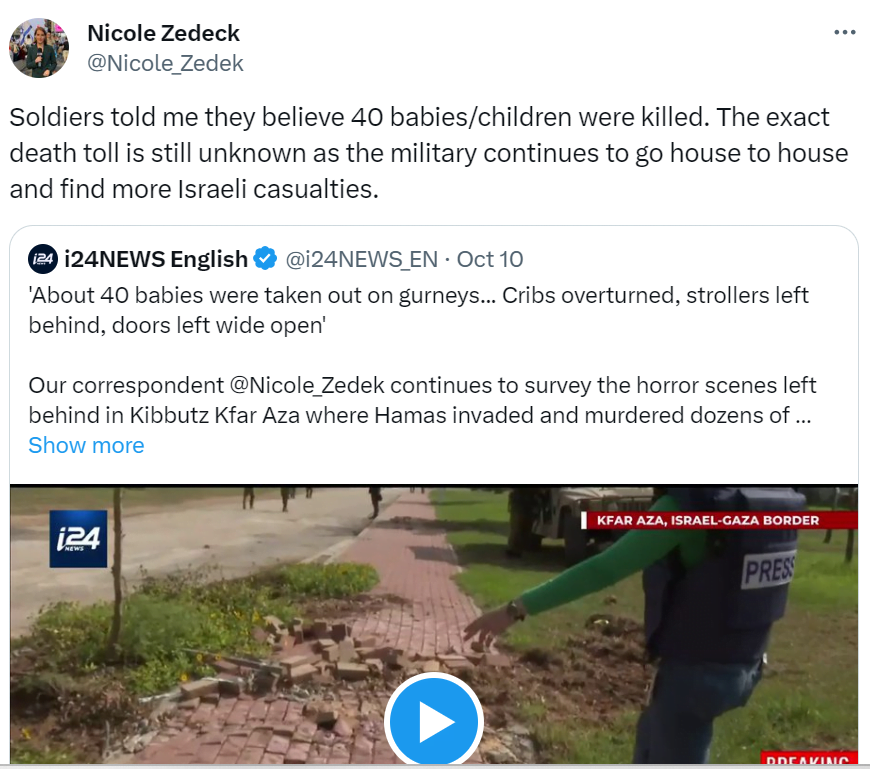 In the tug of war between authentic information and disinformation, US President Joe Biden appeared to confirm he had seen pictures of children being beheaded in the Hamas attack. Quickly the US government retracted the statement by Biden.
Marc Owen Jones, an associate professor of Middle East studies told NBC News that he saw that the origin of the "40 babies beheaded allegations largely stemmed from a viral Israeli news broadcast clip that did not specifically refer to the allegation."
Media critic Sana Saeed told The Intercept "We have seen journalists, in particular, spread unverified information that is being used to justify Israeli and even American calls and actions to annihilate an entire population."
CNN journalist Sara Sidner who contributed to fanning this disinformation further took to X and issued an apology.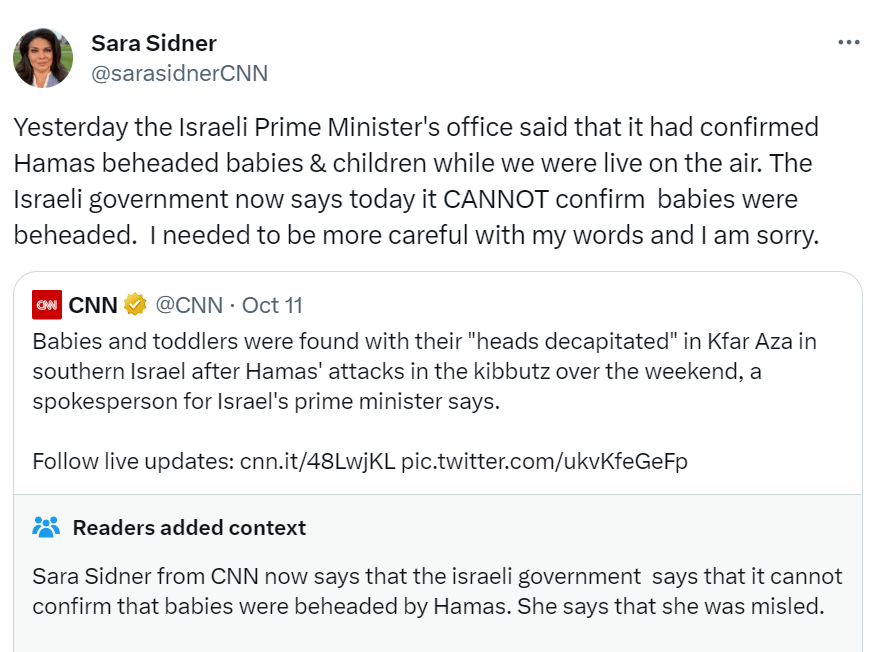 Apart from spreading falsehood and fake news, another problem was the usage of graphic and clickbaity headlines. It is appalling to see how the media wouldn't blink an eye before putting those bold headlines like "40 babies beheaded by Hamas."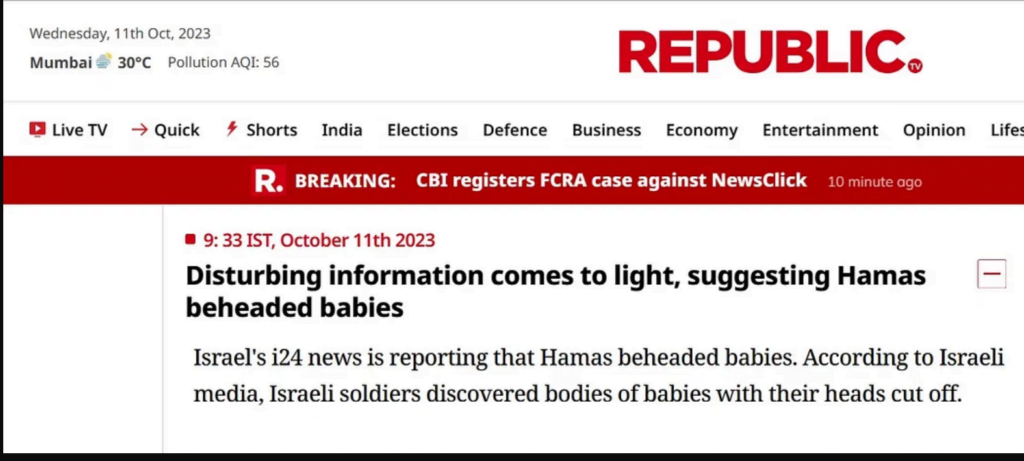 Now the Indian media has taken refuge in the Jerusalem Post, which mentioned the reports of babies being burnt and killed are correct. Jerusalem Post is a news organisation based in Jerusalem and the current editor-in-chief is Avi Mayer, a pro-Israeli activist.
Earlier this year Jerusalem Post on X, posted a poll asking readers, "What is your opinion on the 'price tag' actions carried out by settlers against Palestinians in the West Bank in response to the terrorist attack that resulted in the death of four Israelis?"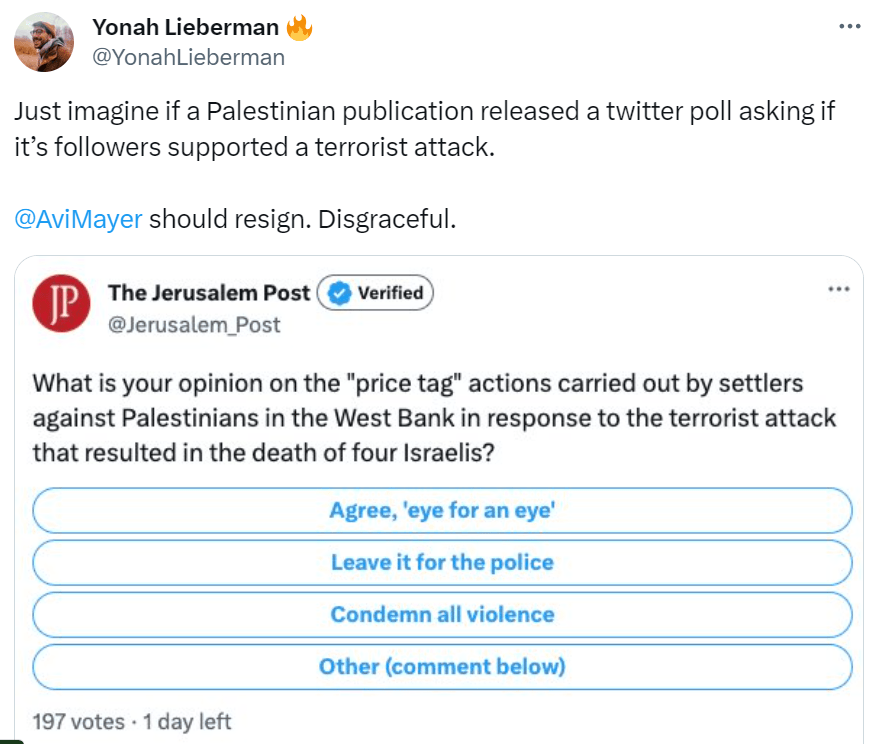 Later on, Jerusalem Post retracted the poll and issued a statement when readers asked for Avi Mayer to resign from his position.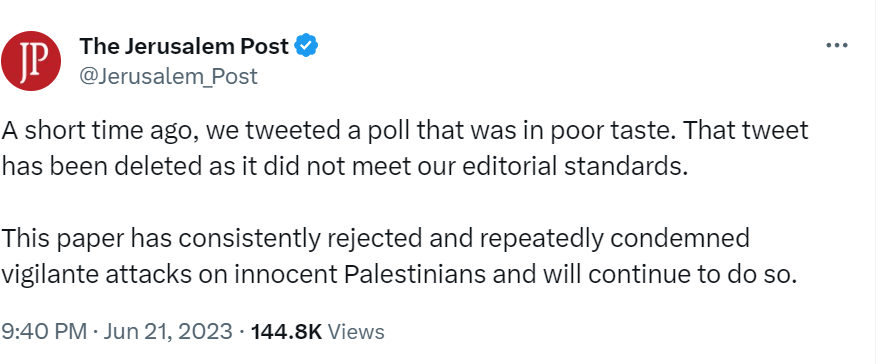 The public will undoubtedly experience hysteria and panic during times of war and crisis when the air is thick with disinformation, falsehood, propaganda, rumours, and more. This will put pressure on decision-makers if the media, which is in charge of disseminating accurate and authentic news doesn't stop publishing unverified information.
BBC doesn't call Hamas terrorists
Mainstream Indian media's editorial practices need to be questioned as a sense of credibility issues among the masses is rising. Editorials are now scavenging for what is new, leaving no space for truth and accuracy. BBC's World Affairs Editor, in a recent piece, titled, "Why BBC doesn't call Hamas militants 'terrorists,'- John Simpson," revealed why BBC doesn't use the word terrorist for Hamas.
The editor stated: "Terrorism is a loaded word, which people use about an outfit they disapprove of morally. It's simply not the BBC's job to tell people who to support and who to condemn – who are the good guys and who are the bad guys. We regularly point out that the British and other governments have condemned Hamas as a terrorist organisation, but that's their business."
Simpson further states "We also run interviews with guests and quote contributors who describe Hamas as terrorists. The key point is that we don't say it in our voice. Our business is to present our audiences with the facts, and let them make up their minds."
Editorials have motivations behind the language they use often portraying a non-partisan stand, however, Indian media's utilisation of warmongering language remains a point of grave concern.
Normalising war crimes
Looking across Indian media – just to pillage news on the Israel and Hamas conflict- are utilising language just to sensationalise and cater to the Saffron form of Journalism, leading to panic and one-sided narratives full of propaganda in turn shaping public opinion and eventually propelling decisions to serve 'collective conscious.'
The news from both sides needs to be carried with utter caution by journalists and media organisations especially when it comes to the occupied West Bank and Gaza as currently there is no internet, no communication, and a total blackout from Gaza with millions on their journey to a 'safer place'. Indian media is running a race for 'breaking the news,' and playing their religious and racial politics at the cost of spreading inaccurate information, fake news, disinformation and warmongering.
After a close look at the headlines of major Indian media organisations, one can see that it is not the case of unbiased journalism but rather propaganda journalism. Rarely oppression, killings, carpet bombing of Gaza, children being killed and injured, and women going through gender-based violence are making headlines even if the evidence is as clear as daylight.
Indian media and certain international media outlets are only contributing to fear, war mongering, and using the power gaze and language as tools to cleverly downplay Israel's occupation and oppression of Palestinian people, and normalising war crimes committed by Israel. It is evident through their misinformed, biased reporting and commentary, clearly siding with Israel while claiming it to be impartial.
Media platforms and social media commentariat are filled with their bystander, often siding with Israel, their stance is nothing but playing a second fiddle to the authoritarian and popular opinion, bereft of historical context on Palestine.
According to UNRWA, "at least 88 education facilities have been struck, shelters for displaced people, as well as 70 Palestinian Authority schools." Further stating, "This means that for the sixth consecutive day, more than 600,000 children have had no access to education in a safe place in Gaza."
The UN's sexual and reproductive health agency UNFPA stated they are "deeply concerned," "for the safety and well-being of women and girls who have been caught up in the violence in Gaza. Gaza is home to 50,000 pregnant women, who are currently unable to access essential health services. Some 5,500 of these women are due to give birth in the coming month."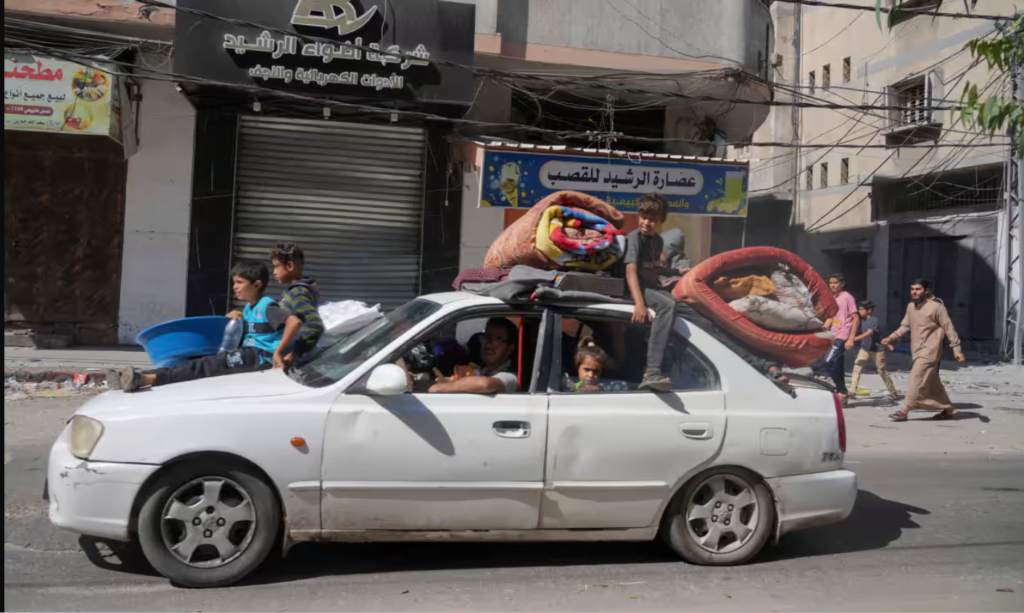 How many Palestinian lives will it take for the Indian media to write about Israel's apartheid, war crimes committed, oppression, gender-based violence, dropping of phosphorous from the skies, blowing up hospitals and schools, killing children, flattening Gaza City, and displacing indigenous peoples in Palestine?
Approximately 1,000 Israelis were killed during Hamas' assault on Israel, and both Indian and international media outlets covered it. However, equating and equalising it with oppression and apartheid, which may lead to genocide, normalises brutality, systematic colonisation and ethnic cleansing.
In an OpEd, the Political Editor of IFNOTNow an organisation of American Jews against Isreal's apartheid, asks "1000 Israelis killed is too many." The question world leaders need to answer is, "How many Palestinians are too many."
In the rest of the clip, she suggests the language used by world leaders, especially Israeli leaders is the same language that was used against Jews during Holocaust.
Israel has a powerful lobby among world governments, businesses and even media, and eventually, they are shaping the outcome of this war on Palestine normalising apartheid and ethnic cleansing and leading to the erasure of indigenous people from history.
Need for media literacy
The barrage of disinformation in the media might continue with the ongoing assault on Palestine, therefore there is a dire need for media literacy among readers and audiences. Digital literacy expert Mike Caulfield, in a Vox article, asks to use the SIFT method, which means, firstly, "Stop, Investigate the source, Find better coverage, and Trace claims quotes, and media to the original context."
Secondly, "investigate the source." And then "Find better coverage. That means you open up a bunch of tabs. Is this being reported anywhere else by trustworthy news sources? Has this claim been fact-checked?"
In the end, "trace the source. Open up the news article and run a search for a phrase in the quote you're about to share. See if you can find that image attributed elsewhere, and make sure the captions describe the same thing."
---