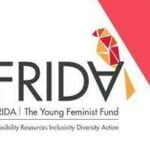 The ED is responsible for the strategic leadership and executive coordination of the Fund, as well as its operations and governance. This position will oversee the final stages of the implementation of FRIDA's 2020-2025 Participatory Strategic Plan, and lead the organization into its next stages through this interim leadership period, with a focus on building and consolidating internal systems and nurturing a strong internal organizational culture.
This position follows and will build upon a period of organizational growth and ongoing organizational development work to ensure that our internal systems and structures stay relevant to FRIDA's increased size, that all staff members are able to thrive and grow within FRIDA, that we continue to build feminist organizational cultures, and that FRIDA remains accountable to diverse young feminist movements.
We are looking for an experienced, strategic, insightful, and mission-driven leader who thrives on building and managing systems and community in service to an organization's mission. The Interim ED will work to ensure that the organization's governance, systems, structures, culture and practices best serve FRIDA's strategic priorities in this period of transition, and are a reflection of the organization's commitments, mission and values.
Apply by October 18th!
For more information, please click here.
To advertise your job, internship or any other academic or professional opportunities on FII's Jobs and Opportunities Board, email us at careers@feminisminindia.com