Aarthi Parthasarathy is a Bangalore-based filmmaker and writer. She co-founded a small studio called Falana Films, with Chaitanya Krishnan, an illustrator and animator almost two years ago. She also works with the Fearless Collective founded by Shilo Shiv Suleman, a group of artists that engage with issues of gender and public space. Royal Existentials is a weekly webcomic series that uses Indian vintage art and imagery to tell stories of historical (and contemporary) angst.
I caught Aarthi candid on how it feels to be a woman and comic artist and posting opinion on politics, caste, class and feminism online.
What made you start Royal Existentials?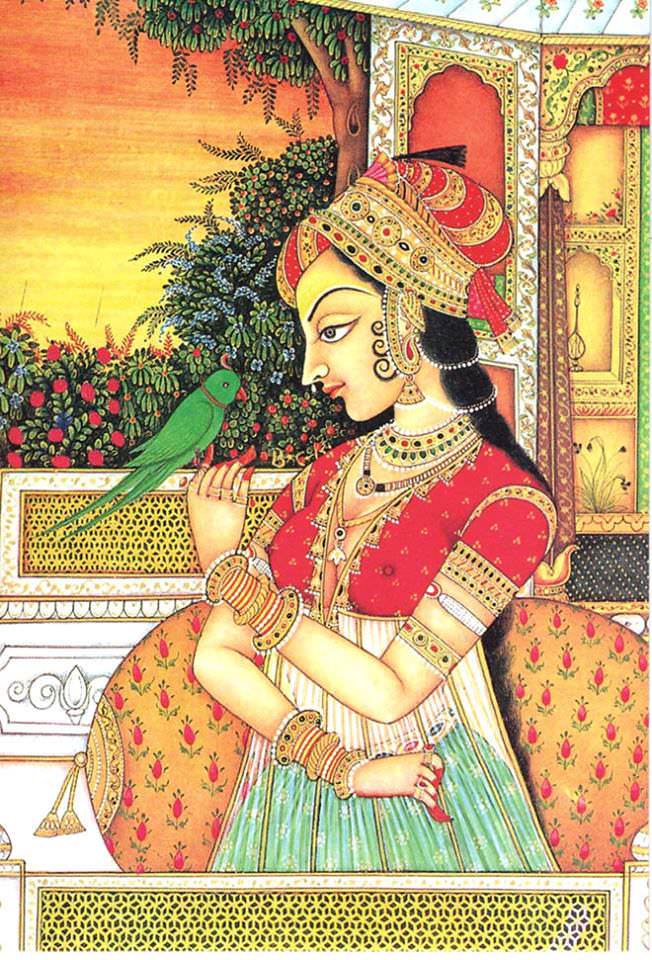 About five years ago, I came across California-based artist and writer David Malki's comic Wondermark, which uses Victorian-era illustrations to create strips with his trademark bizarre humour. And at that time, I remember thinking that working with Indian images in a similar form would be interesting. A year and a half ago, I set up Falana Films, a small Bangalore based film and animation studio with Chaitanya Krishnan, illustrator and animator. And we decided to spend time pursuing our personal projects and interests, and comics were mine. I came back to Wondermark, and I had also been looking at Mallory Ortberg's hilarious 'Women in Western Art History' series on The Toast. And I was reading a lot – about feminism, class and caste hierarchies in India. So, all that came together and Royal Existentials started a year ago – I had been looking at various Indian imagery – especially miniatures of different kinds, was trying to figure how to make a comic with them work.
The idea was always to make a comic that combined this kind of imagery with a certain kind of social commentary that was very politically aware. It took clearer shape and form as it went along, talking about a range of issues – from the problems of democracy, gender issues, class and caste, to personal existential crises, philosophical dilemmas etc.
The name sounds very interesting, what is the idea behind it?

'Royal Existentials' refers to a set of different kinds of contemporary, political as well as personal, philosophical angst that the royals and other subjects in these historical images are engaging with.
What style/pattern do you follow and are the comics inspired by something/someone?

The dialogue is political and reflective in nature, and I try to stick to that style, it's inspired by the imagery. These images are of people in the past in conversation, in discussion, but the re-imagined dialogue is social and political observation, which tries to walk the line between historical and contemporary. It could very well be that these are the issues spoken about in those times. It's very respectful satire, at no point is the humour at the expense of the image or the context it comes from. The objective is to create a kind of timeless sense of commentary on the state of affairs, which is uniquely Indian. I try to arrive at a joke or an insight by engaging with both the image and a certain thought for a while, and seeing what emerges from that process.
In terms of inspiration, the comic is inspired by David Malki's Wondermark, as I said earlier. I'm also very inspired by different kinds of philosophies and political writings. The writings of J Krishnamurti; the poetry of Kabir, Shah Abdul Latif and other mystic poets that I engaged with in three years, working with The Kabir Project, Bangalore; the works of Noam Chomsky, etc. But usually it's just a response or an observation about one's engagement with political and philosophical issues.
Could you walk us through the process of making a comic every week.

A lot of time and effort goes into the choice of an image – there's research that goes into the history of that image, the tradition it comes from; I don't choose anything that has a certain religious context, for example. In addition to the research, there's a process of selecting the image and writing the dialogue – mostly the image comes first, and I write the dialogue to fit in with the expression, the mood, the body language. The dialogue is usually a humorous take on the issue I've been thinking about that week, but which plays off the image in a particular way.
In terms of the process I follow, I look through the images I have until a certain image clicks with one of the ideas I'm working with. I sometimes have the seed of an idea, and then I look through a set of images, finding one that works. Then I rewrite the script to tie it closely with the image. Sometimes I stay with the image till the dialogue arrives. It's different each time, but usually the image comes first and dictates the flow of the dialogue.
Besides gender inequality and rampant sexism, what all topics do you cover and want to do in future?

The comics cover different issues – besides gender inequality, they address democracy, dissent, class and caste hierarchies, personal existential crises. I hope to maintain a certain kind of inquiry into these topics as well as broaden the scope of social and political issues that the comic brings up.
Which are your other Indian as well as international favourite comics/cartoonists?

I love the political cartoons of R K Laxman, Unny, the varied kind of observational cartoons and illustrations of Mario Miranda, Manjula Padmanabhan. Currently, I love the comic series Crocodile in Water, Tiger on Land, they are a huge personal inspiration. I also love Green Humour, Rachita's Sanitary Panels and The Small Picture, a graphic story series curated by Manta Ray (Now the Big Picture).
Internationally, so many! Art Spiegelman, Marjane Satrapi, Joe Sacco, Bill Watterson – it's endless. In the world of Webcomics, there's 'Hark, A Vagrant' by Kate Beaton, 'Nimona', by Noelle Stevenson, 'xkcd' by Randall Munroe, there are just so many!
Given how curbed freedom of speech is, how do you imagine the future of satirical cartoons/comics?

Well…I hope more people will make political comics, and I hope more people will read them. As much as there are creators, there need to be audiences for this work – that engages with them, reflects and thinks about issues at hand, and acts on the insights. Both the artist and the audience have equal responsibility.
Do you receive threats or hate mails, given your comics are quite political?

Actually, no. Not hate mails, but sometimes people do express a contrary opinion, but it's usually been a very respectful exchange. I enjoy it when a comic leads to a discussion, and it's necessary to listen and talk honestly and respectfully.
How do you see Royal Existentials grow from here?

I'm trying to take it one week at a time. I just think about the comic a week or two at a time. This is something that comes from a place of reflection and love, and I hope to firstly keep that going. Whatever follows will follow, let's see what happens.
What message would you like to give out to other political cartoonists?

Hahaha, I don't have a message. No message. If other political cartoonists have a message for me, I'd love to learn from them. 🙂
Disclaimer: All images have been used from the artist's Facebook page with permission.